Interests to Put on Your Resume: How & What To Add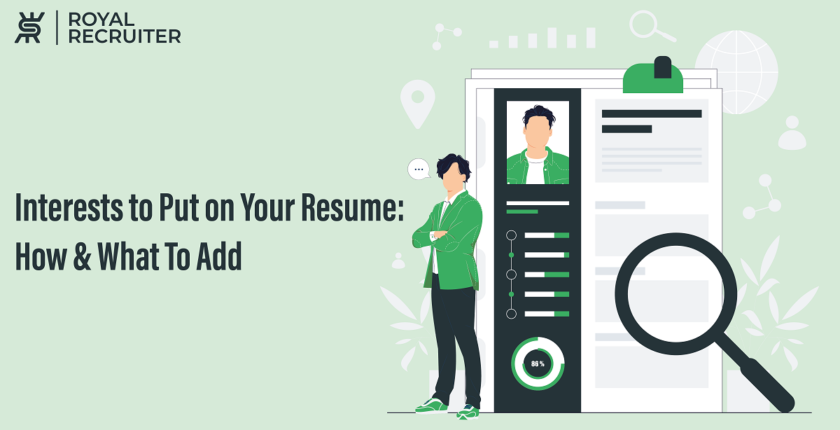 Interests on a resume can show your personality and how you can use them for the company's benefit. Let's know what Interests to Put on Your Resume and how to do it.
When creating a resume, most job seekers focus on listing their education, skills, and work experience. However, including interests on a resume can also be valuable, as it can give hiring managers a glimpse into your personality and interests outside of work. 
In this blog post, we'll discuss why it's important to include interests on a resume, what types of interests to include, and how to present them in the best possible way.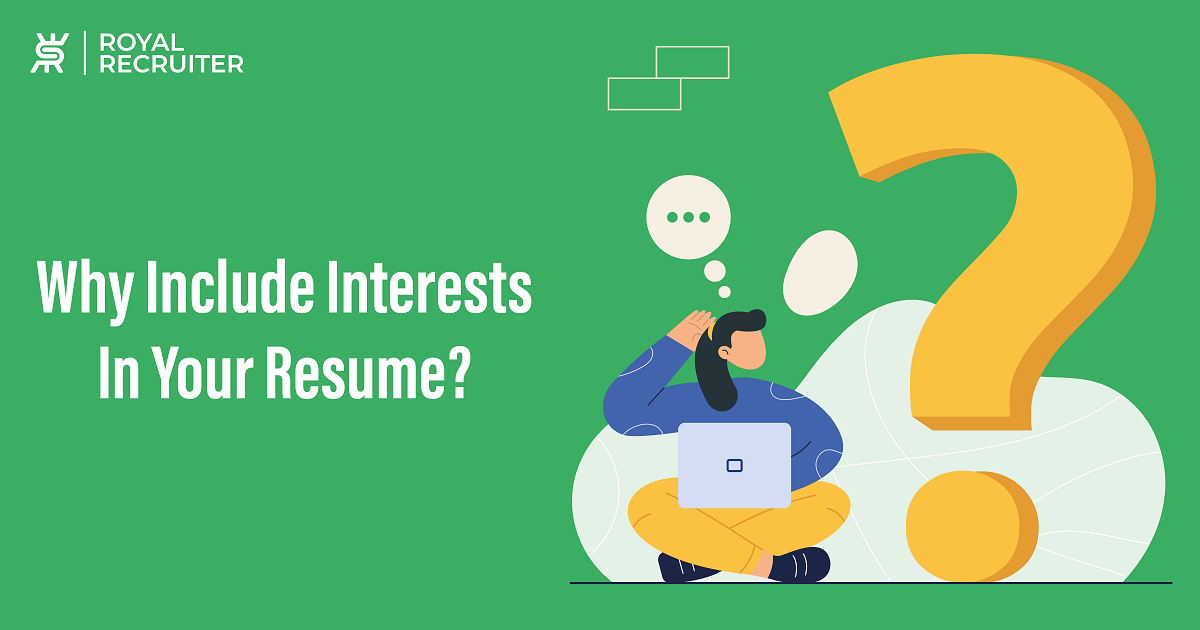 Why Include Interests In Your Resume?
First and foremost, including interests in resumes can help you stand out from other applicants. It can give you an opportunity to showcase your personality, hobbies, and passions, which can be particularly beneficial if you're applying for a position that values creativity, innovation, or teamwork. 
Additionally, it can also help you establish common ground with a potential employer, which can help you build a stronger connection during an interview.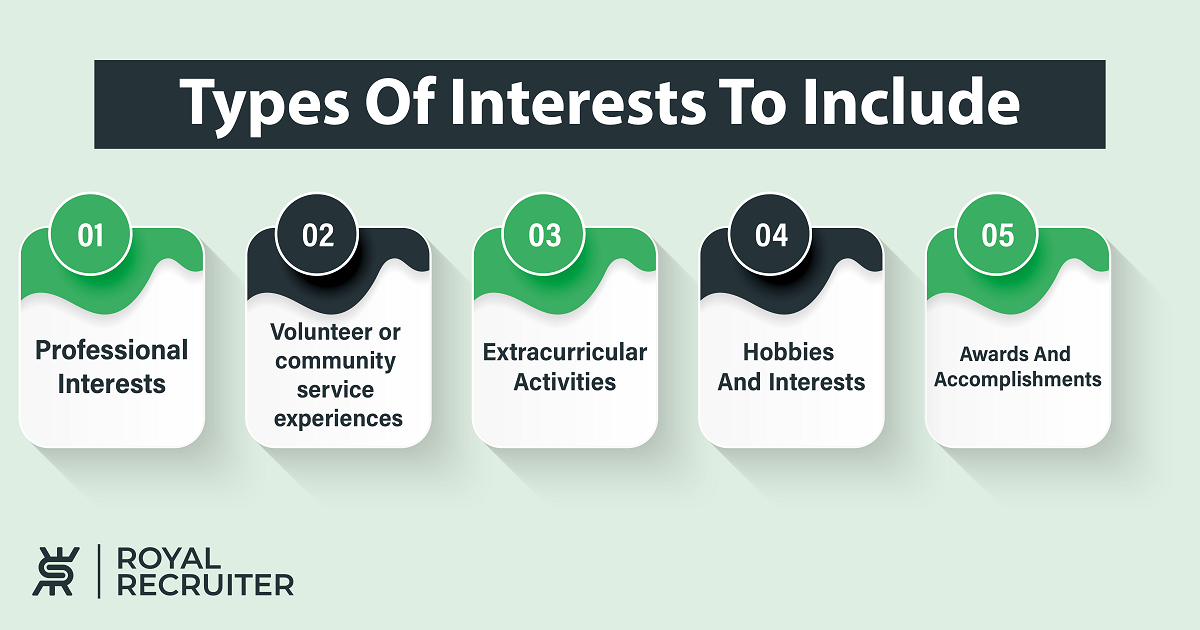 Types Of Interests To Include
When it comes to including interests on your resume, there are a few different types of activities that you can list. Here are a few examples:
Professional interests: If you're a member of any professional organizations or have any certifications, list them here. This will show that you're actively engaged in your field and that you're keeping up with the latest trends and developments.
Volunteer or community service experiences: Listing any volunteer or community service experiences you've had will show that you're a committed and civic-minded individual.
Extracurricular activities: If you've been involved in any extracurricular activities, such as clubs or sports teams, these can be great to list. They can show that you're a team player and that you're able to balance multiple responsibilities.
Hobbies and interests: Listing your hobbies and interests can give potential employers an idea of your personality and what you're passionate about.
Awards and accomplishments: If you've won any awards or achieved any notable accomplishments, list them here. This can be a great way to demonstrate your commitment and dedication to a particular activity.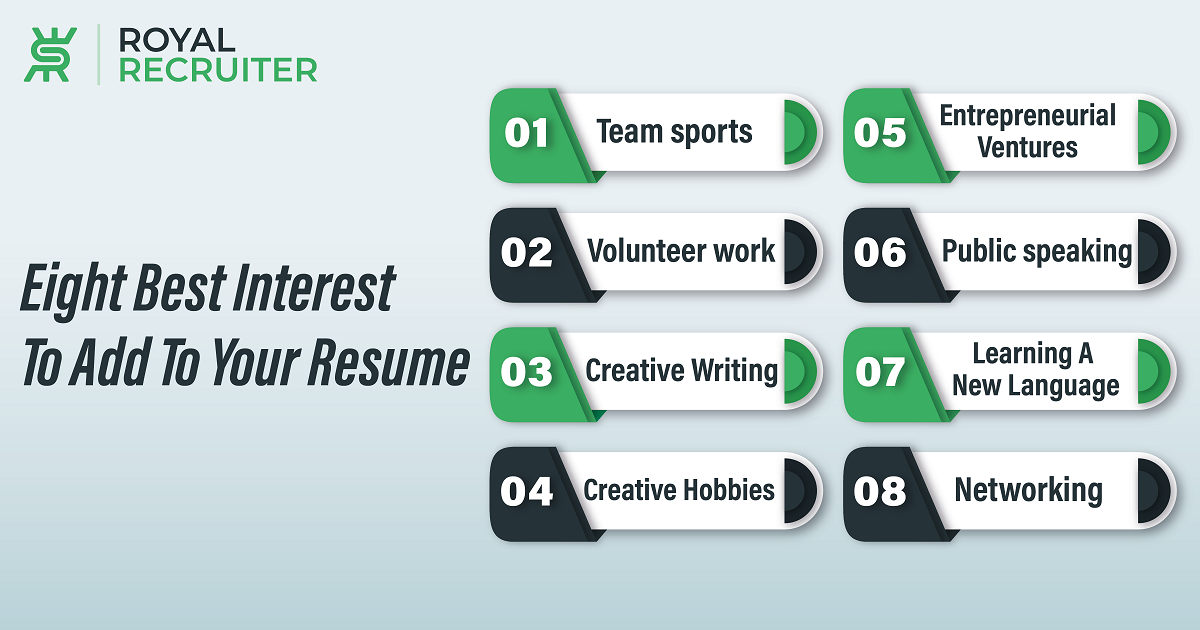 Eight Best Interest To Add To Your Resume
It's always a great idea to customize interests according to job positions, but some interests are considered the best and can be used in various job positions, which are: 
Team sports: Participation in team sports showcases your experience working with a team, leadership skills, and proficiency in performing under pressure. This can include examples of how you helped the team succeed or how you stepped up as a leader during challenging situations.
Volunteer work:

Showing your commitment to community service and social responsibility. Highlight specific volunteer experiences you've had, the causes you've worked with, and the impact you've made.

Creative Writing:

Showing that you have experience in creative writing can demonstrate your capability to communicate effectively and think creatively. This can include examples of published works, writing awards or recognition you've received.

Creative Hobbies:

Painting, photography, and other creative hobbies demonstrate your creativity and ability to think outside the box and generate innovative ideas. Highlight specific pieces of art or photographs you've created, or explain how your hobby has influenced your professional life.

Entrepreneurial Ventures: Starting a small business or side hustle exhibits your creativity, initiative, and independent work skills. Provide details about the venture, such as the industry, the duration, the role you played and the result or outcome of the business.
Public speaking: Participating in public speaking events displays your communication and presentation skills when speaking in front of large groups. Provide examples of events you've spoken at, topics you've covered and the feedback you've received.
Learning a new language:

Demonstrating proficiency in a foreign language is a valuable skill in today's globalized job market, and it shows your ability to adapt and learn new things. Specify the language you speak, the level of proficiency, and the ways in which you've used it in your professional or personal life.

Networking: Interest in joining professional organizations or attending industry events demonstrate your connections and ability to stay informed about the latest trends and developments in your industry. Mention specific organizations you're a member of, events you've attended, and the impact they had on your professional

development.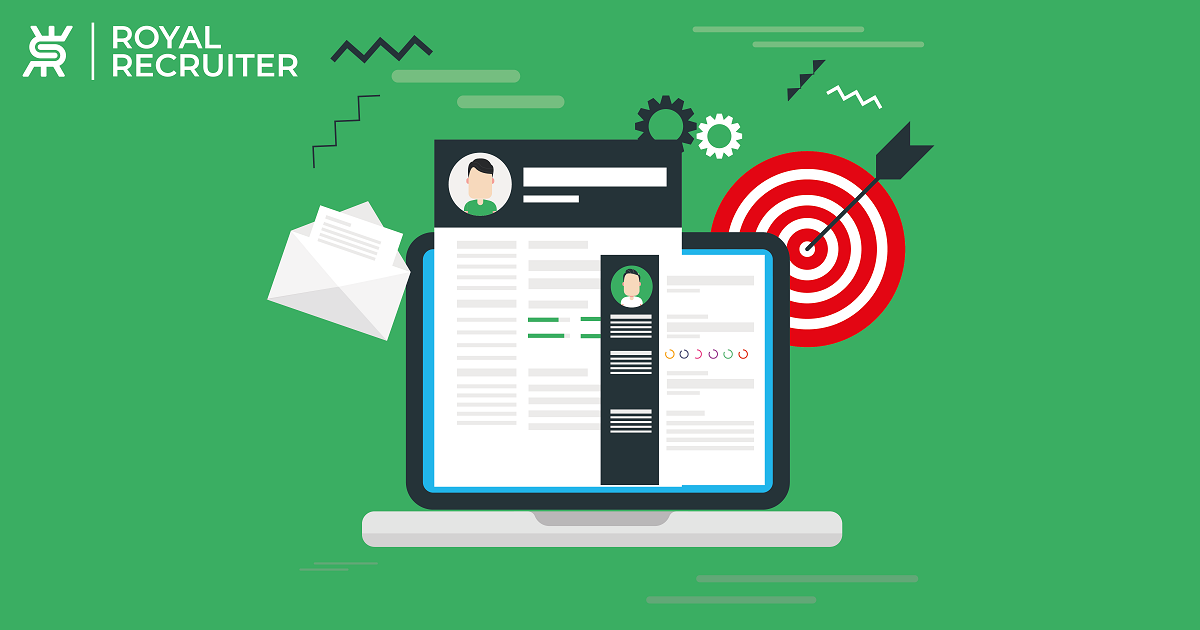 How To Include Interests On Resume
There are a few best practices everyone should keep in mind when adding interest to a resume because if you don't follow the standard, the result can be entirely opposite:
Keep it relevant

: Only list interests that are relevant to the job or industry you're applying for.

Keep it concise

: A list of interests should be brief and to the point.

Tailor it to the job

: Make sure your interests align with the job or industry you're applying for. If you're applying for a job in the technology industry, for example, listing your interests in coding or tech-related hobbies would be more relevant than listing your interest in stamp collecting.

Be honest

: Don't exaggerate or fabricate interests. Be honest about what you're listing.
Want to know which skills to add to a resume? Read Which Skills To Write In Resume?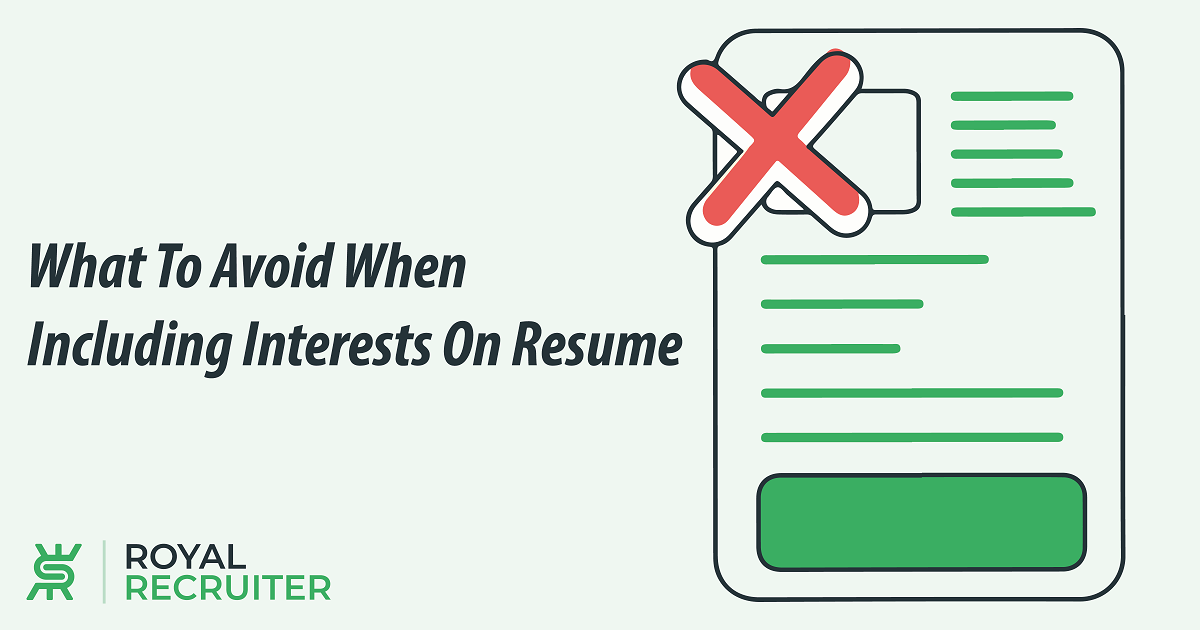 What To Avoid When Including Interests On Resume
It's important to include interests in the right way and to avoid certain mistakes that could harm the chances of getting the job. 
Here are some common pitfalls to avoid when including interests on your resume.
Irrelevant interests: Only list interests that are relevant to the job or industry you're applying for.
Controversial or sensitive interests:

Avoid listing any interests that might be controversial or sensitive. This could include things like political beliefs or membership in certain organizations.

Over-embellishing or exaggerating interests:

Be honest about your interests. Don't exaggerate or fabricate any interests that you don't actually have.

Being Vague: Listing an interest as "reading" or "traveling" is too general and doesn't give any specific information about the person. Instead, be specific about the type of books you like to read or the places you like to travel.
Pros And Cons Of Adding Interests On Resume
Interests on a professional resume can serve as a means to provide insight into a candidate's personality and interests beyond their work experience and education. But, there are some advantages and disadvantages too of adding interest on a resume.
Pros:
Adds a personal touch:

Including interests on your resume gives the hiring manager a glimpse into your personality and interests, which can help you stand out from other candidates.

Shows you're well-rounded: Having a variety of interests can demonstrate that you're a well-rounded person with a diverse set of skills and experiences.
Can highlight relevant interests: If your interests align with the company's mission or values, it can be a great way to show that you're a good fit for the organization.
Cons:
Takes up valuable space: As a resume is limited in space, one should make the resume look professional as much as possible, and including interests may overshadow other important details like employment history and education.
Not always relevant: If your interests don't align with the job or the company, it can be seen as irrelevant and unnecessary information.
Can be perceived as unprofessional:

If your interests are too personal or controversial, they could be viewed as unprofessional and may harm your chances of getting the job.
Top Writing Job jobs near you