What Are Problem-Solving Skills On Resume?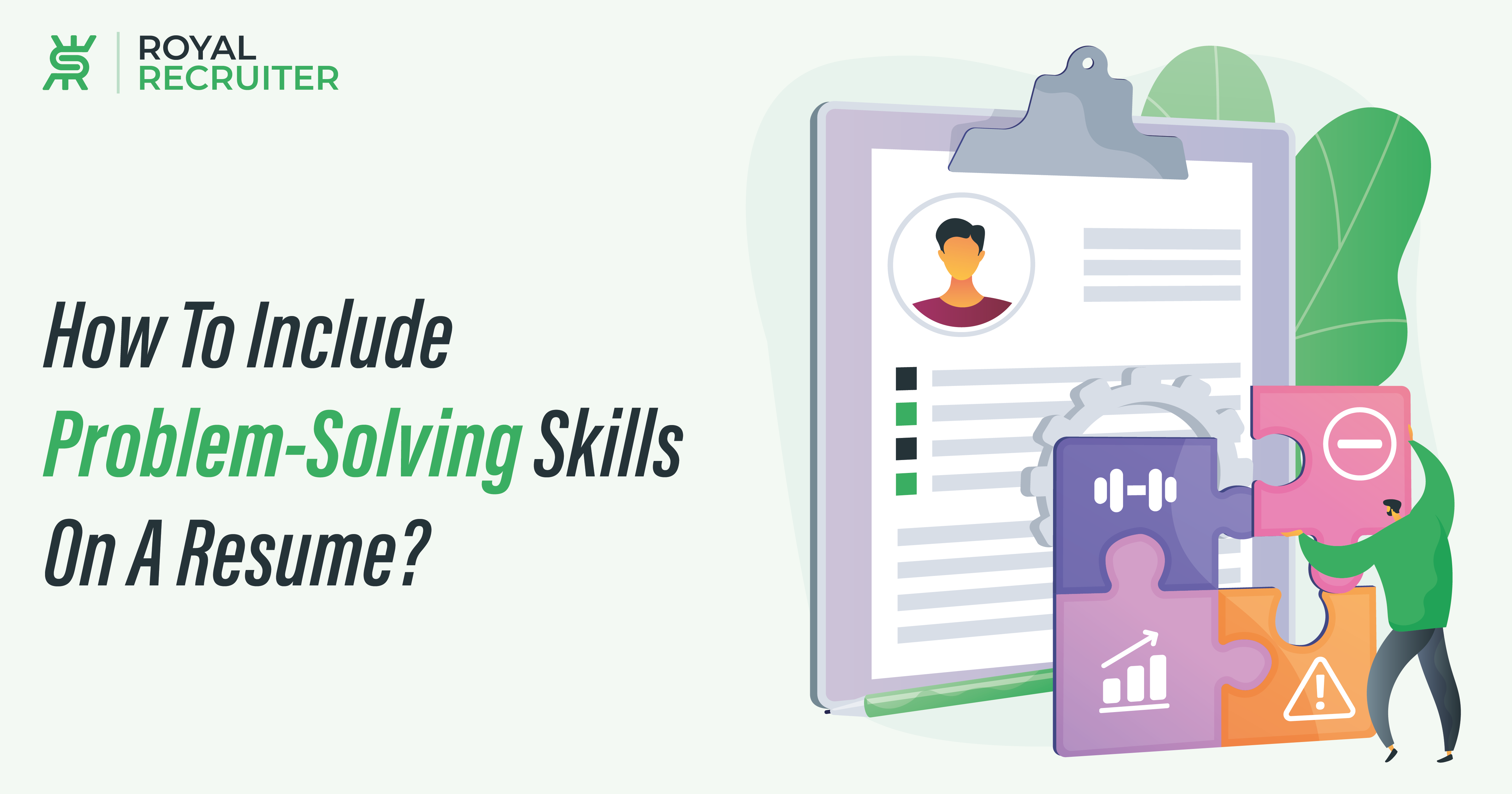 Problem-solving skills are essential in all job positions. Find out what are problem-solving skills on a resume, how to add them, and more in this article.
If a professional wants to progress further in their workplace or professional life, one of the major skills they must have to master is problem-solving.
Because no matter which position and industry you work in, you'll need to solve various types of problems on a daily basis, and if you're not good at solving problems, you'll have a hard time carrying out even the simplest responsibilities.
If you're not sure about how to add problem-solving skills to your Resume, this article is a must-read for you, as we've covered what problem-solving skills are, how to add them to your Resume, etc. 
What Are Problem-Solving Skills?
Skills that help a person or professional to identify problems, brainstorm ideas, analyze answers, and implement the best solutions are known as problem-solving skills.
Creativity, teamwork, active listening, and analysis are some of the skills that assist a person in becoming good at problem-solving. Currently, problem-solving skills are one of the most sought-after and valued skills in every work setting.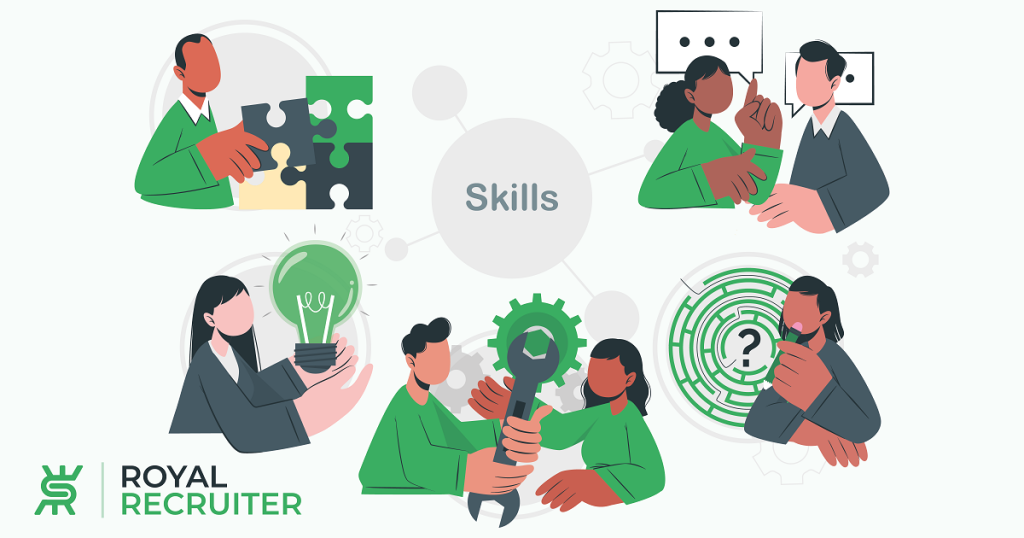 What Is Problem-Solving Skill?
Problem-solving might sound like a single skill, but it isn't. Problem-solving skills are a combination of several skills. Let's see what problem-solving skills are:
Critical thinking: Critical thinking is one of the first and foremost traits of every problem-solver. This skill involves analyzing information, identifying key issues, and evaluating evidence to make better decisions.
It is a crucial skill that lets you break down complex problems into smaller, more manageable parts, which leads you to pinpoint the problem and find effective solutions.
Research: In problem-solving, research skill plays a vital role. Whether it is a problem or a solution; research skills will always help you find the problem faster from its root and come up with different types of solutions.
Research skills allow you to discover various paths of a problem's cause and solution.
Creativity: Finding a solution to a problem is as difficult as finding the problem in the first place. Creativity is the ability to generate new ideas and solutions. It helps a person in thinking outside the box and consider alternative perspectives and approaches that are unique and unconventional.
Logical reasoning: Logical reasoning helps in analyzing cause-and-effect relationships and identifying patterns and connections. Additionally, logical reasoning allows you to successfully correlate data, events, and information and predict the outcomes of different solutions.
Communication: Effective communication skill is essential for problem-solving because if there's any gap in communication, the problem will worsen. Communication skills will help you to deliver your ideas clearly, listen actively to others, and work collaboratively to find solutions and implement them.
Collaboration: Collaboration means working with others to achieve a common goal. Collaboration can help you recognize others' contributions, identify obstacles and address problems cooperatively.
Research shows collaborative problem-solving leads to better outcomes, innovation, personal growth, job satisfaction, and reduced stress.
Time management: Time management is essential for problem-solving as it enables you to prioritize tasks and allocate resources effectively. You can set goals, create action plans, and monitor progress to ensure that you are on track to achieving your objectives within the assigned time.
Read Which Skills To Write In Resume?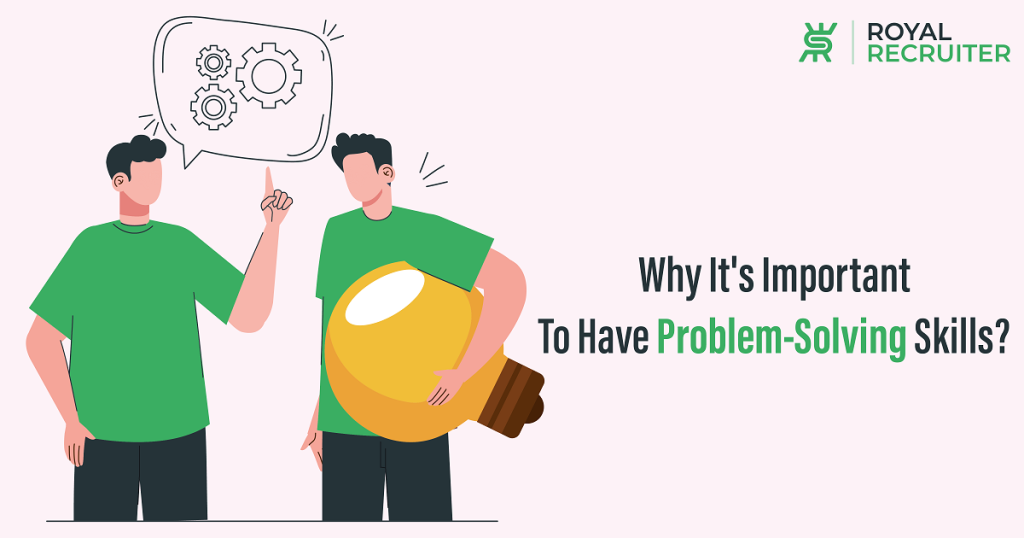 Why It's Important To Have Problem-Solving Skills?
In any situation, problems and challenges can arise in the workplace, and having the ability to tackle them is necessary for success. Problem-solving skills are not something that is inherited.
They have to be learned and developed over time. Because it is crucial to have problem-solving skills as they can benefit you in various aspects of your life.
Let's see some common reasons why it's important to have problem-solving skills.
You can handle challenges and obstacles more effectively. It doesn't matter which approach you take or how automated the workplace is; problems are inevitable in any project or task, but with problem-solving skills, you can find solutions quickly and efficiently.
You can demonstrate leadership and teamwork abilities. Regardless of your job position, you are responsible for helping your team solve problems and achieve goals. You can apply problem-solving skills while working with teams and in different contexts, which will help you demonstrate your leadership and teamwork skills, allowing you to get hired faster!
You can stand out from the crowd and boost your confidence. Problem-solving skills show that you are creative, analytical, and adaptable. Also, you can handle unexpected situations with ease.
In many companies, you can keep yourself ahead of the competition with only problem-solving skills because of the demand. You can improve yourself and your environment. Problem-solving skills will enable you to identify opportunities and use them for personal and organizational growth. Not only that, but you can also learn from your mistakes and prevent them from happening again to ensure a better workplace by taking various problem-solving approaches.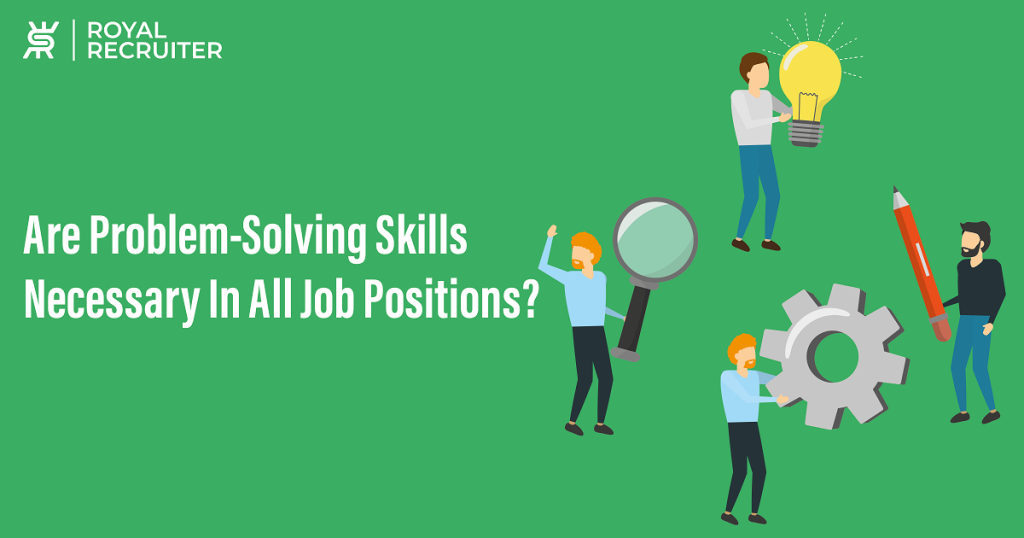 Are Problem-Solving Skills Necessary In All Job Positions?
Yes, problem-solving skills are essential in all professions. No matter where you work, you are likely to encounter problems and obstacles that will require effective problem-solving skills to overcome those problems and ensure smooth operation.
Some reasons why problem-solving skills are necessary for all job positions are:
Problem-solving skills enable you to make smart decisions: You can evaluate the situation, weigh all the possible options, and choose the best one. This prevents you from acting rashly and making errors that can be fatal for both the company and yourself.
Problem-solving skills also boost productivity in any workplace: Problems are serious timer killers/wasters as sometimes a simple problem could take a few days to weeks to figure out!
With problem-solving skills, you can solve problems efficiently and effectively, saving time and resources that can be spent on other essential tasks.
Problem-solving skills help you to be more creative and innovative: You can find new and original solutions to spur your organization's growth and success, as problem-solving skills can help you become innovative and creative. 
Read this article to find out what other information you can add to your resume.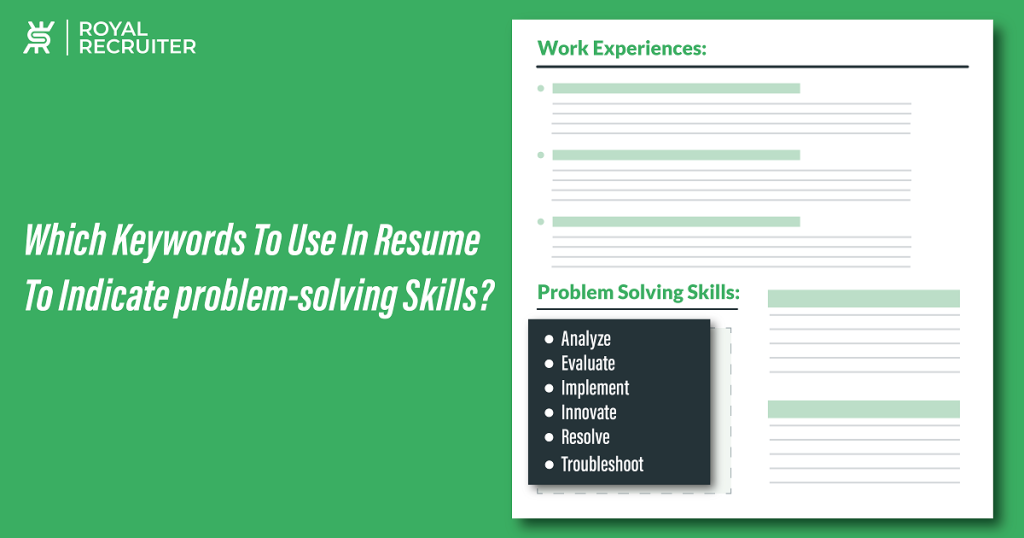 Which Keywords To Use In Resume To Indicate problem-solving Skills?
Let's assume that you've good problem-solving skills, and as you're crafting a winning resume, you want to demonstrate your problem-solving skills on your Resume; So, how would you do that?
The one and only method is to use the correct keywords. Keywords are specific terms or phrases that refer to the problem-solving skills and expertise needed for a given profession.
By appropriately putting the right keywords in your Resume, you may demonstrate that you have the required problem-solving skills and are a good fit for the role.
These are some keywords to use in your CV to emphasize your problem-solving abilities:
Analyze: This keyword demonstrates your ability to examine a problem thoroughly and break it down into its component parts to identify the root cause.
Example: "Analyzed complex customer service issues to identify recurring problems and develop solutions to improve customer satisfaction."
Evaluate: This keyword shows that you are able to assess the pros and cons of different solutions and make informed decisions.
Example: "Evaluated various software options to determine the best solution for streamlining business operations."
Implement: This keyword indicates that you can turn thoughts into action and successfully implement them for better solutions.
Example: "Implemented a new sales strategy that increased revenue by 25% within six months."
Innovate: This keyword indicates that you can think outside the box and come up with creative solutions to complex problems.
Example: "Innovated a new product line that increased customer engagement and generated a 30% increase in sales."
Resolve: This keyword shows that you are able to resolve conflicts effectively and find solutions to difficult situations.
Example: "Resolved customer complaints and conflicts promptly and professionally, resulting in improved customer satisfaction ratings."
Troubleshoot: This keyword demonstrates your ability to identify and solve problems quickly and efficiently.
Example: "Troubleshoot technical issues with software and hardware systems, resulting in a 50% reduction in downtime and increased productivity."
Click to learn How To Add Resume-Relevant Coursework.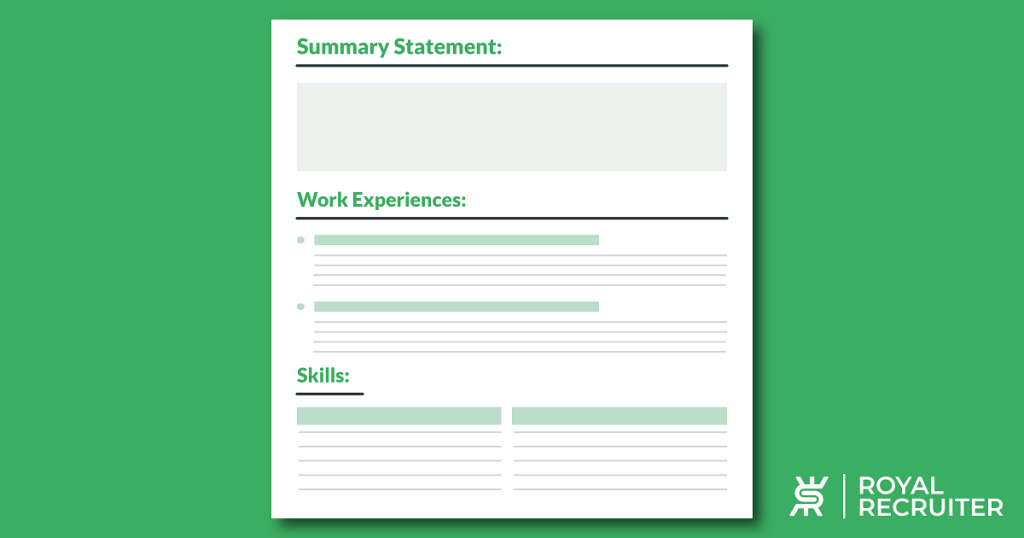 Where Can You Add Problem-Solving Skills?
There are numerous sections on a resume where you can add problem-solving skills, but that doesn't mean you can add wherever you want!
Summary statement: This is where you can briefly summarize your main qualifications and achievements, including your problem-solving skills.
For example: "Creative and analytical marketing manager with five years of experience in developing and implementing innovative campaigns that increased sales by 25%."
"Skilled in decision-making, project management, and conflict resolution."
Work history: In work history, you can provide specific examples of how you used your problem-solving skills in your previous job positions.
For example: "Identified customer needs and preferences through market research and data analysis."
"Evaluated various marketing strategies and selected the most effective ones based on budget and goals."
"Resolved issues with vendors and suppliers by negotiating contracts and ensuring timely delivery"
Skills section: In this section, you can list some of the relevant skills that showcase your problem-solving abilities. For example: "Creative thinking, analytical skills, critical thinking, decision-making, project management."
Can I list problem-solving skills without specific examples?
Yes, you can list problem-solving skills without adding or mentioning specific examples, but most career coaches/advisers don't recommend adding problem-solving skills without examples because doing so may not effectively showcase your abilities to potential employers.
Listing problem-solving skills without specific examples may give the impression to hiring managers that you're simply making empty claims without any evidence to back them up.
Employers are looking for candidates who can demonstrate that they have the skills and experience needed to solve real-world problems.
Providing specific examples of how you've used your problem-solving skills in the past workplace can make your Resume more impactful and help you stand out from other candidates.
In other words, examples tell the hiring managers that you are experienced in overcoming challenges and achieving results using your problem-solving skills.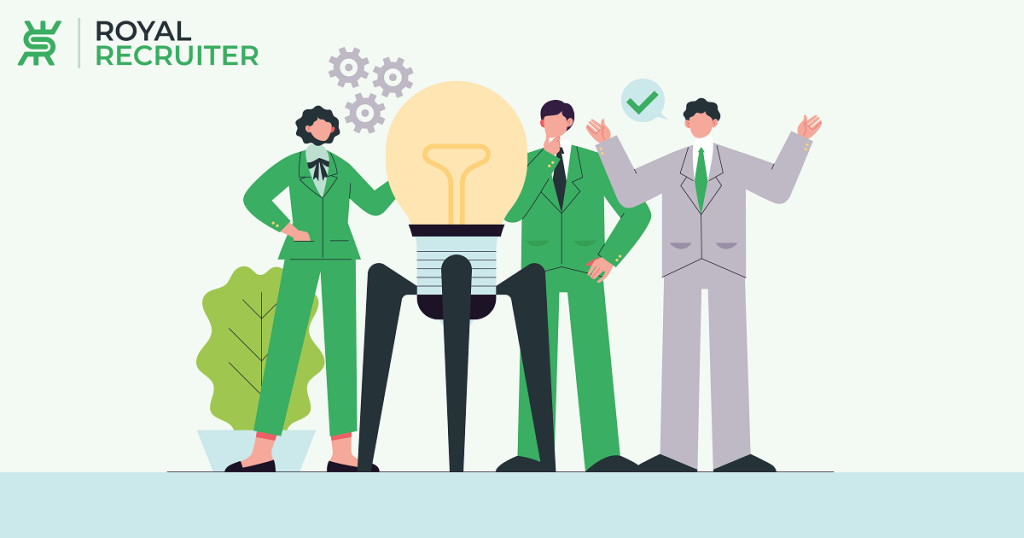 Examples Of How To Add Problem-Solving Skills To Resume
To help you with writing problem-solving skills on your Resume, here are a few short examples. These short examples show how you can mention problem-solving skills in particular job positions:
Project manager: Managed multiple projects simultaneously, ensuring that they met the deadlines, budget, and quality standards.
Identified and resolved potential risks and conflicts before they escalated.
Marketing manager: Conducted market research and analysis to identify new opportunities and strategies for increasing brand awareness and sales.
Designed and executed successful marketing campaigns across various channels.
Teacher: Adapted the curriculum and teaching methods to meet the student's diverse needs and learning styles.
Implemented creative and engaging activities that enhanced student motivation and participation.
Please note that these are just a few simple examples; you should/could add more examples, at least three to four, to discuss your achievements and problem-solving skills. 
Top Most Wanted jobs near you