Resume Relevant Coursework: How To List Coursework On Resume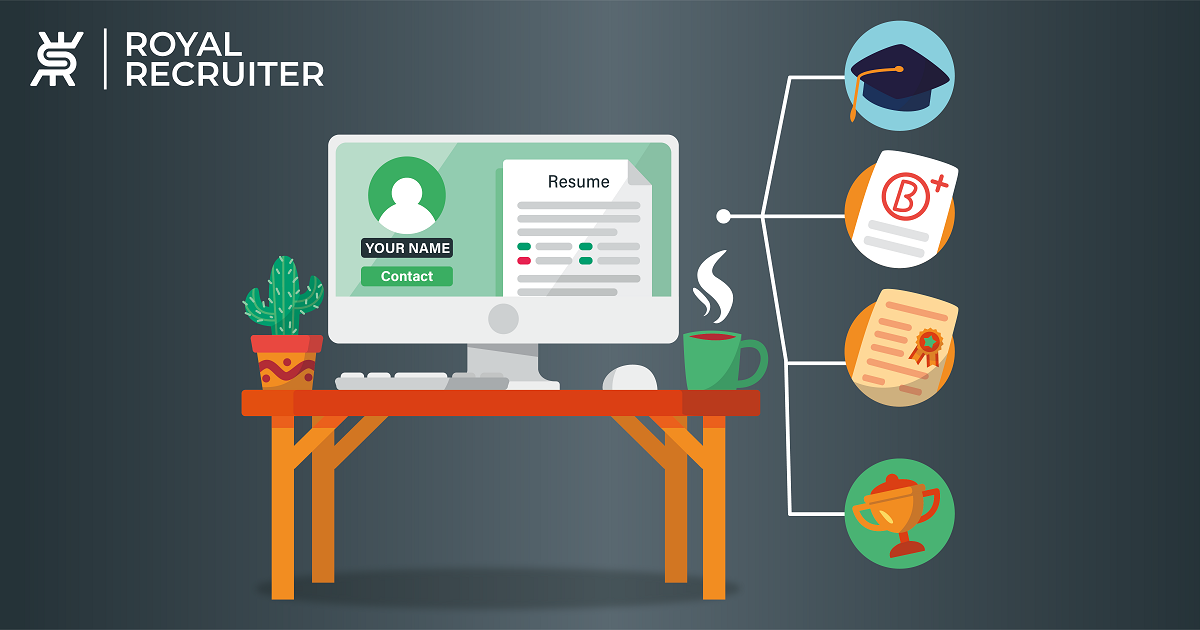 You can enhance your resume's value by adding relevant coursework, but you should make it reader-friendly. Click to learn how to add resume-relevant coursework.
In resume writing, one crucial aspect that many job seekers overlook is including relevant coursework. But what exactly is relevant coursework, and why is it essential to include it on a resume?
This blog post will cover the importance of including relevant coursework on your resume, identifying and presenting it effectively, and many more.
What Is Relevant Coursework?
Relevant coursework refers to any classes or coursework directly related to the job or industry you're applying for. For example, if you're applying for a job in the field of media, relevant coursework would include classes you've taken in journalism, writing, or visual communication.
Similarly, if you're applying for a job in healthcare, relevant coursework would be electronic medical records, hospital management, or nursing.
Why Add Relevant Coursework To Resumes?
Having relevant coursework on a resume is particularly important for students and recent graduates, as well as job seekers with little or no work experience.
If you don't have much work experience, relevant coursework can help make up for it by highlighting transferable skills and qualifications that you've acquired through your studies.
So, when to consider adding coursework to a resume?
When you are a recent graduate, adding relevant coursework can demonstrate your qualifications and skills to employers.
When the job you are applying for requires a degree or specific course.
When your work experience is not related to the position you are applying for.
When you have completed relevant certifications or have received awards in your coursework, they will be useful to include in your resume.
When you are applying for a position in a different field and want to show transferable skills.
When the education or certification section of the resume has too much empty space
When you are transitioning to a new field 

The coursework you have taken is directly related to the skills required for the job.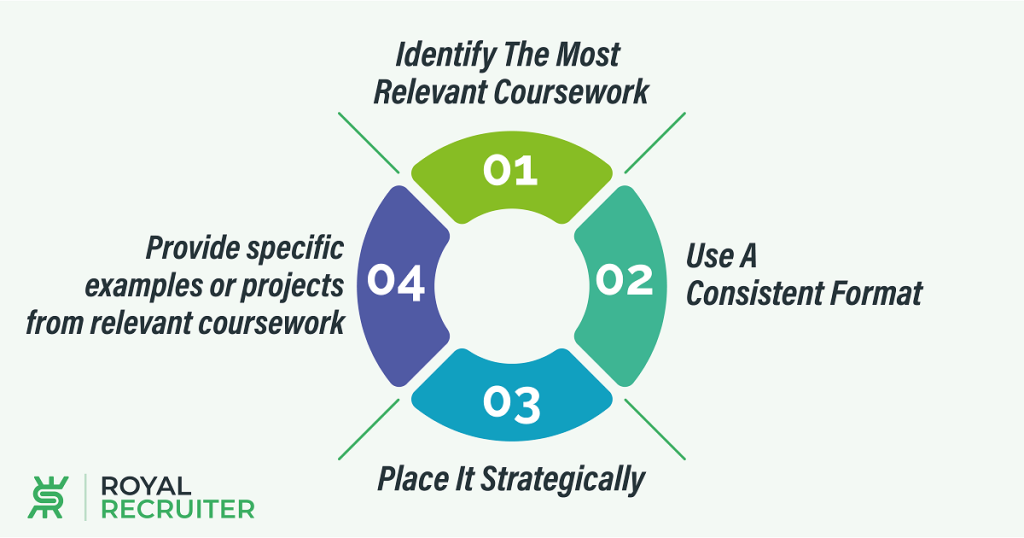 Tips For Including Relevant Coursework On Your Resume
Here are a few tips you can follow before you add any relevant coursework to your resume.
Identify the most relevant coursework
Read the job description carefully and identify the skills and qualifications that the employer is looking for. Also, Take the time to research the industry and the company to understand what kind of qualifications they are looking for and add your coursework accordingly.
Because if the coursework you add doesn't match the position or industry you're applying for, it won't add any extra value.
Make sure to use a consistent format when listing your coursework. The benefits of a consistent format are that it will make your relevant coursework easy to find and read for hiring managers.
In a consistent format, you'll include the course title, school name, date of completion, and achievements.
The location of the relevant coursework also matters if you've to put it somewhere that gets the reader's attention easily. That's why you should place the coursework section in a strategic location on your resume.
For instance, if you're a recent graduate, it's best to place it near the top of your resume, under your education section.
And if you have work experience, it's best to place it below your work experience section. This will ensure that your relevant coursework is easily detectable
Provide specific examples or projects from relevant coursework
If you can briefly describe the achievements from the coursework with specific examples, that can help showcase your skills and qualifications in a more tangible way. Also, It will aid employers in knowing about your capabilities.
Want to know which skills to add to a resume? Read Which Skills To Write In Resume?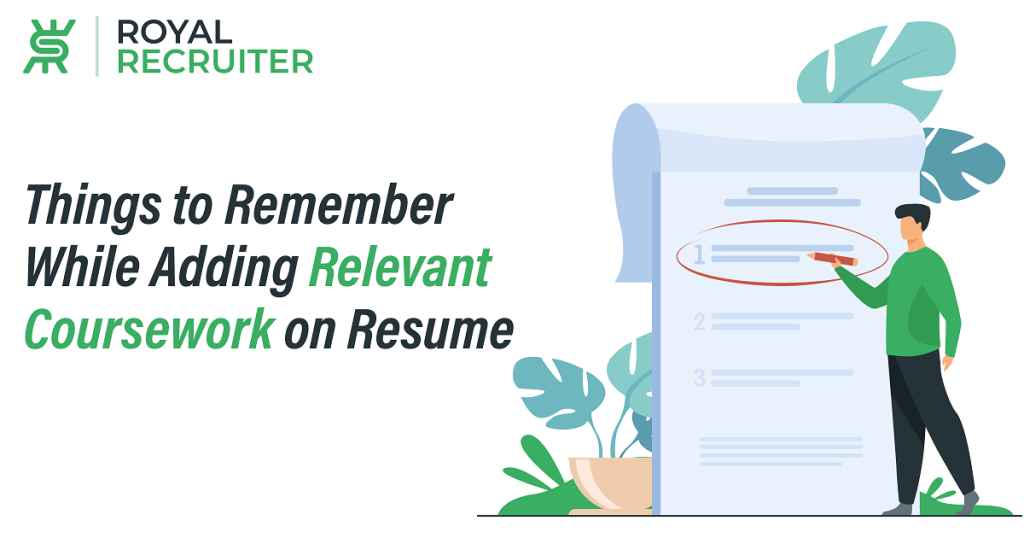 Things to Remember While Adding Relevant Coursework on Resume 
There are a few things to keep in mind in order to ensure the relevant course on your resume makes the desired impression.
Here are some elements to remember when attaching relevant coursework to a resume
Tailor your coursework to the job: When adding relevant coursework to your resume, make sure to tailor the information to the specific job you are applying for. Highlight the skills and knowledge that are most relevant to the position and demonstrate how you can apply them in the workplace. 
Be specific: Instead of just listing the courses you have taken; give specific examples of skills and achievements you have acquired. This will give employers a better understanding of yourself. 
Include relevant certifications: In addition to relevant coursework, you can also include certifications that you have obtained. This can help show your skills and qualifications in a specific field or industry and your commitment to professional and personal development. 
Keep it brief: Remember that your resume should be a short document, so be sure to keep the information about your relevant coursework brief and to the point. And avoid listing every course you have taken that'll make your resume look. 

Make it look clean: Use formatting techniques such as bolding, bullet points, and headings to make your relevant coursework stand out and be visually appealing. This will make it more readable.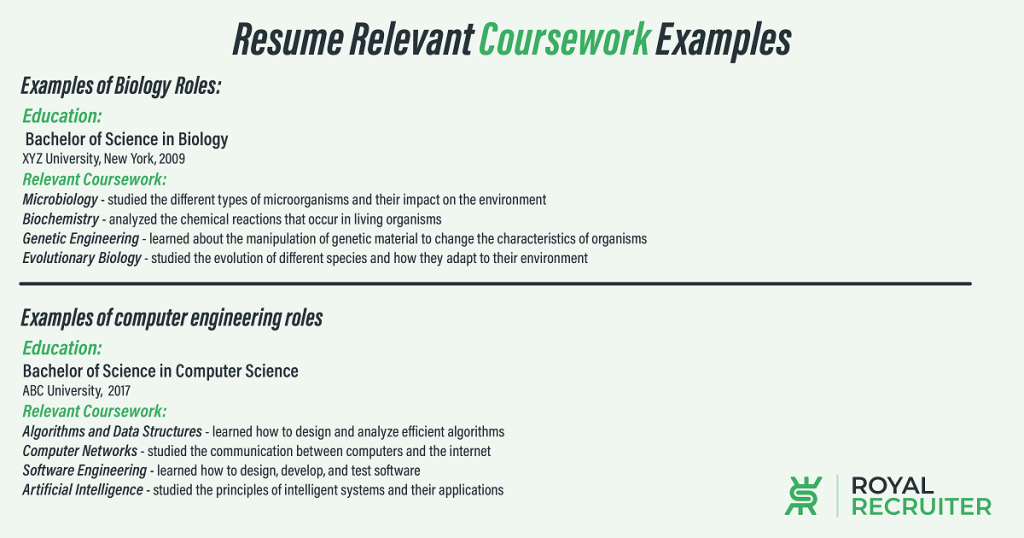 Relevant Coursework Examples
To help you get started, here are a few samples of how to add relevant coursework to your resume.
Examples of biology roles
Education:
Bachelor of Science in Biology
XYZ University, New York, 2009
Relevant coursework:
Microbiology – studied the different types of microorganisms and their impact on the environment
Biochemistry – analyzed the chemical reactions that occur in living organisms
Genetic Engineering – learned about the manipulation of genetic material to change the characteristics of organisms
Evolutionary Biology – studied the evolution of different species and how they adapt to their environment
Examples of computer engineering roles
Education:
Bachelor of Science in Computer Science
ABC University,
2017
Relevant coursework:
Algorithms and Data Structures – learned how to design and analyze efficient algorithms
Computer Networks – studied the communication between computers and the internet
Software Engineering – learned how to design, develop, and test software
Artificial Intelligence – studied the principles of intelligent systems and their applications
Example of a nursing job
Education
Bachelor of Science in Nursing,
XYZ University,
2022 – present
Relevant coursework:
Anatomy and Physiology – studied the structure and function of the human body
Pharmacology – learned about the use of medication in patient care
Medical-Surgical Nursing – studied the care of patients with acute and chronic medical conditions
Pediatric Nursing – learned about the care of infants, children, and adolescents
Mental Health Nursing – studied the care of patients with mental health conditions 
Visit "How To Make A Nursing Resume" for a complete resume-building guide to getting a nursing job easily.
Example Of Sales representative job
Education
Bachelor of Science in Business Administration,
XYZ University
Graduated: 2021
Relevant coursework:
Sales and Marketing – studied the principles of sales and marketing and how to create effective strategies
Business Ethics – learned about the ethical considerations in business
Consumer Behavior – studied the behavior of consumers and how it impacts the sales process
Market Research – learned how to conduct market research and analyze data
Product Management – studied how to develop and manage products in a business setting
Visit A-Z Resume Writing Tip To Write A Stunning Resume.
Top Computer Engineering Jobs jobs near you