What Additional Information On Resume Should You Add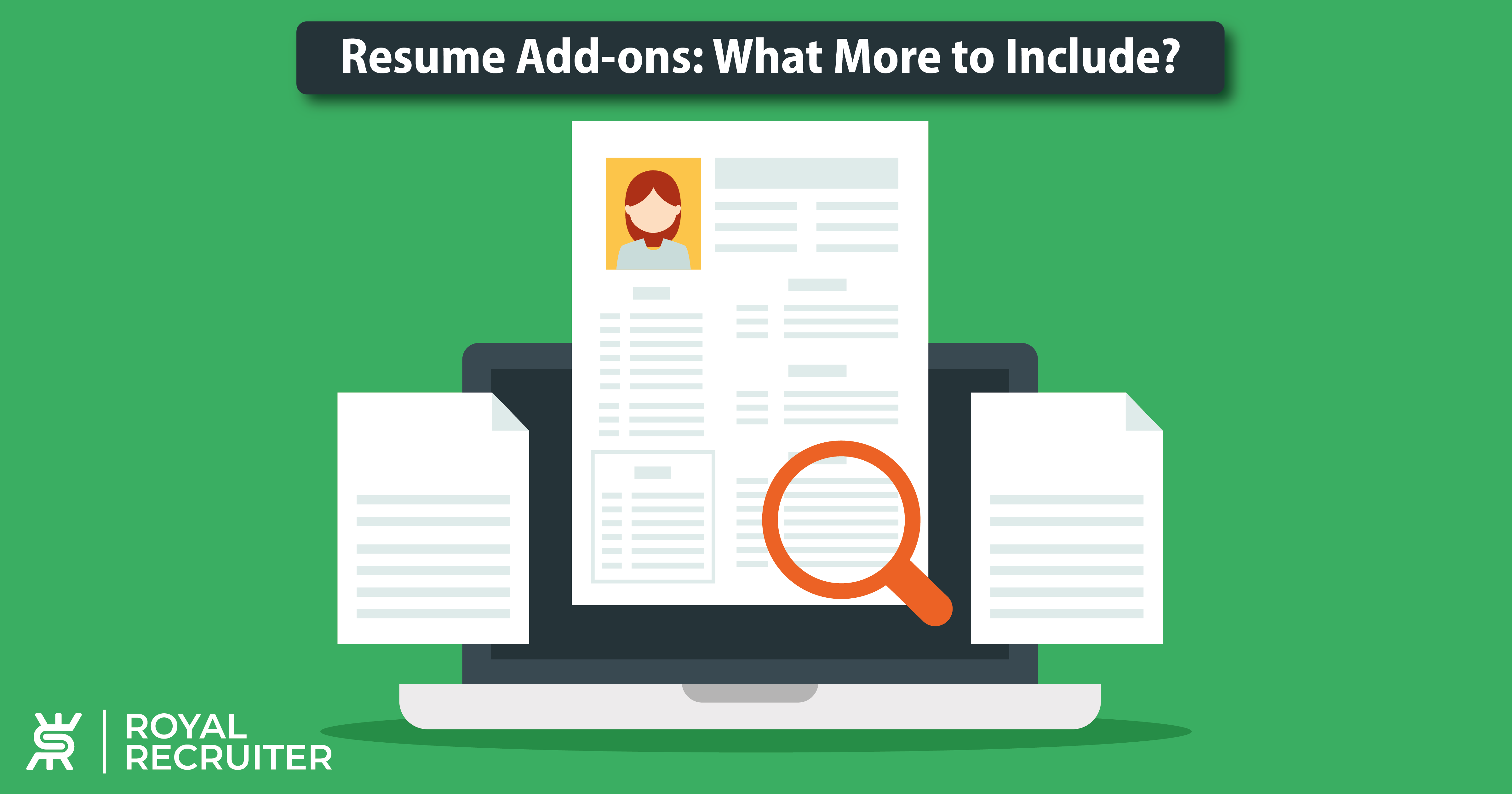 Everyone knows what they should include on their resume. But only a handful knows they could add additional information to the resume to increase its value. Let's see what other information you can add to your resume.
There's no denying that a resume is the most powerful document that you can use to show your skills, capabilities, qualifications, and achievements. In a word, one can use their resume however they want (Of course, by following standards) to show the potential hiring managers that they are capable of carrying out the duties.
More or less, all of us know what types of information to include in a resume. Such as contact information, name, career objectives, educational qualifications, and achievements.
However, do you know that you can also add some additional VALUABLE information on your resume to stand out from the crowd and present yourself as a more worthy candidate?
But additional information can be both relevant and irrelevant. In this article, we'll discuss what is additional information on a resume, which information you should add, and how it can benefit you.
What Is Additional Information On A Resume?
Additional information on a resume is any relevant skills, qualifications, or characteristics that match your work experience. It shows your passion and unique skills that help you stand out from your competitors.
Additional information on a resume refers to information other than the basic details of your work history and educational background. It can be any relevant information that helps to showcase your qualifications and fit the position you are applying for.
Here are some types of additional information that you may consider adding to your resume include:
Certifications and licenses
Training or continued education
Technical Skills
Special awards or commendations
Publications
What Are Some Useful Additional Information You Should Add On A Resume
We know that a resume is a brief document that highlights your skills, experience, education, and achievements. However, in some cases, a standard resume may not provide enough information to fully illustrate your adroitness for a position.
This is where additional information on a resume comes in.
Here are some Good Things To Put On A Resume About Yourself to give a clear picture of yourself.
Here are some examples of additional information that you might consider including on your resume:
Professional certifications and licenses – If you have any professional certificates or licenses relevant to your industry or position, include them on your resume. These credentials will demonstrate your expertise and show that you are committed to ongoing learning and professional development.
Professional certifications and licenses not only talk about your expertise and commitment; for many job positions, these are mandatory; having these certificates and licenses means boosting your job opportunities and future prospects.
Volunteer work and community involvement – Including volunteer work and community involvement on your resume can showcase your character and willingness to take social responsibility.
Those who don't have work experience can also demonstrate that they have developed valuable skills, such as leadership, teamwork, and communication, through volunteer work.
Relevant coursework or training – If you have any relevant coursework or training programs consider including them on your resume because this additional information's role is as important as your educational qualifications.
With relevant coursework or training programs, you can demonstrate that you have developed specific skills or knowledge that are directly relevant to the position you are applying for, and you can do better than other applicants as you have already gained detailed training or education in that field.
Professional affiliations – This may sound weird as it's pretty unusual for a person to add professional affiliations on a resume because most job applicants don't have any!
If you belong or have a membership to any professional associations or organizations related to the sector or industry, you're applying for. Include them on your resume.
Involvement in professional organizations and associations indicates your desire to stay up-to-date with the latest industry developments and your interest in building professional networking.
Foreign language proficiency – A language is an excellent and must-have tool for effective communication. It becomes even more valuable when you know more than one. If you are proficient in one or more foreign languages, don't hesitate to add them to your resume.
Knowing one or multiple foreign languages can be especially beneficial if you apply for a position requiring bilingual or multilingual communication.
Personal projects and hobbies – Job seekers often have various personal projects and hobbies that they don't mention on their resumes. Though they sound irrelevant, they often work great as they can impress the hiring managers!
Because project projects and hobbies show that you're a creative person who has a thirst for creativity and does something different!
Awards and Achievements – Awards, recognition, or other notable achievements can have a great impact on your career. Awards and achievements let a hiring manager know that the candidate is adept in particular fields and can be an asset to the company.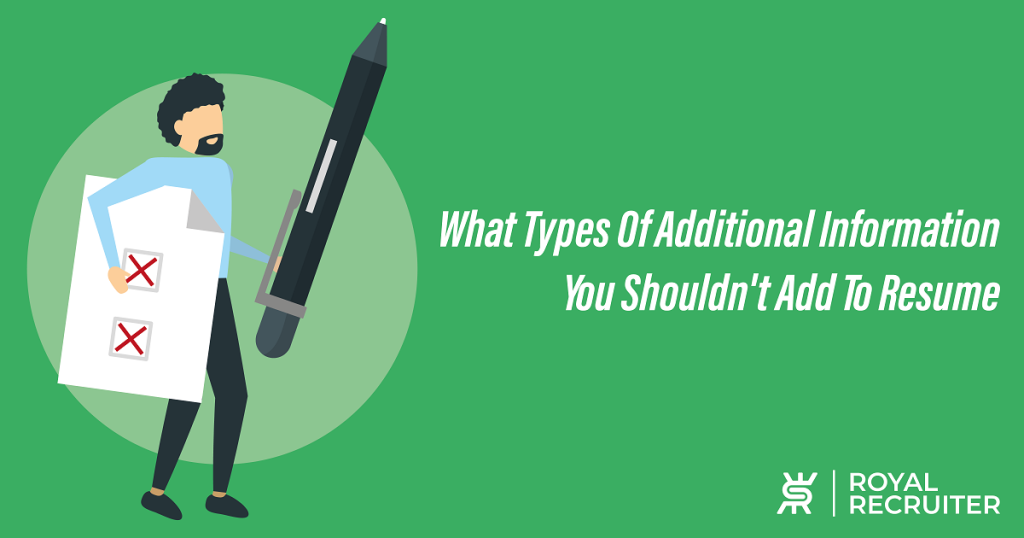 What Types Of Additional Information You Shouldn't Add To Resume
You should also keep in mind that there is also a lot of additional information that should never be included in your resume! Because adding that information can backfire, and it is most likely that an adverse outcome will occur.
Let's find out what that additional information is:
Personal Information: Your resume should focus on your professional qualifications, so including personal information such as your age, marital status, or religion is unnecessary and may lead to bias.
And until you're asked, don't even think of adding any personal information.
Political Involvement: Unless you are applying for a political job or are willing to work for a political organization, there is no need to include your political affiliations on your resume.
Because there were no companies that ever wanted to know the political involvement of a candidate, if you add your political involvement to your resume, the reader might not like it.
Reasons for Leaving Previous Jobs: Talking about why you left your previous jobs may sound like the right information to add to your resume, isn't it? Not at all!
Abstain including the reasons why you left your previous jobs on your resume. You'll have plenty of time to discuss this during the interview process as the interviewer will ask you why you left your previous position if necessary.
Salary Expectations: Many job applicants include their salary expectations on their resumes. They might think that this will help them convince the employer to pay them their expected salary!
We know salary is important to discuss, but you don't need to mention or talk about it on your resume! If you get selected, the employer will ask you regarding your during the interview process, but including this information on your resume can be seen as presumptuous and potentially harm your chances of getting the job.
Criminal History: We all have seen that almost all job openings seek candidates who don't have any criminal history for a certain time. Assume that you did a little crime decades ago, and you might think you should inform hiring managers about this!
Well, you're not required to do that willingly because most of the time, employers do a background check for the last 3 to 5 years, or the employer will be legally required to disclose your criminal history.
Read this article to find out What You Should Include On Your Resume.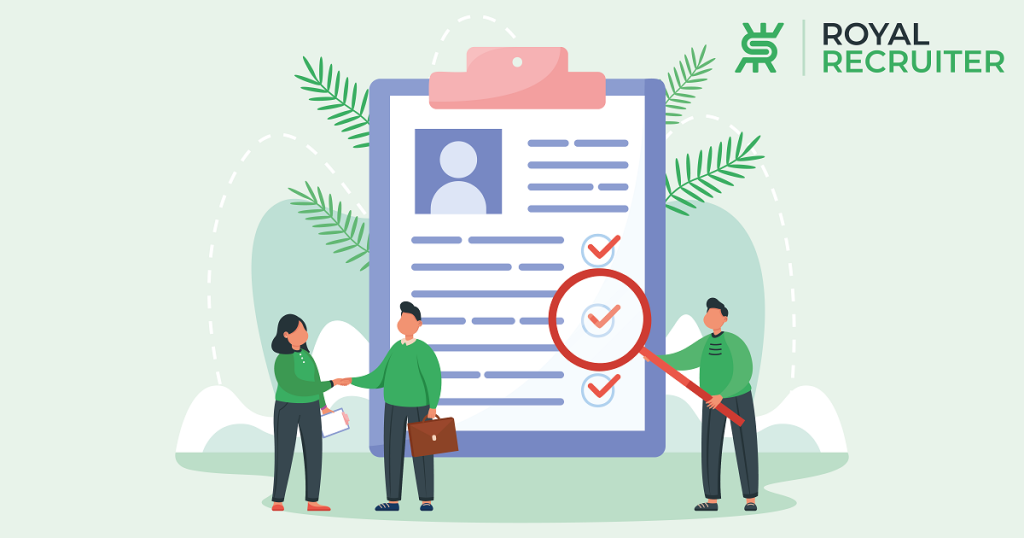 Advantages Of Additional Information On Resume
A resume should be utilized in the best way possible to convince the reader that you're a good fit for the role the job position.
In today's competitive job market, having a well-written resume is more important than ever, and adding extra information is one way to make your resume more impressive.
Here are some of the benefits of including additional information on your resume.
Demonstrates your versatility: Adding extra information allows you to show your adaptability and indicates that you have a range of skills and experiences. This can be especially useful if you are applying for a job requiring a broad range of skills or transitioning to a new field.
Makes you a more well-rounded candidate: By adding additional information, you show potential employers that you have interests and experiences beyond your professional background. This can make you a more well-rounded candidate and increase your appeal to hiring managers.
Highlights your achievements: Extra information can help you emphasize your accomplishments and successes. For instance, you could list any awards or recognition you have received, volunteer work you have done, or any special projects you have completed.
Your interest in personal development: Adding more details shows you are devoted to personal and professional growth. This can be a significant selling point for employers who are looking for candidates who are eager to learn and improve.
Provides opportunities for conversation: Including additional information on your resume can also provide opportunities for conversation during an interview. For example, if you share a hobby or interest with the interviewer, it can help establish rapport and make the interview feel more like a conversation.
How much additional information should I include on my resume
The number of additional information you should include on your resume depends on several factors, such as your industry, level of experience, specific job requirements, and how many additional skills or achievements you have.
However, before you decide to include any of these categories, you should consider these:
– Is it relevant to the job I'm applying for?
– Does it demonstrate my value or achievements?
– Does it fit on one page or two pages at most?
If the answer is yes to all these questions, then you can include the additional information on your resume. If not, you should leave it out or mention it briefly in your cover letter.
By adding only the additional information that supports your main message, you can create a concise and effective resume that stands out from others.
Here is A-Z Resume Writing Tip For Writing A Stunning Resume!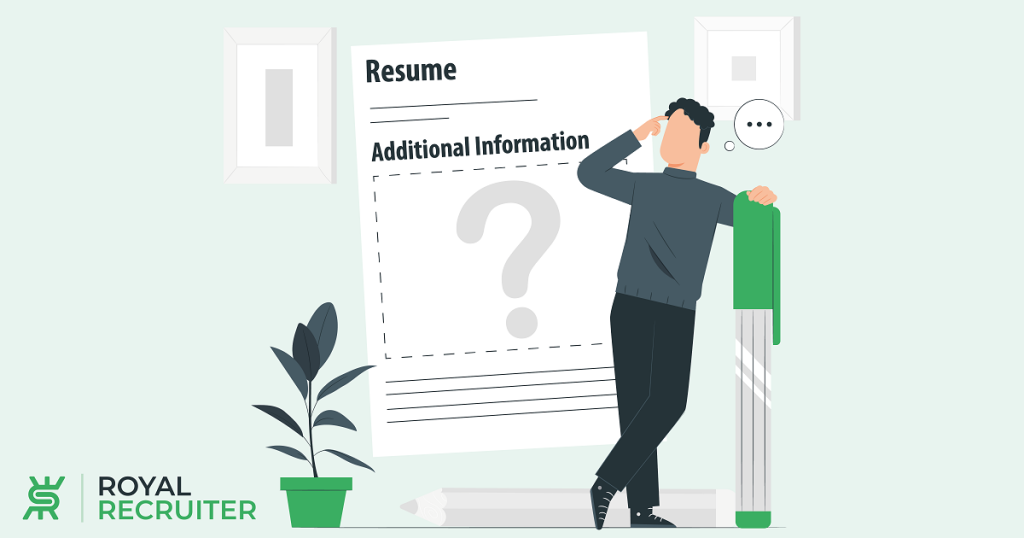 How Should I Format Additional Information On My Resume?
You can use an additional information section at the end of your resume. Why an extra section? Because a different section can help you get the attention of the reader easily.
Here are some tips on how to format additional information on your resume:
Customize your header. Instead of using a generic title like "Additional Information", use a more specific and descriptive one that matches the type of information you are including.

For example, you can use "Certifications and Licenses", "Awards and Honors", "Publications and Presentations", "Volunteer Experience", or "Personal Projects".
Summarize, don't just list. Instead of listing every single item of additional information you have, try to summarize them into a few bullet points that highlight the most relevant and impressive ones.

For example, instead of listing all the online courses you have taken, mention the most recent or relevant ones and add a phrase like "and several others" at the end.
Avoid filler. If you come to the end of your resume and have a lot of white space left, avoid the urge to include unrelated information simply to fill the space.

In other words, do not include additional information because you think you have to. All information on your resume should directly support your job-target goals and work for you.
Top Delivery jobs near you