Good Things To Put On A Resume About Yourself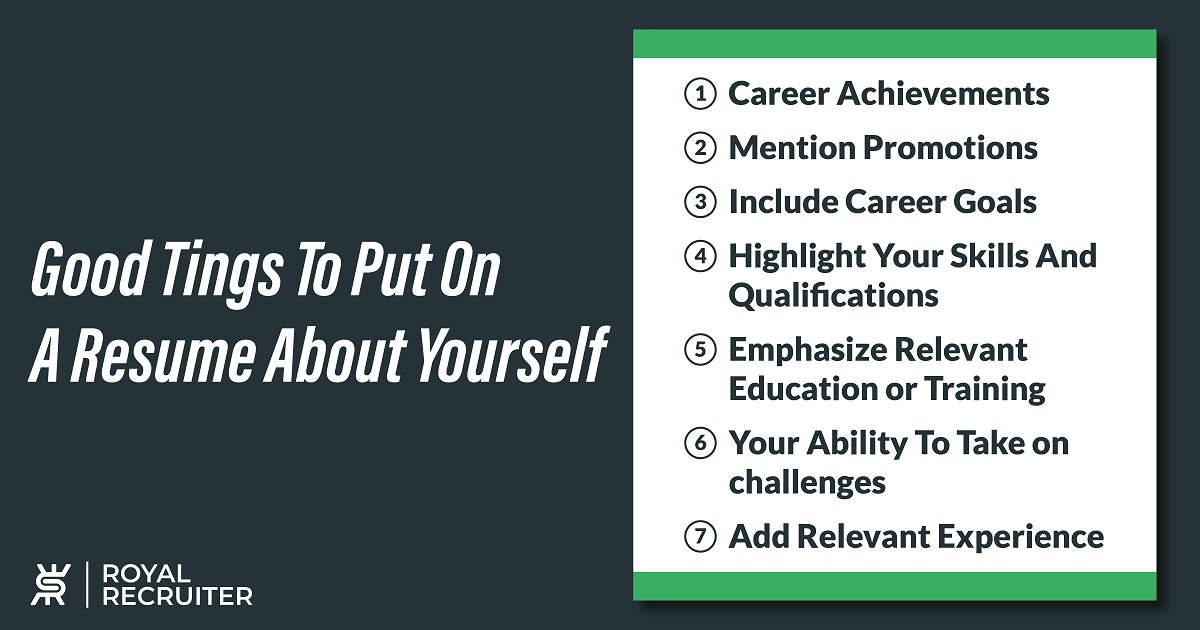 Puzzled about what to add to a resume about yourself? Here are some good things to put on a resume about yourself to give a clear picture of yourself.
A resume is all about presenting yourself to the hiring managers in the best way possible. It can be difficult to figure out what to include about yourself to make the best impression.
However, there are some key things that you can have on your resume that will make you a preeminent candidate
What are those? Let's discover.
Here are a few good things to put on a resume about yourself:
Career achievements: Add any awards or recognition received, as well as any notable projects or initiatives led or been a part of. This will give hiring managers an idea of your past successes and how you can bring that experience to their organization.
For example, if you received an award for a project you led that resulted in a significant increase in revenue, this would demonstrate your ability to drive results.

Mention promotions: If you had any promotion(s) in your previous roles, mention it on the resume. This highlights your ability to advance within an organization and take on more responsibilities.

Include your career goals: Including specific roles or industries you are interested in pursuing and any long-term aspirations you have for your career. This will show that you are ambitious and have a clear vision for your future.

Here are some Best Tips For A Good Resume That'll Get You Hired

Emphasize relevant education or training: As well as any relevant certifications or licenses that you hold. This will demonstrate that you have the necessary qualifications for the role you're applying for.

Your ability to take on challenges and how you enjoy them: This will depict your proactiveness and willingness to learn and grow, which are highly valuable traits for any employer.

Add relevant experience: whether in a professional or volunteer capacity, to demonstrate your ability to apply your skills and qualifications in real-world settings. This will give potential employers an idea of how you have used your skills and qualifications in the past and how you can apply them to the role you're applying for.

Know More About Which Skills To Write In Resume?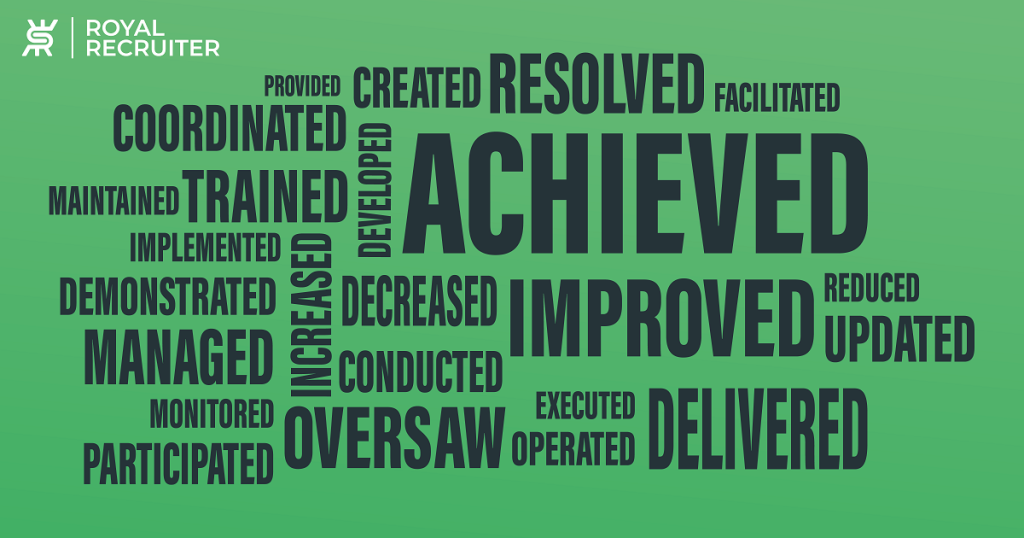 When using these topics, you can also consider using the words mentioned below in your resume to make it look and sound better. Here are the words:
Achieved: This word demonstrates that you have accomplished specific goals or targets. For example, "Achieved a 20% increase in sales within the first 6 months of starting my new role."
Improved: This word shows that you have made something better or more efficient. For example, "Improved customer satisfaction ratings by 15% through the implementation of a new customer service protocol."
Trained: This word highlights that you have experience in training others. For example, "Trained new employees on company policies and procedures."
Managed: This word demonstrates that you have experience in leading and overseeing others. For example, "Managed a team of 10 customer service representatives."
Developed: This word shows that you have experience in creating or designing something. For example, "Developed a new marketing strategy that led to a 30% increase in website traffic."
Created: This word highlights that you have experience in bringing something into existence. For example, "Created a new employee onboarding program that reduced training time by 50%."
Resolved: This word shows that you have experience in solving problems. For example, "Resolved customer complaints and issues promptly and efficiently."
Increased: This word demonstrates that you have experience growing or expanding something. For example, "Increased company revenue by 25% through effective sales techniques."
Implemented: This word highlights your experience in putting something into practice. For example, "Implemented a new inventory management system that reduces stock outs by 40%."
Coordinated: This word shows that you have experience organizing and bringing together different elements. For example, "Coordinated the launch of a new product line by working closely with cross-functional teams."
Decreased: This word demonstrates that you have experience in reducing something. For example, "Decreased expenses by 20% through cost-saving measures."
Conducted: This word highlights that you have experience in carrying out something. For example, "Conducted market research to identify new business opportunities."
Improved: This word shows that you have experience in making something better. For example, "Improved the production process efficiency by 30% through process re-engineering."
Demonstrated: This word highlights experience in showing or proving something. For example, "Demonstrated strong leadership skills by managing a team of 15 employees."
Delivered: This word shows that you have experience providing or completing something. For example, "Delivered a successful product launch on time and within budget."
Executed: This word demonstrates that you have experience carrying out a plan or strategy. For example, "Executed a successful social media campaign that led to a 15% increase in website traffic."
Facilitated: This word highlights your experience in making something easier or possible. For example, "Facilitated team-building exercises to improve communication and collaboration within the team."
Maintained: This word shows that you have experience keeping something in good condition. For example, "Maintained a high level of customer service by responding to customer inquiries promptly and professionally."
Monitored: This word demonstrates that you have experience keeping an eye on something. For example, "Monitored and analyzed website traffic to identify areas for improvement."
Operated: This word highlights working experience with a specific machine or system. For example, "Operated computer-aided design (CAD) software to create detailed product designs."
Oversaw: This word shows that you have experience supervising or managing something. For example, "Oversaw daily operations of a busy call center and ensure that all calls are answered in a timely and efficient manner."
Participated: This word demonstrates that you have experience being a part of something. For example, "Participated in a cross-functional team to develop a new company-wide training program."
Provided: This word highlights your experience in giving or supplying something. For example, "Provided technical support to customers and resolved their technical issues."
Reduced: This word shows that you have experience cutting down on something. For example, "Reduced costs by 20% by negotiating better deals with suppliers."
Updated: This word demonstrates that you have experience making something current or new. For example, "Updated and maintained the company website to ensure that all content was accurate and up-to-date."
Top Most Popular Jobs jobs near you