Beginner Skills For Resume: Tricks To Highlight Your Skills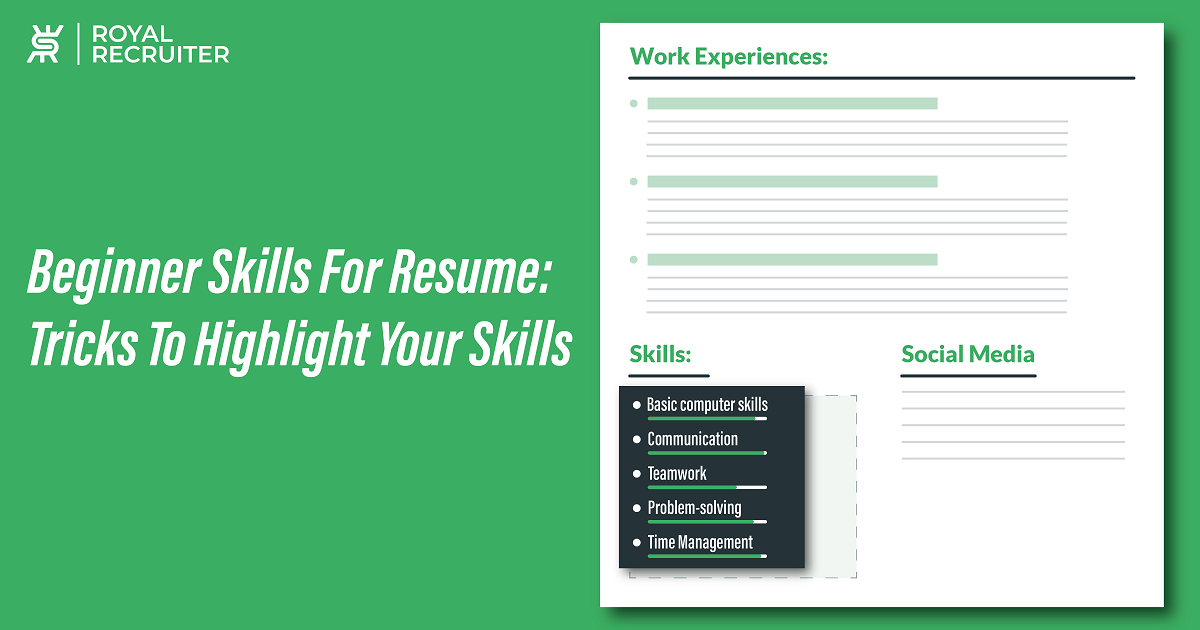 Adding skills to a resume is confusing for beginners who need to impress employers with their skills. In this article, you'll learn beginner skills for resumes, and how to add them.  
As a beginner, the skill section in your resume is one of the best ways to make a great first impression on potential employers. For freshers, it's important to show their skills in order to stand out in the competition.
Beginner skills, in particular, demonstrate your potential to learn and grow in a new role.
In this blog post, we will discuss tricks to highlight beginner skills on your resume. We'll cover topics such as identifying your beginner skills, tailoring your resume to the job, using examples from your past experiences, and many more!
What Is Beginner Skill?
Beginner skills refer to the basic knowledge and abilities that you possess. They are the foundation upon which you can build and expand your expertise.
These skills can be technical, such as programming languages or software knowledge, or they can be soft skills, such as communication or teamwork. Or they can also be transferable skills, which are skills that can be applied to various industries and roles, such as problem-solving or time management.
For beginners with no job experience, the importance of beginner skills cannot be overstated, as they are essential for entry-level positions and for showing your eagerness to learn and grow in a new role.
Many employers are willing to train employees with the right beginner skills as they see the potential for growth within the company.
By highlighting your beginner skills on your resume, you show the employers that you are a quick learner and a good fit for the company.
Identifying Your Beginner Skill
The first step in highlighting your beginner skills on your resume is to identify them. This can be a challenging task for beginners, as many skills may not be obvious.
Here are some tips for identifying your beginner skills:
Reflect on your past experiences: Think about the tasks and responsibilities you've had while volunteering, doing an internship, or providing community services. What skills did you use to complete them?
Take an assessment: There are various online assessments available that can help you identify your skills and strengths. These assessments can be in the form of quizzes or questionnaires, and they can help you identify your strengths and areas for improvement.

Look at the job listing: Review the requirements of the job you are applying for and match them to your own skills. If you don't have certain skills, try to develop them before submitting your resume.

Ask for feedback: Ask friends or mentors for feedback on your skills and abilities. They can offer an outsider's perspective and point out skills or strengths that you may have overlooked.
Want to know which skills to add to a resume? Read Which Skills To Write In Resume?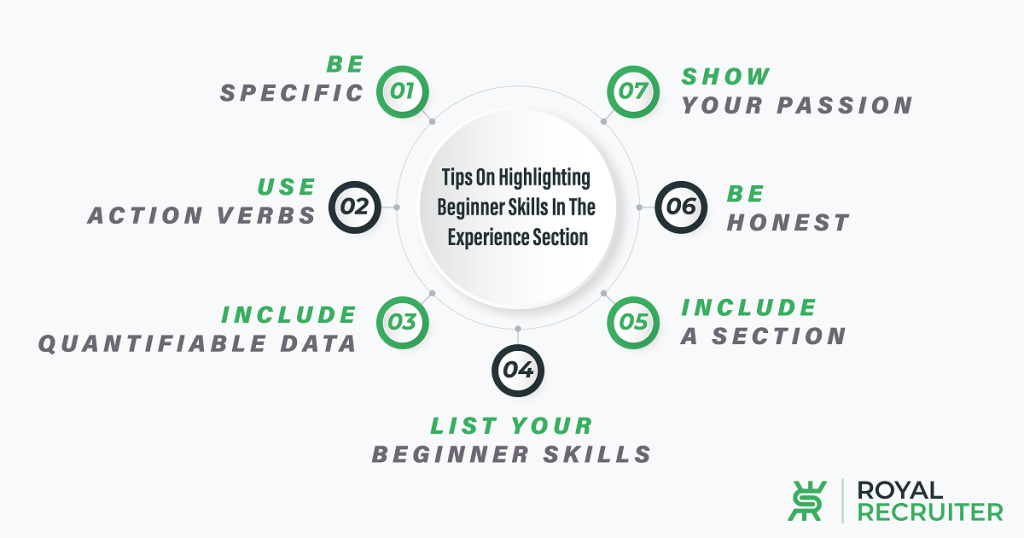 Tips On Highlighting Beginner Skills In The Experience Section
When adding or highlighting beginner skills on a resume, it's easy for a fresher to get perplexed.
To make it easy for you, here are some tips on how to effectively discuss and list your beginner skills in the experience section of your resume:
Be specific: Instead of listing general skills, focus on specific skills and achievements that you have acquired during your beginner experience. For example, instead of listing "basic computer skills," list the specific programs and tools you have experience with.
Use action verbs: Use strong action verbs to describe your beginner experience and achievements. This will help show that you have taken the initiative and actively learned and applied your skills.
Include quantifiable data: Where possible, include quantifiable data to demonstrate the impact of your beginner skills. For example, if you have experience with basic data analysis, include the number of data sets you have analyzed or the size of the data sets you have worked with.
List your beginner skills alongside your more advanced skills: This will help show that you have a good balance of beginner and advanced skills and are constantly working to improve your skill set.
Include a section for "Skills" or "Certifications": A separate section for skills and certifications can be a great way to highlight your beginner skills. This section should be placed after your work experience and education.
Be honest: Be honest about your beginner skills. It's better to be upfront about your level of experience rather than exaggerating it.
Show your passion: Show your passion and eagerness to learn and grow. This will help to show that you are a dedicated and motivated candidate.
By following these tips, you can effectively highlight your beginner skills and demo them.
12 Best Beginner Skills To Have And Mention On A Resume
Skills are countless. Even an ordinary person can have hundreds of skills, but that doesn't mean he/she will have to mention or list all of those skills in their resume. As said earlier, skills should be related to job positions and relevant.
Let's discover some of the best beginner skills to obtain and why these skills are necessary.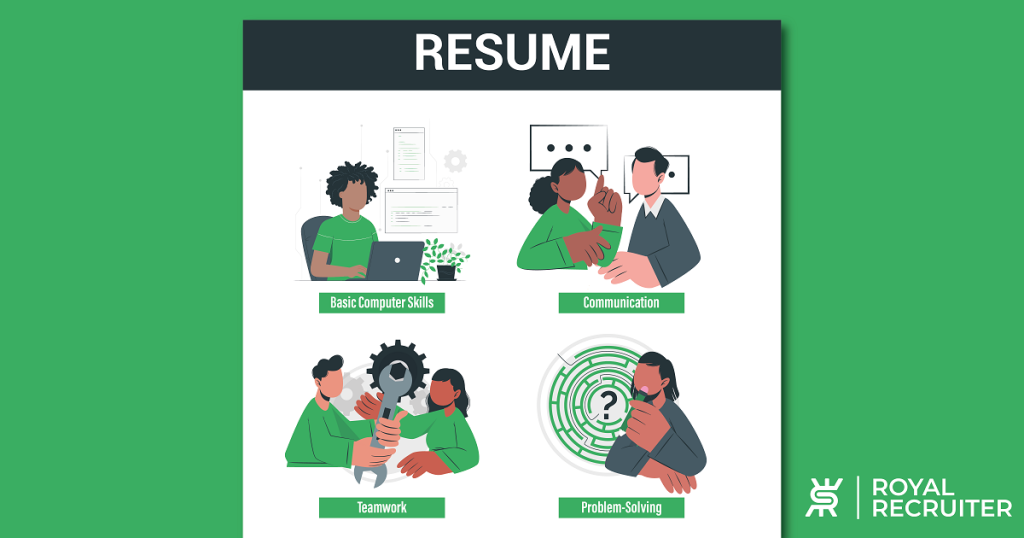 Basic computer skills: Being proficient in basic computer programs such as Microsoft Office, Google Suite, and internet navigation are vital for many positions. These skills allow individuals to carry out tasks such as creating documents, presentations, and spreadsheets, as well as communicating through email and other online platforms. 

Communication: Strong communication skills, both written and verbal, are highly sought after by employers. This includes the ability to clearly articulate ideas, thoughts, and information, as well as being able to actively listen and understand others. 
Additionally, being able to write professionally, including creating well-structured documents, is also a valuable asset.
Teamwork: The ability to work well in a team is essential for many positions, as it shows you can collaborate and contribute towards a common goal. This means being able to communicate effectively with team members, being able to work towards a common goal, and being able to understand the strengths and weaknesses of team members.

Problem-solving: The capability to think critically and solve problems is also highly sought after by employers, as it shows you can think on your feet and find solutions. This lets you analyze information, identify potential problems, and come up with possible solutions.
Visit "How To Build A Resume" for a complete resume-building guide to land your dream job.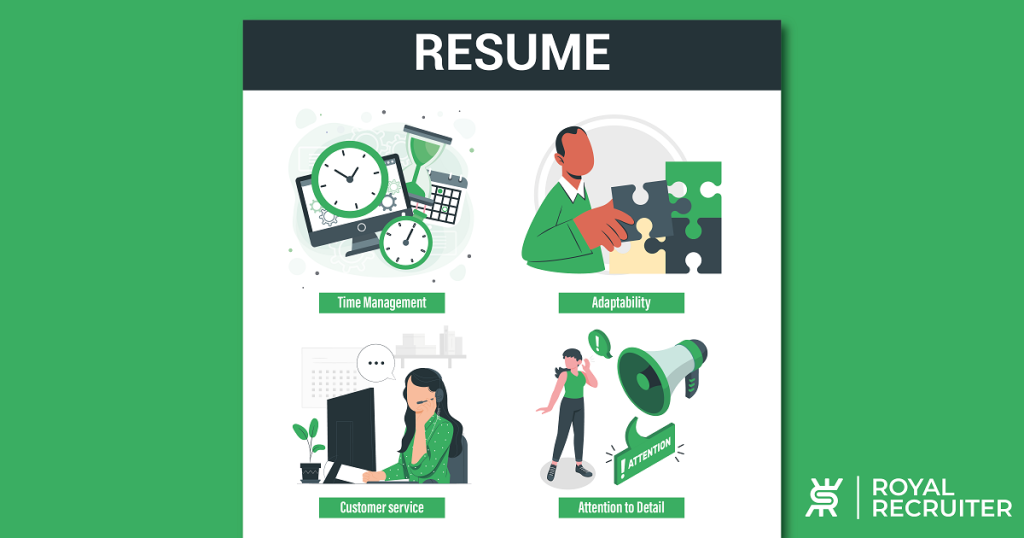 Time management: Effectively managing your time and meeting deadlines is vital for many positions, as it shows you can prioritize and stay organized. This skill helps an individual to plan and schedule tasks, as well as being able to handle multiple tasks at once and still meet deadlines.
Adaptability: The ability to adapt to new situations and learn new skills quickly is highly sought after by employers, as it shows you can be flexible and open to change. This includes understanding and embracing new technologies, processes, and ways of working and adapting to different work environments and cultures.
Customer service: Excellent customer service skills are critical to effectively communicating with and assisting customers, which is essential for many roles. 
Customer service skill is mandatory to provide clear and accurate information, understand and respond to customer needs, and resolve customer complaints in a timely and professional manner.
Attention to detail: The capability to pay attention to detail and catch errors is vital for many positions, as it shows you can ensure accuracy and quality. Example of attention to detail is carefully proofreading documents, checking calculations, and ensuring data are entered correctly.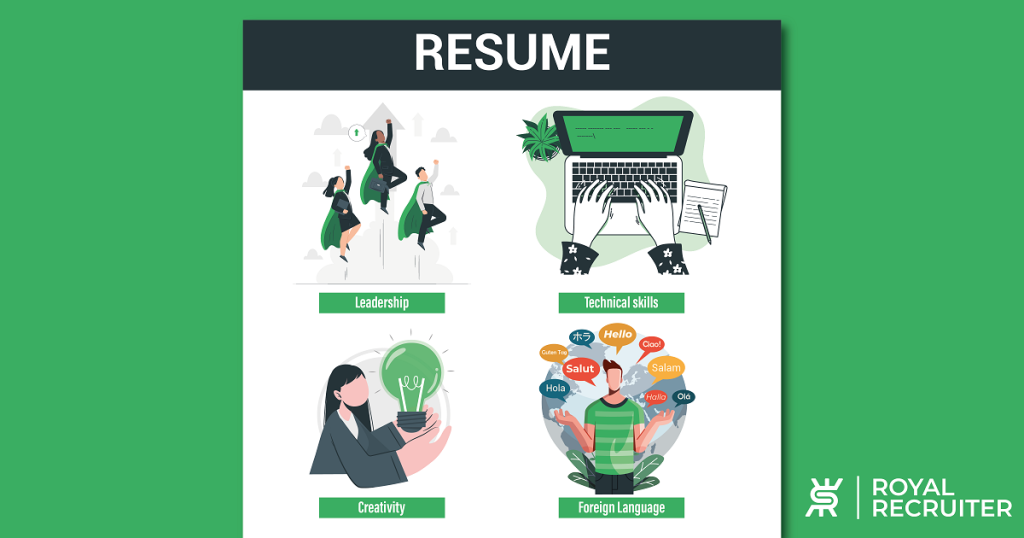 Leadership: The ability to lead a team and take the initiative is highly valuable in the corporate industry. Leadership skills display that you can take charge and drive results. 
Leadership skill allows you to set clear goals and objectives, being able to motivate and inspire team members, and being able to make difficult decisions.
Technical skills: Proficiency in specific technical skills such as programming languages, software applications, or industry-specific tools are highly sought after by employers in certain fields.
Creativity: Employers value the capability to think outside the box and generate fresh ideas since it reflects your ability to innovate and create new solutions. With creativity skills, one can approach problems and tasks creatively and be open to new ideas and perspectives.
Foreign Language: Being able to speak multiple languages is valuable in today's globalized economy. It shows you can communicate with a wider range of people and understand different cultures.
Visit A-Z Resume Writing Tip To Write A Stunning Resume.
Top Most Wanted Jobs jobs near you