How To Write Beginner Summary For Resume With Examples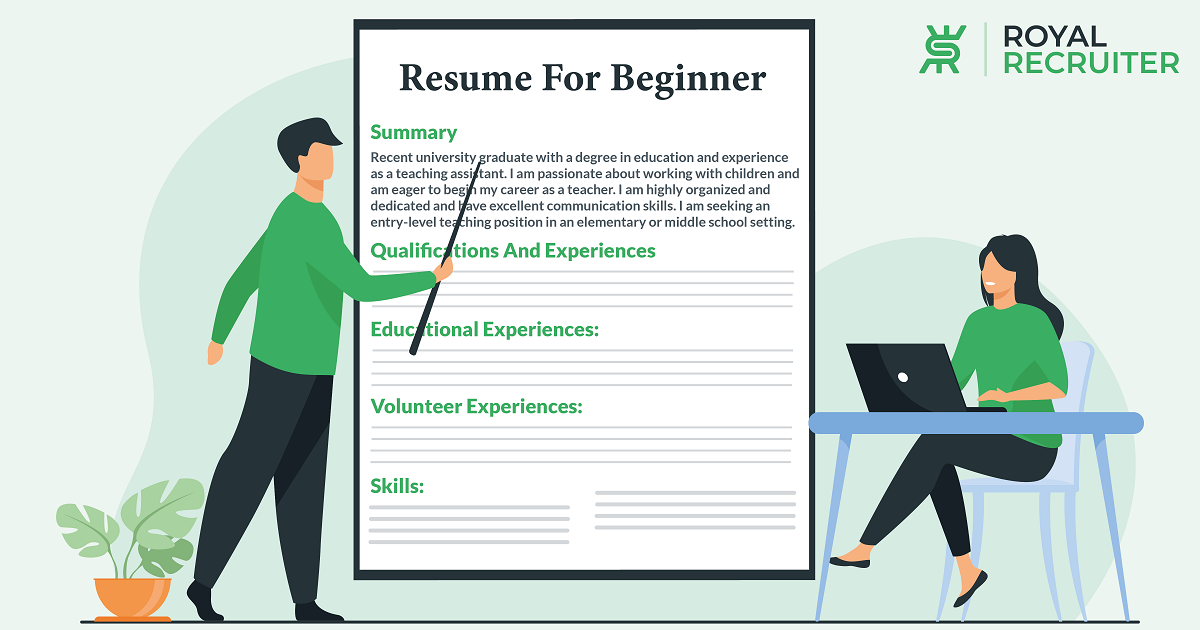 Without an impressive summary, getting a job will be difficult. If you're not sure how to write a beginner summary for a resume, read this article and attract hiring managers!
An effective resume summary section summarizes a job seeker's qualifications, skills, and experiences. It is one of the most important components of a resume since it remains at the top, and almost all hiring managers will continue reading your resume starting from this section.
In this blog post, you will know the key elements that should be included in a beginner's resume summary, what factors to consider when writing a resume summary and more helpful information.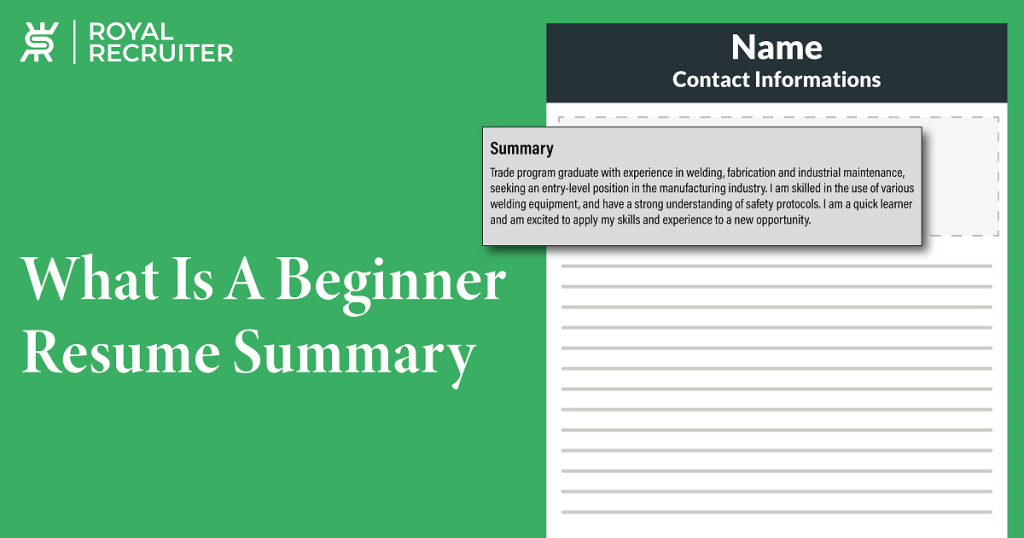 What Is A Beginner Resume Summary
A resume summary is a brief statement that illustrates your essential qualifications and experiences. This section gives the hiring manager a quick overview of yourself.
A resume summary differs from an objective statement, which is a statement of your career goals. While an objective statement can be useful, a resume summary focuses more on your qualifications, skills and experiences.
And as a beginner, it's best to consider using a resume summary rather than an objective statement.
What To Include In A Beginner Resume Summary
The beginner resume summary section needs to be short and to the point, focusing on your key qualifications and experiences. It can be tricky for a beginner to decide what to include.
Here are some key elements to include in a beginner's resume summary:
A brief overview of your qualifications and experiences: This is the most important element of your resume summary. It should give the hiring manager a quick overview of your qualifications and experiences in a few sentences. This should be the first thing that the hiring manager sees when looking at your resume and should be a summary of your most relevant qualifications and experiences.
Any relevant educational background: This includes your degrees, certifications, and any relevant coursework. It is important to mention your educational background in your resume summary as it shows that you have the necessary qualifications for the job.
Relevant work experience, including any internships or volunteer work: This includes any paid or unpaid work experience or internships that are relevant to the job you are applying for. You can also mention any volunteer work in your resume, it indicates that you have been actively working to gain experience.
Transferable skills such as leadership, communication, or problem-solving skills: These skills you have developed through previous experiences and can be applied to different jobs. Transferable skills in your resume summary depict that you have a wide range of skills and can adapt to different roles and responsibilities.
Use of relevant keywords: This will help your resume to be found by the hiring manager and increase your chances of getting an interview. Use keywords that are relevant to the job and are commonly used in the job description.
Present your potential to employers: This means that you should highlight your ability to learn and grow in your role and your potential to take on additional responsibilities in the future. Showing your potential and willingness to grow and develop within the company can increase your chances of getting hired.
Mention your relevant skills and qualifications in summary: If you don't have transferable skills. You can mention any technical skills or language proficiency relevant to the job. Mentioning your relevant skills and qualifications can help to show that you are a suitable candidate for the job.
Know Some Best Tips For A Good Resume That'll Get You Hired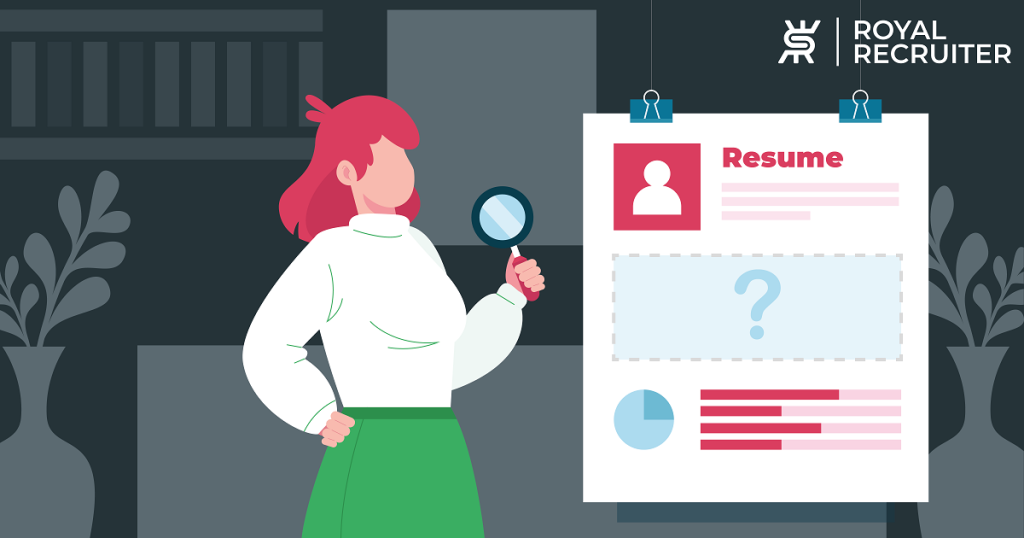 How Long Should A Resume Summary Be?
The length of a resume summary can vary, but it should generally be between 3 to 5 sentences. This is because a short summary is more likely to catch the attention of hiring managers and make a positive impression.
Here are a few reasons why it's mandatory to have a short resume summary:
Attention Span: Hiring managers often have to review a large number of resumes, and they may not have the time or patience to read through a lengthy summary. A short summary makes it easy for them to quickly understand your qualifications and move on to the rest of your resume.
Clarity: Short summary allows you to focus on the most important information and make sure it's presented in a way that hiring managers don't have trouble finding your potential.
Impact: With a short summary, you can use powerful action verbs and numbers to demonstrate your qualifications more impactfully.
On the other hand, a long resume summary can ruin the outlook of a resume. It may appear as if you're trying to fill the space, making the hiring manager lose interest in your resume.
It's important to remember that a resume is a marketing document, and the goal is to sell yourself to the hiring manager. A long resume summary can detract from your qualifications and make it harder for hiring managers to understand why you're the best candidate for the job.
Factors To Consider When Writing A Resume Summary
When writing a beginner resume summary, it is important to consider the following factors to ensure that it is effective.
Customize it: The summary should be specific to the job you're applying for. It should highlight your relevant qualifications and experiences that make you a strong candidate for the position. Don't use the same summary for every job
Show your personality: A resume summary is a great opportunity to show your personality and enthusiasm for the job.
Proofread: Make sure to proofread your summary for grammar, spelling, and punctuation errors. A mistake-free summary will give the impression that you pay attention to detail.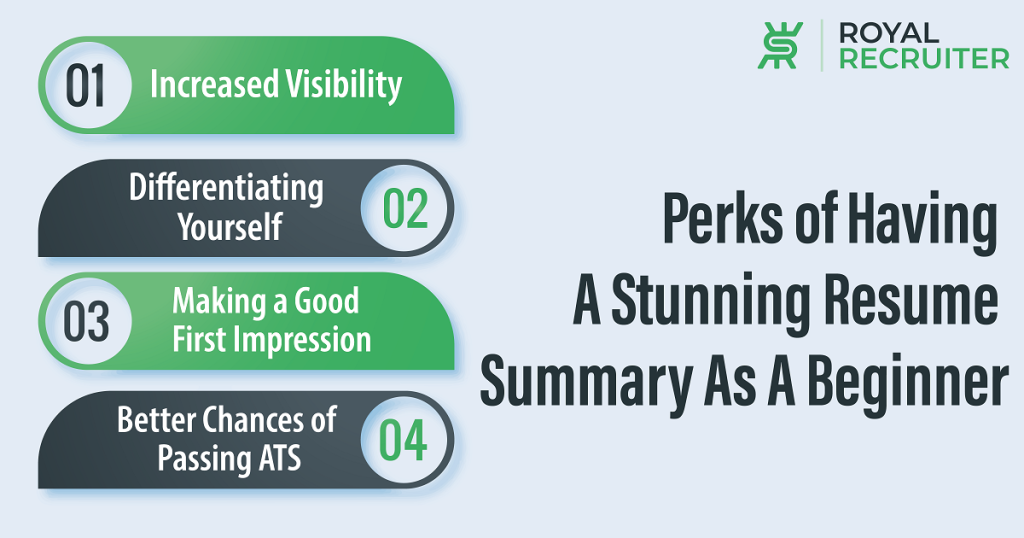 Perks Of Having A Stunning Resume Summary as a Beginner
For beginners, a stunning resume summary is advantageous in many ways. Below are just a few benefits of having a good beginner resume summary.
Increased Visibility: A well-written summary will help you easily get the attention of hiring managers, which will convince them to continue reading your resume and might offer you an interview!
Differentiating Yourself: A strong summary can help you differentiate yourself from other candidates. That means it increases your value as a candidate.
Making a Good First Impression: After contact information, a hiring manager will read your resume summary, so if you want to make a great first impression, there's no way around it other than having a stunning beginner resume summary.
Better Chances of Passing ATS: A good formatted resume summary with keywords relevant to the job can boost your prospect of passing the applicant tracking system (ATS) and getting to the next stage of the hiring process.
Increased chances of getting an interview: With a good resume summary, you can make your resume unique to hiring managers and increase your chances of getting an interview.

Visit What Should a Resume Look Like? A Comprehensive Guide To Create the Perfect Resume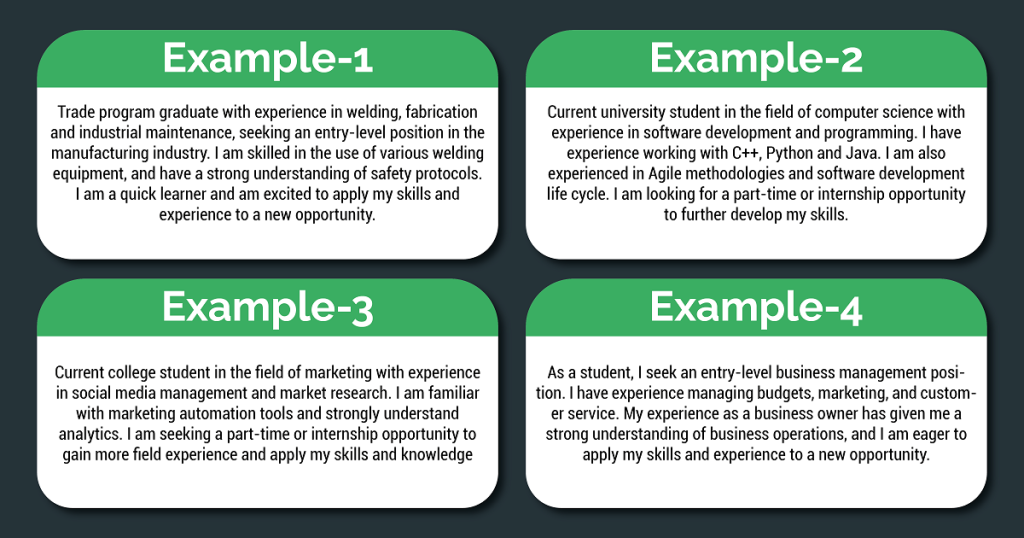 Example Of How Beginners Resume Summary Should Be
To help you write a better resume summary as a beginner, here are some examples of freshers who have landed jobs using these resume summaries.
"Trade program graduate with experience in welding, fabrication and industrial maintenance, seeking an entry-level position in the manufacturing industry. I am skilled in the use of various welding equipment and have a strong understanding of safety protocols. I am a quick learner and am excited to apply my skills and experience to a new opportunity."
"Current university student in the field of computer science with experience in software development and programming. I have experience working with C++, Python and Java. I am also experienced in Agile methodologies and software development life cycle. I am looking for a part-time or internship opportunity to further develop my skills."
"Current college student in the field of marketing with experience in social media management and market research. I am familiar with marketing automation tools and strongly understand analytics. I am seeking a part-time or internship opportunity to gain more field experience and apply my skills and knowledge."
"Recent university graduate with a degree in education and experience as a teaching assistant. I am passionate about working with children and am eager to begin my career as a teacher. I am highly organized and dedicated and have excellent communication skills. I am seeking an entry-level teaching position in an elementary or middle school setting."
"As a student, I seek an entry-level business management position. I have experience managing budgets, marketing, and customer service. My experience as a business owner has given me a strong understanding of business operations, and I am eager to apply my skills and experience to a new opportunity."
Top Most Popular Jobs jobs near you