List Of Jobs In The Non-Durables Industry
There are lots of jobs available throughout the consumer non-durables. In this article, we've got the List Of Jobs In The Non-Durables Industry
Like companies in the consumer non-durables industry, there are various job opportunities for professionals and job seekers. If you're seeking a job in the consumer non-durables industry and trying to find out what jobs are available in this industry. 
This article lists jobs available in the consumer non-durables industry, which will help you know more about job responsibilities, roles and how much these jobs pay.
List Of Jobs In The Non-Durables Industry
The consumer non-durable industry is filled with many jobs, and if you don't know what they are, you'll get demented quickly. 
Because there are decent jobs in the consumer non-durable industry for individuals of diverse backgrounds, skills, and experiences, so you won't have any problems landing one, but finding one will prove problematic.
In order to make it easier for you to navigate the consumer non-durable jobs available in the industry, we have divided them into three categories.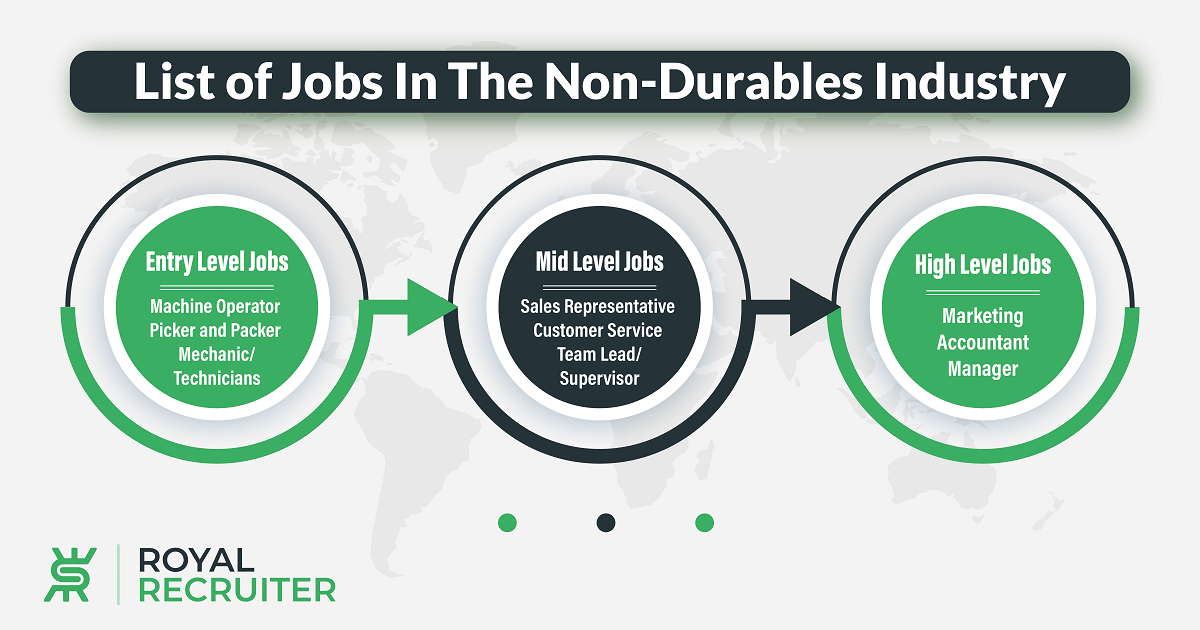 Entry Level Jobs
In this section, we'll include all the entry-level jobs available in all consumer non-durables companies/industries and briefly describe the duties and salary of the position. 
A machine operator's duty varies depending on the role. However, they operate different types of machinery related to production. 
These professionals earn a median of $36,000 to $43,000 yearly. 
Pickers and packers work in warehouses and manufacturing plants where they receive goods/products, package and store them for shipment. 
The average pay for picker and packer jobs is $30,000 to $41,000
Warehouses and production facilities are equipped with many types of machinery and equipment, which can malfunction at any time. It is a mechanic's/technicians' responsibility to troubleshoot and repair the equipment.
The salary of a mechanic/technician ranges from $45,000 to $63,000.
Companies use distinct equipment in production plants and warehouses, such as a forklift and other types of lift/reach trucks, those who operate this equipment are called equipment operators.
Equipment operators earn between $40,000 to $65,000 a year.
A warehouser is responsible for many tasks like Printing labels, attaching packages, Pulling orders, weighing and wrapping skids, Maintaining inventory, etc. 
They make between $34,000 to $42,000.
Mid/High-Level Jobs
These jobs are mid/high level as most employers require candidates to have the experience to get into these positions.  
A sales representative's duty is to promote and sell products to consumers or business firms through cold calling, email, and visiting. They are the ones who can raise companies' revenue and help companies meet customers' demands. 
The median salary of sales representatives is between $45,000 to $67,000 annually. 
Although there are many entry-level customer service jobs, we included it in the mid/high-level job list because a candidate must have the skills and experience to provide better customer service. 
The main responsibility of a customer service rep is to help consumers by helping them in various manners. 
Customer service jobs can be in-person and remote. On average, a customer service worker makes $41,000 to $63,000 yearly.
Working in a team is proven to increase productivity and efficiency. But to make teamwork fruitful, there should be a leader and a person who leads, instructs and supervises team members. 
The average salary of a team lead/supervisor is $47,000 to $75,000
One of the most in-demand jobs in all industries is marketing. There are numerous positions available in marketing, such as marketing coordinator, digital marketer, marketing executive, and market researcher. 
They create strategies and campaigns to promote products and services to customers. 
Accountants are a key part of business, as they not only keep the records of income and expenditure, accountants can also minimize costs and help in business growth! 
Almost every department has a manager, be it marketing, project, warehouse package handling, and so on, because a manager oversees the whole operation of a particular sector.  
Managers on average make $55,000 to $75,000+ annually.
Do These Jobs Have Good Demand?
Each position listed above is in great demand across all sectors and the consumer non-durables industry. Because these are the essential and common jobs that industries need.
Furthermore, according to the Bureau of Labor Statistics, employment in all of these areas is expected to increase by 2 to 15 percent by 2030.
What Are The Educational Qualifications To Get The Listed Jobs?
Educational requirements aren't the same for all roles. For most entry-level jobs, the minimum requirement is a high school diploma or equivalent trade/vocational certificate. 
In order to qualify for mid and high level roles, you'll need a college or university degree from a specific field. Accountants, for example, need degrees in accounting, finance or economics.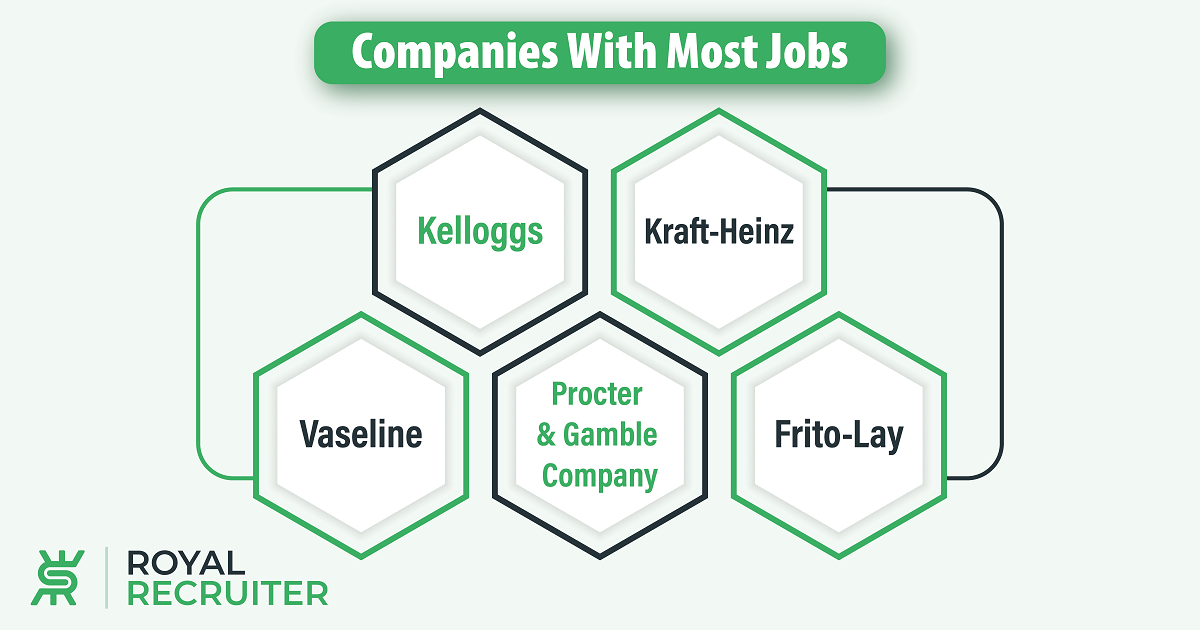 Which Companies Offer Most Jobs In Consumer Non-Durables?
Every consumer non-durables company provides thousands of new job opportunities every month in various sectors and departments. Because it's essential to have a continuous workforce to maintain smooth operations in production facilities, warehouses, and corporate offices. 
However, there are a few industries that are the best when it comes to offering jobs. Those companies are: 
One of the USA's most famous packaged foods companies is Kellogs; they produce different types of convenience foods such as cereal, pastries, flakes, and crackers. 
In numerous positions, Kellogs has employed more than 27,000 employees. 
Kraft Heinz is also a food company that produces items like ketchup, chocolate, biscuits/crackers, coffee, and juice. This company has 19,000+ employees all over the US. 
Well known for all of its personal care products, mainly skin and hair care. Vaseline USA employs tens of thousands of workers in manufacturing plants and warehouses across the Americas. 
Procter & Gamble, or P&G, has more than 23,000 employees in North America. They have a variety of products ranging from baby, personal, skin, and pet care to home care. 
One of the largest snack food manufacturers, with many signature products like Lay's, Doritos, Cheetos, and Ruffles. They have 30 advanced manufacturing plants in America with 60,000+ employees.  
These are just a few consumer non-durable industries that offer the most jobs. Other companies, such as Colgate-Palmolive, Coca-Cola, General Mills, Pepsico, Tyson Foods, etc., offer many jobs.
Top Consumer Non-Durables jobs near you