What Is RPO Healthcare Recruiter & Tips To Find The Best One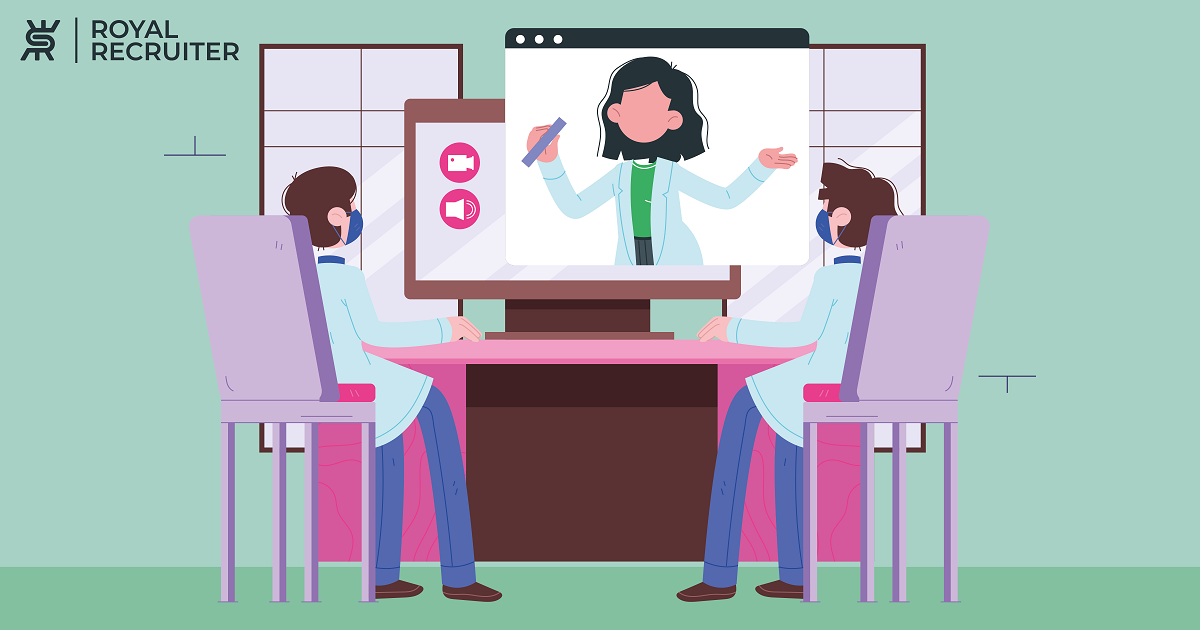 Looking for a healthcare recruiter that can help you find the best candidates? Learn how to find the best RPO healthcare recruiter and how your organization  benefit by working with one
Recruitment Process Outsourcing (RPO) is a cost-effective and efficient alternative for healthcare firms wanting to fill unfilled roles. An RPO provider acts as an extension of a healthcare organization's recruiting staff, taking on hiring-related activities.
The RPO healthcare recruiters have a vital role in the healthcare industry; they are responsible for discovering and sourcing appropriate candidates, interacting with hiring managers and HR departments, and handling the offer and onboarding process.
In this blog article, we'll look at what is RPO healthcare recruiter, the advantages of RPO for healthcare recruitment, and what to follow when seeking an RPO in the healthcare industry.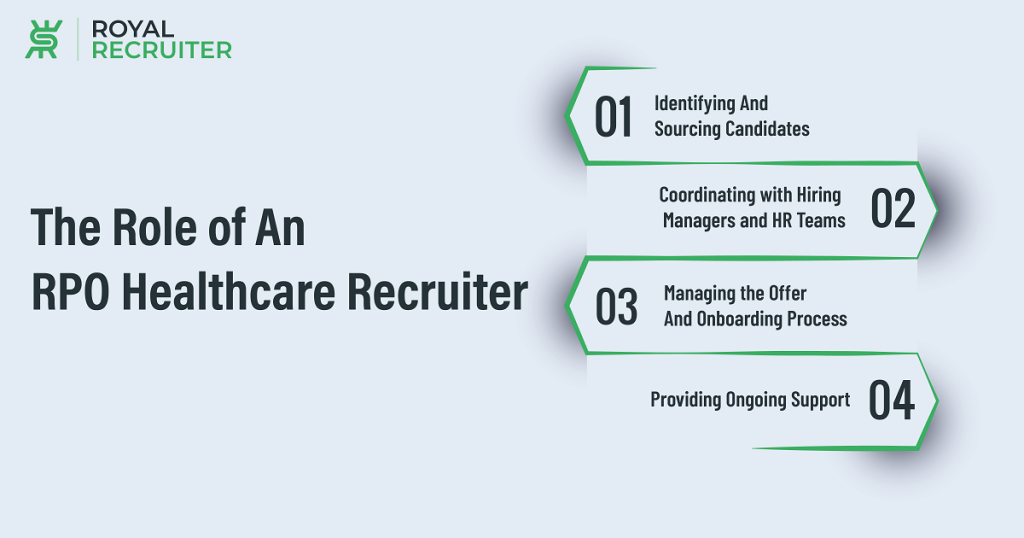 The Role of an RPO Healthcare Recruiter
Recruitment process outsourcing (RPO) is a rapidly growing trend in the healthcare industry as the demand for professionals in the healthcare industry is currently at an all-time high.
And to help healthcare organizations recruit the perfect candidate, RPO healthcare recruiters play a vital role, as they are responsible for the following:
Identifying and Sourcing Candidates
They use various sourcing tools, such as job boards, professional networking, and employee data, to find suitable candidates for open positions.
Screening and interviewing candidates to evaluate and verify their qualifications and fit for the role.
Coordinating with Hiring Managers and HR Teams
They work with the organization's hiring managers and human resource team(if available) to understand their needs and requirements for the unfilled position.
Communicate with HR staff or the company's legal team to ensure company policies and procedures compliance.
Provide updates on the recruitment process and give feedback to hiring managers on candidates to avoid confusion and miscommunication.
Managing the Offer and Onboarding Process
Presenting job offers to candidates and negotiating salary and employee benefits.
Ensuring new hires have all necessary paperwork and documentation to place them properly.
Collaborate with the hiring managers and the HR teams on the status of the offer and onboarding process.
Providing Ongoing Support
Providing continuous assistance to both the healthcare organization and new hires to ensure a smooth transition into the new role and company.
Follow up with the new hires to make sure they are satisfied and to check if they need any support for the first few months.
After successful placement, they stay in touch with the hiring managers and HR teams to gather feedback on the new hires and to provide metrics on the performance of the recruitment process.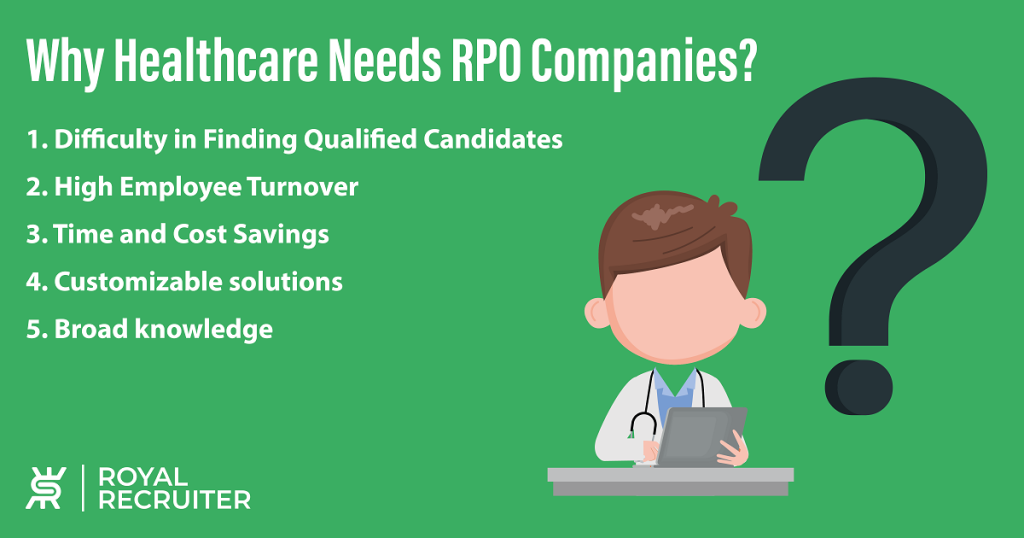 Why Healthcare Needs RPO Companies
The healthcare industry faces numerous challenges regarding recruitment and staffing because this industry isn't similar to any other industry. Also, the number of qualified professionals in the healthcare industry is less compared to other industries.
Here are a few reasons why healthcare organizations are turning to RPO staffing companies:
Difficulty in Finding Qualified Candidates
Currently, the healthcare industry is facing a shortage of qualified workers, making it difficult for organizations to fill open positions.
RPO companies have the resources and expertise to find and attract top talent, even in a tight labor market.
High Employee Turnover
The healthcare industry also has high turnover rates, which is costly for organizations and it also reduces productivity.
RPO outsourcing companies can assist in minimizing turnover by identifying and hiring the right candidates from the start and providing ongoing support to new hires.
Time and Cost Savings
The healthcare industry is always busy, and managing a department solely for recruitment can be a big hassle for many organizations. By taking RPO recruitment services, companies can save time and cost as there's no need to direct a recruiting section.
Customizable solutions
Each healthcare company has unique needs. Some may need nurses, technicians, or physicians. RPO providers can help a particular organization with customizable solutions, such as developing and implementing recruitment strategies that fit the organization.
Broad knowledge
RPO firms also have vast expertise in the healthcare industry, especially the latest trend and best recruitment methods. They understand the difficulties that healthcare companies have in recruiting and keeping talented individuals, and they are prepared to assist them in overcoming these difficulties.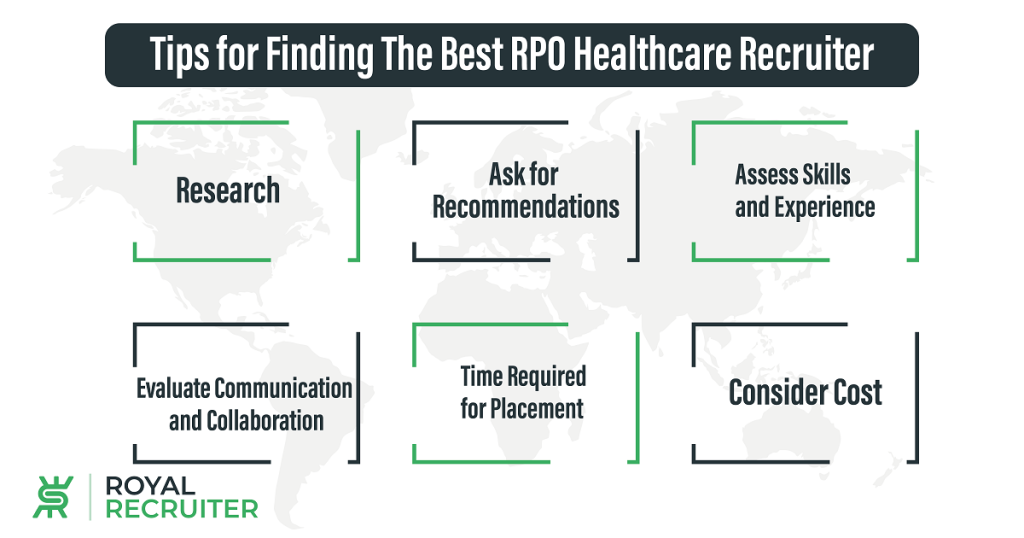 Tips for Finding The Best RPO Healthcare Recruiter
When a company searches for the best RPO healthcare recruiter, they easily get baffled as healthcare is a complex and ever-changing field and finding the right one is difficult.
And when opting for RPO services, one must select the right RPO healthcare recruiter, as only the perfect RPO can help to obtain the company's goals and overcome common challenges.
So, how do you find the best FRP healthcare recruiter?
Here are some strategies to consider when finding the best RPO healthcare recruiter:
Research:
The first step is to do research; start by researching different RPO healthcare recruiters, their services, and their reputation in the industry. Look for recruiters who specialize in the healthcare industry and have a strong track record of delivering results. 
Research has now become easier as you can search for recruiters online, attend industry conferences, or reach out to professional organizations for suggestions.
Ask for Recommendations:
Asking for recommendations from colleagues, friends, or other healthcare organizations is also a great way to find out about RPO healthcare recruiters. Query them about their experiences working with RPO healthcare recruiters and whether they would recommend their services. 
Assess Skills and Experience:
Not every RPO agency is adept for the healthcare industry; when searching, seek RPO healthcare recruiters who have a deep understanding of the healthcare industry, including current trends and best practices in recruitment. 
For example, if you outsource your recruiting process to a company which is expert in hiring delivery drivers, you'll be in big trouble!
That's why you should look for recruiters who have a strong experience in the healthcare industry and are well-versed in the latest recruiting technologies and practices.
Evaluate Communication and Collaboration:
Effective communication and collaboration are important when working with RPO healthcare recruiters. Search for recruiters who are proactive, responsive, and easy to work with and who are dedicated to maintaining an open and collaborative relationship with your organization.
Time Required for Placement:
Healthcare is a fast-paced industry, and every healthcare organization needs to ensure they have adequate human resources to carry out their tasks. 
When considering outsourcing the recruitment process, ask the agency how long they typically take for placement, as the time for placement varies from role to role.
Recruiting a registered nurse, for instance, can take from a week to months, while a physician can take from a month to a few months.
Consider Cost:
Finally, when choosing an RPO healthcare recruiter, it is important to consider the cost of their services. Look for recruiters who offer competitive rates and are transparent about their fees and services because if there are hidden or undisclosed charges, it would cost you thousands of dollars, or you might even have to face lawsuits.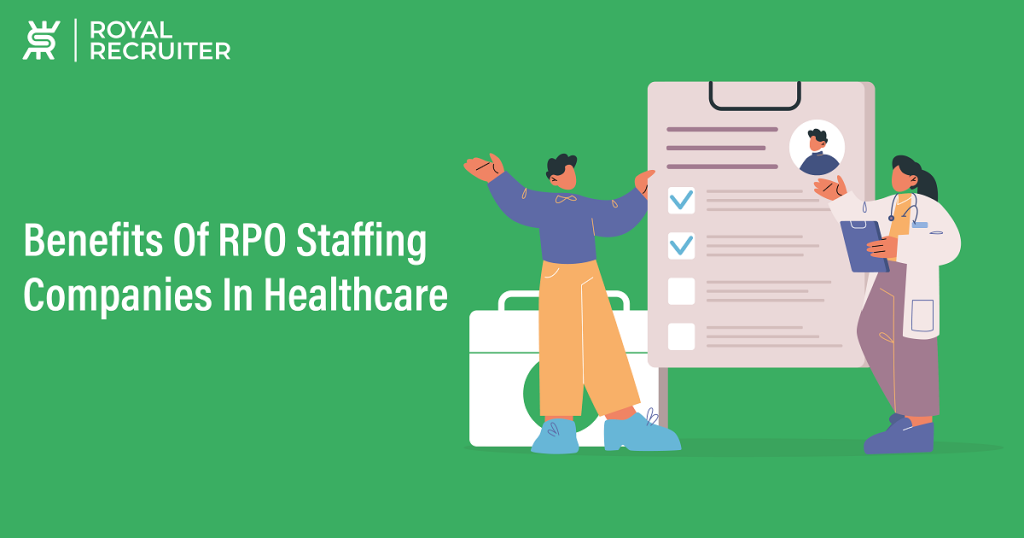 Benefits Of RPO Staffing Companies In Healthcare 
Just like other industries, a healthcare organization can also have some remarkable benefits from outsourcing its recruitment process.
Let's see some common benefits of RPO staffing companies
Data-driven insights:
RPO companies provide valuable data and insights that can help healthcare organizations make informed hiring decisions and improve their recruiting strategies over time.
Better candidates:
Healthcare organizations don't' compromise with quality; because of this, they only hire the best candidate. And recruitment outsourcing companies can cherry-pick the best candidates for healthcare positions.
Focus on core business:
By outsourcing recruiting to an RPO staffing company, healthcare organizations can focus on their core business operations without being distracted.
When Does A Healthcare Need an RPO Provider?
Until now, we've talked about various topics on healthcare recruitment process outsourcing topics, but when should a healthcare organization need RPO staffing service? Well, the need depends on a company's needs.
Below are some of the most common cases:
When the organization's in-house HR resources are limited
Healthcare organizations often face resource constraints in terms of human resources and manpower. In such cases, relying on an RPO provider can help manage the recruitment process efficiently and effectively.
When there is a high volume of recruitment.
The sudden surge in recruitment is a usual scenario in the healthcare sector, especially during peak seasons or due to an increase in the patient load. An RPO company can help organizations manage this high volume of recruitment with ease.
When there is a need for specialized recruitment.
Healthcare organizations often need specialized skills and expertise in nursing, rehabilitation, or mental health; it sometimes takes months to find the right candidate. Recruitment process outsourcing agencies can source and attract the right candidates with the right skills and qualifications as fast as possible.
When there is a need to reduce recruitment costs?
An organization can reduce recruitment costs by taking service from an RPO healthcare recruiter. A survey done by AKASA reported that it takes between 84 to 207 days to fill a healthcare position and costs between $2176 to $5699 during candidate sourcing.
Whereas, If you take service from an RPO healthcare recruiter, you won't have to wait that much time to hire a candidate and will spend more than half of what AKASA has reported.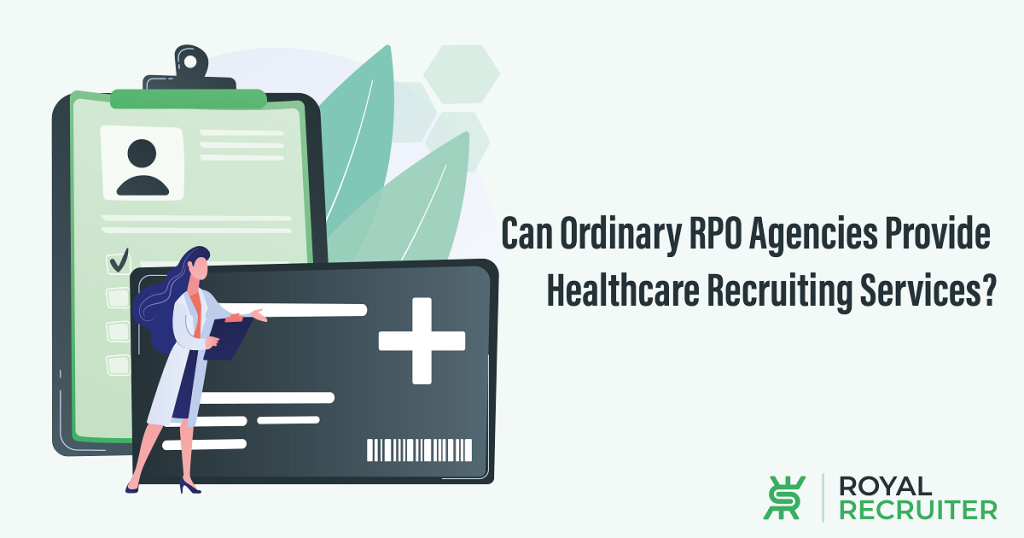 Can Ordinary RPO Agencies Provide Healthcare Recruiting Services?
While all recruitment processes are similar, there are certain differences when it comes to hiring in the healthcare industry. Healthcare personnel, for example, are needed to hold certain qualifications and licenses, such as Certified Nursing Assistant (CNA) and Licensed Practical Nurse (LPN), which can make the recruitment process more difficult for RPOs who haven't worked in the healthcare sector.
Furthermore, healthcare companies have specific requirements, such as a short turnaround time or the necessity to fill a certain position in a remote or isolated location.
On the other hand, RPO firms with prior working experience in healthcare recruiting will have a better understanding of the business and the specialized requirements. They will be better prepared to deal with the complexities of healthcare recruiting, allowing them to provide more high-quality services.
That's why we always advise healthcare firms to hire an RPO with prior healthcare experience because they will tackle your recruitment needs most effectively and feasibly.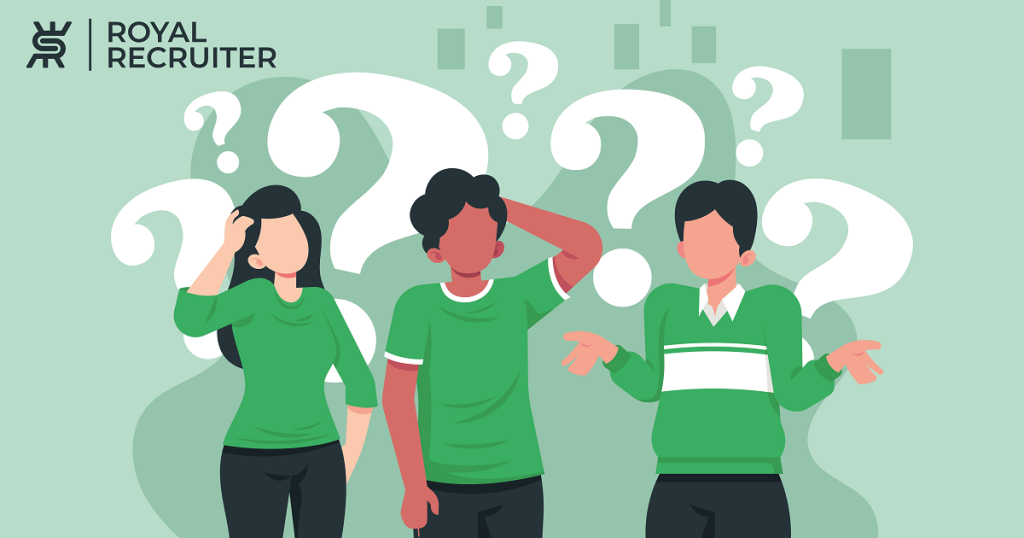 Frequently Asked Questions
Can an RPO healthcare recruiter help our existing HR team?
Yes, an RPO healthcare recruiter can assist your current HR team by providing additional resources and expertise to help with recruiting efforts.
Will an RPO healthcare recruiter provide us with information on candidate profiles?
Yes, RPO healthcare recruiters will provide detailed information on candidate profiles, including qualifications, experience, and any relevant certifications or licenses, before moving further with a potential candidate.
Is RPO in healthcare expensive?
Usually, no. The cost of RPO in healthcare can vary depending on services. For example, how many candidates you need, how long the RPO will work for you, etc., are the main factors in terms of cost.
Top Healthcare jobs near you