Benefits Of Outsourcing Recruitment And Selection Process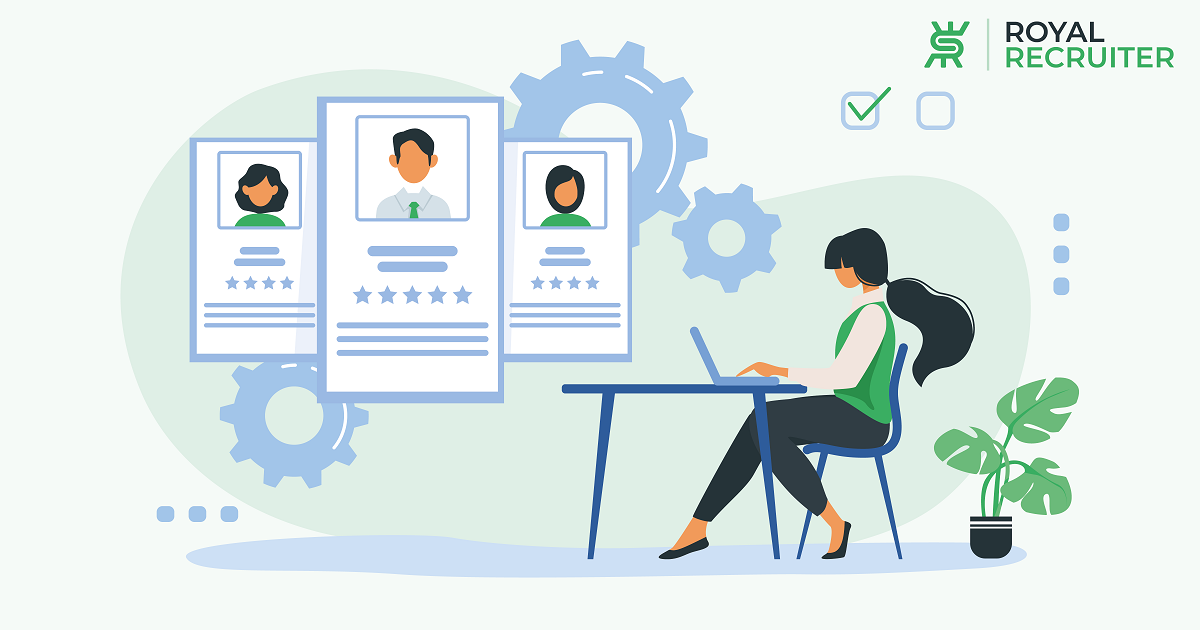 In the corporate world, everyone is talking about RPO. But what are the Benefits Of Outsourcing the Recruitment And Selection Process? Find them in this article
In today's era of digitalization, recruiting candidates might seem relatively easy as there are different types of platforms and professional networking sites available to hunt the perfect candidate. 
But, is it really that easy? Unfortunately, NO, to recruit the ideal candidate, a company or organization needs to have an in-house Human Resource (HR) team, which is pretty expensive, and most small companies don't even have the affordability for an in-house HR team. 
Also, for large companies, recruiting is a significant hassle, which costs them time, manpower, and a large investment. 
And there's a great way to mitigate all issues involved with recruiting, which is: outsourcing the recruitment and selection process. 
In today's article, we'll discover the benefits of outsourcing recruitment, why outsource company recruitment, etc. 
What Is Recruitment Process Outsourcing?
Recruitment Process Outsourcing (RPO) is a type of business process outsourcing (BPO) that outsources all or part of a company's or organization's recruitment and selection process. Some basic activities of an outsourced recruitment agency are job posting, candidate screening, interviewing, and background checks. 
Recruitment process outsourcing (RPO) is a cost-effective solution for organizations of all sizes, as it allows them to access specialized recruitment and selection expertise without having to invest in the resources and manpower required to manage the process in-house. It also allows organizations to outsource non-core business activities, which can free up internal resources to focus on other important tasks.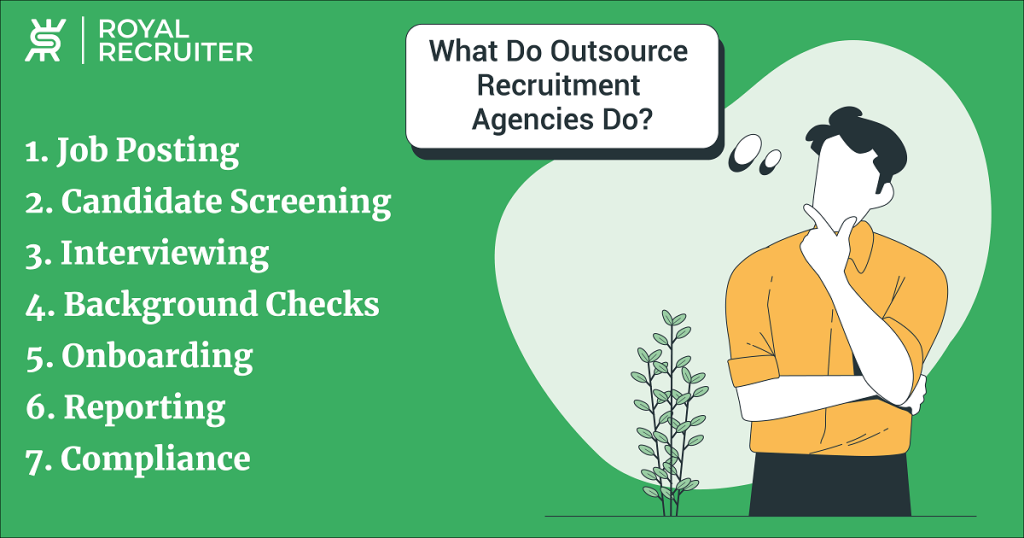 What Do Outsource Recruitment Agencies Do?
An outsourced recruitment agency manages all or part of a company's recruitment and selection process. 
Although the responsibilities of an outsourced recruitment agency can vary depending on the specific needs of the company but the common duties are the following:
Job posting:
RPOs will create and publish job postings on various platforms such as job boards, social media, communities, and the company's website. They will create compelling job descriptions, ad copy, and graphics to attract the best candidates for the role. 
They will also handle the distribution of job postings on different platforms to reach as many qualified candidates as possible.
Candidate screening:
Reviewing resumes and applications to identify candidates who meet the qualifications and requirements for the open position. They will use various tools (such as the applicant tracking system/ ATS) and techniques to screen the resumes and applications and identify the most qualified candidates. 
They will also assess the candidates' qualifications, experience, and skills to ensure they meet the company's/job requirements.
Interviewing:
After selecting prospective candidates, recruitment outsourcing companies conduct initial phone or in-person interviews with candidates to further assess their qualifications and fit for the role. 
They will use structured interview questions to evaluate the candidate's skills, experience, and motivation to ensure that they will be a good fit for the company. 
Background checks:
RPOs also oversee background checks on final candidates to verify their qualifications and ensure they bring no risk to the company. In background checks, they usually do reference checks, education verification, and criminal background checks to make certain that the candidate's qualifications and qualifications are accurate.
Onboarding:
Outsourced recruitment companies also help the company with the onboarding process for new hires, which entails preparing the necessary paperwork, such as employment contracts and offer letters, as well as helping new hires with the initial orientation and training process.
Reporting:
They also provide regular reports on the recruitment and selection process, including metrics such as time-to-fill, cost-per-hire, and candidate quality to the company. 
The RPO agency will track key metrics and provide regular reports to the company to help them understand the progress and effectiveness of the recruitment process. 
This information can be used to identify areas for improvement and to make data-driven decisions.
Compliance:
Ensuring that the recruitment and selection process adheres to all applicable laws and regulations of the company. This means they strictly follow the recruitment and selection process, data protection regulations, and other relevant laws and regulations. 
Additionally, they assist businesses in developing talent acquisition strategies that are in accordance with their overall company goals, talent pipelines, and the identification of important talent segments to focus on during the hiring process.
Visit "How To Build A Resume" for a complete resume-building guide to land your dream job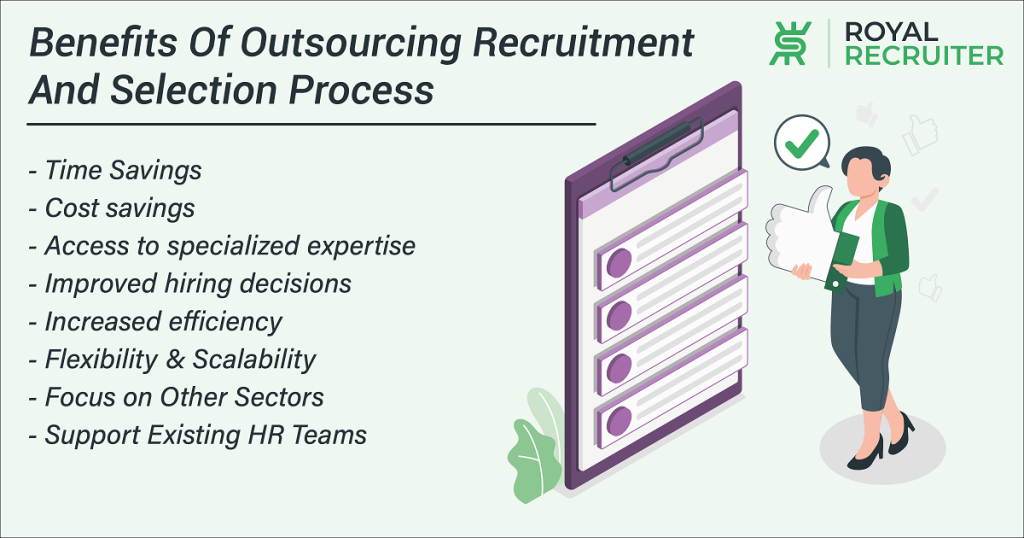 Benefits Of Outsourcing Recruitment And Selection Process
The advantages of outsourcing recruitment and selection process agencies are innumerable. For many companies, (RPOs) reduced the workload and human source by almost half. 
Let's see the benefits a company/organization can expect by outsourcing its recruitment process. 
Time savings:
Outsourcing the recruitment process agencies can fill open positions more swiftly, which can help businesses to keep their operations running smoothly. 
Cost savings:
recruitment outsourcing helps companies reduce the costs associated with recruiting and selecting employees, including advertising and job posting fees and other expenses. RPO providers typically have economies of scale, which allows them to negotiate better rates on job postings and background checks. Additionally, outsourcing the recruitment process can help companies to reduce their recruitment-related expenses. 
Access to specialized expertise:
Outsourced companies typically have specialized recruitment and selection expertise, by which they can easily pick up top talent for a business. 
Also, RPO providers deeply understand the recruitment process and can provide specialized expertise that companies may not have internally. Such as knowing where to find the best candidates, creating effective job postings, and effective resume screening, etc.
Improved hiring decisions:
When it comes to the recruitment and selection process, outsourced providers are more objective, reducing bias and increasing the chances of selecting the best candidate. 
Because RPO providers use industry standards and unique processes to evaluate candidates.
Increased efficiency:
Recruitment is a lengthy and time-consuming process, and most businesses aren't exposed to the tech and tools to find talents. 
On the other hand, RPO companies use modern technologies and recruitment tools to automate and streamline the recruitment process, which can help companies increase efficiency.
Flexibility & Scalability:
RPO providers can quickly adjust to a company's changing recruitment needs, which assists businesses in achieving their hiring targets without placing undue stress on their internal resources. This can be particularly beneficial for companies that experience fluctuations in recruitment demand, such as those in the retail or hospitality industries. 
By outsourcing the recruitment process, companies can ensure they have the necessary resources to handle fluctuations in recruitment demand without maintaining a large internal recruitment team.
Focus on Other Sectors:
Outsourcing the recruitment and selection process allows companies to focus on other important business activities. By outsourcing the recruitment process, companies focus on other key business areas, such as product development, sales, and marketing. 
This can help companies to improve their overall performance and achieve their business goals more effectively. 
For instance, a manufacturing company can outsource the recruitment process and focus on improving its manufacturing processes, while the RPO provider focuses on recruiting the necessary talent. 
Support Existing HR Teams:
Outsourcing the recruitment process can support the already-established Human Resource team by taking on tasks such as posting job listings, screening resumes, and taking initial interviews. 
This shortens the workload and allows the HR team to focus on other important HR activities such as employee retention, training, and development. Additionally, RPO providers can provide valuable insights and feedback on the recruitment process and implement recruitment strategies tailored to the company's specific needs, thus improving the overall performance and effectiveness of the HR team and the company as a whole.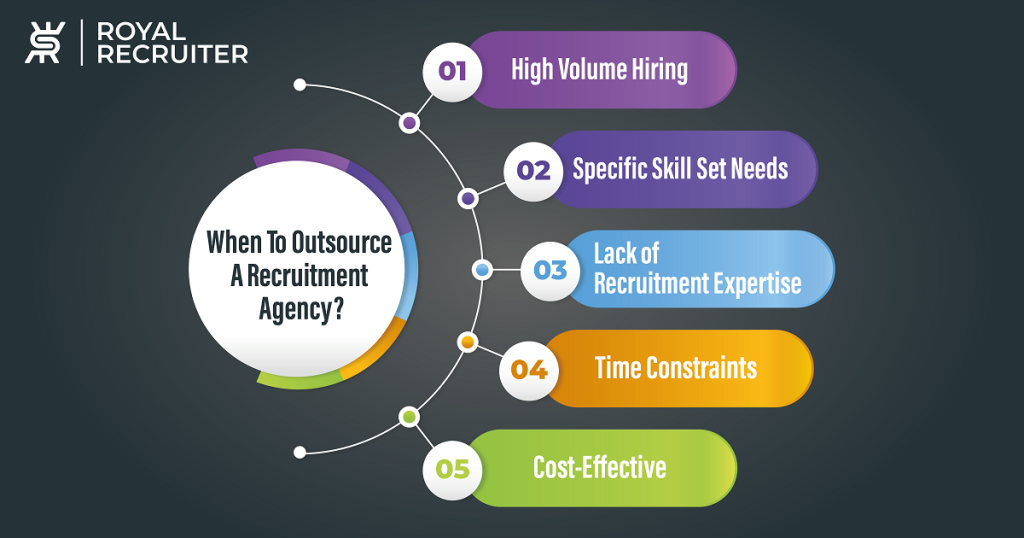 When To Outsource A Recruitment Agency?
This is a critical question because there are several situations when it can be helpful for a company to outsource its recruitment and selection process to a recruitment agency. 
Some of these situations include:
High Volume Hiring: If a company has many job openings, it can be time-consuming and resource-intensive to handle in-house recruitment. Outsourcing to a recruitment agency can help to manage the high volume of job applications and find suitable candidates quickly and efficiently.
Specific Skill Set Needs: If a company is looking to hire for a specific skill set, such as IT or healthcare, it can be challenging to find suitable candidates. Recruitment agencies have access to a wide network of candidates and can help to find the right person for the job.
Lack of Recruitment Expertise: Some companies may not have the expertise recruiters or resources to handle the recruitment process effectively. Outsourcing to a recruitment agency can provide access to professionals who have the necessary skills and experience to find the right candidates for the job.
Time Constraints: If a company needs to fill a job opening quickly, outsourcing the recruitment process can help to fill the position promptly.
Cost-Effective: Outsourcing recruitment can be more cost-effective than managing the process in-house. Recruitment process outsourcing will be a great choice if a business wants to decrease its expenditures.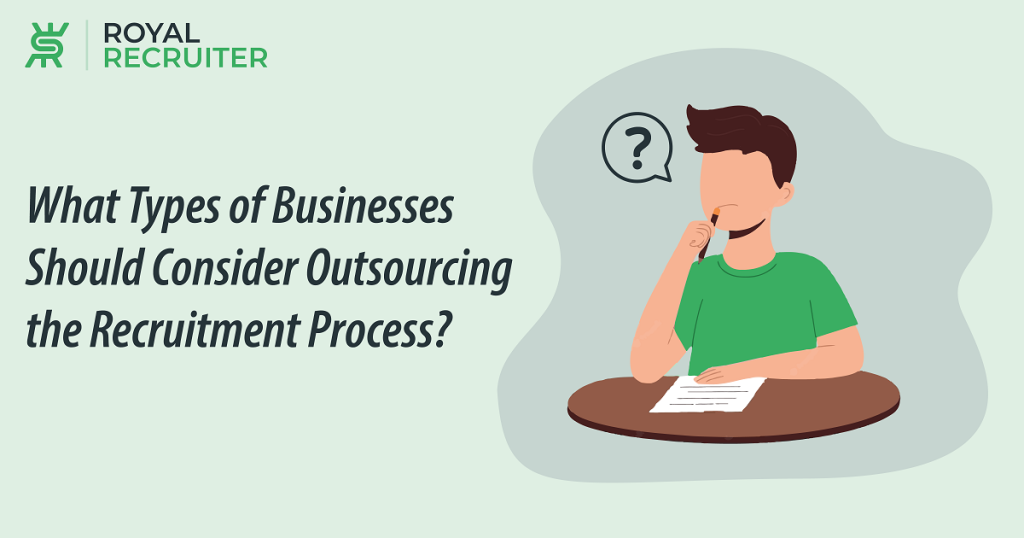 What Types of Businesses Should Consider Outsourcing the Recruitment Process?
There Are no limitations or restrictions on what kinds of businesses should/can outsource their recruitment process. Every company can outsource its recruitment process. Even companies like Microsoft, Tesla, or Google can outsource their recruitment process if required! 
However, there are certain types of businesses, and for those, recruitment process outsourcing is advantageous. Which are: 
Small and Medium-Sized Businesses (SMBs):
Small and medium-sized businesses may not have the in-house resources or expertise to handle the recruitment process. They should consider the recruitment outsourcing process as it will 
High-Growth Companies:
If a business or company is experiencing high growth and struggling to keep up with the recruitment needs. Outsourcing to a recruitment agency can help to manage the high volume of job applications. 
Companies with Seasonal Hiring Needs:
Retail or hospitality businesses or other companies with seasonal hiring needs may find it beneficial to outsource their recruitment process because when they outsource their recruitment process, they don't need to keep an in-house team to handle recruitment only during the peak season.
Start-ups:
Start-ups may have limited resources and budgets for recruitment. RPO can save start-ups time and money as they don't have to invest in recruitment infrastructure or advertise for job positions.
Companies undergoing downsizing or restructuring:
Companies undergoing downsizing or restructuring may need to reduce their workforce. Outsourcing the recruitment process can help these companies to manage the process of layoffs and find suitable candidates for any open roles.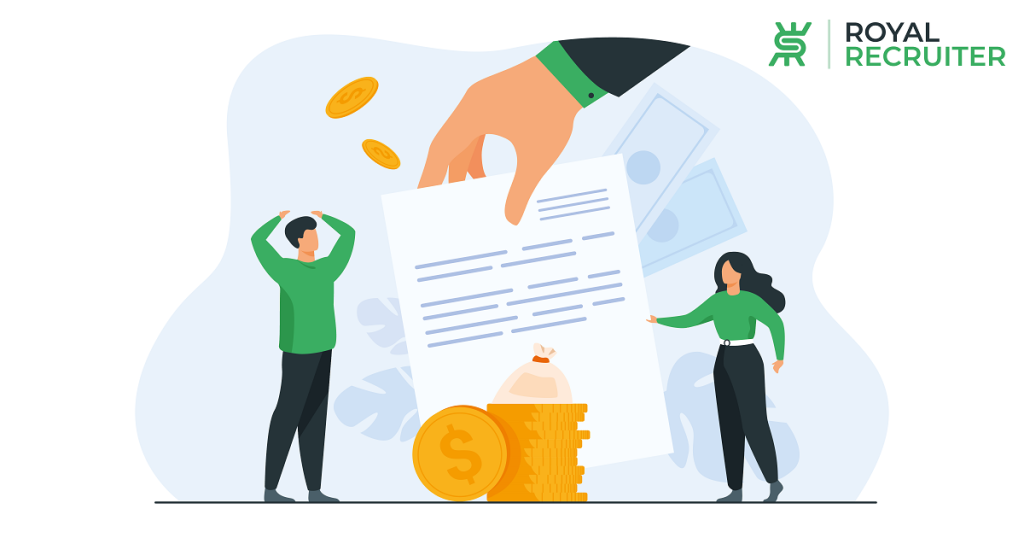 How Much Does Outsourced Recruitment Cost? 
The cost of outsourcing recruitment can vary depending on various factors. The type of recruitment agency, the scope of services required, the industry, and the number of positions needing to be filled all play a role in determining the final cost. 
On average, an agency may charge a fee of around 15-25% of the candidate's starting salary. However, this can vary considerably based on the job position, industry, and business location. 
Some agencies charge more for highly specialized or executive positions, while others charge a lower rate for volume recruitment or entry-level positions. It is important to note that many recruitment agencies offer different pricing models, such as project-based, fee-per-placement, or subscription-based pricing; many agencies also offer customized charges to the specific needs of a business. 
Therefore, it is always best to get quotes from different agencies and compare their services and pricing before making a decision. A good recruitment agency will provide a detailed breakdown of their costs and explain how they calculate their fees.
What Are The Cons Of Outsourcing Recruiting Process?
When a company decides to outsource its recruitment process, it may encounter a number of drawbacks. However, it is important to note that these cons can be effectively managed with strategic approaches.
One of the main drawbacks of outsourcing recruitment is that the hiring company won't have control over the process. As an external agency is handling the recruitment process, the company may not be able to oversee it as closely as it would if it were handled in-house. 
But nowadays, most recruiting firms let the hiring companies give flexibility in terms of recruitment control.
Another downside of outsourcing recruitment is the recruiting agency's limited knowledge of company culture. With little knowledge, the agency might fail to understand the company's values and needs. 
However, this can be overcome by providing the agency with detailed information about the company's culture and values.
Top Most Recent jobs near you