What Are Resume Cliches And Buzzwords?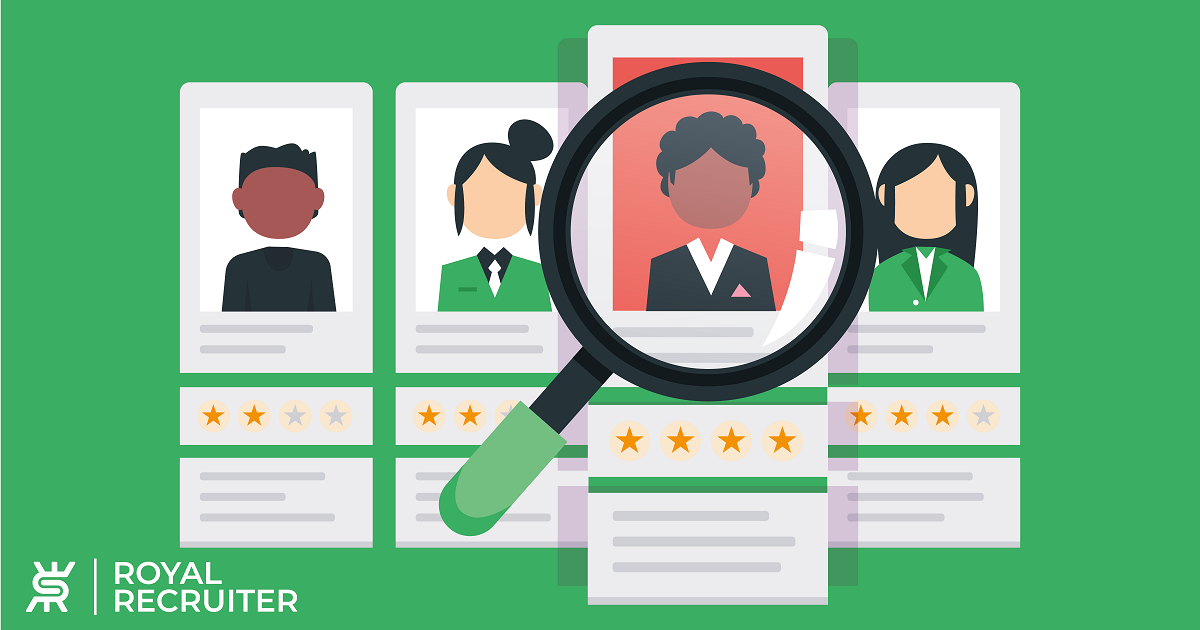 Resume cliches and buzzwords ruin the impression and make candidates look unqualified for the role. Find out what they are and what to use instead of them.

Nowadays, job applicants are using too many cliches and buzzwords in their resumes thinking that it'll help them get the attention of hiring managers and might aid them in landing a job!
Although cliches and buzzwords help, but when someone forcefully inserts lots of them, it leaves a bad impression on hiring managers because they've seen these words thousands of times and don't convey anything special about a candidate.
Today, we'll discuss resume cliches and buzzwords, what they are, their effect, the benefits of avoiding them, etc.
What Are Resume Cliches And Buzzwords?
Resume cliches and buzzwords are phrases that are often overused and lack real meaning. While they may seem like they add value to your resume, most of the time, employers ignore them because they have been used so many times in resumes that they've lost their impact and don't attract hiring managers anymore.
These phrases often don't provide any meaningful information about your skills or experiences and can come across as generic and unoriginal. Examples of common resume cliches include "go-getter," "think outside the box," "hard worker," "proven track record," and "excellent communication skills."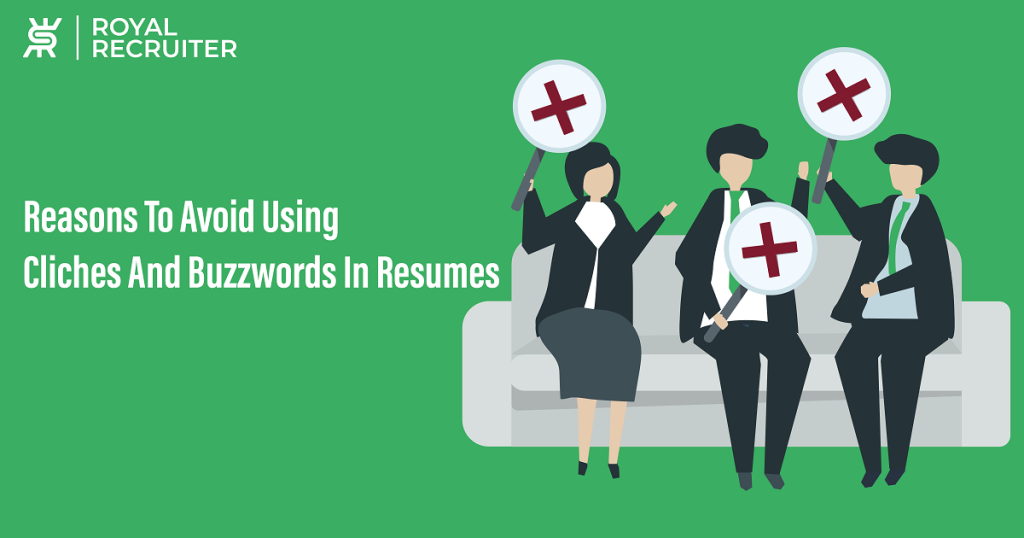 Reasons To Avoid Using Cliches And Buzzwords In Resumes?
Using cliches and buzzwords can make a candidate seem unprepared or unqualified to employers. Though these phrases are a way to make a resume sound more impressive, but due to the excessive usage by millions of candidates, they are now considered vague because they don't provide any real information about a candidate's qualifications or skills.
Moreover, lots of candidates are now using buzzwords that are not relevant to the job and phrases that they use don't match their experience and skills. They just use the phrases to get into the position.
And using cliches and buzzwords makes it harder for employers to understand and evaluate what a candidate can bring to the table/company.
Visit "How To Build A Resume" for a complete resume-building guide to land your dream job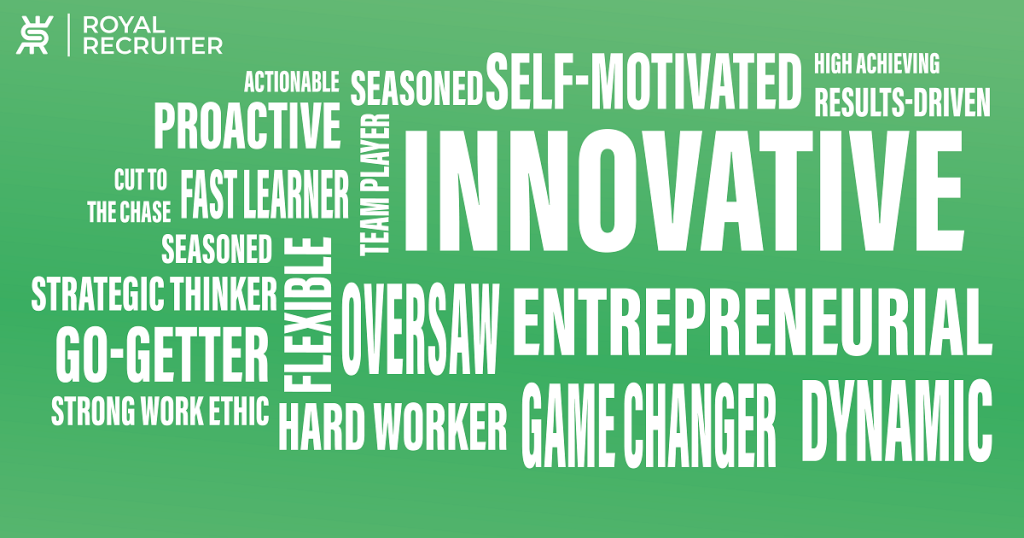 What Are The Most Common Cliches And Buzzwords?
The use of cliches and buzzwords has reached a point. Now recruiters/hiring managers have sorted out what those phrases and words are. When they see them, they reject resumes, no matter how qualified they are.
Here are some common Clichés and Buzzwords to Avoid on Your Resume
Results-driven
Team player
Proven track record
Innovative
Dynamic
Entrepreneurial
Oversaw
Results-oriented
Strategic thinker
Think Outside the Box
Hard worker
Strong work ethic
Detail-oriented
Go-getter
Game changer
Excellent communication skills
Self-motivated
Blue sky thinking
Actionable
Proactive
Fast learner
Flexible
Seasoned
Problem solver
Strong leader
Goal-oriented
High-performance
High-achieving
Strong analytical skills
Strong attention to detail
Cut to the chase
Ability to multitask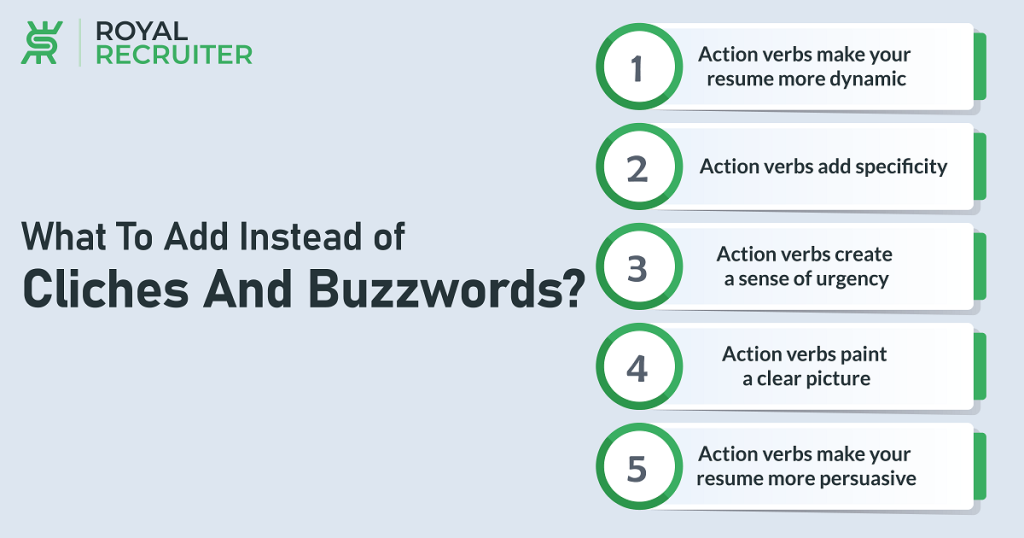 What To Add Instead Of Cliches And Buzzwords?
As we've seen lots of cliches and buzzwords, you might be thinking, "What should I add to my resume then?" Well, there's a better alternative to this. Instead of relying on these overused phrases, another effective way to add originality and depth to your writing is by using action verbs.
So, what makes action verbs worthwhile? Let's find out:
Action verbs make your resume more dynamic: Instead of using passive phrases, use action verbs that show what you have accomplished in your previous roles. This makes your resume more engaging and interesting to read.
Action verbs add specificity: Action verbs help to be specific about your responsibilities and achievements rather than vague and abstract. Instead of saying "assisted with customer service," you could say "Provided excellent customer service to clients."
Action verbs create a sense of urgency: Action verbs help to create a sense of urgency and immediacy in your resume, highlighting what you have achieved in your previous roles. Instead of saying "was responsible for," you could say "Led the implementation of a new project."
Action verbs paint a clear picture: Proper usage of action verbs helps to give hiring managers a clear picture of your skills and experience, which makes your resume talk about you. Instead of saying "managed a team," you could say "Developed and managed a high-performing team."
Action verbs make your resume more persuasive: With action verbs, you can create a sense of momentum and movement in your resume, making it more persuasive. Instead of saying "increased sales," you could say "Boosted sales by 30% through effective marketing strategies."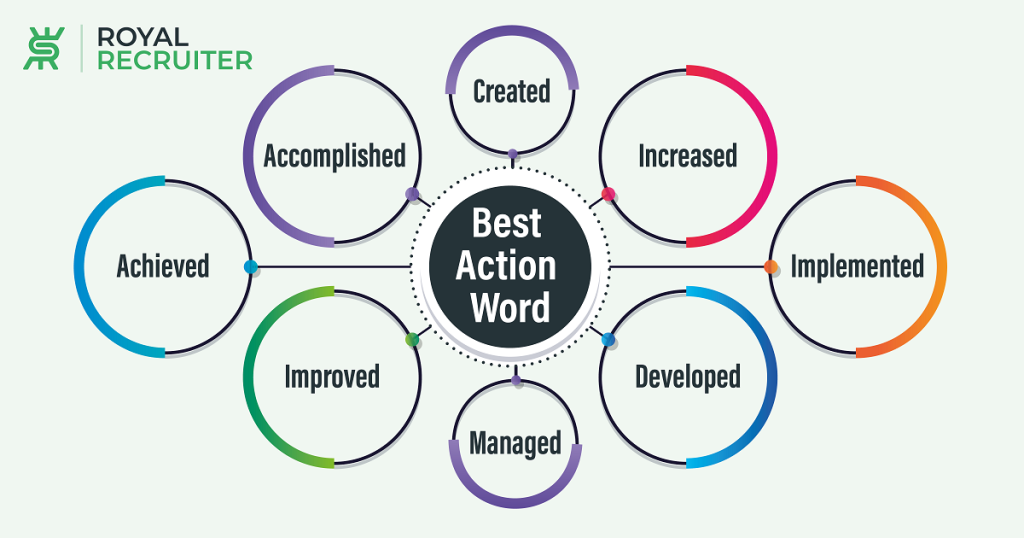 Best Action Word To Use In Resumes
The use of strong action words on a resume can make a significant impact on how well it is received by hiring managers.
Here are some best action words to use on a resume:

Accomplished:
This word effectively shows that the candidate has successfully completed a task or achieved a goal. It also demonstrates a sense of accomplishment and shows that the candidate has a track record of delivering results.
Achieved:
This word is similar to "accomplished" and conveys that the candidate has reached a desired outcome. It highlights the candidate's ability to set goals and achieve them, which is a valuable quality in any employee.
Improved:
This word highlights an applicant's ability to make positive changes and is a strong indicator of their problem-solving skills. It demonstrates that the candidate is proactive in identifying areas for improvement and has the skills to make those improvements happen.
Managed:
This word depicts that the candidate has experience in leading and overseeing projects or teams. It indicates that the candidate has experience managing people, resources, and timelines.
Developed:
This word indicates that the candidate has a track record of creating or improving something, whether it's a product, process, or program. The word developed means that the candidate has the skills to take an idea from concept to implementation.
Implemented:
This word means that the candidate has put their ideas into action and has experience in execution. It demonstrates that the candidate has the ability to take the initiative and execute their ideas.
Increased:
This term emphasizes the candidate's capability to boost or enhance something, such as revenue, productivity, or market share. It shows that the applicant can generate growth and has a track record of achieving measurable outcomes.
Created:
This phrase suggests that the applicant has knowledge of creating anything from scratch, be it a procedure, software, or product. It reveals the candidate's capacity for original thought and feeling of responsibility for their job.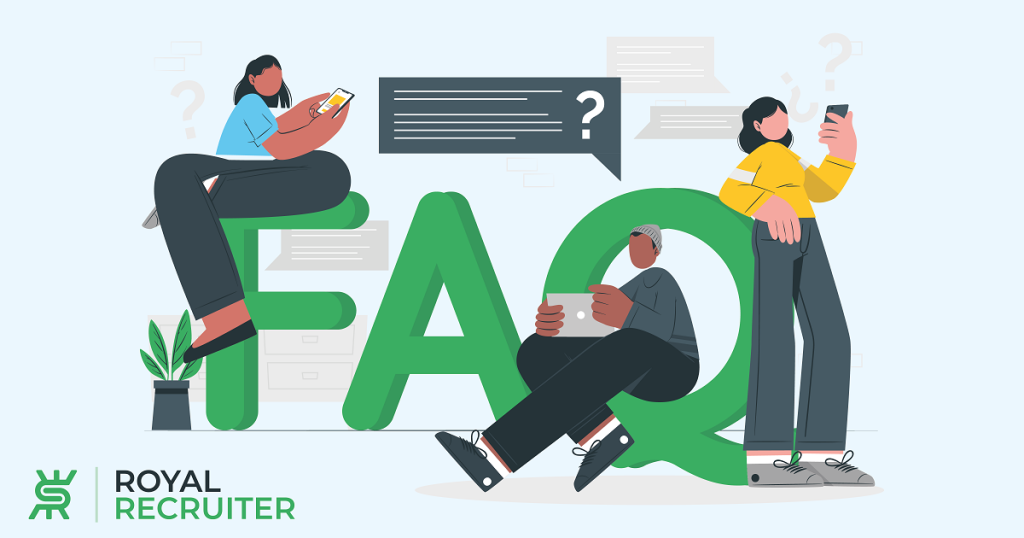 Frequently Asked Questions

Should I fully avoid cliches and buzzwords on my resume?
It is generally recommended to avoid using cliches and buzzwords on your resume. However, some experts say you can use up to two cliches and buzzwords.
What if I've already sent a resume comprising buzzwords?
If you have already sent a resume that includes buzzwords and you're worried that it may not accurately reflect your skills and experience. Unfortunately, there is nothing you can do about the resume that has already been sent. However, you can take steps to customize your resume for future openings.
Should I apologize for sending a resume with buzzwords?
Not at all! Apologizing for sending a resume with buzzwords is unnecessary, but if they select you for an interview, being honest and transparent with interviewers is important.
Top Most Popular jobs near you