Best Recruitment Process Outsourcing Companies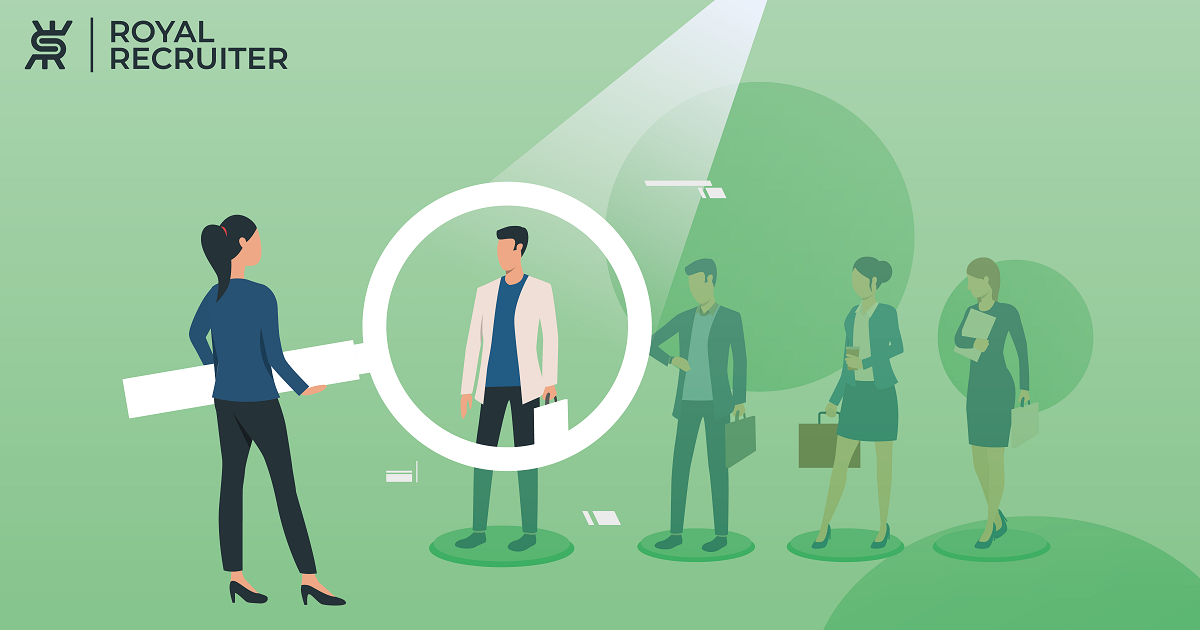 Looking for the best RPO companies? Here are some of the best recruitment process outsourcing companies you can trust. Also, find out what to look for in RPO companies
Recruitment Process Outsourcing (RPO) is now a buzzword in the corporate world because it's such a solution that allows organizations to outsource some or all of their recruitment process to a third-party provider, so they don't need to manage a recruiting team or department.
Recruitment process outsourcing companies conduct duties that an in-house Human Resource department would have done, which include everything from sourcing and assessing candidates to managing the hiring process.
Today, we'll find out the best recruitment process outsourcing firms, the types of services an RPO agency offers, and more!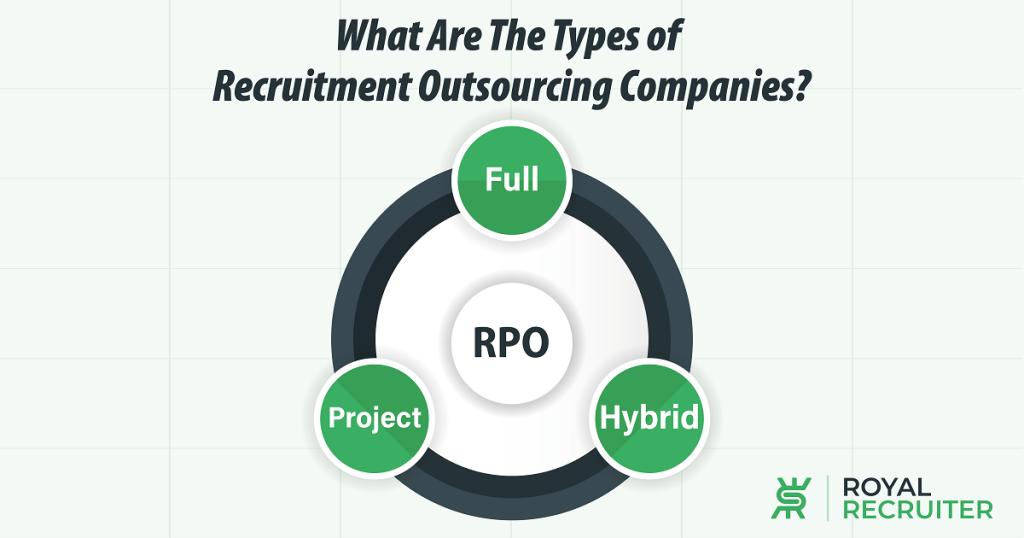 What Are The Types Of Recruitment Outsourcing Companies?
Recruitment process outsourcing has become increasingly popular among businesses of all sizes and industries. The main reason for this is that RPO agencies offer a range of benefits, such as reduced cost, increased efficiency, and quality candidates.
The surge in demand for recruitment outsourcing has created much diversity in this field, and now different types of RPO models are available.
Full RPO is where an organization outsources all of its recruitment processes to a provider.
Project RPO is when an organization outsources a specific recruitment project or campaign to a provider.
Hybrid RPO is a combination of both full and project RPO, where an organization outsources some aspects of its recruitment process to a provider.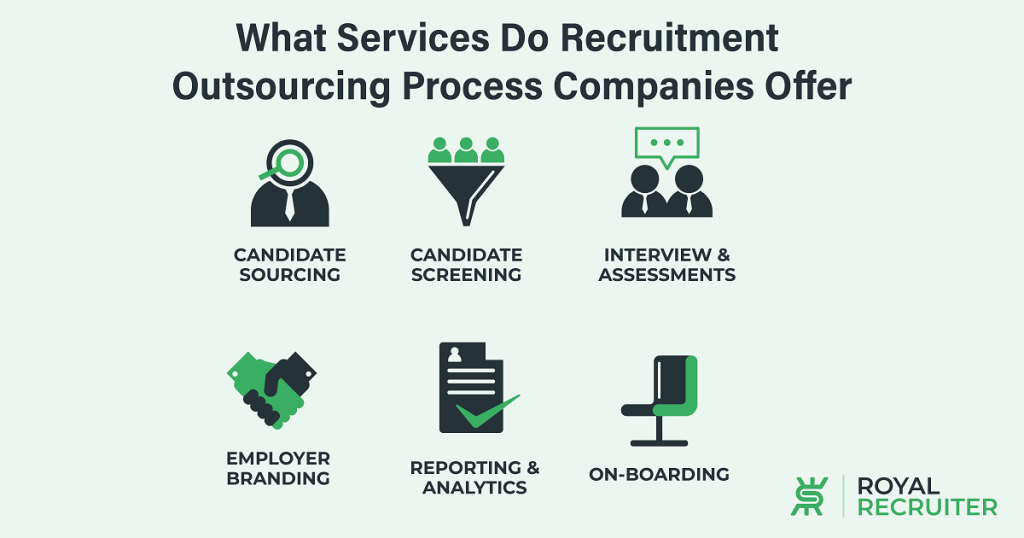 What Services Do Recruitment Outsourcing Process Companies Offer
Recruitment process outsourcing (RPO) companies offer a wide range of services to help businesses with their recruitment needs. Also, they can modify recruiting services based on a company's or industry's demand.
Common services that recruitment outsourcing process companies usually offer are:
RPO companies can use various methods to find potential and matching candidates, such as job boards, social media, employee referrals, and headhunting.
They also source candidates by creating and posting job listings on job boards.
One of the most crucial parts of RPO companies is screening candidates to ensure they meet the required qualifications and are a good fit for the company and the position.
The candidate screening process includes initial phone interviews, checking references and skills, and verifying qualifications and academic credentials.
Upon successful candidate screening, RPO agencies will then schedule and conduct interviews with candidates in person or online. In the interview session, representatives from the hiring company and RPO agency will be present.
After the interview session, RPO will provide feedback on candidates' performance and assist with decision-making.
RPO companies can assist with the onboarding process for new hires, including paperwork, orientation, and training.
To avoid any kinds of miscommunication and other issues, RPO companies provide detailed reports on the recruitment process, including metrics such as time-to-fill, cost-per-hire, and candidate satisfaction.
This allows the hiring company to make better decisions.
Another great advantage of the Outsourcing Recruitment Process is that RPO agencies can help businesses improve their employer branding and attraction efforts to increase the number of quality candidates applying.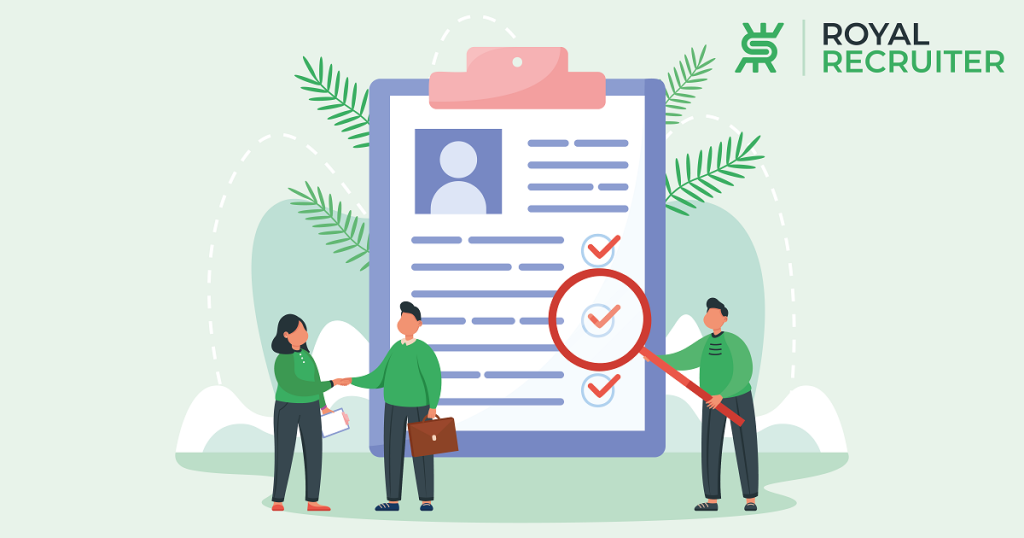 How To Choose The Right RPO Provider?
There are now so many recruitment outsourcing agencies available, making it difficult to determine which is the best fit for a business.
Even though it has become critical, it's not impossible to pick the best Recruiting Process Outsourcing agency for your business needs.
If you follow the factors given below when choosing an RPO firm, chances are high that you'll find or get the best RPO.
Industry expertise:
The first thing to consider is selecting RPO providers specializing in your industry. When you choose an industry-specific/expert provider, they will have a better understanding of your recruitment needs and will be able to provide more tailored solutions. 
As they will have knowledge of your industry's unique challenges and trends, which will help them handle the recruitment process more effectively.
Scalability:
It's necessary to confirm that the RPO provider can adjust their services to meet your changing needs as your business expands. You can add or remove services as needed with a scalable solution without paying extra money.
Flexibility:
RPO providers who provide flexibility will be able to adjust to your organization's demands, whether it be a sudden surge in hiring or a long-term change in recruitment tactics. By doing this, you can be sure that your company is receiving the best services available.
Performance:
Track measures like cost, time-to-fill positions, and candidate quality to assess an RPO provider's performance. This will enable you to evaluate the RPO provider's performance and whether it is effective for your company's requirements.
Effective Communication:
Maintaining clear communication with your RPO provider is essential to ensure a successful partnership. Because communication is the key to recruitment, and the provider should be transparent and responsive to your organization's specific needs and concerns.
Data Protection:
When working with an RPO provider, you'll need to share sensitive information, such as company details. It's necessary to ensure that the recruitment outsourcing provider has robust data privacy and security protocols to safeguard whatever information you give them.
Researching Provider's Reputation:
Finally, you must analyze the provider's previous performance, which you can easily find by looking at customer reviews and testimonials. 
Researching RPO's reputation will give you an understanding of the company's strengths and weaknesses and help you determine if they are the right fit for your organization.
Visit A-Z Resume Writing Tip To Write A Stunning Resume.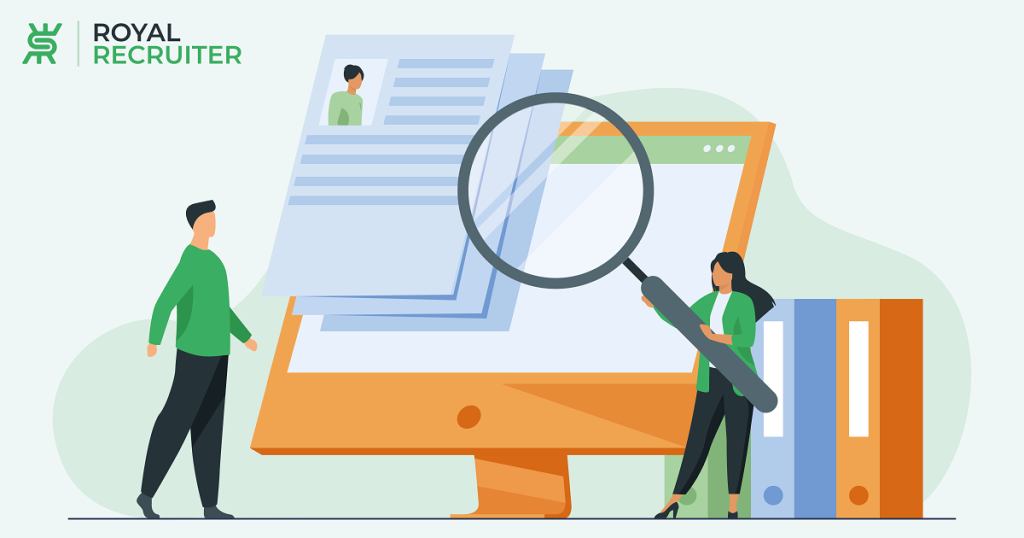 Top Recruitment Process Outsourcing Agency
We know finding the top recruitment process outsourcing agency is time-consuming and exhausting. That's why we've compiled a list of the best RPO firms, which are renowned for their services, and these companies have the traits that we discussed above.
Here is the list of the top 10 recruitment process outsourcing (RPO) companies in 2023.
Alexander Mann Solutions
Cielo
HireVue
IQTalent Partners
KellyOCG
PeopleScout
Randstad Sourceright
Korn Ferry
Lucas James Talent Partners
So, what to expect from these leading recruitment process companies?
These RPO companies are renowned for their capability to locate and entice the best employees no matter what the industry is, as they have access to a large network of potential workers, even individuals who might not be looking for work right now.
Additionally, all of these firms are equipped with the necessary tools and people to efficiently screen and evaluate applicants, ensuring that only the best and most qualified candidates are recommended to the business.
Also, these renowned RPO agencies collaborate with insightful data and insights. For instance, they will provide information/guidance on the types of people/professionals who can perform well in a specific position or the most successful hiring practices.
Finally, in addition to being renowned for their candidate sourcing services, these RPO organizations are also famous for their outstanding customer service. They put forth a lot of effort to provide the best service to their clients since they understand how crucial hiring is to a company's development.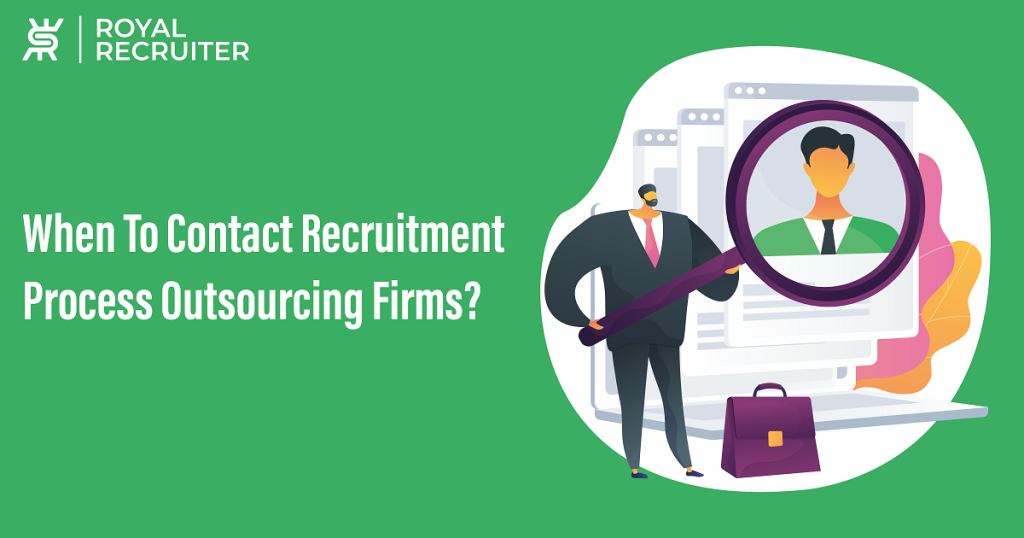 When To Contact Recruitment Process Outsourcing Firms?
The need for RPO firms depends on the companies' situation and needs. Different companies face different situations when they require the service from RPO agencies.
Here are some common scenarios when companies contact recruitment process outsourcing firms.
Rapid growth:
When a company grows, so does the need for an effective hiring process. RPO agencies can help companies scale their recruitment process to accommodate growing needs and implement technology such as applicant tracking systems.
Expanding into new locations:
When a company is expanding into new geographic regions, an RPO firm can help navigate the local job market and laws and assist with recruiting top talent in those areas.
Shortage of qualified candidates:
Most companies have trouble finding candidates in a specific field, such as IT and Healthcare. If your company is one of them, an RPO firm can aid in identifying and attracting the best candidates through targeted recruiting efforts and employer branding.
A high volume of hiring needs:
If a company has a large number of open/unfilled positions and doesn't have the resources to handle the influx of resumes, screen candidates, and schedule interviews, an RPO company can support process management and guarantee that all applicants are thoroughly screened.
Improving efficiency and effectiveness:
Companies that want to improve their recruitment process's overall efficiency and effectiveness. With the help of an RPO firm, it can easily identify areas for improvement and implement best recruiting practices.
Visit "Benefits Of Outsourcing Recruitment And Selection Process" to know more about outsourcing recruitment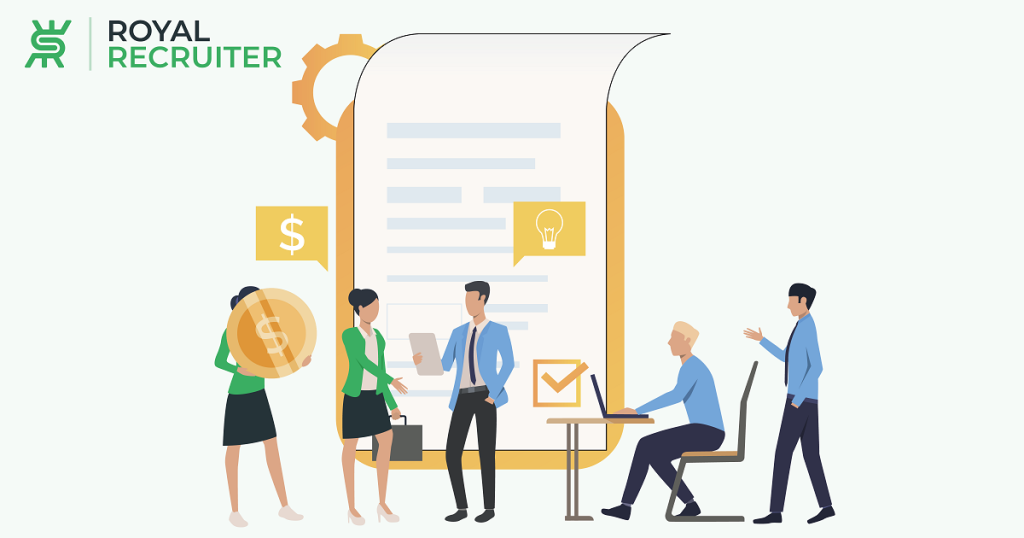 How Much Does RPO Agency Cost?
It depends on the specific agency and the type of charging model they use. And there are different types of charging methods available.
Here are a few common charging methods used by recruitment process outsourcing firms:
One common charging method is a monthly fee. This is a flat rate that the agency charges for their services on a recurring basis. This is a good option for companies that have a consistent hiring need and want to have a dedicated recruitment team working on their behalf.
Another charging method is a fee for leads. This is where the agency charges a fee for every candidate that they bring to the table. This option is suitable for companies that want to have a say in which candidates they interview and hire and only want to pay for the candidates that they actually consider.
A third charging method is a fee upon successful hire. This is where the agency charges a fee only when a candidate they have presented is successfully hired. This is the best choice for companies that want to minimize their risk and only pay for successful hires.
In this model, some agencies charge a fee that is a percentage of the candidate's salary, usually between 10% to 25%.
Ultimately, the cost of using an RPO agency will vary based on the specific agency and the hiring company's requirements. It's important for companies to carefully review the different options and choose the one that best fits their needs and budget.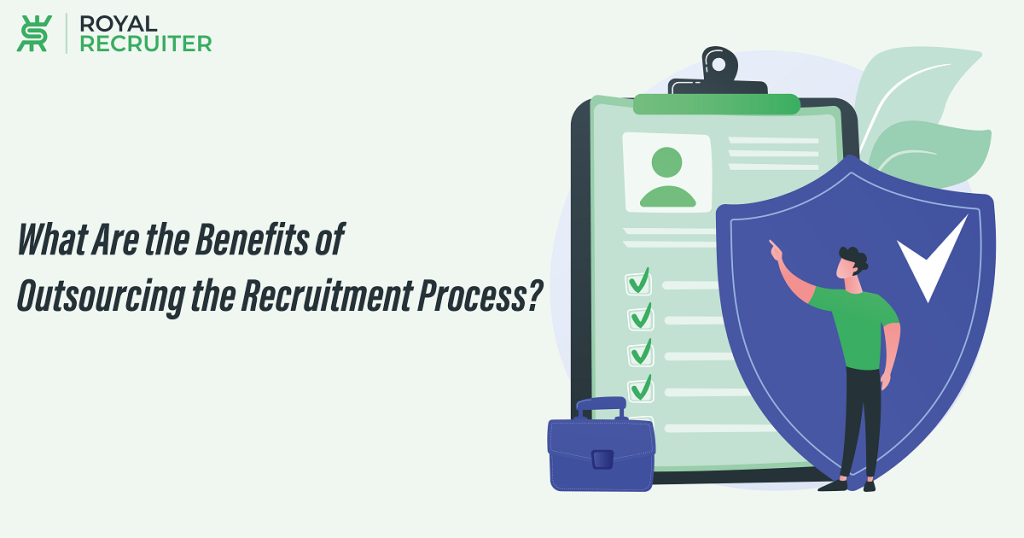 What Are the Benefits of Outsourcing the Recruitment Process?
Companies can benefit in a number of ways by outsourcing recruitment operations to a reliable third-party agency. These advantages can help them save time and money and improve the quality of their recruits.
Access to a large candidate pool:
RPO service providers have access to a large candidate pool, which may include people who aren't actively looking for work. Finding the ideal candidate for an available post is now more likely as a result. RPO companies also have the tools and know-how to run extended recruiting drives, which can aid in drawing in more qualified applicants.
Avoiding the difficulty of hiring:
Hiring is a stressful procedure, especially if a company is understaffed or has a high turnover rate. Companies can focus on their main business operations instead of the burden of filling available positions by outsourcing recruitment tasks to an RPO service. 
RPO companies handle every step of the hiring process, including posting job postings and candidate screening. This can help businesses save a lot of time and lessen the pressure of hiring.
Savings on personnel and equipment costs:
Since RPO firms have their own employees and resources, businesses don't have to make extra investments in employees or equipment. Businesses won't have to spend money on staffing, training, or equipment purchases, which can result in significant financial savings for them.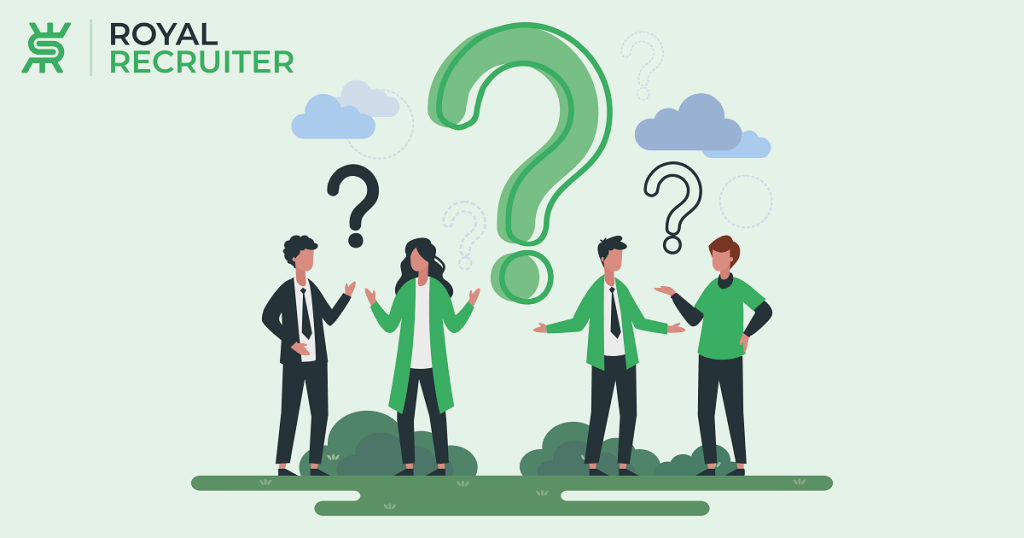 Frequently Asked Questions
Can RPO companies help me fill roles in different locations or countries?
Yes, many RPO companies have the expertise and resources to help companies fill roles in different locations or countries.
How much do RPO agencies charge per candidate?
The cost per candidate for RPO services can vary greatly depending on the agency and its services. On average, RPO agencies charge between $3,000 to $8,000 per candidate.
Will RPO firms assign a dedicated team to work with my company if we partner with them?
It depends on the RPO firm and the specific services you are seeking. Some agencies offer dedicated teams that work exclusively with a single client, while others may have a shared team that works with multiple clients.
How long does an RPO agency typically take to fill a position?
Due to factors such as the difficulty of finding qualified candidates, the number of candidates to screen, and the number of interviews to conduct. The hiring process can take between weeks and months.
What if I need to fill the position urgently?
If you need to fill a position immediately, you should notify the agency right away. They will prioritize the role and try to speed up the hiring process.