Outsource IT Recruitment: Why Company Should Outsource IT Jobs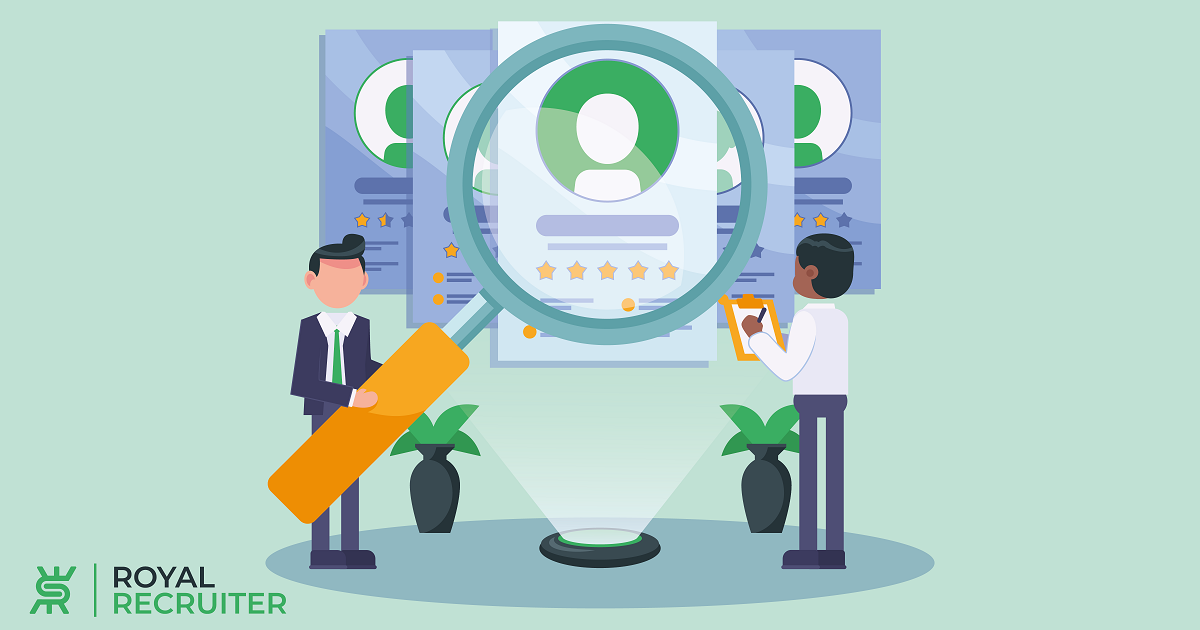 Outsource IT recruitment can help a company reduce its cost and find the best tech talent in a matter of time. Check out our article to learn how outsource IT recruitment works.
Every type of business has now started to embrace information technology for various purposes, such as developing software, maintaining existing solutions, and more.
When a company starts to search for the perfect candidate, finding one gets as scarce as a chicken's teeth because the information technology sector doesn't have that amount of skilled and experienced professionals.
However, that doesn't mean that there aren't any. There is, but it could take months or years to find and place the ideal candidate. And that's when comes the IT recruitment firms.
With outsource IT recruitment, a company can hire the perfect candidate within a few weeks, as IT job recruitment agencies can unearth the candidates from the edge of the world within a matter of time.
Today we'll learn about how beneficial outsource IT staffing companies are, what they bring to you, and more!
What Is Outsourcing IT Recruitment?
Outsourcing IT recruitment is a service where businesses work with recruitment firms to hire Information technology professionals for their company. When companies outsource their IT recruitment, they have many options.
For example, they can either get in touch with IT recruiting firms for a single hire or to hunt tech professionals for entire Information technology.
We'll talk about it in detail later in this article.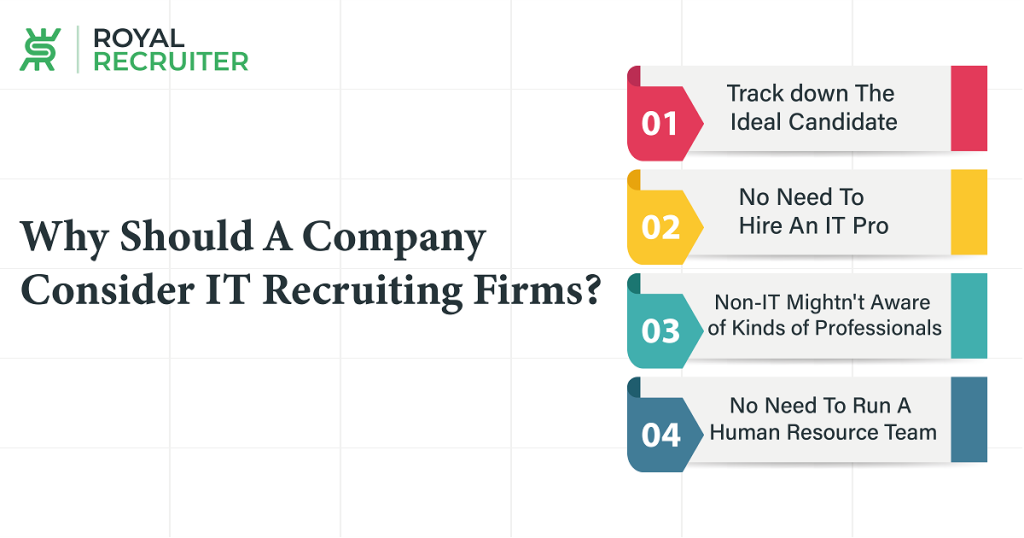 Why Should A Company Consider IT Recruiting Firms?
Finding the ideal applicant is a challenge in today's fast-paced information technology industry. Because the number of IT professionals has not increased with the demand.
An organization should think about using IT recruiting agencies for the following reasons:
Track down the Ideal Candidate
IT recruiting companies can locate the finest candidate for your company because they have access to a big pool of IT talent. They choose the most qualified applicants for your company by utilizing cutting-edge recruitment strategies and tools to examine and evaluate candidates.
No need to hire an IT pro.
Hiring an IT professional might be difficult for non-IT companies. You don't need to have an IT specialist or a human resource staff who's adept at hiring tech people when working with an IT recruiting agency, as they will manage every step of the process, from candidate sourcing to evaluation, to uncover the best IT talent for your business.
Non-IT businesses might not be aware of the kinds of professionals they require.
Suppose a business or organization wants to transform its business digitally. In that case, non-IT organizations may not be unaware of the many categories of IT professionals and their unique tasks and responsibilities.
In such scenarios, they should contact IT recruiting companies, as they (IT job recruitment agencies) have a thorough understanding of the IT sector and can offer insightful information about the kinds of individuals your company requires.
This will enable you to make astute recruiting decisions and guarantee that your company gets the perfect candidate(s) to meet the business or organization's demand.
No Need To Run a Human Resource Team
Managing the recruitment process takes lots of time and requires a big budget for many businesses. If a company works with an IT recruiting company, they don't need to worry about handling the hiring process or managing a human resources team. 
The IT recruitment agency will manage everything on their behalf just like an in-house human resource team, freeing up your time and resources to concentrate on your primary corporate goals.
Visit "Benefits Of Outsourcing Recruitment And Selection Process" to know more about outsourcing recruitment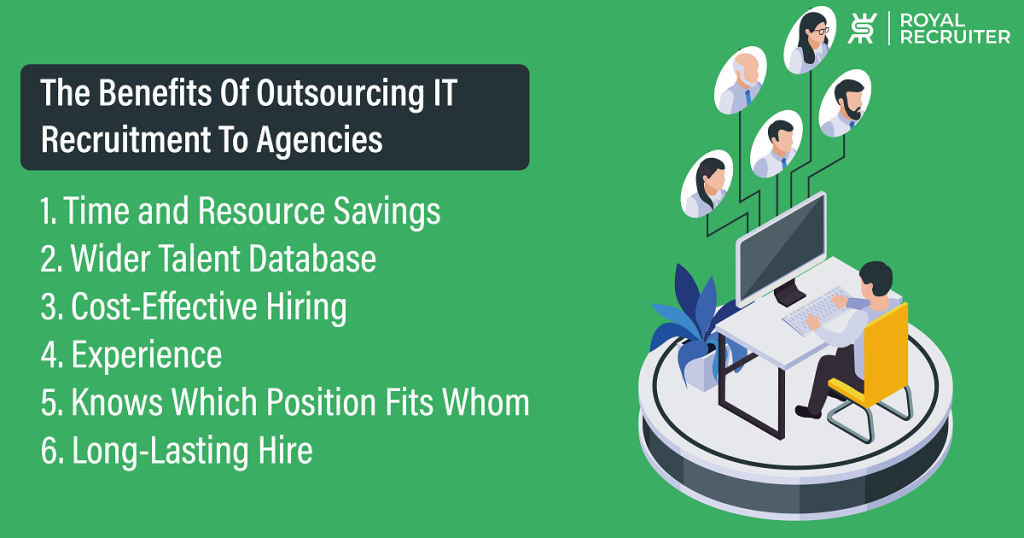 The Benefits Of Outsourcing IT Recruitment To Agencies
Companies seeking top IT in the IT industry can turn to recruitment agencies to find the right fit for their specific needs, regardless of the niche or complexity of the role. By outsourcing their recruitment, companies can ensure that the professional they bring on board aligns with their company culture, values, and possesses the necessary skills and experience to succeed in the role. This increases the likelihood of a long-lasting, successful hire.
Time and Resource Savings: Companies that choose to outsource their IT recruitment to agencies can free up time and resources for their internal HR teams to focus on other critical tasks. Recruitment agencies take on the time-consuming responsibilities of reviewing resumes, conducting initial interviews, and checking references, leaving HR teams with more bandwidth to handle other priorities. This represents valuable time and resource savings for companies.
Wider Talent Database: Recruitment agencies have access to a greater database of job seekers and can do a thorough search to find the best fit for a company. With a broad network of contacts that encompasses active and passive job seekers, agencies can leverage their connections to source top talent for open roles. This not only broadens a company's list of potential candidates, but it also saves time and effort that would have been spent reaching out to individual job seekers by the company's HR team (If they had one).
Cost-Effective Hiring: Recruitment agencies can offer a cost-effective alternative to traditional internal hiring methods. They handle all the recruitment and screening expenses, including advertising job openings, sourcing resumes, conducting initial interviews, and checking references.
Companies can lower the cost of hiring while still hiring/sourcing the best candidate by outsourcing the recruitment process.
Experience: Recruitment companies bring years of expertise and in-depth practical experience in the labor market and the hiring procedure when sourcing IT professionals.
They are versed in best practices, modern trends, and efficient methods for drawing the best people. They employ these techniques to select the best candidate for a company, keeping abreast of the most recent technical developments.
Knows Which Position Fits Whom: Whether a company is looking for a software developer, database manager, or cybersecurity expert, by leveraging their extensive networks and industry knowledge, IT recruiters can quickly identify the best candidates and match them with the right company.
They take into account factors such as experience, education, technical abilities, and personal traits to ensure that the candidate is a good fit for both the role and the company's culture.
Long-Lasting Hire: The high employee turnover rate in the IT industry can be a real pain point for companies. That's where IT recruitment agencies come in.
Instead of just matching resumes and candidates with job descriptions, they focus on finding individuals who will excel in their roles and thrive within your company's unique culture.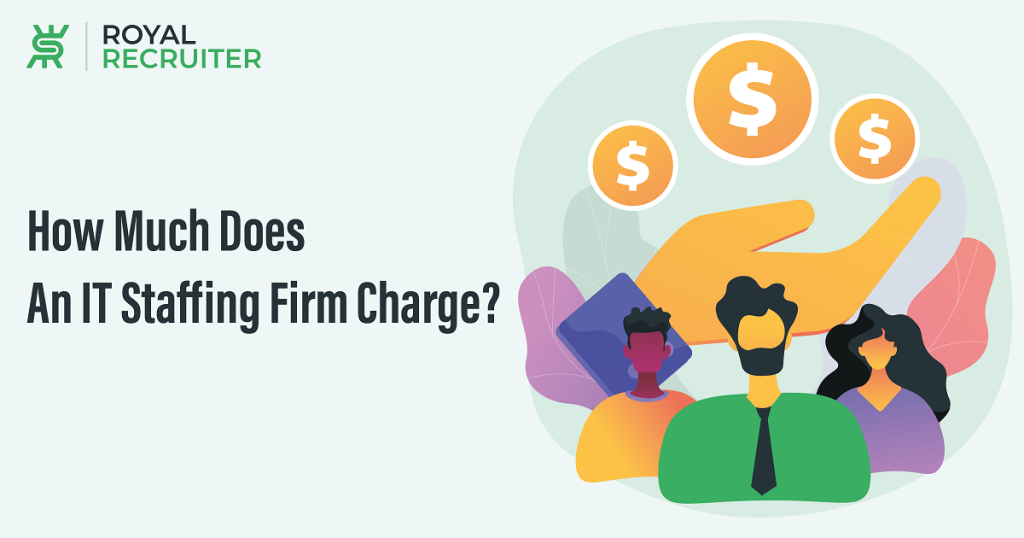 How Much Does an IT Staffing Firm Charge?
The standard fee structure for IT recruitment agencies is a percentage of the employee's first-year pay. Once the applicant starts working, the company will pay what is known as a contingency fee. The cost varies from 15% to 30%, with an average cost of roughly 20% of the candidate's yearly salary.
Let's take the scenario where a business has to fill a senior software engineering position with a $100,000 starting salary. When the individual starts working, the business will pay the IT recruitment firm $20,000 if they charge a 20% contingency fee. Since this cost is based on the candidate's first-year wage, it won't alter if the candidate is given a raise or departs the company after the first year.
It's vital to remember that IT recruitment companies may not simply bill for their services through contingency fees. Additionally, some businesses could offer project-based rates, retainer-based fees, or a mix of the two. However, the most typical kind of compensation in the IT recruitment sector is contingency fees.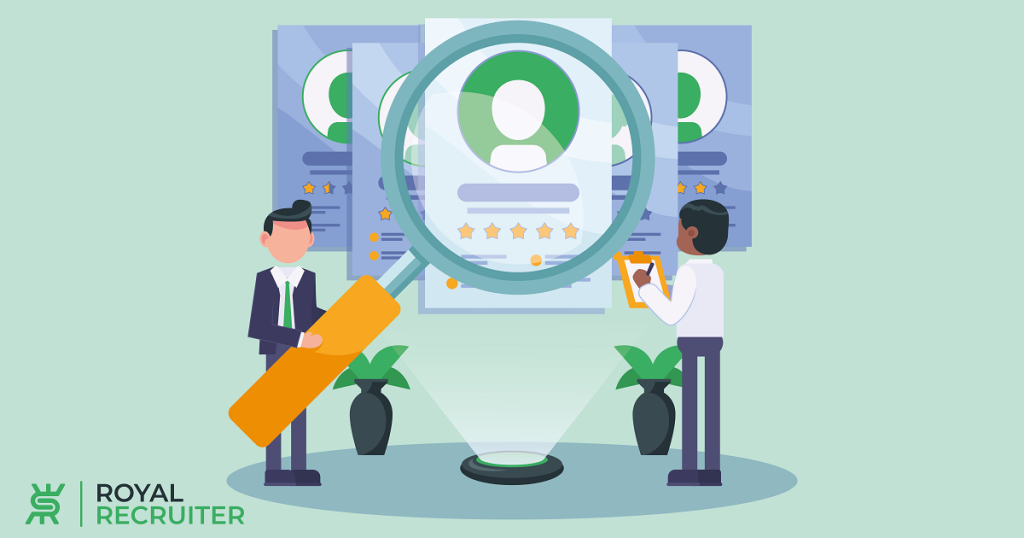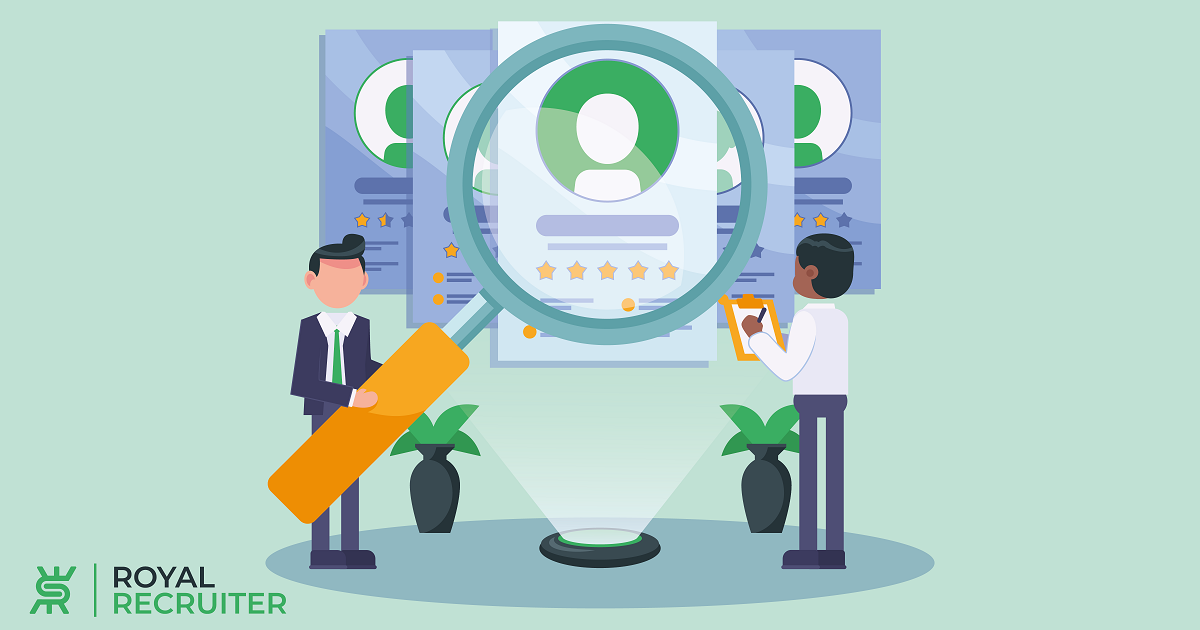 What Are The Best IT Recruitment Agencies?
We already know the perks of an IT recruitment firm and what they can do for us; however, if the agency you're planning to work with isn't considered the best by its previous clients, then the outcome won't be good.
Here are some of the best IT recruitment agencies:
Royal Recruiter is the first choice for many organizations because of its track record of achievement and commitment to providing superior service. They offer a range of IT-related services, including staffing and recruitment.
Adecco is a market leader in the global employment industry and offers a range of IT-related services, such as recruitment and consulting. They have a proven track record of delivering top-notch services and results.
Robert Half: One of the oldest tech recruitment companies with more than 70 years of expertise, Robert Half is a recognized IT staffing company. They offer a range of services, including placement for both temporary and permanent positions and project-based solutions.
Kforce: Kforce specializes in hiring engineers and IT specialists and provides professional staffing services. They are well known for providing their clients with high-quality services and outcomes.
TEKsystems is a leading supplier of IT services and personnel, providing solutions to organizations of all sizes. Because of their vast network of IT experts and in-depth understanding of the industry, they are a perfect choice for firms searching for IT experience.
Randstad: Randstad is a pioneer in the employment industry and offers a range of IT recruitment solutions. Because of their vast network of IT experts and in-depth understanding of the industry, they are a perfect choice for firms searching for IT experience.
Visit Best Recruitment Process Outsourcing Companies
Top Most Recent jobs near you