Is Marine Transportation A Good Career Path?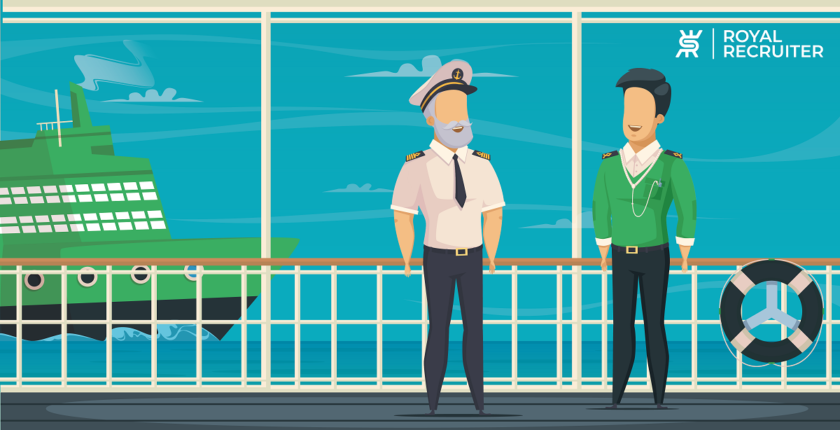 Are you planning to have a career in marine transportation but confused is marine transportation a good career path? This article has all the answers!
Yes, marine transportation is a good career path because you will be earning a high salary, and numerous job opportunities, and you can travel across seas! In other words, the marine transportation industry is often described as the "Land of opportunities."
However, before getting into the marine transportation industry, it's better to know comprehensively about it, which will help you decide which job role to select, what are the prospects of this career and finally, why marine transportation is a good career path. 
Let's find out why is marine transportation a good career path! 
What Is Marine Transportation?
Marine transportation, also known as water and maritime transport, works almost similar to other forms of transportation, but the main difference is that in marine transportation, items/products are moved by ships or other types of sea vehicles in bulk across the water, such as rivers, oceans and seas.

What Are The Qualifications For Marine Transportation Jobs?
It doesn't matter whether you've high educational qualifications or low, you'll find jobs easily in this sector.
Because when it comes to qualifications, the marine transportation industry has much more flexibility than other industries. Due to the job availability and nature of jobs, anyone with any qualifications can secure a job in marine transportation. 
Let's see the must-have requirements for jobs in marine transportation. 
High School Diploma Or Trade/Vocational Program
The minimum educational requirement for many jobs in this industry is a high school diploma or trade/vocational certificate. But there are a few specific roles, such as machine operator, maintenance mechanic, and electrician; employers seek candidates with trade/vocational certification for these positions.
However, keep in mind that although you may be able to secure a job with less educational qualifications, but you will need advanced educational qualifications to advance to higher or senior roles.
Bachelor's/Associate Degree
In marine transportation, there are a number of jobs where it's mandatory for the applicants to have a Bachelor's or an Associate's degree in marine transportation/logistics, marine engineering, or electrical engineering. 
Those positions are captain, ship engineer, electrical engineer, and HVAC engineer. 
Is Marine Transportation A Good Career Path?
Absolutely! Marine transportation is an excellent career path if like to travel, earn a high minimum wage and explore a variety of career fields. 
Let's find out some factors that make marine transportation a good career path. 
While deciding which career path to choose, one thing comes to our mind: "Is this industry going to last long?" Well, marine transportation is one of the oldest industries in the world, which is expected to grow more in the coming years. 
Over 90% of goods/products in our world are moved by sea from one nation or location to another, according to the Organization for Economic Co-operation and Development!
This means that a large workforce will be required to handle workloads.
Another reason why marine transportation is an excellent career choice is that all types of employees, from entry-level to experienced, get a great median wage. 
There are more than ten (10) thousand jobs available in the marine transportation industry as of October 2022 in both entry and experienced roles. And the number is expected to increase because, in 2021, this industry alone recruited more than 75,000 professionals for various positions.

How Much Do Marine Transportation Jobs Pay?
We've said earlier that this industry pays pretty well compared to other industries, but how much do marine transportation jobs pay? 
According to the U.S. Bureau of Labor Statistics, the average salary of marine transportation jobs in 2022 is $62,760 per year or $30 an hour! However, salary varies based on job positions. 
 Below are the median wage of some white and blue-collar jobs:
Earns an average between $ 90,000 to $110,000/yearly
Earns an average between $ 88,000 to $105,000/yearly
Earns an average between $56,000 to $70,500/yearly
Earns an average between $57.51 to $65,000/yearly
Earns an average between $46,700 to $63,000/yearly
Can I Get A Job in Marine Transportation Without Experience?
Yes, there are many blue and white-collar jobs available where you can get a job without prior working experience, but some employers may want you to have some certifications or completion of training, but it varies from employer to employer, 
Is It Easy To Get A Job In Marine Transportation?
Yes, marine transportation jobs are easy to find all across the United States. To find job openings, visit websites like Royal Recruiter and type in the title of the job opening, and then you'll get to see hundreds of job openings. 
What Does A Marine Transportation Workers Day Lookalike?
Well, there aren't many differences between working in marine transportation and others. The only difference is you'll have to work on the sea, sometimes struggling to balance yourself. 
Your team leader or supervisor will give you daily tasks to do, and you'll have to put in a certain amount of time at work just like other jobs, and your working hours will vary depending on the job you're in; you could spend six or twelve hours one day.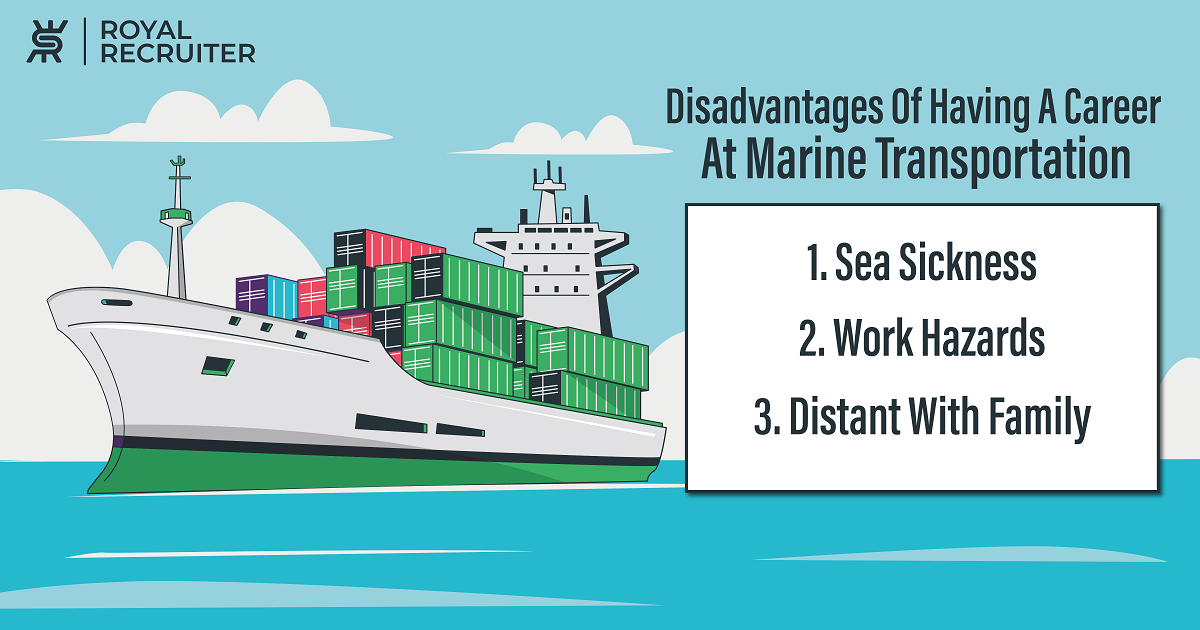 Disadvantages Of Having A Career At Marine Transportation
It's important to know that while the marine transportation industry is full of benefits and opportunities, it also has some disadvantages. Although the disadvantages are not going to affect your career significantly, it's still useful to have a clear understanding of them before you enter the field.
If you're a fresher and don't have previous working experience in the marine or shipping industry, the first thing you'll have to deal with is seasickness, but it won't take time to adjust to life above water. 
While working in sea vessels, it becomes riskier to conduct work due to bad weather and rough sea. However, the number of accidents is less because of proper safety measures. 
One of the main drawbacks of marine transportation jobs is having long distances with the family; on average, a marine transportation worker needs to stay on the ocean or sea between forty (40) to fifty (50) days. 
Wrapping Up
Overall, marine transportation is a great career path since it has many jobs available, the industry is also growing rapidly, and new jobs are hundreds of new jobs are being posted every day!
Top Marine Transportation jobs near you