Is HVAC technician a good career?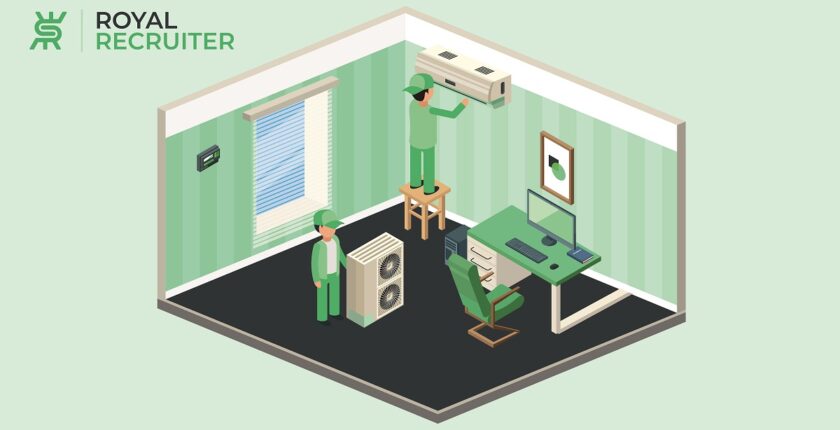 Heating, ventilation, and air conditioning (HVAC) have become a thriving career as demand increases. Let's find out: Is HVAC technician a good career?
Yes, being an HVAC technician is a great career choice because the HVAC technician's demand is increasing and will go upward, it pays a good salary, and more than 20,000 new jobs opening will become available each year.
Heating, ventilation, and air conditioning, commonly known as HVAC, are now found in every commercial, industrial and residential facility. Because of this, the career of HVAC technicians is currently a booming career in the USA and the rest of the world. 
And HVAC technicians' average yearly salary starts from nearly $50,000 and can go as high as $100,000!
So is HVAC technicians a good career path? The answer is YES! It is a good career path with numerous possibilities and a great future ahead. 
You'll find Everything you need to know about becoming an HVAC technician in this article.
What Does A HVAC Technician D.O.?
As we've said earlier, HVAC is a vast industry; HVAC technicians work in all work settings. And depending on their employment type, their responsibilities may vary. 
So, what are the main tasks of HVAC technicians? The followings are what an HVAC technician does:
As an HVAC technician, you'll be responsible for installing and repairing ventilation units, heating systems, climate control systems, and air conditioners. 
An HVAC tech inspects all HVAC systems daily, bi-weekly, or monthly to ensure that all the systems are running smoothly and safely, as faulty HVAC systems can also cause physical illness. 
Where Do The HVAC Technicians Work?
You can work almost everywhere and in every kind of work environment as an HVAC technician! Besides, finding jobs as an HVAC mechanic is also easy, as every home and industry has HVAC systems.
Below we've given Some names of workplaces where HVAC technicians work:
Hotels 

Corporate Office

Commercial Buildings

Hospitals

Residential House

Manufacturing Plants

Ships
And many more places where HVAC systems are used. 
HVAC technicians have the flexibility to choose where they want to work, and how?
Work for a specific company or organization
Companies or organizations hire HVAC technicians to take care of their HVAC systems continuously. And many HVAC technicians work in these companies rather than working for maintenance firms.
There's nothing better than being self-employed, and being self-employed means having a work-life balance and the opportunity to earn more money. 
There are lots of firms out there whose main job is to install, repair, and service HVAC systems because not every company recruits HVAC technicians. And these types of maintenance firms are best for starting a career, as you can learn and work in various places.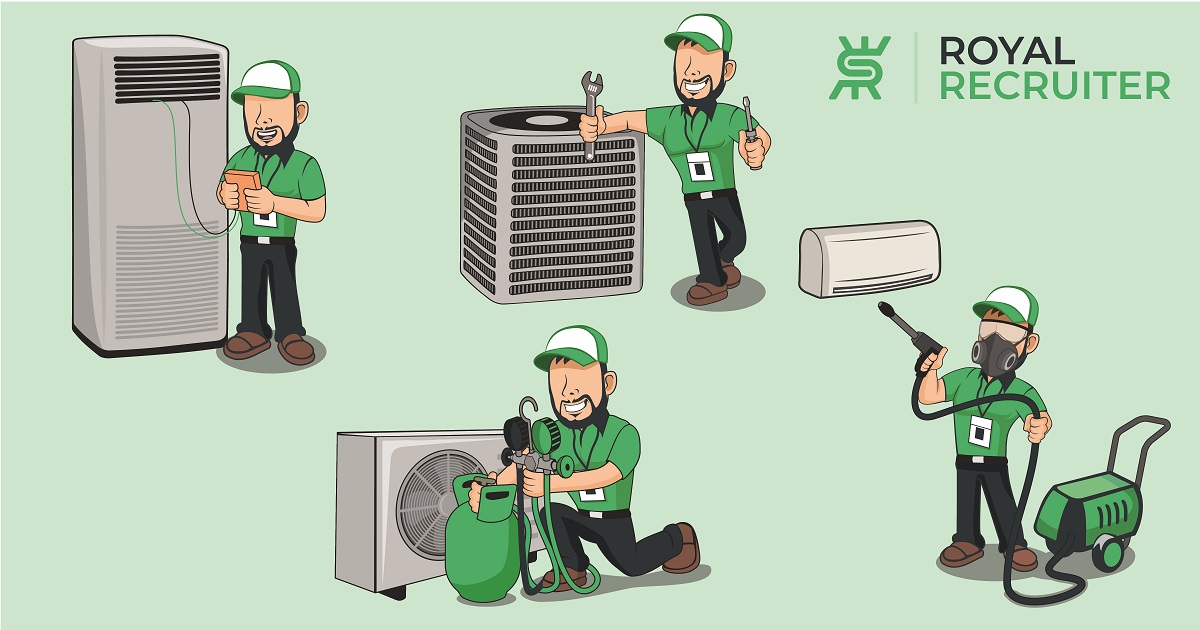 How Much Do HVAC Technicians Make?
How much do HVAC technicians earn? The average salary of HVAC technicians is between $38,000 to $50,000, but depending on Employer and state, it can be nearly $55,000. 
Work experience is widely preferred in any field, and the same goes for HVAC technicians. Professionals with at least 2 years of working experience in the HVAC field can make an annual salary of around $74,000! 
Overall, HVAC technicians earn a fairly handsome amount of money when they start their careers. And unlike other jobs, HVAC technicians don't have to wait for years to get salary increments. 
Few states which are paying the highest to the HVAC technicians:
In Connecticut Salary OF HVAC techs range from $50,000 to $110,000 based on skill. 
We've seen that HVAC technicians in Vermont earned an average salary of $51,000, and the top earners made around $106,000 annually. 
New Jersey is also a good state for HVAC technicians. In this state, your yearly salary can be from $50,000 to $77,000.
Excluding these states, a few other states also pay well, such as Alaska, Arizona, Florida, California, Massachusetts, and Nevada. If you reside in any of these states, then your salary can be higher than the national average.
How To Become An HVAC Technician
Everyone thinks that HVAC tech jobs require many things, and this career path is hard to obtain. But in reality, anyone can get into this field without much effort. 
Requirements to become an HVAC technician:-
EDUCATION:
High School Diploma or Equivalent
After completing their high school diploma or similar education level, most people join the HVAC industry. But some employers prefer associate or Bachelor's degrees specializing in HVAC.  
Associate or Bachelor Degree
An associate and Bachelor's degree is mandatory for some higher and engineer positions in an HVAC career. The most common degrees are Bachelor of Applied Science and Bachelor in HVAC. Bachelor's degree in mechanical engineering. 
Certificate programs or diplomas in HVAC
Whether you've completed your Bachelor's degree or not, one of the best ways to get your hands on the HVAC industry is to complete a diploma or certificate program in HVAC. 
The duration of diploma or certificate programs lasts from 6 to 24 months and usually costs between $1,200 to $15,000.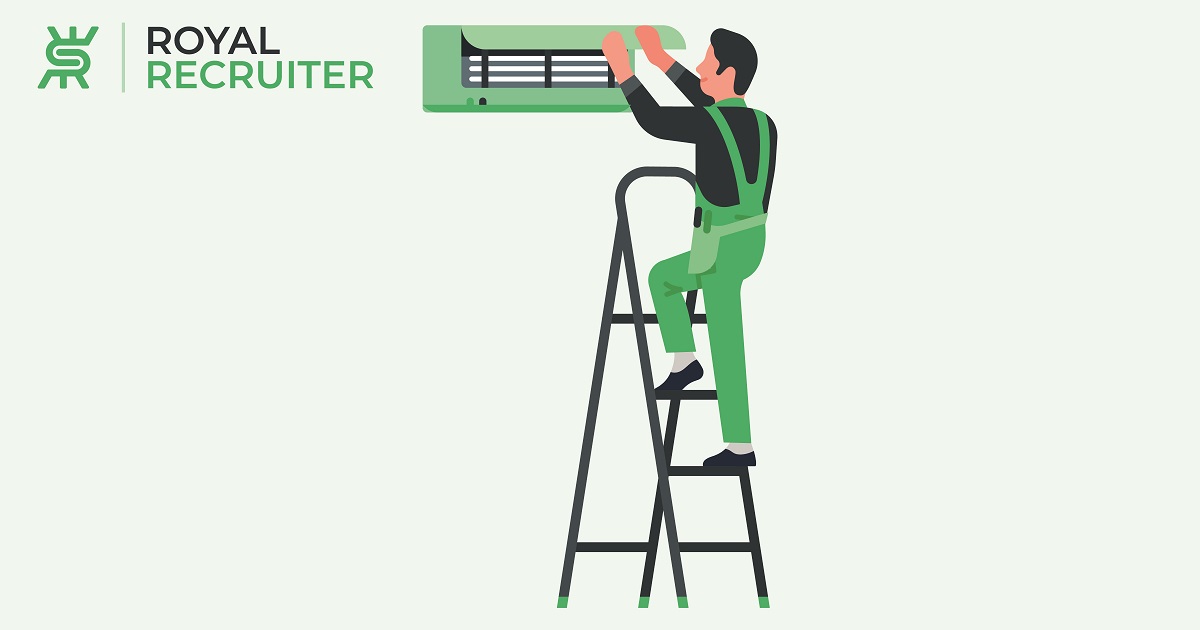 Career Growth of HVAC Technicians
There are many job opportunities within the HVAC industry. You may be thinking about starting your career as an HVAC technician, but with years of experience and skill, you can easily move into upper positions.
A few positions you can obtain in the future:
Moreover, the career opportunity for HVAC mechanics is increasing rapidly. In a U.S. Bureau of Labor Statistics survey, more than 380,000 jobs were created in 2020 in the HVAC technician industry alone! 
And within a decade(from 2020 to 2030), the job opportunity will increase by 5%, which indicates that roughly 19,000 jobs are expected to be available every year for HVAC techs. 
Benefits Of Working As An HVAC Technician
Employers of HVAC technicians also take good care of their workers by giving them some benefits. But in order to get these benefits, you've to work under a company, as you already know that HVAC technicians have the opportunity to work on their own, and those who are self-employed can't enjoy any of these benefits.
Benefits of working as an HVAC technician:
Life insurance

Flexible working hours

Vehicle From Employer (as you might have to drive to places)

Health insurance.

Retirement plan

Tuition reimbursement.

Employee development program

Fuel coverage/discount
Want to find the best HVAC employer who will offer you several benefits? Contact Royal Recruiter. We'll find out the best HVAC technician for you no matter what! 
Why Consider Career As  An HVAC Technician?
The followings are the main reason to consider a career as an HVAC technician.
Easy To Start
Starting an HVAC technician career is far easier than any technical or other profession. You'll require minimal educational qualifications to get a job.
Job Security and Stability
There's no uncertainty or anything else when it comes to job security and stability in the HVAC industry. In this career, no sudden layoff or job shortage.
Salary
Even the freshers earn a good median salary in the HVAC sector. Everyone in this sector gets attractive compensation which ranges from $40,000 to $66,023.
Final thoughts on "Is HVAC technician A Good Career Path."
YES, HVAC technician is a rewarding career path if you want a challenging career path with great opportunities, and earn high with lower qualifications.
To wrap up, if you're looking forward to working hard, earning big bucks and don't care about working conditions, this will be a rewarding career path.
Top HVAC Technician jobs near you