Best Paying Jobs In Marine Transportation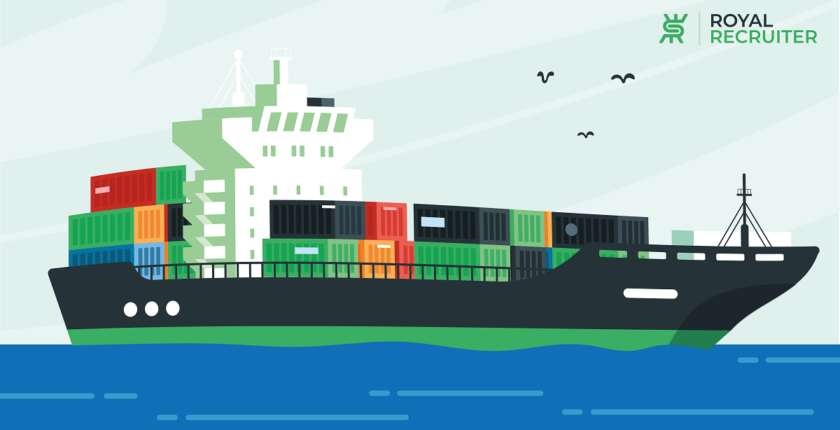 Marine transportation is a huge industry with myriad job opportunities, but what are the best Paying Jobs In Marine Transportation? You'll find out here
The marine transportation industry is one of the most prominent forms of transportation, providing a wide range of job roles for different duties in different sectors. 
And these jobs' salary structure is different from one another. If you don't know the best-paying jobs in marine transportation, you might land a job where you'll earn less! 
In this article, you'll learn about the best-paying jobs in the marine transportation industry, which will increase your earnings possibilities.
What Is Marine Transportation?
Marine transportation is a transportation system where mass volumes of goods and products are moved from one location to another or country to another. Marine transportation also goes by different names, such as maritime, ocean, sea, and waterborne/water transportation.  
Don't get confused; all of these names indicate marine transportation, and job roles are also the same.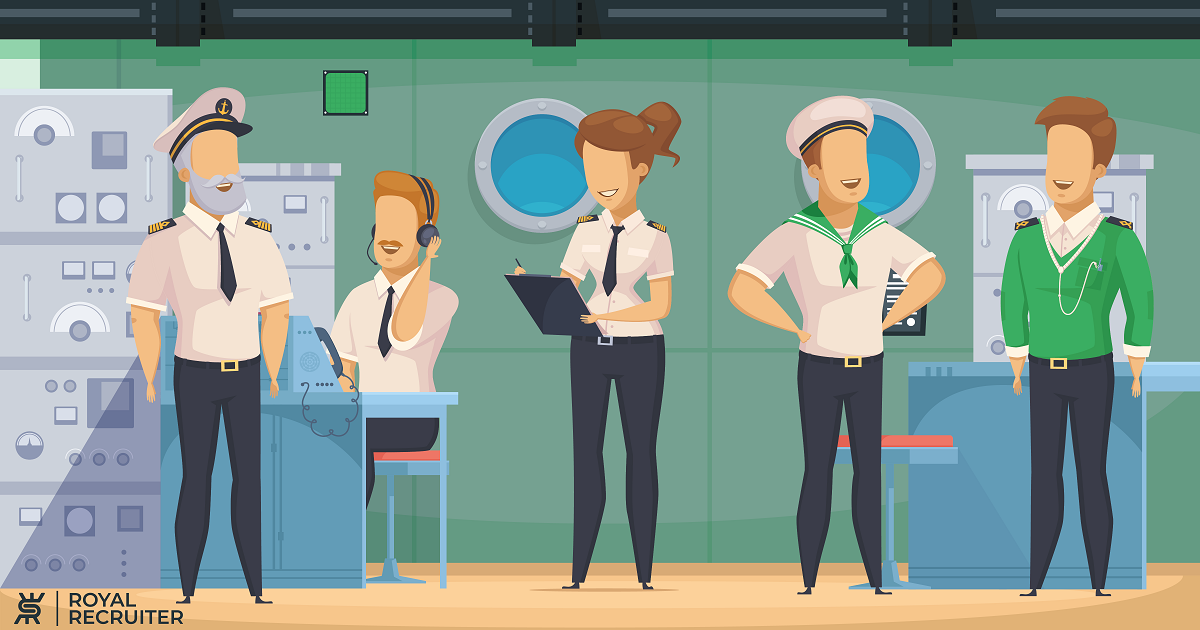 Currently, more than 10,000 (ten) thousand marine transportation jobs are available in various roles and from various companies. And according to the U.S. Bureau of Labor Statistics, the whole marine transportation industry employs more than 75,000! 
Unlike other transportation industries, there isn't any shortage of jobs in the marine industry. 
Best Paying Jobs In The Marine Transportation Industry?
The followings are the best-paying jobs in marine transportation:
The average salary of a cargo ship deckhand ranges between $39,000 to $47,000 a year. 
If you've done a bit of job search for entry-level job roles, you might have seen the name of this position. Deckhands play a vital role in keeping the ship's floor/surface and other parts. 
Additionally, they also assist in maintaining the equipment used in a ship and sometimes be in charge of managing the lines that help vessels to dock. 
The median salary of able-bodied seamen is between $42,000 to $56,000 annually. 
The primary duties of able-bodied seamen are watchkeeping, mooring or anchoring, cleaning the equipment, doing maintenance, painting duties, and security inspections.
The average earning of a motorman is between $46,000 to $58,000 yearly. 
A motorman's duty is to do essential engine maintenance and keep the equipment & engine room clean. They also keep records of their performing rounds and work as a helping hand to the engine engineers. 
The median salary of an oiler is between $35,000 to $45,000. 
The duty of an oiler is to keep the oil and other types of lubricant levels of different parts like the engine, motors, compressors, and other moving parts. They also do maintenance, clean the equipment, and do gauge checks on a regular basis. 
The average salary of shipmates ranges from $45,000 to $78,000 annually. 
In marine transportation, there are different types of mates, such as first, second, and third mates. Their responsibilities vary depending on the position. Their duties are to look after crew members' activities/responsibilities, schedule/assign duties, inspect/order repairing sites, and implement safety precautions. 
The median salary of marine engine technicians is between $45,000 and $76,000. 
Marine Engine Technicians are one of the most important parts of the marine transportation industry. They troubleshoot, repair and do performance checks of different types of marine engines and equipment.
The average salary of a marine engineer ranges from $65,000 to more than $100.000 a year. 
The position of a marine engineer is one of the highest in the marine transportation industry. They're responsible for several duties. They look after the junior workers such as marine engine technicians and other workers, set their duties, and repair and maintain the engine and equipment. 
The average salary of a ship captain is around $75,000 to more than $100,000.
A ship captain is the most important role in the marine industry, without which the ship won't be able to leave the dock. Besides safely operating the ship, a captain also manages crew members, ensuring legal compliance, navigation, etc. 
The average salary of marine surveyors is $58,430
Marine surveyors inspect marine vessels to check their condition. Their duties are not limited to checking vessels' outer side. They also inspect the technical part and equipment of marine vessels.
As we said earlier, many jobs are available in the marine transportation industry, and each role pays differently.
Some of the best-paying jobs in marine transportation that we discussed above are easy to find, no matter where you live or which maritime transportation company you choose.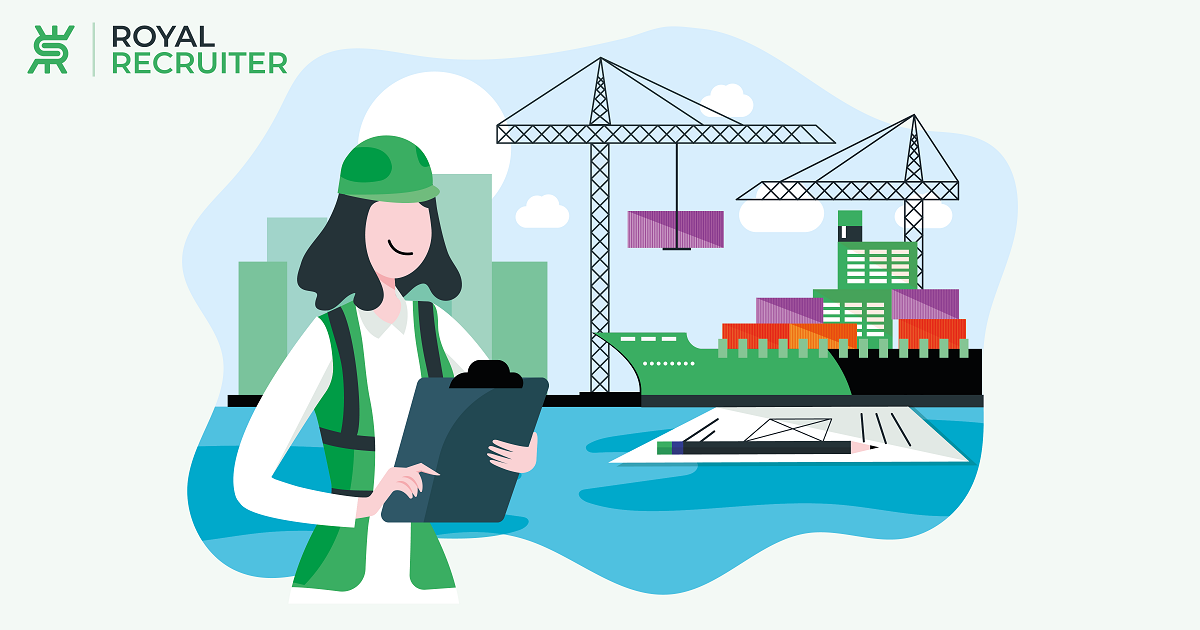 What Are The Requirements For These Best-Paying Jobs?
The qualifications for the best-paying jobs we've mentioned above vary from role to role. Below are the qualifications you should have If you're willing to get a best paying job in marine transportation. 
Marine industry employers are looking for people who have completed trade programs as they've more hands-on and technical working experience. Some of the most sought trade programs are: marine diesel mechanics, marine electricians, and marine welders. 
Like other careers, an associate/bachelor's degree is mandatory for high-level job roles such as marine engineer, captain, port engineer, and naval architect; an associate/bachelor or master's degree is mandatory. 
For any entry-level jobs in marine transportation, you must complete a high school diploma or GED. 
Is Marine Transportation A Good Career Path? 
Yes, marine transportation is a rewarding career path as multifaceted career opportunities pay high minimum wages. Additionally, if you love the sea and traveling, there are no other career paths similar to this one.  
It's difficult to address the exact number of jobs available on the market as the number can be more or less, but according to various job boards and sites, there are currently more than 10,000 jobs available in this sector.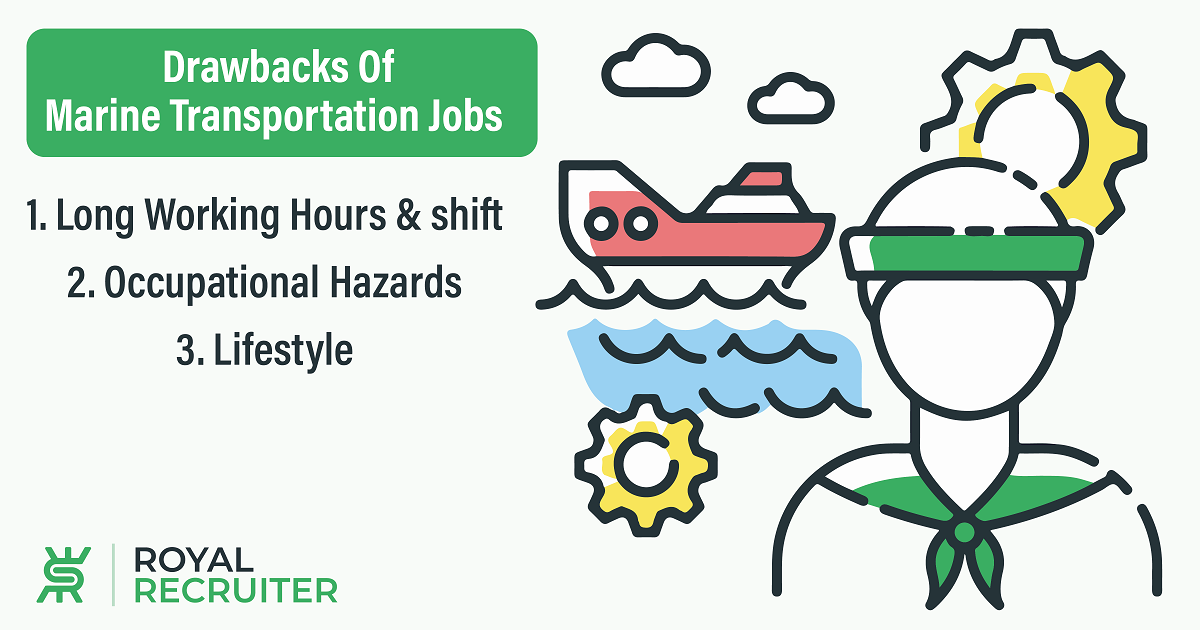 Drawbacks Of Marine Transportation Jobs
There's no doubt that this sector is rewarding and adventurous. However, there are a few drawbacks to marine transportation jobs. Though these disadvantages will not hold you back, but it's good to know them. 
Long Working Hours & shift
Most marine transportation workers need to work between eight to twelve hours each day and work both morning and night as their shift is rotation-based.    
There's always a chance of getting injured because of spring tide, extreme weather, and working at heights; if safety precautions are not followed strictly 
Living on a ship is completely different from how you lived on land, from food habits to sleeping cycles to accommodation. You'll find the shipping lifestyle a bit tough for the first few days, but over time, you'll adjust to the marine lifestyle automatically.  
Top Best Paying Marine Transportation jobs near you