What Are Tugboat Jobs, How Much Do They Pay?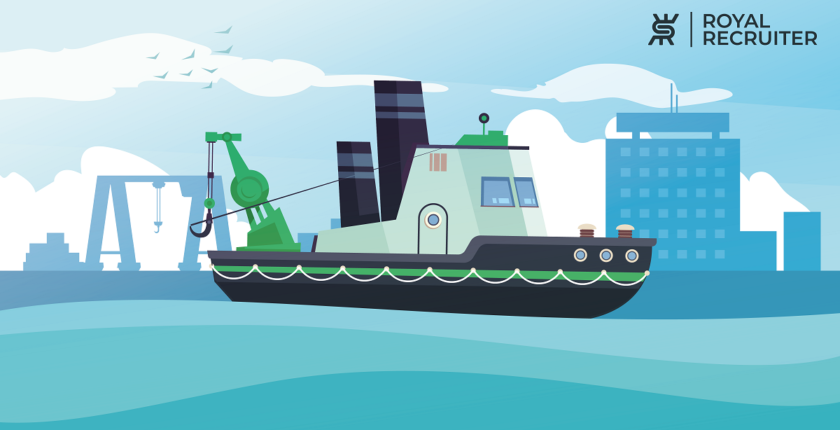 Are you looking for tug boat jobs but don't know what jobs are available and how much they pay? Read this article to know everything related to tug boat jobs
There are different types of jobs in tug boats, such as deckhand, mate, captain, and marine technician. And depending on job positions, you can make between $40,000 to $75,000 a year!  
Working in a tug boat may not be as adventurous as working in large ships or other marine transportation sectors, but having a career in tug boats has uniqueness and benefits. 
If you want to secure a job in a tug boat but don't know much about this industry, we've got your back! 
In this article, you'll learn the jobs available in tug boats, how much those jobs pay, the benefits of jobs in tug boats, and whether this will be a good career path for you. 
What Are Tug Boats?
Tug boats are a special type of marine vessel that is used for guiding, towing, and pushing large or commercial marine vessels to ports and through waterways. A tug boat is a must-have vessel in ports and water terminals. 
Tug boats are generally short in size but equipped with heavy power engines. A tugboat can house between 6 to 20 people based on size. The average height of a tugboat can range from 20 to 80meter. 
Let's know what tugboats do, as it'll help you better understand your job responsibilities in a tugboat:
Help cargo and passenger ships get in & out of ports and terminals
Move cargo and passenger ships. 
Tow ships with no power
Dock ships in ports
Breaks ice in the ocean or riverways to clear the path for ships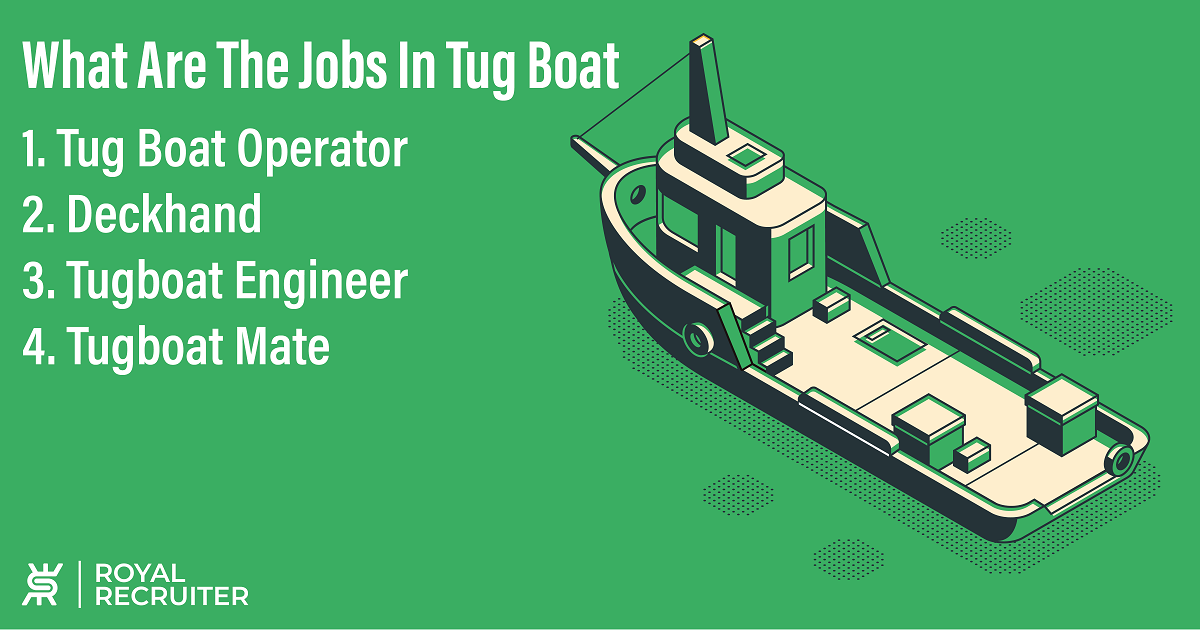 What Are Tugboat Jobs
A tugboat needs several types of professionals who carry out different tasks, such as operating tugboats and maintenance.
As tug boats are small in size, they don't (actually can't) recruit hundreds of people like other big ships. However, they do offer some typical job roles that you'll find in marine transportation.
Some common jobs in tug boats are:
Tug boat operators are those who operate tug boats. They are mainly responsible for towing, guiding, docking, and navigating large ships. This position goes by distinct names, such as the master of towing, tugboat pilot, and tugboat captain. 
Besides moving and pushing ships, they also manage the whole crew on board, inspecting the tools and equipment used for towing or other duties. 
In a word, a tugboat operator is responsible for overseeing almost all operations in a tugboat.  
Deckhands are an imperative part of a tugboat; there can be two to three or more deckhands present in a tugboat. They're responsible for many things in tug boats. Most of their duties require them to do hard physical labor. 
They repair, move equipment, pull ropes, paint, and clean the boat's surface.
Tugboat engineers also need to do a variety of duties. The main focus of their role is to repair and troubleshoot the engine, check the oil level, degrease, and monitor other mechanical systems of the vessel. 
They also supervise other crew members who work alongside them. 
Mates are also known as second captains, as their duties are nearly similar to those of a captain. They supervise crew members, towing operations, plan and navigate safe water routes. 
How Much Does Tugboat Jobs Pay?
The average pay in tugboat jobs is $51,902 in the United States as of 2022.
In general, the greater the responsibilities, the higher the salary. This means salary will vary depending on the job roles. 
Let's see how much you can make working in the positions we've discussed above.
The average earnings of a tugboat operator range from $62,000 to $105,000 annually. 
The median salary for deckhands in tug boats is between $40,000 and $65,000. 
Based on company and experience, a tugboat engineer makes between $55,000 to $95,000 
Tug boat mates can make between $44,000 to $78,000 a year. 
What Are The Required Qualifications For These Jobs?
You must fulfill educational and other qualifications to get on a tugboat. Below are the lists of qualifications that you might need to get a job. 
All of the roles we discussed are open to people from general education and marine training programs. Whether you've completed a marine trade program or a high school diploma, with any one of these, you become eligible to secure a job in tug boats. 
TWIC stands for Transportation Worker Identification Credential. TWIC is a must-have identity card for marine transportation workers. How to get TWIC? Visit TWIC WEBSITE and follow the instructions. 
How much does TWIC cost? The new applicant cost is $125.25, renewal and replacement cost is $60. A TWIC card is valid for five years. 
STCW means Standards of Training, certification, and watchkeeping. This is an optional certification/training because most employers don't want this. However, obtaining STCW can be beneficial. You'll learn about personal safety, survival techniques, fire prevention & fire fighting, and first aid. 
Merchant Mariner Credential (MMC)
A merchant mariner credential or MMC is also required. With this document, you can work in tug boats and ships of any size. 
How Many Jobs Are Available In the Tugboat Sector?
In the tugboat sector, there are roughly 1000 jobs available for different roles as of 2022. But in the whole marine transportation industry, more than 10,000 jobs are available. 
Benefits Of Working In A Tugboat
You may not get the chance to travel around the world or enjoy the heavenly sea, but working in a tug boat has other benefits. What are those? Let's figure it out! 
Many people don't want to work in marine transportation because they have to be without their family members for weeks and months. But the situation for tugboat workers is completely different. 
As they don't need to go far into the sea, they remain near land for most of the time; this allows them to meet and be with their family like in other ordinary jobs.
Working on large ships means you're more prone to injuries as weather changes dramatically in the deep sea, and you're required to work at heights. However, there is no or very little risk of getting injured on tug boats.
One of the greatest drawbacks of marine jobs is sea sickness. Fortunately, in tug boats, you won't need to struggle with that.  
Top Tugboat jobs near you