The Power of LinkedIn for Talent Acquisition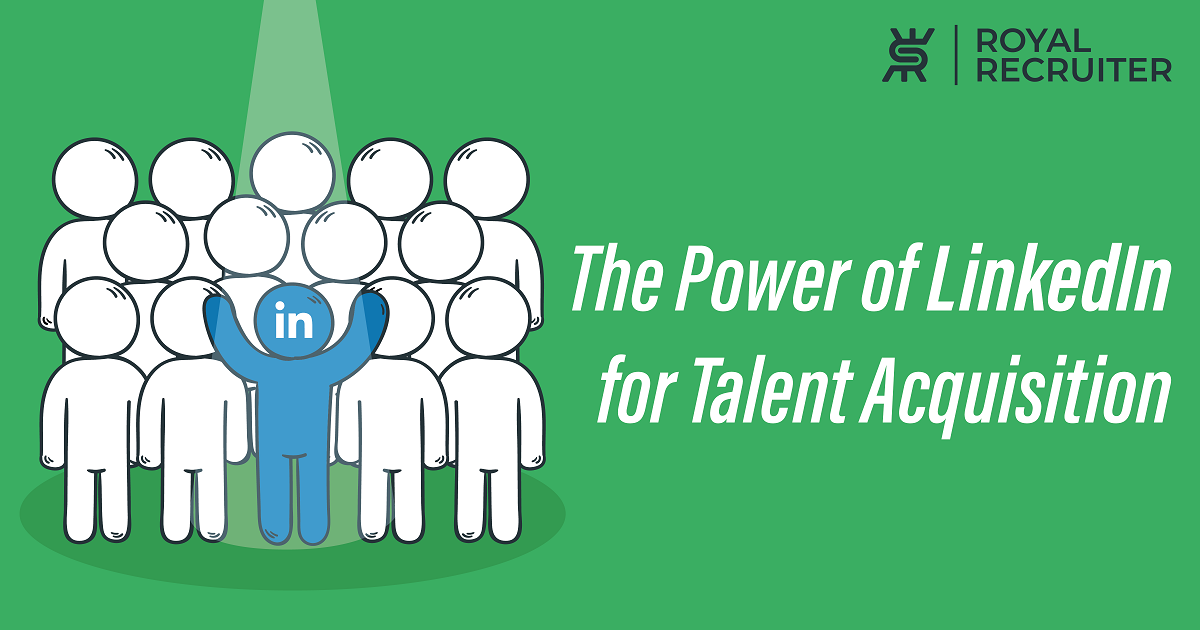 The potential of LinkedIn is underrated. Many people aren't aware of the power of LinkedIn for talent acquisition. Let's find out what LinkedIn can do for you
LinkedIn is now the most popular and powerful tool in terms of talent acquisition and candidate sourcing. Whether a company or recruiting firm is looking for active or passive candidates, LinkedIn has hundreds of thousands of potential candidates.
But with this large number of candidates and professionals, recruiters or hiring companies might not find the perfect role for their company! Why? Because they don't or not aware of the power of LinkedIn.
Especially not how to use LinkedIn and the power this professional networking site tool possess.
In today's article, we'll discover the power of LinkedIn for talent acquisition, what tools this professional networking site offers, and tips for utilizing LinkedIn as a recruiting tool. 
What Is LinkedIn?
Linkedin is the social media networking site for professionals where you can meet, connect, learn, and share thoughts, career progress, and growth with other professionals from the same or different industries.
Not only that, LinkedIn is now the largest platform for finding jobs and potential candidates. This professional networking site is considered a blessing for recruiters or companies seeking talent.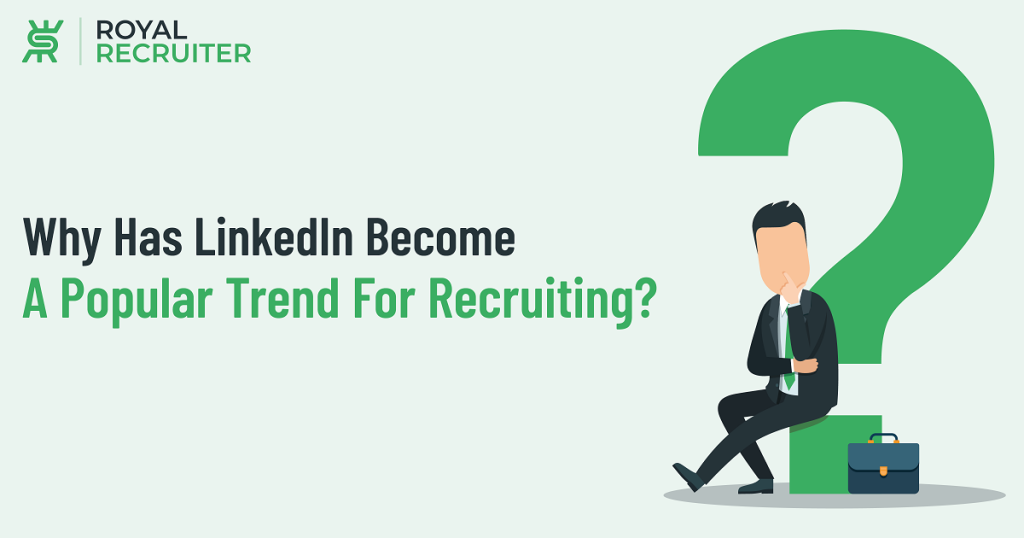 Why Has LinkedIn Become A Popular Trend For Recruiting?
So, how, why, and when did LinkedIn become the most sought-after platform for recruiting? Well, there're many factors that have led to and helped LinkedIn become the popular and mainstream recruiting platform.
The main factor is the number of people and active members. According to Statista, as of April 2022, there are more than 190 million active users alone in the United States! And more than 900 million in the world! 
Which allows a company or recruiter to find the ideal candidate for their open roles from domestic and international markets.
Visit "Benefits Of Outsourcing Recruitment And Selection Process" to know more about outsourcing recruitment
The Power Of LinkedIn For Talent Acquisition
While searching for sources or talents on LinkedIn, most recruiter and hiring companies overlook the capabilities of this professional network and mostly rely upon job postings or sourcing candidates.
But currently, LinkedIn has become more dynamic and offers more tools for sourcing, lead generation, and talent acquisition.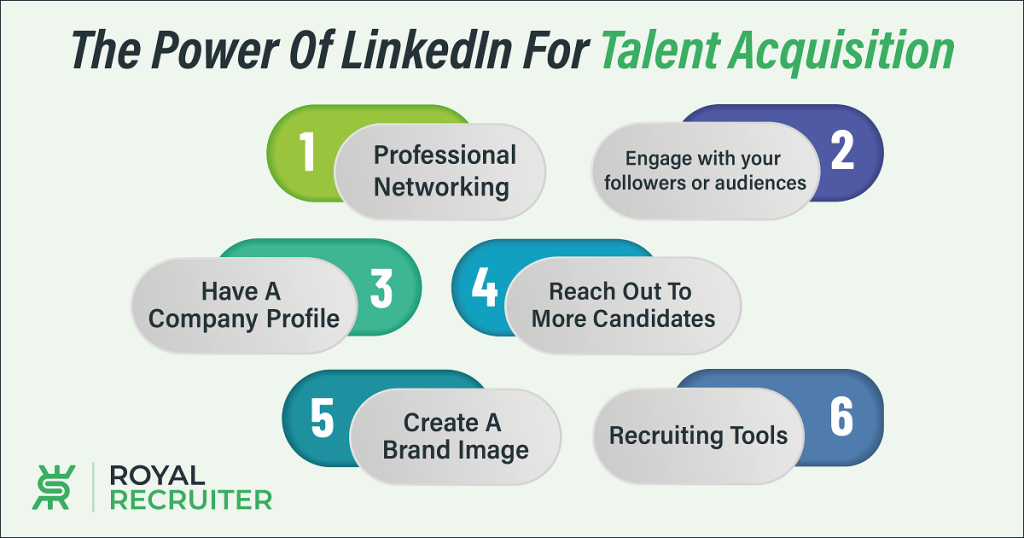 Let's explore some power of LinkedIn, which one can utilize for recruitment and talent acquisitions.
1. Professional networking
Having a broad professional network can help companies and recruiters obtain talent in a variety of ways. Instead of only searching for candidates and leads, you can also focus on building a professional network.
So, should you build a professional network with candidates or other recruiters? Both types of networking are beneficial since you can get in touch with them for prospects and vice versa.
Building a robust and widespread professional network will avail you to find qualified talents faster.
2. Engage with your followers or audiences
One of the most useful and powerful features that most hiring companies and recruiters forsake is engaging with followers and audiences from personal and company profiles.
Most companies and recruiters use their LinkedIn profiles just to post job offers and get followers, but why don't you try to utilize the followers and audiences by engaging with them?
You can engage with your followers easily by posting articles/blogs, thoughts, visual presentations, videos, polls, etc.
3. Have a company profile
Even with nearly 1 billion users, there are still many companies out there that don't have a company profile on LinkedIn. All they do is post job descriptions and look for passive candidates by roaming around LinkedIn.
This is a bad method. While seeking talents through LinkedIn, almost all potential candidates want to see the company profile they'll be applying for. And if yours don't have one, lots of candidates will turn their faces away as it'll attract fewer people.
Furthermore, the lack of an online presence and no LinkedIn profile is likely to cause candidates to think it is a "GHOST COMPANY." That could ruin the company's reputation and damage it further.
4. Reach out to more candidates
Although LinkedIn's free and freemium features are more than enough to find potential candidates and reach out to them with job offers. However, if you're struggling with finding the perfect lead or candidate, LinkedIn has a more powerful paid alternative that works better when it comes to finding the best talents.
With LinkedIn premium features, you'll be able to modify search in an advanced way to find specific candidates with specific skills and other metrics, contact or send message/mail directly to the candidate with InMail, and reach three times more candidates with job posts.
5. Create a brand image
Another notable power of LinkedIn is to create a brand image for the company you're hiring for. By creating a brand image, you can get more followers and candidates as professionals, and prospective candidates can know more about the company's culture, achievements, and environment.
Creating a brand image on LinkedIn is pretty simple. All you'll need is to have a complete LinkedIn profile and then create content to allure targeted audiences.
One can create a brand image on LinkedIn mainly in two ways. One is traditional or free, and the second one is paid. If your company isn't doing well to attract getting more followers and connections through free posts/content, you can consider paid advertisement.
With paid advertisement, one can easily reach their potential audience quickly and get more leads within a short time.
6. Recruiting tools
LinkedIn also has some of the best and most renowned In-Platform recruitment tools to make talent acquisition swifter for recruiters. Some prominent products from LinkedIn are LinkedIn Recruiter, Sales Navigation, LinkedIn Business Manager, LinkedIn Talent Insights, etc.
With these tools, you can reduce the time required for candidate sourcing and search specifically for candidates that are well-fitted/qualified without taking hassle.
Visit Why Company Should Outsource IT Jobs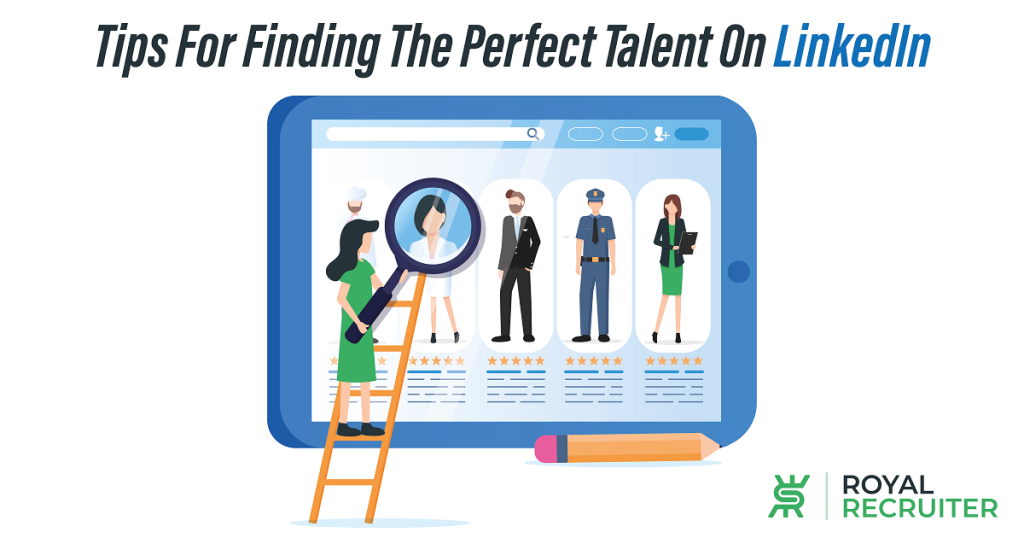 Tips For Finding The Perfect Talent On LinkedIn
You might still struggle to get the candidate you're looking for even if you use all the free and paid tools if you don't apply a few simple LinkedIn recruiting tips and tricks.
Below are a few tricks you should apply when using LinkedIn for sourcing candidates.
Asking for referrals is a great way to source candidates on LinkedIn. You can ask your fellow recruiters or people you know on LinkedIn for referrals.
Follow up with connections and followers
You might be looking for the perfect lead for days or weeks, but who knows, maybe the candidate is sitting idle on your connection or as a follower? When searching for candidates, spend some time on your follower and connection list.
Also, there's a feature called "People who viewed your profile/company" make sure you check who's seen the profile, as only people interested in working in your company visit your company profile.
Don't just post on the job board!
There's no question about LinkedIn's job board's effectiveness, but don't just post jobs on it; also post it on your profile and ask for recommendations!
Top Urgent Hiring jobs near you