Maximizing Results with LinkedIn Recruiting Solutions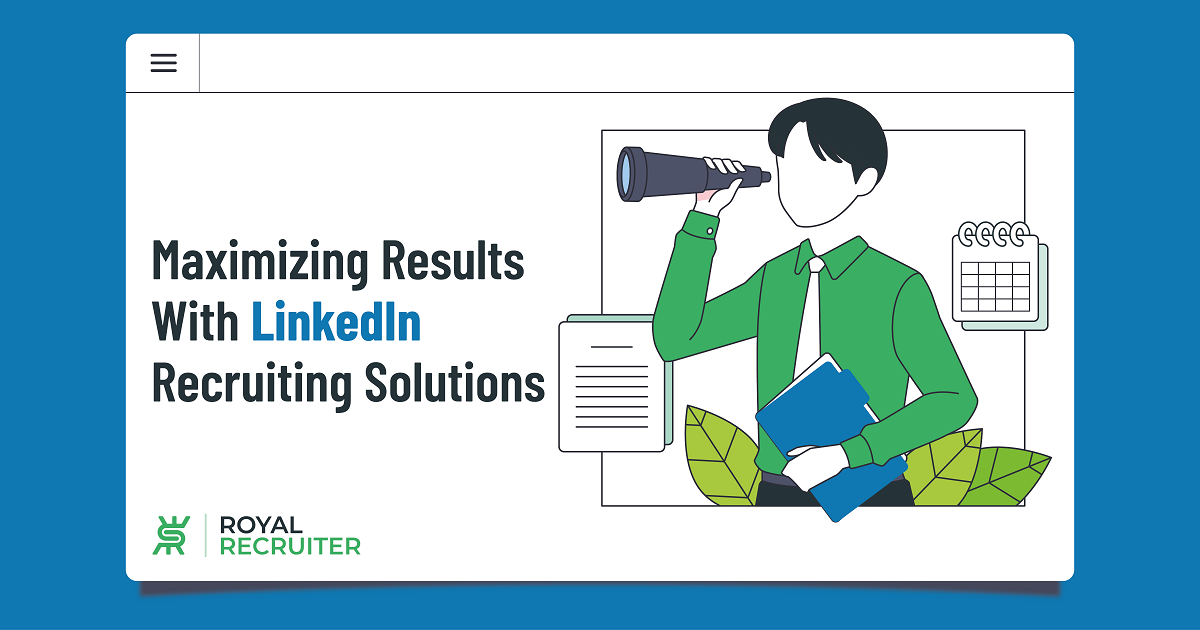 You'll fall behind if you're not Maximizing Results with LinkedIn Recruiting Solutions. Let's see how you can get maximum results with LinkedIn. 
Every recruiter and company is now using LinkedIn to find the ideal candidate(s) to fill the open roles. With millions of professionals using this platform, LinkedIn has become the house for finding the best and most qualified candidates.
LinkedIn offers different recruitment and lead generation solutions and services to get the right candidates per a business, company, or recruiter's need. But, all those solutions and services can't or won't bring any benefit if you don't use them well.
To get maximizing results with LinkedIn recruiting solutions, you have to follow some tricks besides the conventional methods.
Let's discover some tips on maximizing results with LinkedIn recruiting solutions!
What Is LinkedIn Recruiting Solutions?
LinkedIn recruiting solutions are a group of products and services by using which a recruiter or hiring company can attract, track or find the perfect candidate that fits the role they are hiring for.
There is a range of recruiting solutions that LinkedIn offers, such as job posting, candidate search, candidate management and planning, advertisement, promotion, messaging potential hires, and more. With these tools, recruiting becomes easier and more effective.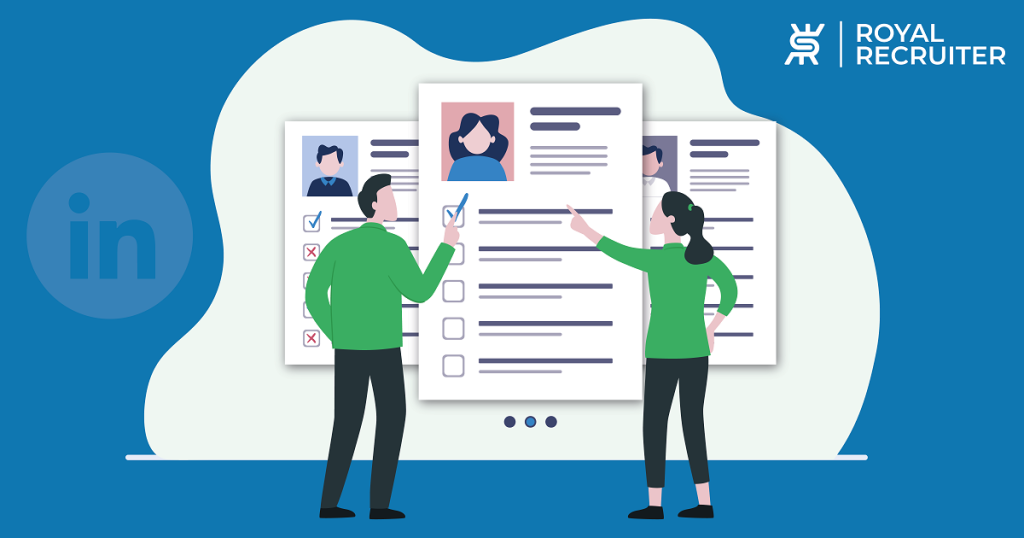 Why Is Maximizing LinkedIn For Recruiting Important?
Maximizing LinkedIn for recruiting is essential for a variety of purposes. You might have heard LinkedIn is the best platform for recruiting and talent acquisition, but if you don't use it with its maximum capability, you're just going to spend money with no return on investment.
For example, not maximizing LinkedIn for recruitment or candidate sourcing is similar to using a supercomputer for playing tic tac toe.
Maximizing LinkedIn for recruiting solutions helps to:
Attract more candidates
Promote your company it's value
Create and establish a brand image
Having a large data of potential and qualified candidates
Building a robust professional network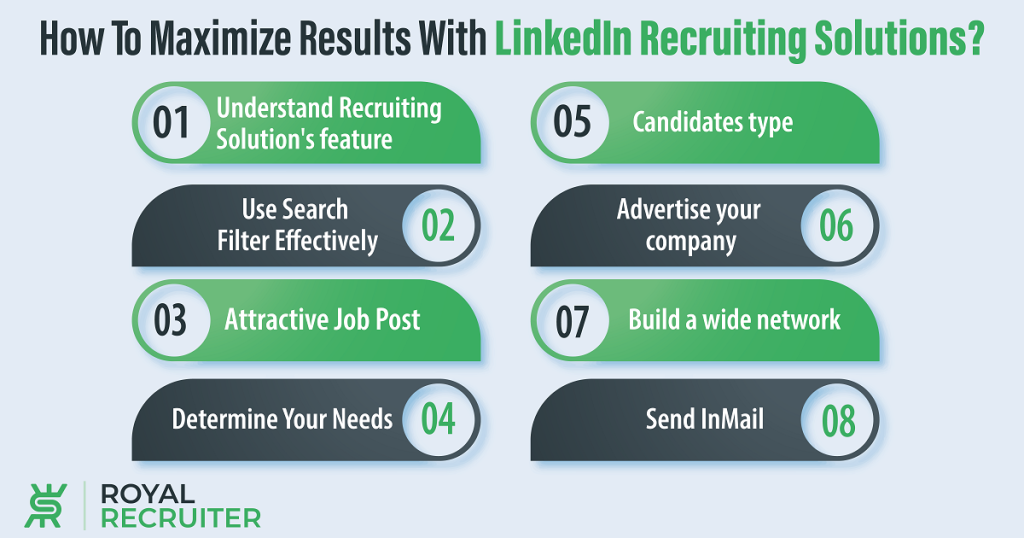 How To Maximize Results With LinkedIn Recruiting Solutions?
Maximizing results from LinkedIn recruiting solutions isn't anything rocket science or too hard to do. All you've to do is follow and execute some tips while using the recruiting solutions.
Below are a few tips which you can follow if you want to maximize results with LinkedIn recruiting solutions:
1. Understand recruiting solution's feature
Before you start using any tools from LinkedIn for recruitment, the very first thing you should do is thoroughly understand and study the features that the tool(s) offers.
Because the purpose of each LinkedIn recruitment solution is different. For instance, there are two solutions called the LinkedIn recruiter and LinkedIn jobs; both of these services are used to get potential candidates, but the usages are completely different.
That's why you should study and learn how to use recruiting solutions to get the best output. Otherwise, you won't get desired results.
2. Use search filter effectively
One of the best and most effective ways to maximize results with LinkedIn recruiting solutions is by using its search filters constructively. The search feature of LinkedIn is quite robust and can help you find the candidate you're looking for easily within minutes!
But using the search filter isn't easy. You must know how to use the filters such as location, company types, skills, and position name to get the best results.
3. Attractive job post
With LinkedIn job posts, you can attract thousands of potential employers, but the post has to be unique and meaningful. Most of the time, employers or recruiters just copy-paste job templates online and modify them according to the job positions.
This practice, unfortunately, doesn't attract qualified candidates. From job postings or descriptions, competent candidates or job seekers want to know about the company, what it offers its employees and in-detailed information about responsibilities and qualifications.
So, avoid posting generic and incomplete job descriptions to get better results.
4. Determine your needs
Using all LinkedIn recruiting solutions doesn't mean that you'll be able to achieve your target. Instead of using every application or tool at once.
Assess your requirements and find what solutions you need to get the maximum benefit. For example, suppose you're targeting generating leads as much as possible. In that case, you should consider getting LinkedIn Sales Navigator, and if you want to hire candidates, then LinkedIn Recruiter will be the best option for you.
Using the perfect recruiting solutions allows you to maximize results twofold!
5. Candidates type
Candidate type also plays a significant factor in maximized results. How does the candidate type influence the result? Well, no matter which role you're hiring, if you approach candidates who are already working, you'll have a hard time convincing them to join your company.
They'll accept your offer only if you offer a higher minimum wage and benefits. However, if you contact candidates who aren't working or are unemployed, they are most likely to take your offer quickly and bargain less.
6. Advertise your company
Advertising is also a great method that can avail one to get the maximum result when recruiting. With LinkedIn's advertisement, you can promote job posts, companies, LinkedIn profiles/pages, and more.
Through advertisement, more people will get to know about your company, its aim, and its goals. Also, advertising doesn't only entice candidates; you can also expand business by getting b2b clients.
7. Build a wide network
Don't limit yourself within the boundary of LinkedIn's recruiting tools. Although they can give you excellent output, but there is more you can do to establish your presence and reach out to more people.
Try to build a wide network with candidates, professionals, and recruiters. A few handful benefits of having a broad network are that you get candidate referrals and meet and exchange ideas with recruiters and professionals from various industries.
8. Send InMail
A great in-house tool from LinkedIn is InMail; it is beneficial for recruiters or hiring managers who don't want to connect with candidates but want to get in touch with them.
With InMail, you can chat with them or offer them job positions. For better results, one should send InMail instead of email because conversation through email is time-consuming and less effective.
Which LinkedIn Tools For Recruiters Can Give Better Results?
According to thousands of reviews, every recruiting tool that LinkedIn offers is proven to provide better results, and it depends completely on how users use the tool.
If one uses the tools properly, then one'll surely get the expected results from those tools. Additionally, using these tools is quite easy; you can use them without taking any talent acquisition courses.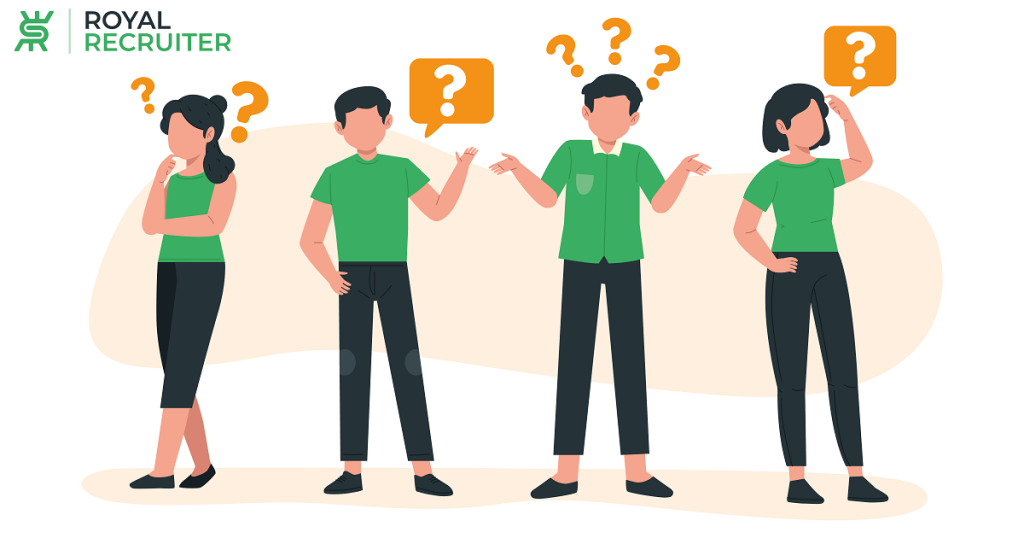 Frequently Asked Questions
Can posting videos on my personal and company page help get good results?
Of course! Along with text-only posts, videos contents also have a great impact. LinkedIn video content can help you build a good online presence and get more followers, which will eventually help you get candidates for future roles!
Which LinkedIn recruiting solutions are most famous?
The most eminent LinkedIn recruiting solutions are Recruiter, Sales Navigator, Recruiter Lite, Pipeline Builder, Talent Insights, Recruiter System Connect, and Talent Hub.
Top Most Recent jobs near you