What Is RPO Recruitment? What Service Do They Provide?
In recruitment, you must have heard of RPO recruitment. What is this RPO(recruitment process outsourcing), and what services does it offer? Let's find out
As the number of companies increasing rapidly, so is the demand for highly skilled and experienced candidates. But the corporate world has now changed a lot; many aspects of the so-called conventional corporate practices are no longer effective (at times!)
One of those traditional practices is owning or having an in-house human resource department/team, which is costly to maintain and comes with lots of snags. And during this time of recession, it gets even worse for those already having a hard time surviving.
For them, there's a great solution out there which is known as RPO (recruitment process outsourcing) recruitment service.
In this article, we'll learn about recruitment process outsourcing services, outsourcing hiring process, price, and many more! 
If you're thinking about hiring recruitment outsourcing services, this article is a comprehensive source for all things related to outsourcing your recruitment needs!
What Is Recruitment Process Outsourcing Services
Recruitment Process Outsourcing (RPO) is a popular and effective way for companies to handle their recruitment needs. RPO is a type of outsourcing service that provides companies with a full or partial range of recruitment services, from job advertising to onboarding.
In today's competitive job market, RPO recruitment is becoming increasingly important and popular for companies of all sizes.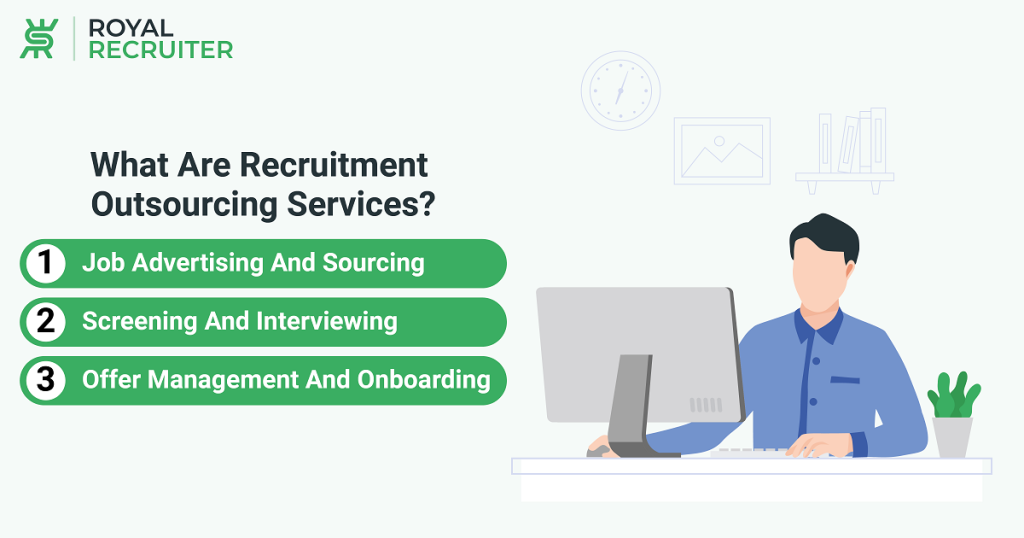 What Are Recruitment Outsourcing Services?
Recruitment outsourcing agencies will give you any kind of service related to recruitment and candidate sourcing. RPO recruitment agencies provide a range of services to help you find the right candidates for your company.
These services include:
Job advertising and sourcing: RPO agencies will advertise your job openings and source candidates who meet your criteria. This includes using a variety of recruitment methods, such as job boards, social media, and employee referrals.
Screening and interviewing: RPO agencies will screen and interview candidates on your behalf, saving you time and effort. This includes reviewing resumes, conducting phone screens, and scheduling in-person interviews.
Offer management and onboarding: RPO agencies will manage the offer process and onboard new hires, ensuring a smooth transition into your company. This includes negotiating salary and benefits, preparing offer letters, and coordinating the onboarding process.
Find Out What Are The Benefits of Outsourcing The Recruitment And Selection Process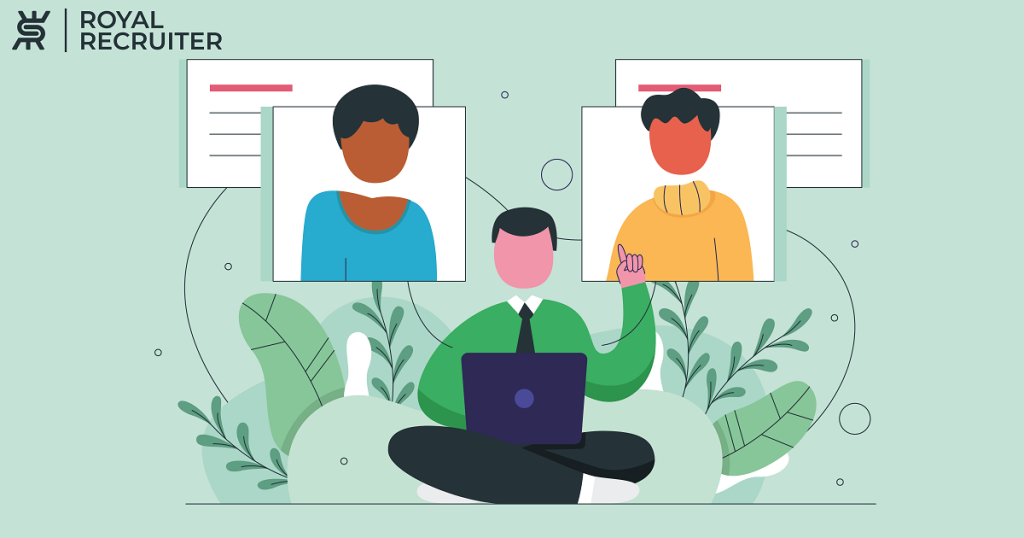 Tips To Hire A Recruitment Process Outsourcing Company
One must consider a few factors to hire the best recruitment outsourcing providers. These factors will play a crucial role not only in choosing but also in getting the expected results. 
Here are a few tips one should follow while hiring or working with a recruitment process outsourcing company.
Decide what you need: The very first thing you should be aware of before getting into a contract with an RPO is your need/demand. It's important to understand your hiring needs; otherwise, you'll spend money without achieving your goals.
This includes identifying the number of open positions, the job functions, the required qualifications, and the timeline for filling these positions.
Research RPO companies: Research and shortlist RPO companies that have experience in your industry and a good performance history. Look for companies with a strong reputation and a great client base.
Schedule consultations: Schedule consultations with the shortlisted RPO companies to discuss your hiring needs and understand their processes and capabilities. Ask questions about their previous experience and case studies of working in a similar industry, the time they would take, the approach to recruitment, etc.
Evaluate proposals: Based on the consultations, evaluate the proposals received from the RPO companies. Consider factors such as cost, services offered, and the company's ability to meet your hiring needs.
Contact references or previous clients: Contacting references or previous clients is also vital before making a final decision because only previous clients can give you solid feedback regarding the RPO company's level of service and the results they have achieved for them or other clients.
This also helps to ensure that you're not pouring money down the drain!
Negotiate terms: Once you have selected an RPO company, negotiate the terms of the agreement, including the cost, the scope of services, and the timeline for filling the open positions.
Start the partnership: After reaching a mutually agreed upon agreement, start the partnership with the RPO company. Clearly communicate your expectations and team up to work collaboratively with the RPO company to establish a plan for success.
Monitor progress: Regularly monitor the progress of the recruitment process and provide feedback to the RPO company. This helps to ensure that the process is on track and that the final outcome meets your expectations.
By following these outsourcing recruitment processes, a company can anticipate that they will get the best deal and outsourced recruiting solutions
Here are some tips on Leveraging LinkedIn for Diverse and Inclusive Hiring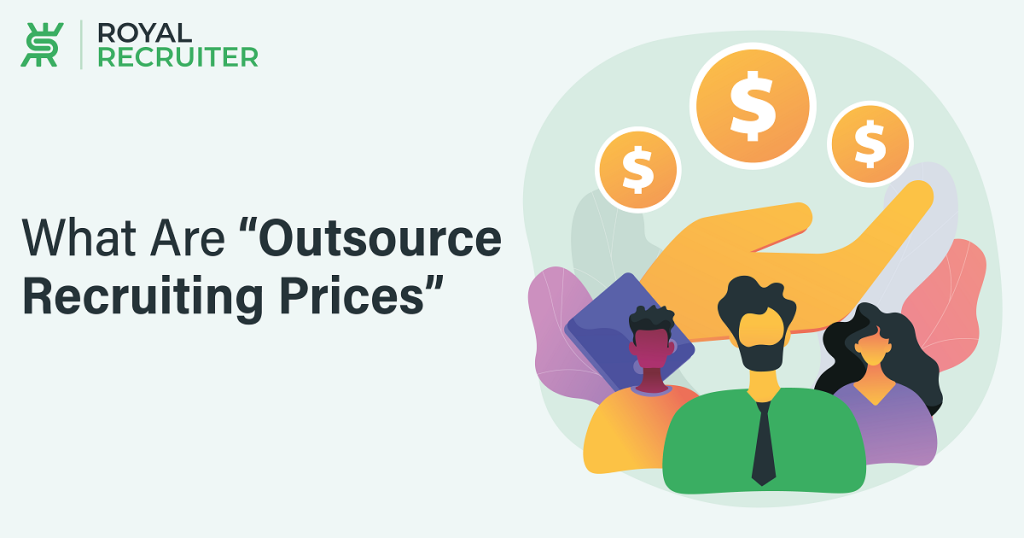 What Are Outsource Recruiting Prices
To save a company's time and recruitment, outsourcing providers offer various types of pricing models, and it's important to understand the various pricing models before making a decision.
Here are three standard pricing models in the industry:
Contingency model: This is a pay-for-results model where the company pays a percentage or a fixed fee only if a successful hire is made. This model is best for companies with a high volume of positions to fill, as the recruiter is motivated to fill them quickly and effectively.
And with the contingency pricing model, if the outsourced recruiting solutions fail in placing candidates, then the hiring company won't need to pay any fee(Might vary based on the agreement).
Flat model: In this pricing model, the company pays a flat or fixed amount of money for the recruiter's services. This model works best for companies with specific and time-sensitive recruiting needs. Also, it's a good fit for employers looking for a long-term RPO engagement.
Retainer model: This model combines the contingency and flat models by paying for milestones and results. The company pays a percentage of the placement fee, combined with a fixed fee for the recruiter's services. This model works best for companies with complex hiring needs.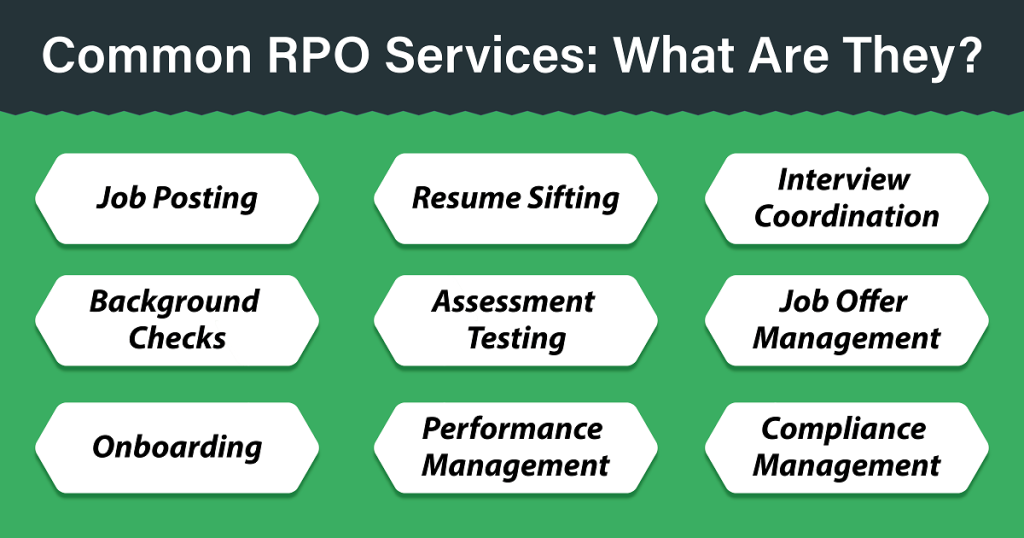 What Are The Common Recruitment Process Outsourcing Services?"
Recruitment process outsourcing service companies offer a range of services that help organizations attract, screen, and hire the best candidates more swiftly and cost-effectively.
Here are some of the common outsourced recruiting solutions:
Job Posting: Outsourced recruiting service providers will be responsible for creating and publishing job vacancies on various job boards and career websites to attract suitable candidates.
RPO companies craft each job post or description to ensure that job postings clearly describe the job responsibilities, requirements, and benefits; also are optimized for search engines.
Resume Sifting: With the increasing number of job applicants, sifting through resumes can be a time-consuming and challenging task for a company because of fewer dedicated members.
RPO companies provide resume-sifting services that allow organizations to identify and shortlist suitable candidates quickly. This is done by using specialized software and tools to screen resumes for specific keywords, skills, and qualifications.
Interview Coordination: RPO companies also take care of coordinating and conducting interviews with shortlisted candidates. They arrange and schedule interviews, either in-person or virtually, and provide support to both the candidates and the hiring managers.
Their part in interview coordination includes sending interview invitations, providing interview guides, and managing any logistical issues that may arise.
Background Checks: Before handing over a job offer, it's crucial to verify candidates' previous employment, education, and criminal records, which could take weeks or months for a company.
Recruitment services outsourcing companies offer background check services to ensure that the information provided by the candidates is accurate and complete. In background checks, RPOs will authenticate references, criminal record searches, and previous employment information.
Assessment Testing: Outsourcing staff recruitment companies often offer assessment testing services to help organizations evaluate candidates' skills, abilities, and personality traits.
Although it depends because not every company wants RPOs to take assessment tests such as cognitive, personality, and skills tests and provide detailed reports on the results. These types of tests help organizations make informed hiring decisions and ensure that they are hiring the right candidate for the job.
Job Offer Management: Once a candidate has been selected, RPO companies help organizations draft and present job offers, negotiate salaries and benefits, and secure acceptance from the successful candidate.
Onboarding: Bringing on a new hire can be complex and time-consuming, but RPO services help organizations simplify the process. Recruitment agencies ensure a smooth integration of new workers into the workplace and provide orientation help.
Performance Management: Monitoring and evaluating employee performance is an important aspect of talent management, and RPO companies can provide support in this area. They can help organizations set performance goals, provide feedback, and conduct performance evaluations. This ensures that employees are performing to their full potential.
Compliance Management: Finally, outsourced recruiting companies ensure that the recruitment process complies with local and company laws and regulations. This includes complying with equal opportunity and anti-discrimination laws and following proper data privacy and security protocols. 
How Do You Optimize LinkedIn Recruiting? Find Here
Is It Really Necessary To Outsource Staff Recruitment? 
Outsourcing staff recruiting can be a turning point for businesses looking to cut expenses and restructure their employment process. While it may not be necessary for all businesses, it is a feasible solution for organizations trying to revamp their hiring process.
On the one hand, having an in-house recruitment staff has benefits. Companies with the capacity to keep an internal recruitment team can benefit from a more personalized and hands-on hiring procedure. They can also control that their hiring procedure is consistent with their company's rules and culture.
However, outsourcing staff recruitment may be the answer for businesses that are having difficulty with their recruitment process. It can assist save money on salary, benefits, and training by removing the requirement for internal recruitment workers.
With Outsourcing staff recruiting, companies can escape the stress of dealing with employee turnover, poor performance, and other HR difficulties.
Frequently Asked Questions
Q: What are the benefits of outsourcing to recruitment consultants?
Outsourcing to recruitment consultants can increase recruitment efficiency, get better candidates, and save costs.
Q: How much is a contingency fee in RPO?
After successful candidate placement, a contingency fee is a percentage of the candidate's first-year salary, which usually ranges from 10% to 30% or could be more for senior/higher/management roles.
Q: What Is One Major Drawback In RPO recruitment?
One of the major limitations of recruiting outsourcing firms is that not all companies have the same level of expertise in every area. For instance, an agency that focuses on hiring workers for the construction business might not have the same level of knowledge when it comes to the software sector.
As a result, the hiring process may be less productive and efficient, increasing cost rather than decreasing.
Q: Can I hire employees from a recruitment process outsourcing company to work in-house at my company?
Typically, recruitment process outsourcing employees do not work in-house at a client company. They usually work from their own premises or office. However, you can request the RPO company to provide some employees to work in-house, but it would depend on the specific circumstances and agreement between the client company and the RPO provider.
Q: Can I change the agreement with an RPO recruitment agency?
It depends on the specific agreement and the RPO provider. Some RPO providers may not allow changes to the agreement once it has been signed. For this reason, it's important to take caution and carefully review the contract before signing. If changes are necessary, it's best to discuss your request with the RPO provider and see if they are willing to modify the agreement.
Top Most Popular jobs near you