LinkedIn Recruiting Best Practices And Tips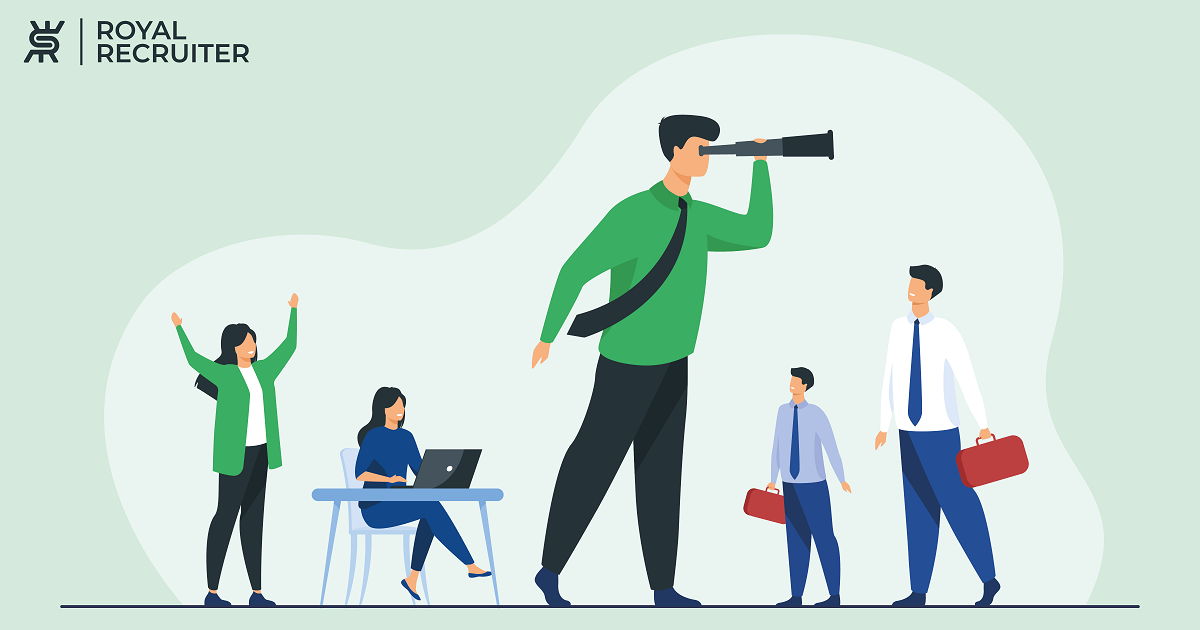 Check out these LinkedIn Recruiting Best Practices and Tips to speed up your recruiting process. Also, you'll discover some don'ts.
LinkedIn has undoubtedly made the recruiting struggle for everyone easy. Now, it doesn't matter whether you're an experienced recruiter or not; with the help of LinkedIn recruitment tools and solutions, you can source the best candidates to fill the open vacancies.
However, the recruitment process for LinkedIn is slightly different from traditional practices because LinkedIn provides all-in-one recruitment solutions on its platform.
Even though you'll get everything in one place and have access to all types of recruitment solutions, that doesn't mean you'll be able to source the best candidates and hire them with a snap.
There are some best practices and tips that a recruiter should follow while sourcing candidates through LinkedIn.
If you're looking forward to improving your recruitment efforts, here are some of the LinkedIn recruiting best practices and tips.
By applying these practices and tips, you'll achieve better outcomes and make the recruiting process easy-peasy!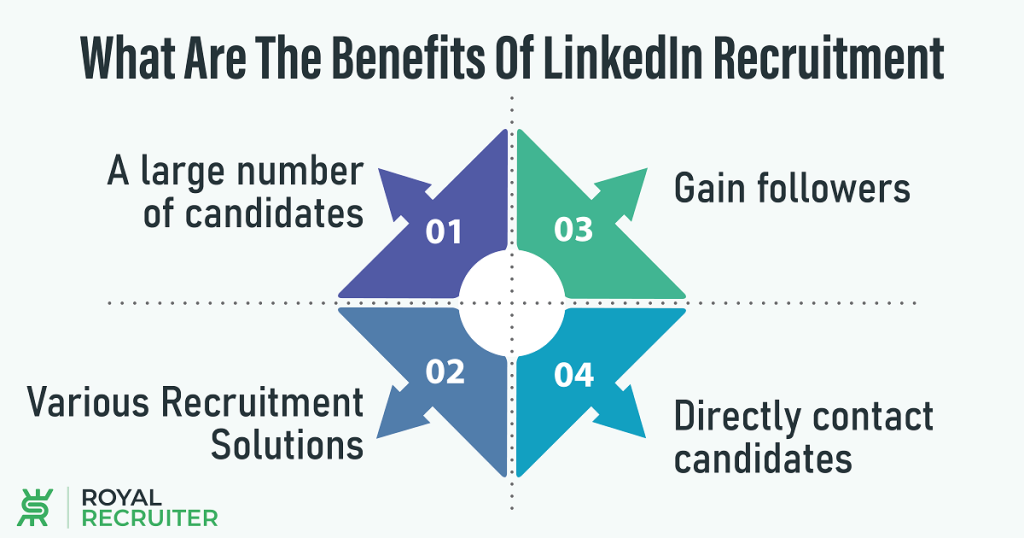 What Is LinkedIn Recruitment, And What Are The Benefits?
LinkedIn recruitment means you'll use LinkedIn to source and hire passive candidates for your or other companies (if you're a recruiter or recruiting agency). When sourcing candidates from LinkedIn, recruiters mostly utilize tools and solutions from the beginning to the end.
Today, most recruiters are now LinkedIn oriented because of the benefits and services it offers.
A few benefits of using LinkedIn for your recruiting efforts are:
A large number of candidates
Nowadays, almost every professional and people seeking jobs have a LinkedIn account. According to recent data provided by LinkedIn, there are now more than 900 million people using LinkedIn. 
This will smooth the headhunting efforts for recruiters as they won't run out of prospects.
Various recruitment solutions
The stress of managing and spending thousands of dollars on third-party applications and recruitment solutions will become a matter of the past when you use LinkedIn for recruiting.
LinkedIn has its own recruitment solutions and tools, which are cheaper and more productive than most third-party software/solutions available on the market.
On LinkedIn, besides posting jobs, you can also gain followers on your and your company's profiles. It'll help you turn followers into employees in the future! 
Directly contact candidates
One of the most notable perks of using LinkedIn for recruitment is that you can directly contact or communicate with the candidates without requiring anyone else or taking help from other people.
Visit How to Use LinkedIn for Effective Candidate Sourcing And Find out some candidate sourcing tricks from LinkedIn.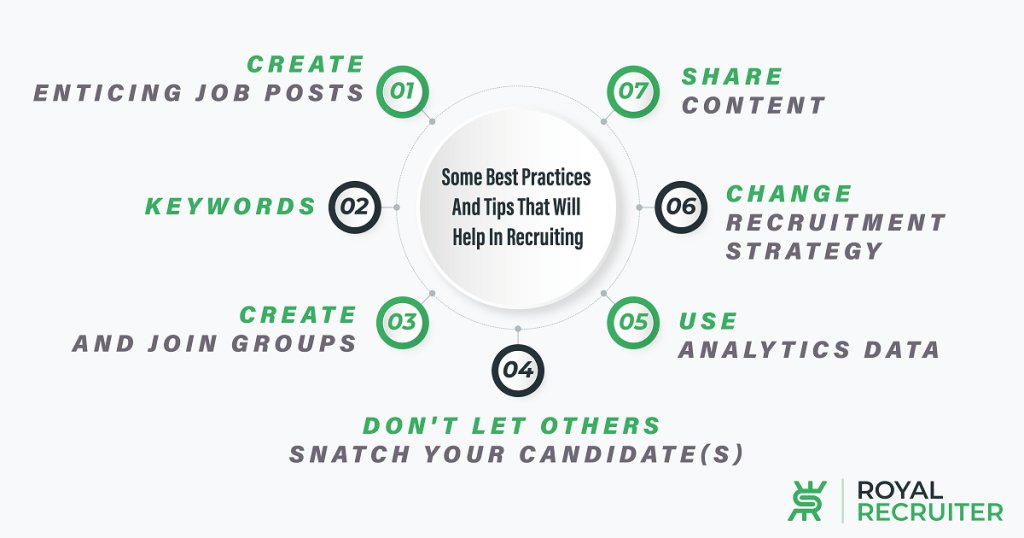 LinkedIn Recruiting Best Practices And Tips
Even though LinkedIn is easy to use and has friendly user interfaces but it still can be confusing and might face lots of drawbacks while you're putting your best into recruitment.
Let's discover some best practices and tips that will help you in recruiting.
Create enticing job posts
Posting jobs on job boards is the oldest candidate-sourcing method, and one of the first steps recruiters take to start the recruitment process.
While posting jobs on LinkedIn, you've to make sure that the job post is properly structured and accurately conveys your company's message.
Moreover, it's vital to create short job descriptions because a report from LinkedIn states that, on average, a candidate spends only 14 seconds before determining whether they will continue reading job posts!
That means the candidate wants to know about your company, job responsibilities, salary, and requirements in a manner that provides all information.
So make sure every job opening you post is reader-friendly, and candidates can quickly know what it would take to work in the organization
No, you don't need to be a search engine optimization specialist to know about keywords on LinkedIn. Keywords on LinkedIn are similar to the applicant tracking system (ATS); you'll search for candidates with certain keywords or industry-specific words, which will help you find the right candidate from the right sector quickly.
How do you use keywords to find the ideal candidate? It's easy. Try to use certain words that fit the position you're seeking candidates for.
For instance, if you're hiring someone for a digital marketing role, you can add some words such as Social media marketing, email marketing, marketing strategy, google ads, brand awareness, etc.
These are some keywords that mostly include in job descriptions, and candidates often search with these keywords! If a job description isn't optimized with keywords, prospective candidates might not find the job opening easily.
Groups on LinkedIn are literally a gold mine for recruiters. Every industry-specific group on LinkedIn has hundreds of thousands of professionals and job hunters.
Joining the group will expose you to numerous benefits. First, you'll be able to find professionals and candidates who are associated with a certain industry.
Second, you'll learn more about what candidates are willing to get and what's trending among job seekers from group participants' posts and content.
Third, you can easily source candidates from the group, which will minimize your hard labor.
Don't let others snatch your candidate(s)
There are thousands of recruiters actively seeking candidates on LinkedIn these days, making it even more difficult to find the right candidate.
Therefore, you can't afford to lose the candidate you're looking for or sourcing! Because your ideal candidates can be suitable for hundreds more!
So, how do you prevent others from snatching your prospects? Don't wait forever to get connected with them and present a job offer!
On LinkedIn, you can't message other people unless you get connected with them. While you wait for the prospect to connect with you, other recruiters may have already contacted the candidate!
How? There's a premium feature on LinkedIn called InMail; with InMail, you don't need to wait to connect with candidates, as you can directly mail them offering the job.
As a recruiter, you should definitely consider subscribing to the InMail feature; if not, the prospects will slip through your fingers.
Data-driven approaches can have significant impacts on your recruiting process. With accurate data from LinkedIn, you can plan your recruitment progress efficiently.
LinkedIn analytics can aid you in tracking your recruitment progress, evaluating and knowing more about your targeted audience, and measuring engagement.
Change recruitment strategy
Every recruiter has their own recruitment strategy, which they follow to reach their goals and find candidates. But sometimes, recruitment strategies may not deliver the expected results.
In such cases, don't stick with the current recruitment plan or strategy. Although it could be time-consuming, you'll be benefited in the long run because it's better to have strategy changed or modified than to get no results!
Do you want to improve brand awareness and let candidates know about your business or organization? Then you must consider sharing content.
With content, you can effortlessly reach more candidates, let them know what your company does, and generate traffic on LinkedIn and the company website.
You can also know the Benefits of Outsourcing Recruitment And Selection Processes.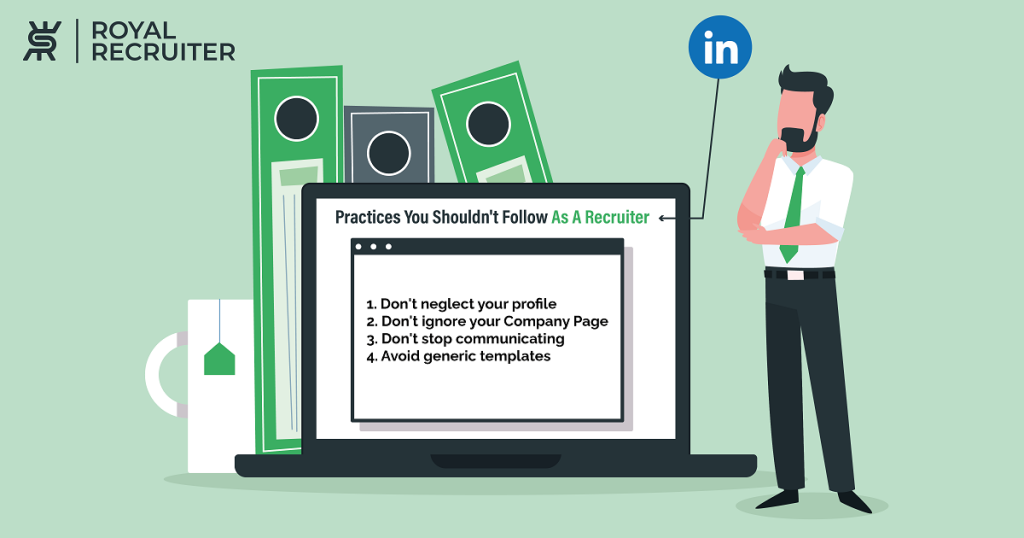 Practices You Shouldn't Follow As A Recruiter
While there are many things that recruiters can do to productively use LinkedIn for recruiting, however, there are also several practices that should be avoided because these practices will pull you back from achieving your goal.
Here are a few LinkedIn recruiting practices that you shouldn't do:
Don't neglect your profile: Your LinkedIn profile is the first thing that potential candidates will see when you try to contact them, so it's important to keep it up-to-date and professional-looking.
Avoid using low-quality profile pictures, and make sure that your profile accurately represents your brand and expertise. Also, don't transform your LinkedIn profile into Twitter or Instagram by sharing irrelevant content.
Don't ignore your Company Page: Most of the time, companies on LinkedIn make their page look like a graveyard with no life present. If your company wants to attract prospective candidates, It's crucial to keep it updated with fresh content and job postings.
Make sure that it accurately represents your brand and provides valuable information to potential candidates. Also, don't avoid people who visit your company page, as a report states what people who visit your company page want to work for you!
Don't stop communicating: Communicating is a critical component of the LinkedIn recruiting process and establishing long-term relations with candidates. As a recruiter, it's important to respond promptly to messages and comments from potential candidates.
Moreover, even if a candidate doesn't fit the role or has minimum requirements, don't ignore their messages or mentions. And finally, make sure to engage with potential candidates in a professional and timely manner.
Avoid generic templates: You might be busy with other recruitment processes and thought of using ready-made templates from online for creating job postings and messaging. Even so, there are lots of good templates available online, but you should avoid relying on them heavily.
Take some time to customize your job postings and messages so that they reflect your brand and engage with potential candidates in a meaningful way.
Also, Visit & Find Out Some Advanced LinkedIn Sourcing Techniques for Recruiters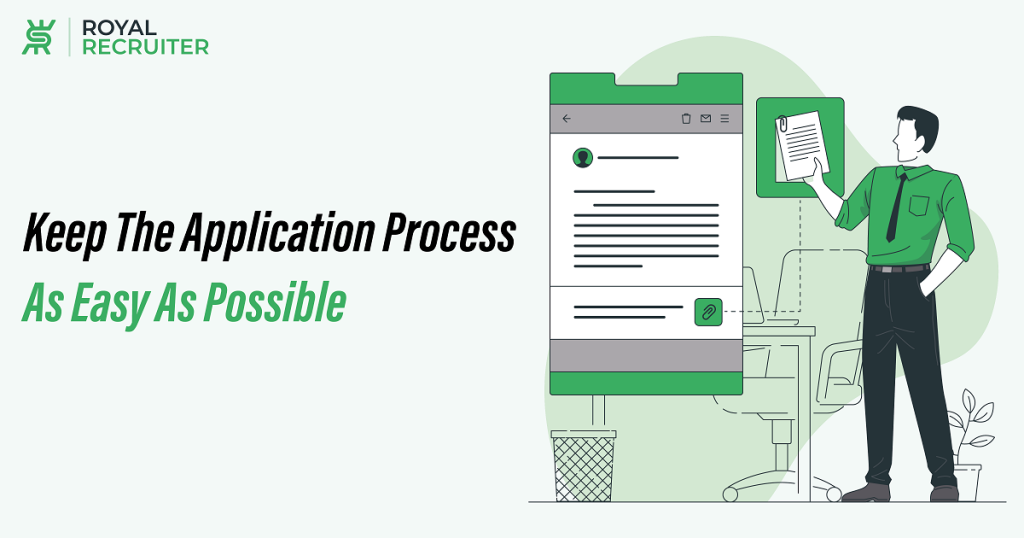 Keep The Application Process As Easy As Possible!
As the job market becomes more competitive, companies need to attract top talent by providing a simple and easy application process. Candidates are often discouraged by lengthy, complicated applications that ask for irrelevant information and redirect them to other websites where it becomes difficult to keep track of their application process.
Only ask for necessary information from candidates. Though you can request as much information as possible, it can be overwhelming for candidates, and they might avoid completing the application. 
Just ask for the most relevant information required to make an informed decision. If you need additional information, you can ask them via mail or other forms.
Moreover, don't make candidates visit other web pages, as most candidates from LinkedIn prefer to apply through LinkedIn, as they have their resumes uploaded on that platform; also, it's very easy to submit job applications via LinkedIn.
Top Urgent Hiring jobs near you