Advanced LinkedIn Sourcing Techniques for Recruiters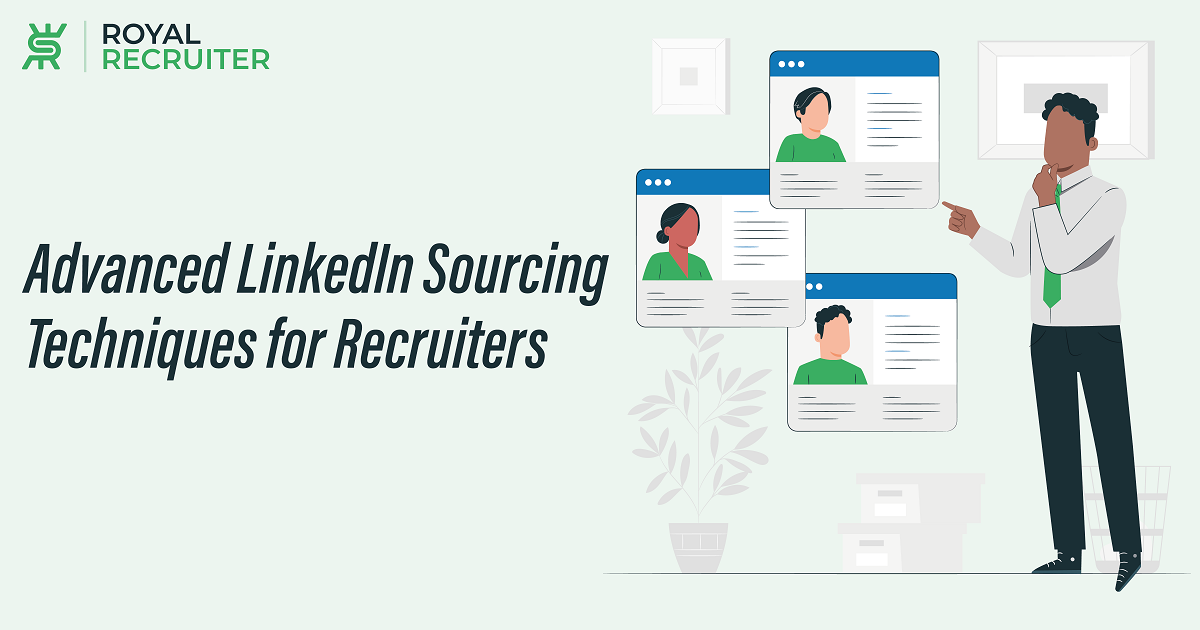 LinkedIn is a resourceful candidate-sourcing platform for recruiters. Here are some advanced LinkedIn sourcing techniques for recruiters to make sourcing more simple
With all the features and millions of candidates, sourcing candidates from LinkedIn has become challenging. Most recruiters and hiring managers are spending more time sourcing candidates because the conventional techniques they use aren't that effective anymore.
There are now more features than ever on LinkedIn that one can use to source the ideal candidate. Even though the tools LinkedIn offers are a blessing for recruiters but they still scratch their heads when it comes to candidate sourcing.
Because when a recruiter uses traditional LinkedIn sourcing techniques, most often, they don't discover the best candidates and fail to get the most out of LinkedIn.
In today's article, we'll discover some advanced LinkedIn sourcing techniques for recruiters, enabling recruiters to reach more candidates and reduce their sourcing time.
What Is LinkedIn Candidate Sourcing?
LinkedIn candidate sourcing is a method where recruiters utilize various LinkedIn recruitment solutions and tools to locate candidates who are a good fit for their job openings but didn't apply for.
Those candidates are also known as passive candidates. After sourcing a potential passive candidate, recruiters will contact them and try their best to onboard them.
Advanced LinkedIn Sourcing Techniques For Recruiters
Advanced LinkedIn sourcing techniques are not something that'll take you a few months to adopt. These techniques are almost similar to any other approaches that you, as a recruiter, take on a regular basis.
The main reason why these are called advanced is that these techniques are not implemented by many, and they don't seem efficient.
Visit Maximizing Results with LinkedIn Recruiting Solutions & know how you can get maximum results with LinkedIn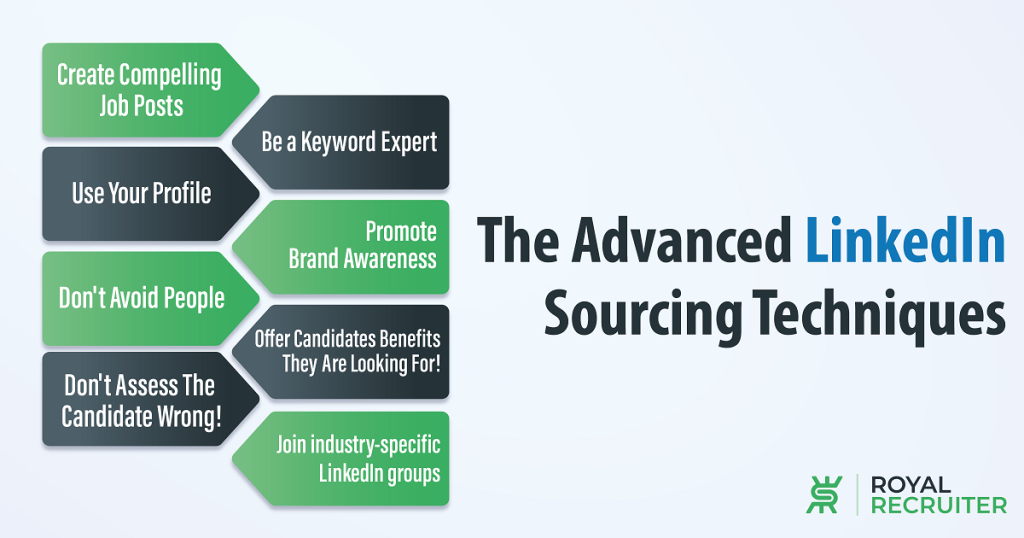 The advanced LinkedIn sourcing techniques are: 
Create compelling job posts
One of the oldest recruiting and candidate sourcing methods is job post. But compared to other job posting sites, LinkedIn's job posting feature is more exclusive.
By creating compelling job posts, not only can you attract more candidates to apply for the role, but they'll also know more about you and the company you're hiring for.
Your LinkedIn profile is a powerful tool that can help you source passive candidates and grow your network broader and faster. For candidate sourcing, along with LinkedIn's job board, use your profile to post jobs.
The main perks of using your profile to post job openings are that your connections will be able to see them on their wall, and they'll be able to share the post, which will bring you more potential candidates, connections, and followers!
You'll always need to be in a win-win situation as a recruiter. And to be in winner, you can't avoid anything! Be it a message, connection, people who've seen your profile, or mention in the comments.
Because most of the people who engage in these activities are either looking for jobs or willing to learn more about you as a recruiter.
You should reply to the messages, check who's visited your profile, and respond to the mentions. This simple technique will help you find passive candidates in unusual ways you may not have thought of!
Don't assess the candidate wrong!
With thousands of potential passive candidates, assessing a candidate wrong is quite prevalent, but the wrong assessment has a major drawback, it narrows down the number of candidates.
And eventually, you'll run out of candidates and might pick the wrong one. So how do you avoid evaluating candidates wrong? To prevent invalid assessments while screening through a candidate's LinkedIn profile, you should never depend only on LinkedIn to evaluate their skills and achievements, especially if you're recruiting in the IT sector.
Try to visit their portfolio website to learn more about their accomplishments and what they've contributed to their previous roles/workplaces.
Join industry-specific LinkedIn groups
Most recruiters neglect the potentiality of LinkedIn groups. But LinkedIn groups are loaded with hundreds of thousands of potential candidates. By joining groups on LinkedIn, as a recruiter, you'll increase the chance of getting more sources.
How do you benefit from LinkedIn groups? Don't just join groups to see who the members are, be an active participant in groups, try to engage with professionals by posting ideas/knowledge/tips from the same industry, post jobs in groups, and ask for referrals.
Offer candidates the benefits they are looking for!
Every candidate seeks something from their employer, which could be work-life balance, hybrid work opportunities, two-day holidays, employee development programs/training, etc.
Check the prospect's LinkedIn profile to discover if they are seeking or hoping to receive a certain set of benefits. If you notice something that the firm you're hiring for is providing, go up to the candidate and tell them that you have a job position available that offers the advantages they've been looking for.
LinkedIn is a great place for promoting brand awareness because of the benefit that you'll get for promoting brand awareness. By promoting brand awareness, you'll attract more followers.
And you'll be able to transform those followers into leads in the future!
It doesn't matter whether you're using free or paid LinkedIn recruitment solutions. Whatever you do on LinkedIn has to be fine-tuned with keywords. Similar to other search engines, utilizing keywords appropriately on LinkedIn will help you reach more audiences.
What keywords are and where to add keywords? Keywords are certain words that make searching or finding specific elements easier for people. Some examples of keywords are: "Social media manager," "FinTech," and "E-commerce."
Also, Visit & Find Out Leveraging LinkedIn for Passive Candidate Outreach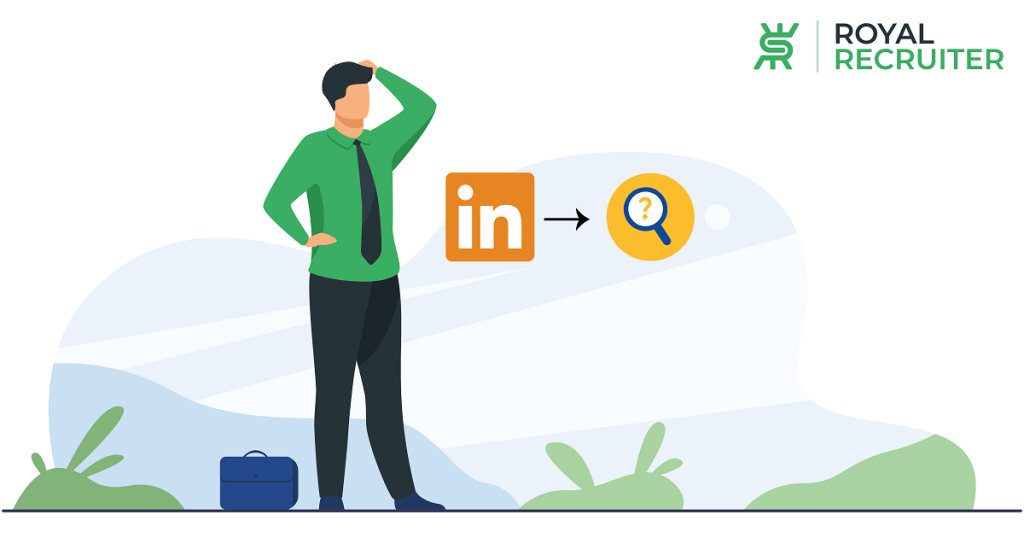 Should You Get Premium LinkedIn Tools For Sourcing?
It depends completely upon your need and the company you're sourcing candidates for. But recruiting tools for LinkedIn come with many advantages.
Some benefits of using premium LinkedIn recruitment solutions are:
One notable snag for recruiters who use the free version of LinkedIn is they can't communicate with potential until they (candidates) accept the recruiter's request.
This lengthens the waiting time for recruiters and hurts the overall recruitment process.
To reduce the waiting time, LinkedIn offers a great feature called InMail which comes with LinkedIn premium; with InMail, you can send mail/message directly to candidates without sending them a connection request.
We all know how robust is LinkedIn search tools, but the premium LinkedIn recruitment solution has even more rigorous search tools which have more features, such as the sales navigator, recruiter, and recruiter lite.
These tools/solutions will help boost your recruitment process and filter your passive candidate search for more personalized results.
Top Most Popular jobs near you