How To Make A CV: Best Guides & Tips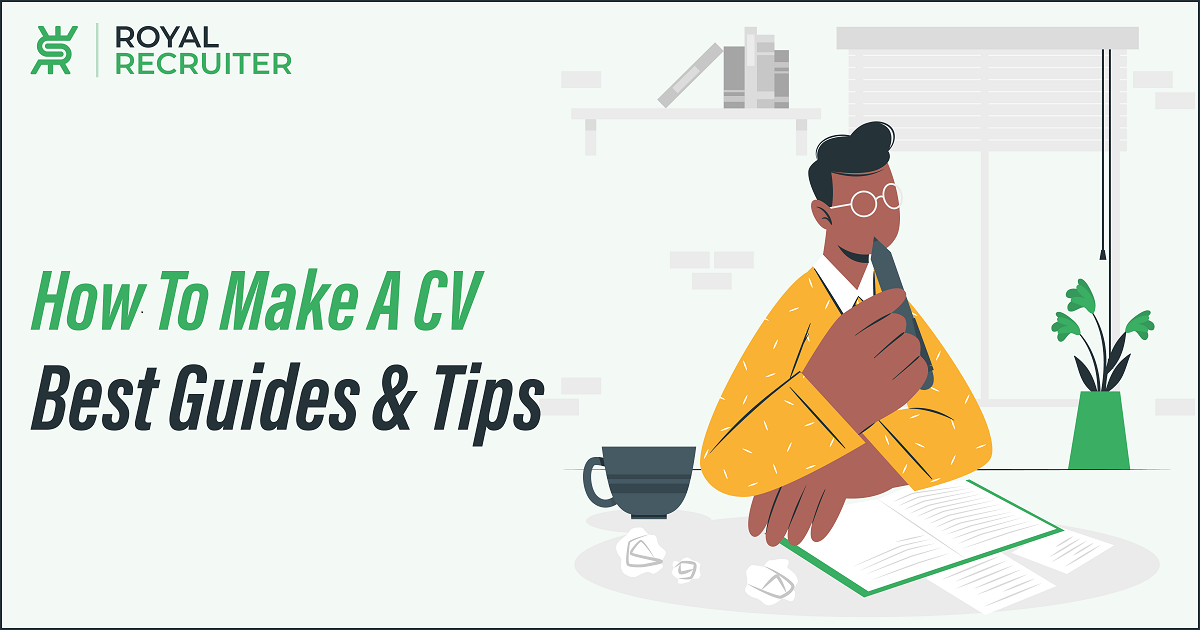 CV, or curriculum vitae, plays an important role in one's professional career. If you're confused about how to make a CV, read this article to learn the tips and tricks.
A CV, or curriculum vitae, is a document that outlines your education, work experience, skills, and other relevant information. However, creating a CV can be daunting, especially if you are unsure what to include or how to format it.
In this blog post, we will outline how to make a CV that will impress potential employers.
What Is A Curriculum Vitae?
Curriculum Vitae, commonly referred to by its short form CV, provides a comprehensive overview of your qualifications, skills, and experiences. For job seekers, it's the only document they need to attract hiring managers, as it helps them succinctly present their qualifications and experiences.
A well-written Curriculum Vitae can boost your chances of receiving an interview and, eventually, finding your ideal job without too much hassle.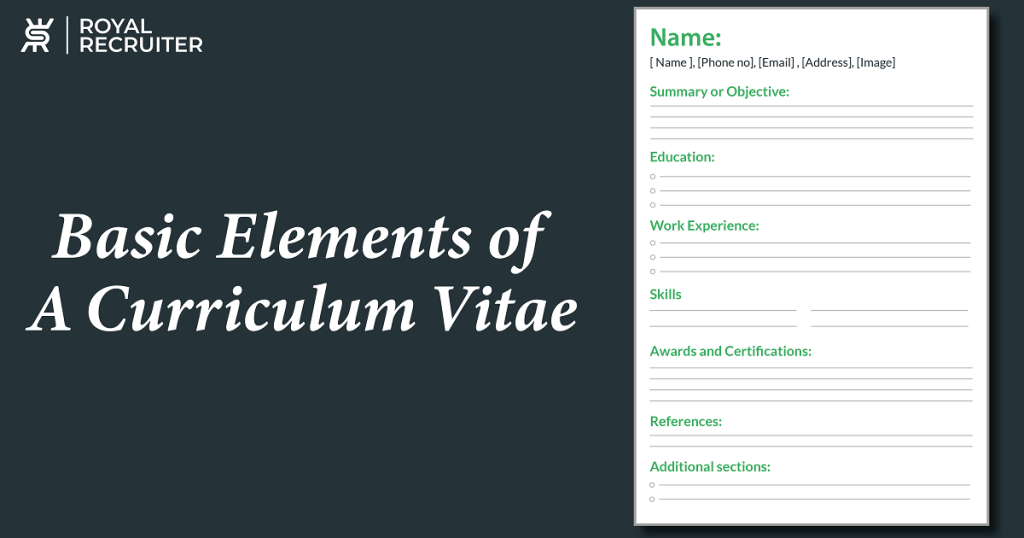 Basic Elements of a Curriculum Vitae
There is some basic information or element of a curriculum vitae that every job seeker should be cognizant of while creating or writing a curriculum vitae. Having or mentioning this information on a curriculum vitae is essential as it will let hiring managers know more about a job seeker's aptness
A Curriculum Vitae should include the following basic information:
Personal Information:
The top part of a curriculum is the personal information section. A job applicant should include their full name, contact information (such as phone number and email address), and a professional-looking headshot (if recommended/asked).
Summary or Objective:
The immediate section below or beside the contact information is for the summary or career objective. In this section, job seekers will have a brief statement that sums up the person's qualifications and career goals.
It should be written to highlight how the person's skills and experiences suit the job position and industry.
Job applicants must make certain that the summary or objective is engaging and eye-catching.
Education:
List your educational qualifications, including the name of the institution, the degree you earned, and the dates(mainly the year) you attended.
Also, be sure to add any relevant coursework or honors you received. And you can include your CGPA only if it is good; otherwise, you don't need to include it.
Work Experience:
This section should list your previous employment(if you had any), including the name of the company, job title, and the period you worked there.
You should also briefly summarize your responsibilities and any notable accomplishments. Experts suggest that mentioning specific examples of how you have impacted your previous roles, such as by increasing sales or improving efficiency, gets more attention from employers.
List any relevant skills you have, such as proficiency in a foreign language, experience with different content management systems/office suits, time management, communication skills, and many more.
 Make sure that you only emphasize skills related to the position you are applying for.
Awards and Certifications:
If you've obtained any awards or certifications that are linked to the position you want to get in, consider adding them too!
As one can acquire different types of awards and certifications, make certain that you only include industry-specific certifications, professional development courses, or awards for outstanding performance.
Or else, there's no benefit of attaching awards and certification to your curriculum vitae.
References:
Adding references to a curriculum vitae is not mandatory, but if it's required, you should include not more than two professional references. Who should your reference be? Your previous employer, team leader, or teacher can be your reference.
Before adding references, take their permission and let them know you're adding them as your reference. Also, include their contact information and the company or institution they work for, so hiring managers can know who they are and contact them if required.
Additional sections:
You can also include a section for portfolio, volunteer work, or other relevant experiences. This could include any volunteer work you have done, any professional associations you are a member of, or any publications you have written.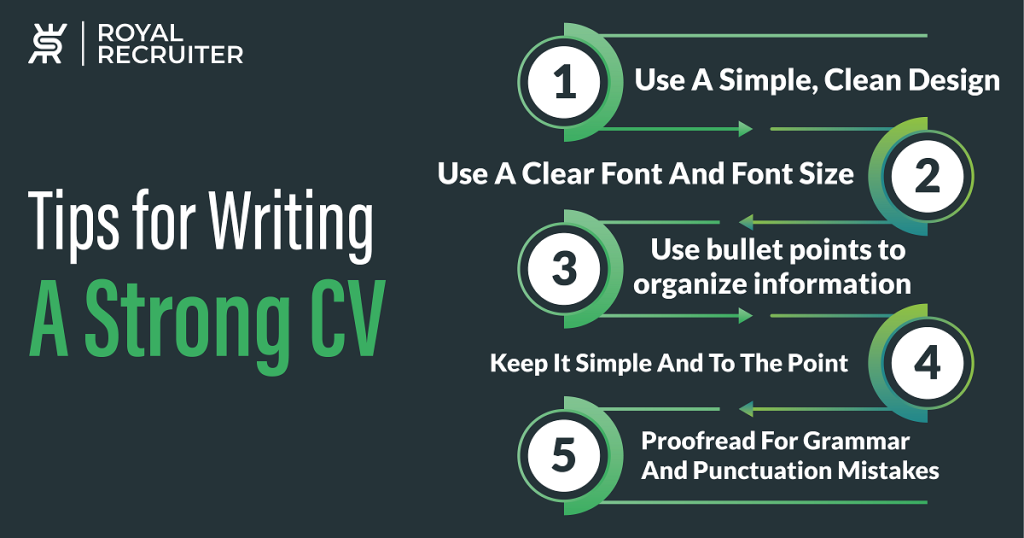 Tips for Writing A Strong CV
Writing a curriculum vitae isn't as extremely hard as it sounds, but only if you follow a few pointers and strategies. Below are some tips for you by following which you can write a marvelous curriculum vitae.
Use a simple, clean design:
The design of your CV conveys lots of messages, especially your professionalism; that's why it's important to keep it simple and clean. Using a simple layout and minimal graphics will make it easy for the hiring manager to read and find the information they need.
Use a clear font and font size:
The font and font size you use on your CV can greatly impact its readability. A size of 11-12 points is ideal, with a font such as Arial or Times New Roman. These fonts are easy to read and will make your CV look professional. Avoid using overly-decorative fonts, as they can be hard to read and take away from the content of your CV.
Use bullet points to organize information:
Bullet points are an excellent tool to organize and skim information. List your professional experience, education, and talents in bullet points.
Keep it simple and to the point:
A one or two-page CV is generally sufficient. Avoid including unnecessary information or padding your CV with irrelevant details.
Proofread for grammar and punctuation mistakes:
Before sending your CV, make sure to proofread it for any grammar or punctuation mistakes. Ask a friend or family member to review it as well. This will help ensure that your CV is error-free and written with care.
Include any relevant extracurricular activities or volunteer experience: Volunteering and extracurricular activities may display your abilities, interests, and enthusiasm. They may also reflect that you are a well-rounded person who can contribute something unique to the table.
Is Curriculum Vitae And Resume The Same?
Curriculum Vitae (CV) and a Resume are two different types of documents used to apply for jobs, but they are often confused for being the same. While both documents provide information about an individual's work history, education, and qualifications, there are some key differences between a CV and a resume.
A CV is a more detailed document that is typically used when applying for academic or research positions or for positions in the healthcare or scientific fields. It is usually longer than a resume and includes a comprehensive list of an individual's education, research and publications, professional experience, and other relevant information. CVs are also often used in countries outside of the United States.
On the other hand, a resume is a shorter document that is typically used when applying for non-academic or non-research positions. It is usually one to two pages long and focuses on an individual's work experience, skills, and qualifications. A resume is usually tailored to a specific job or industry and highlights the most relevant information for that position.
In summary, a CV is more comprehensive and detailed and is used for academic or research positions, while a resume is shorter and more focused and is used for non-academic or non-research positions. It is important to understand the differences between the two and use the appropriate document when applying for a job.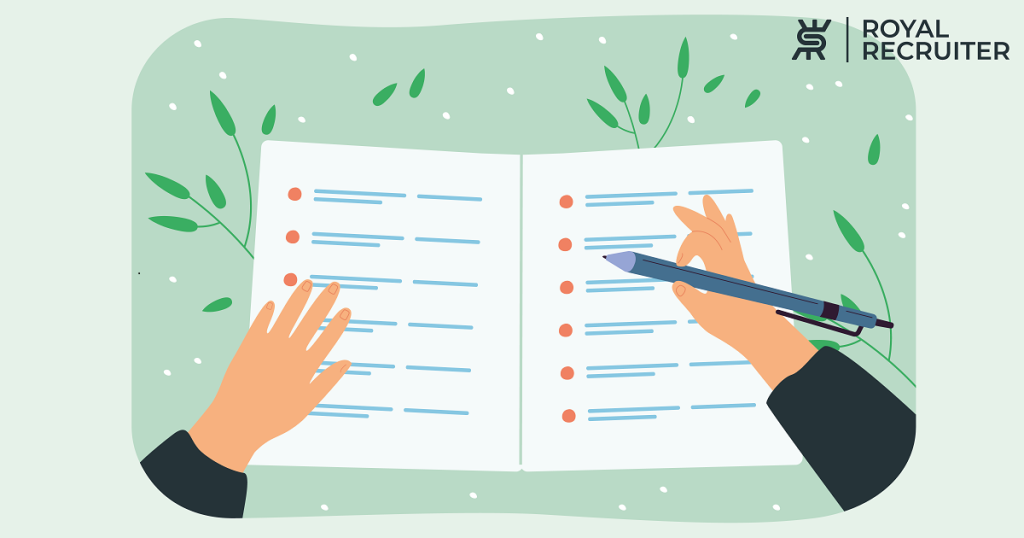 Chronological Or Skill-Based, Which CV Format Is Best?
When it comes to crafting a CV, there are two predominant formats to choose from: chronological and skill-based. Both have their own set of pros and cons, and the most appropriate format for you will hinge on your personal circumstances and the position you are applying for.
The chronological CV, which is the more conventional format, is simple to comprehend and clearly illustrates the progression of one's career. This format is suitable for individuals who have a defined career path and have held multiple similar positions within the same field/industry. It is also fitting for those seeking to advance within the same field or industry.
On the other hand, the skill-based CV, which is more centered on highlighting one's skills and qualifications, is less focused on work history. This format is suitable for individuals who have held a diversity of roles across various fields or have gaps in their employment history. It is also ideal for those who are considering a career change or transitioning to a different industry.
A disadvantage of a chronological CV is that it may leave gaps in one's employment history. If an individual has held multiple different positions or been unemployed for a certain period, a skill-based CV can obscure these gaps and emphasize one's skills and qualifications instead.
However, a skill-based CV may appear less transparent and harder to understand(at times), which can make it difficult for hiring managers to see the progression of one's career and potential.
Visit "How To Build A Resume" for a complete resume-building guide to land your dream job.
Top Most Urgent jobs near you