How Much Do Trash Truck Drivers Make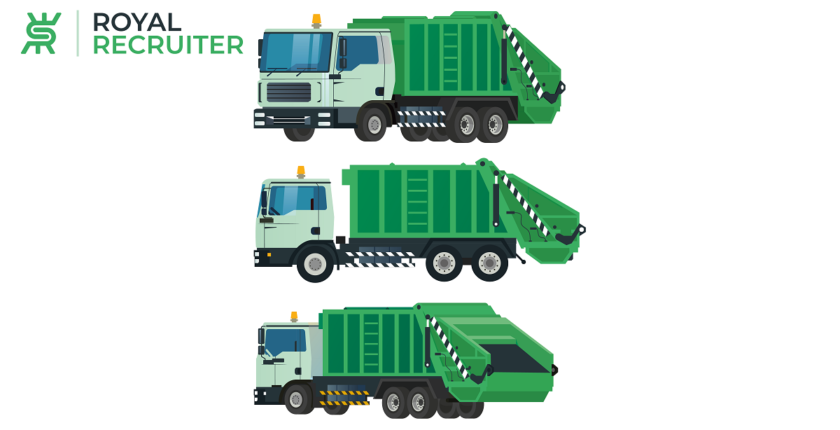 Trash truck drivers' duties seem simple yet exhausting. How much do trash truck drivers make? You can make nearly $50,000 a year as a trash truck driver.
How much do trash truck drivers make? You can earn $50,000 or more yearly as a trash truck driver!
Trash truck drivers have an important role in our society, as they are responsible for keeping our community and streets clean. Trash truck drivers' career is one of the best blue-collar careers because of salary, career opportunities, and other traits. 
This article will let you know more about the career of trash truck drivers, how much they make, and their career prospects. 
Who Are The Trash Truck Drivers?
Trash truck drivers are called by various names, such as garbage truck drivers, waste truck drivers, garbage collectors, and trashmen. The primary responsibility of a trash truck driver is to drive through local communities or other business facilities on time to collect the garbage from bins and transport them to the waste yard or recycling facilities. 
What Does A Day In Trash Truck Driver Look Like?
Most trash truck drivers work morning shifts from 9 am to 5 pm. First, they go to their workplace to get their truck's key and inspect the vehicle to see if it is functioning well or not; after that, they meet up with the team leader or supervisor to know their driving routes.
As soon as you know the routes from which you'll be collecting garbage, you'll start driving through that area and collecting garbage.
A day of a garbage truck driver ends by dumping collected garbage into the landfill or recycling center. Although the usual trash truck driver's duty is 9 to 5, they also work different shifts like evening, night and early morning. 
How To Become A Trash Truck Driver?
Only a driving license and minimum education can get you a trash truck driving job! Because this position doesn't require candidates to be highly qualified as the duties are pretty straightforward to carry out.
Requirements to become a trash truck driver: 
Driving License: If you're willing to become a trash truck driver, you'll need a driving license first. The driving license has to be a commercial driving license class B, and you can't drive a trash/garbage truck with your ordinary driving license. 
How to get a CDL class B driving license? You can contact your state's department of motor vehicles to know the requirements for getting a CDL class B. 
Experience: Many employers want candidates to have previous driving experience to ensure that the driver has adequate skill and knowledge of driving a garbage truck. If you don't have experience, you can get into a driving trade program as most employers consider trade programs as job experience. 
Driving record: If you already have a CDL class B driving license or have been in this industry for years, you should have a clean driving record to secure a job. In most cases, employers want their job applicants not to have any traffic violations for the past two to three years.
Education: There's no higher education barrier for trash truck driving jobs. Anyone with a high school diploma or similar education level is eligible for this position. 
Medical Certificate: A medical certificate is required to prove that you're physically fit to drive the truck and perform your duties. It is sometimes done by employers when hiring or at your own expense.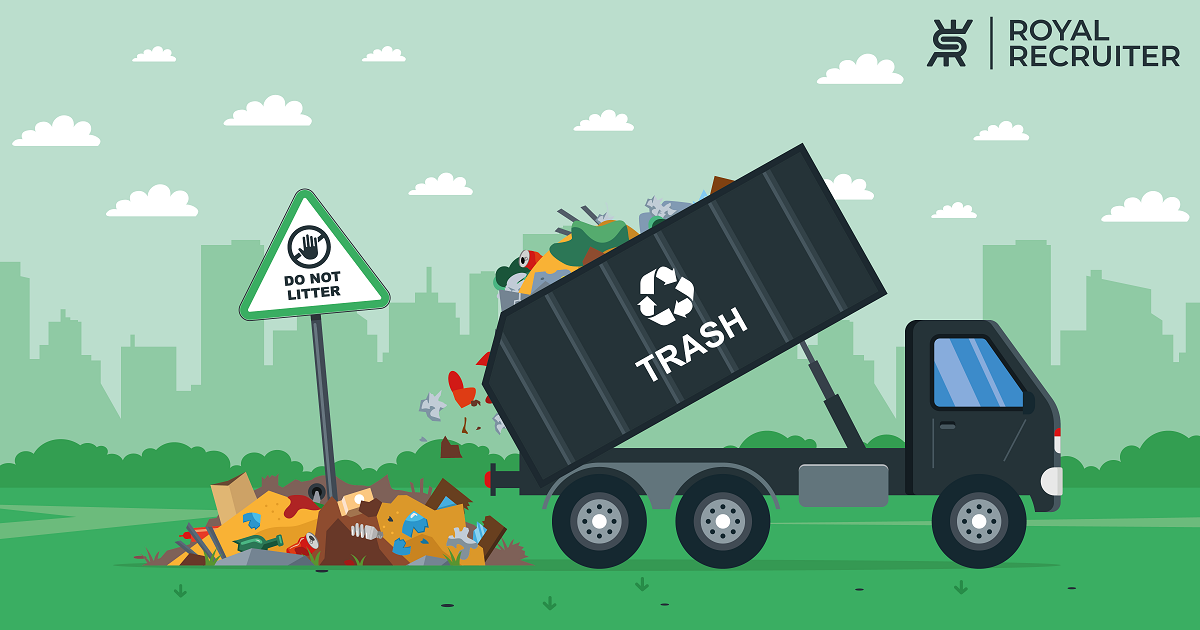 How Much Do Trash Truck Drivers Make?
The average salary for a Garbage Truck Driver is $46,421 per year in US. Drivers who have less than one year of working experience earn this range salary. And the top earner's salary falls between $45,000 to $51,000 a year. 
Required Skill Of A Trash Truck Driver
Trust me, the duties of a trash truck driver are the simplest out there! Driving a truck, collecting trash and dumping it at a specific location! However, to do these easy tasks, you'll require some skills; For a few employers, these skills are must-haves.
Required skills of a trash truck driver: 
Being physically fit is necessary because you'll have to lift bins to collect garbage and sometimes unload them manually during your shift.  
Trash truck drivers generally work in groups of two to three, and you'll have them in the truck while working. You'll need to be a team player to work with your team members. 
Nobody wants to see their bins stockpiled with trash, so you'll have to complete collecting garbage from your appointed routes within your duty hours. 
You should strictly adhere to safety rules to avoid damaging people's property or causing accidents. You may suffer injuries if you are not attentive or don't follow safety rules.
Knowing basic vehicle troubleshooting/maintenance is invaluable since you save money and time by not having to wait on the road for mechanics' help.
Is Garbage/Trash Truck Driver Worth It?
Yes, this career path is definitely worth it because there will always be a need for garbage truckers. You can get promoted and use this experience across other trucking businesses!
Career Advancement Of Trash Truck Drivers
As for career advancement, there are a few ways around a trash truck driver, such as being a trainer at your workplace, supervisor or even manager! Let's see the career advancement of garbage truck drivers in detail
When you own a commercial driving license class B, your career won't be limited to garbage truck driving. With class B CDL you can drive a range of vehicles, especially trucks, which is a booming career in the United States. 
With experience, you can become a driving trainer for garbage transportation companies, as employers provide additional training to new drivers. 
Once you become experienced with the system, routes, and other duties, your employer can promote you to a supervisor position, where you'll be responsible for directing and managing the garbage truck drivers instead of driving one.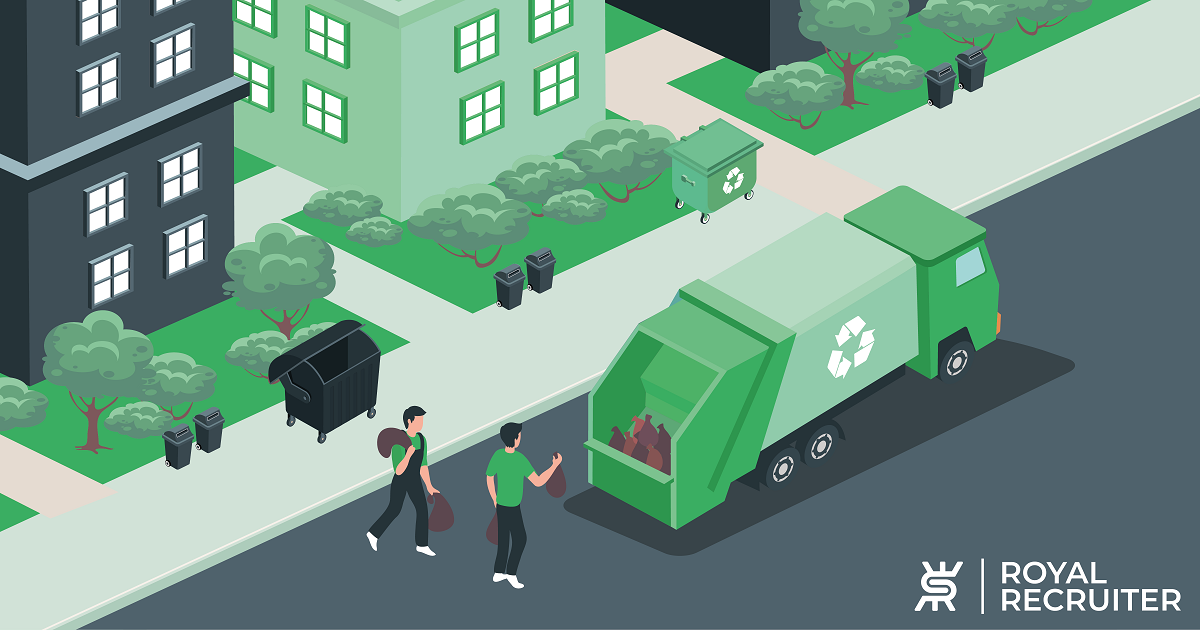 Where Do The Trash Truck Drivers Work
You can work in a variety of workplaces as a garbage truck driver. For example, you can work for a specific company only to transport their garbage/trash or in private or publicly owned companies where you'll collect garbage from residential homes, offices, and other facilities.  
Are Trash Truck Drivers In Demand?
Yes, there's always a demand for garbage truck drivers, as they play a critical role in keeping a country clean, so their demand will not tumble soon. Also, the increased recycling industry has raised their job opportunities a bit higher.
Top Trash Truck Driver jobs near you