What Happens When You Lie On Your Resume?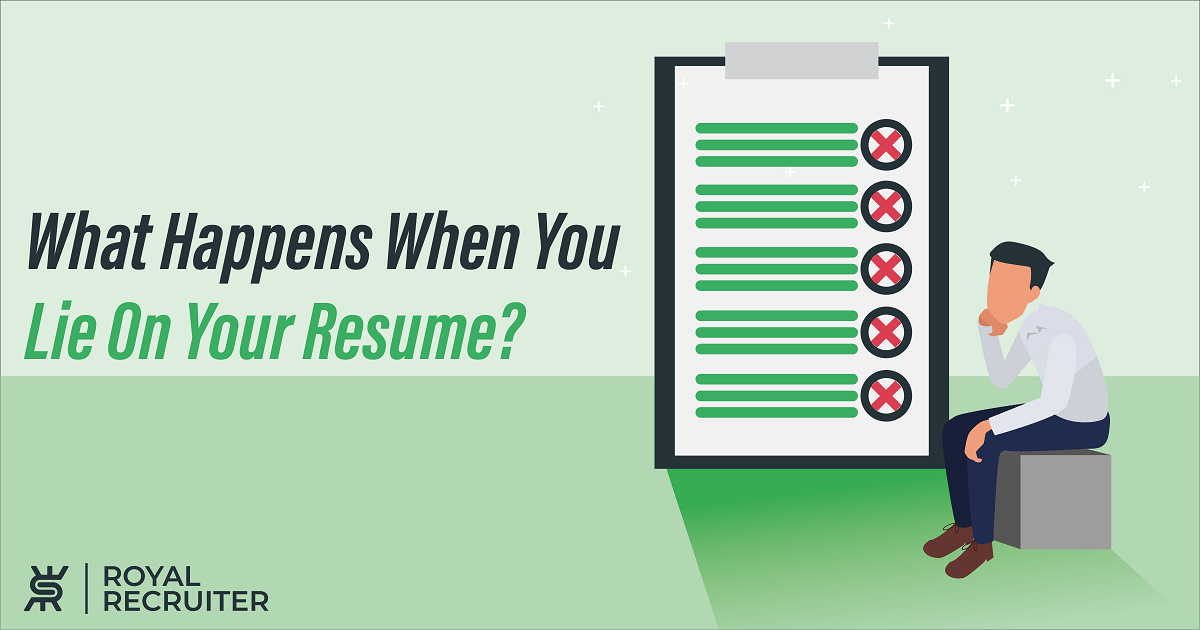 Lying on resumes may sound easy, and you might think that none is going to know! But have you ever thought about what happens when you lie on your resume? Find out the aftermath here.
There's no doubt that a resume is the mightiest tool that can help you land your dream job and progress higher in your career. In a resume, job seekers mention their skills, experiences, and achievements to impress prospective hiring managers to get a job. 
And hiring managers or recruiters determine whether the candidate is good or not by assessing the experiences, achievements, and skills on their resume. 
Unfortunately, there are many (too many!) candidates nowadays who lie on their resumes by adding fake information about their qualifications, skills, experiences, etc. 
Though they think that they can pass the eye of employers, lying on a resume will lead to serious consequences in their professional life.  
In this article, we'll discover the most common types of lies candidates have on their resumes, what happens when you live on your resume, etc. 
What Does Lying On A Resume Mean?
Lying on a resume means misrepresenting or exaggerating crucial information such as your qualifications, skills, experiences, or achievements. This can range from increasing your GPA or not being truthful about your job title. 
Or even worse, such as claiming to have completed a degree or certification that the candidate never earned.
So, you might wonder why a candidate would lie on their resume. There are a variety of reasons to lie on a resume. A candidate may prefer to lie if they don't have enough working experience in a particular area, feel pressure to meet job requirements, or believe that exaggerating or lying about their qualifications will give them a better chance at getting hired.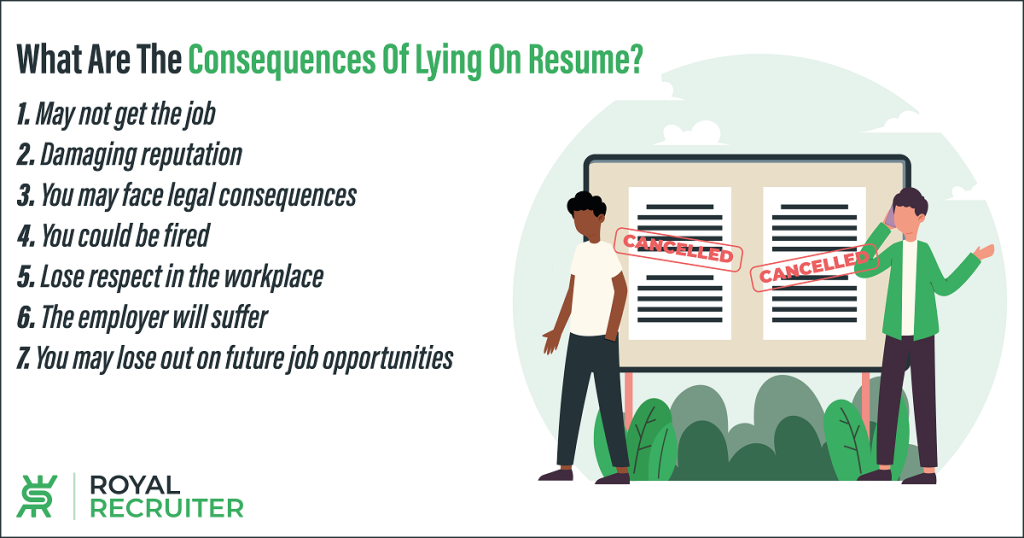 What Are The Consequences Of Lying On Resume?
The outcome of lying on a resume is many, and almost all of those outcomes are self-destructive. 
Some consequences of lying on a resume are: 
May not get the job: The most apparent consequence of lying on a resume is that the applicant may not get the job. Nowadays, many employers verify a candidate's education, work experience, and other qualifications before making a job offer, and if they discover that the candidate lied, they'll likely revoke the offer. 
This can lead the candidate to disappointment and may make it more difficult to find a job in the future!
Damaging reputation: When lying on a resume, one of the worst things that can happen to you is damaging your reputation and credibility in the job market. Today's world is small due to the widespread usage of the internet and professional networking sites. 
Word spreads fast, and if employers find out you're lying, it can affect your chances of finding jobs in other industries because when you lie,  you will be considered dishonest or untrustworthy, which can harm your professional relationships and networking opportunities.
You may face legal consequences: Lying on a resume is a form of fraud and can lead to legal consequences. Depending on the severity of the lie and the employer's response, you could face fines or even jail time (although it's rare). 
Because lying on a resume is a criminal offense, especially if it involves falsifying education, skills or certification documents.
You could be fired: Take for example, that you've somehow been able to avoid the eyes of employers, and they've hired you based on false information on your resume. 
The employer will surely discover the lie today or tomorrow and fire you. This could harm your future job prospects, and you may also have difficulty explaining why you were fired to future employers.
Lose respect in the workplace: Assume that somehow you were able to get the job lying about your skills or other information. But If you're caught lying on your resume, your colleagues may lose respect for you, which can affect your work relationships and teamwork. 
The employer will suffer: If you lied to get the job, you might not have the necessary skills or experience to perform well in your position, which will make the employer suffer in the long run. 
Because not having proper skills means poor job performance. Not only it'll harm the company, but it will ultimately lead you to permanent termination.  
You may lose out on future job opportunities: When an employer catches a candidate lying on their resume, it can harm their chances of securing future job opportunities within the company or in others. 
Because employers will blacklist you, and your reputation may be damaged beyond repair or your imagination! 
Learn about Bad Resume Examples and what contributes to bad resumes.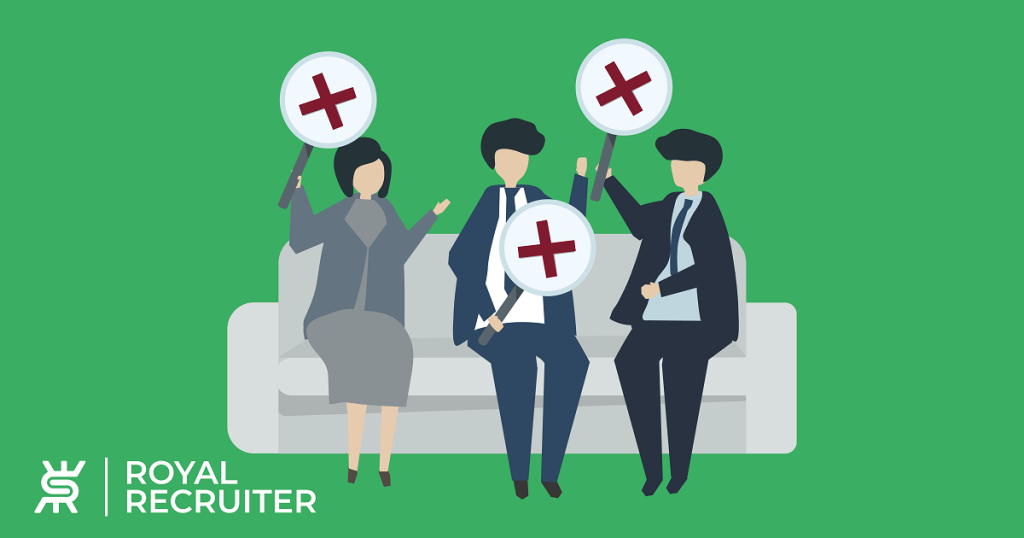 What Are The Most Common Types Of Lies On Resumes?
Even though it's never okay to lie on a resume, unfortunately, some job seekers still try to take shortcuts by exaggerating or fabricating necessary information. Candidates have lied so much that employers have sorted out the common lies a candidate could fake on their resume. 
Here are some of the most common lies that people tell on their resumes:
Education: Faking education credentials are one of the most common and oldest lies on resumes. Many candidates claim to have a degree or educational credential that they never earned. 
Some job seekers even lie about attending certain colleges, institutions, or universities.
Employment dates: Some job seekers give misinformation about their employment dates to hide gaps in their work history or make it appear that they were employed longer at a certain company.  
A candidate lies about the employment date to demonstrate that they can carry out the tasks in prospective companies as they have years of experience. 
Sadly, a candidate now can hardly fake anything about their previous employment time since most employers run a background check.
Job titles and responsibilities: Job titles and responsibilities are also. Some job seekers lie about their job titles and responsibilities to make themselves appear more qualified. 
For instance, a candidate might have worked as a junior client success executive in their previous workplace, but they've mentioned that they worked as a senior! 
Skills: Skills are a mandatory part of almost all job roles. That's why many candidates mention having skills or abilities that they don't possess.
Candidates mostly lie about having skills such as time management, computer literacy, problem-solving, organizational skill, etc. 
References: Lastly, providing fake references or listing someone who has not agreed to be a reference is also a common resume lie because now you can easily get the information of a professional from sites like LinkedIn and others. 
References on a resume could uplift your employment opportunity, but what if employers contact references to verify details? If employers can't reach the person listed or if the person denies providing a reference, you'll be in big trouble.
Here are some Good Things To Put On A Resume About Yourself to give a clear picture of yourself on a Resume.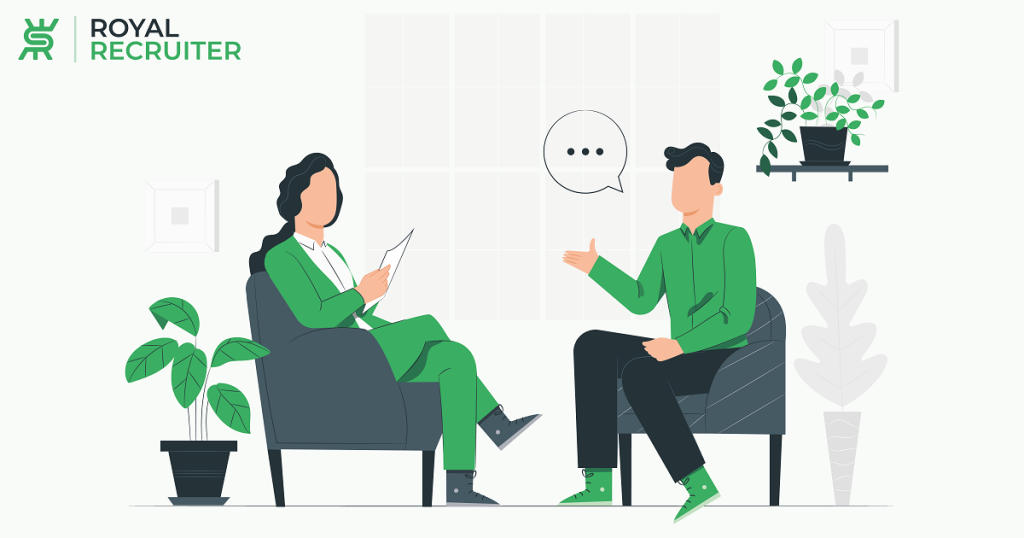 What If You've Lied On A Resume But Got A Call For an Interview?
If you lied on your resume and got called in for an interview, you must consider telling the truth during the interview. This may appear frightening, but it is often the wisest action to avoid embarrassment later if the truth is revealed.
So, what should you do?
Assume you made a mistake while creating your resume and have realized it. Be open and honest about your mistake and admit it during the interview.
The employer could reject your application if you tell them you lied about your resume. Yet, it is always preferable to be truthful and frank than to risk being found out later. 
If the employer declines your application, consider it a learning experience! 
Another scenario could be that even if you tell the interviewer that you lied, they might overlook your mistake if you exhibit your abilities and skills during the interview.
How Common Is Lying On Resumes
Lying on resumes is a widespread phenomenon, and it has become so common that an applicant doesn't even feel guilty when adding misinformation to their resume.
 According to various surveys, between 31% to 85% of job applicants admit to lying about their resumes. 
However, lying on resumes doesn't bring any luck to applicants as employers can easily verify information through background checks, online searches, reference calls, or interviews. 
And of those who were caught lying on their resumes, 65% were either not hired or fired by the employers. 
Also Read, Some Most Important Resume Basics You'll Need To Create Resumes That'll Get You Hired.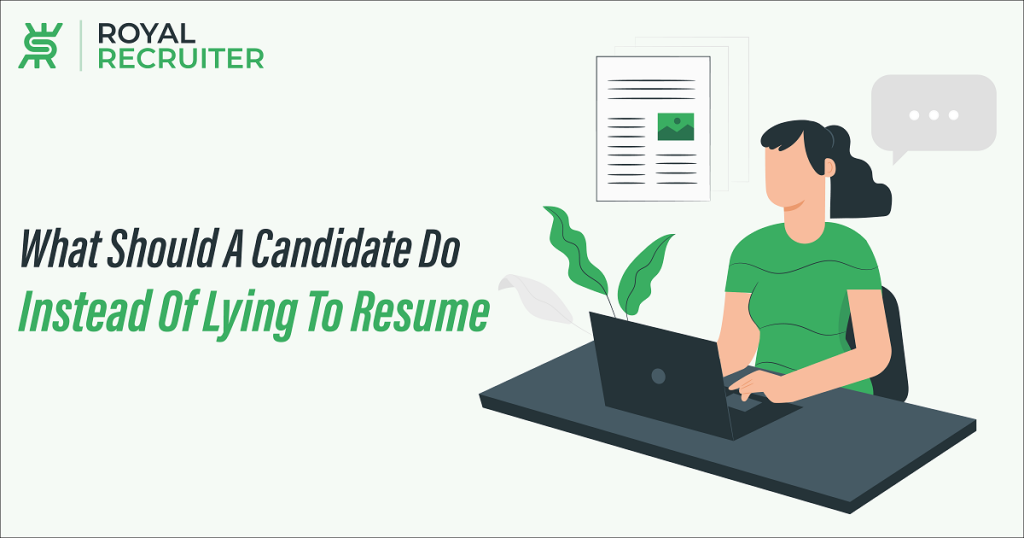 What Should A Candidate Do Instead Of Lying To Resume
Lying on your resume may seem like a quick way to get an interview, but it can backfire in many ways. That's why it's better to take the time to equip yourself with the skills or qualifications you're missing. 
There are many ways to prepare yourself for the skills or qualifications you need for your desired role. Some of them are:
Taking online courses or certifications that are relevant to your industry or role
In this era, there's no need to lie about certifications or educational qualifications because getting certified or educational credentials have become far easier as you can get them only within a short time! 
Volunteering, interning or working on projects that can showcase your abilities and experience.
Most job seekers lie about work experience because they say who'll help you land your first job if you don't have any prior experience? Well, rather than lying, you can get involved with volunteer activities, do an internship, or work on projects; these are also considered work experiences for freshers. 
Developing soft skills such as adaptability, communication, and emotional intelligence that employers value.
Why should you lie about skills when you can develop them within a few weeks (if you're dedicated!)? Take the time to develop or generate new skills; you can take online or offline courses for skills development.
But the best way to develop skills is through doing voluntary work because, in volunteering, you'll get real-time opportunities to apply your skills. 
Top Most Recent jobs near you