Resume Header Examples: How To Create A Resume Header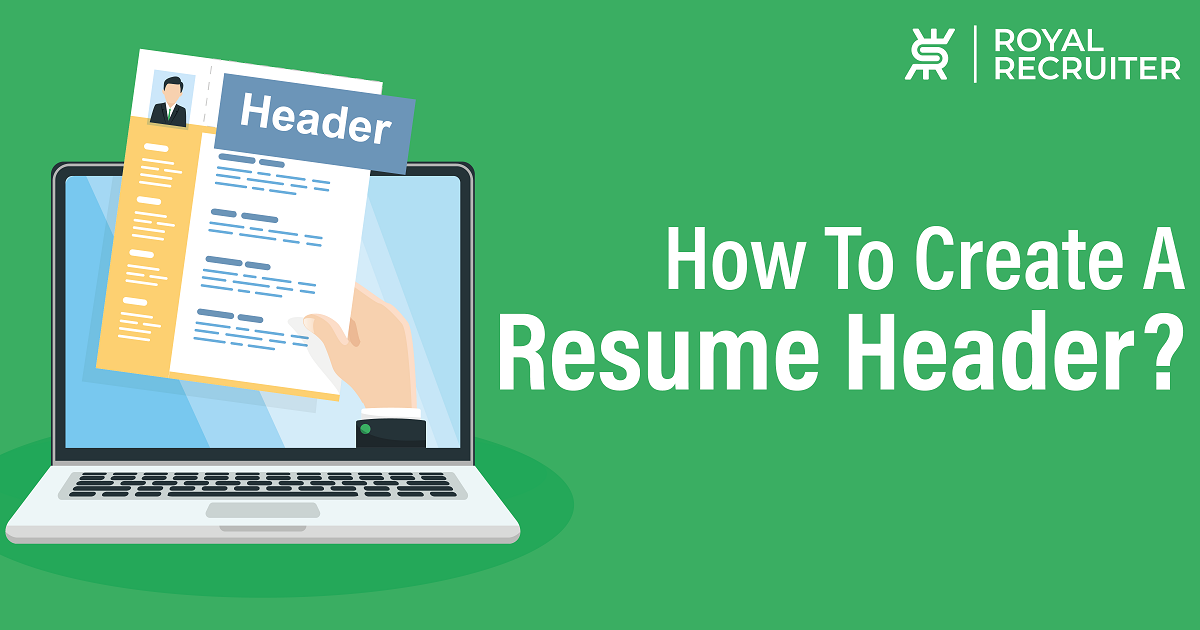 The entire resume is important to job seekers, but the header is of the utmost importance. Let's look at some resume header examples and tips for writing one.
Anyone looking for employment needs a strong resume; one of the most crucial components of a strong resume is the header. The heading of your resume is the first thing recruiters see when they review it, and it is imperative to grab their attention and leave a good first impression with the resume heading.
In this blog post, we'll take a closer look at what makes a good resume header, including examples of creative and effective resume headers and more.
What Is A Resume Header?
A resume header is a section at the top of a document that contains important information about the job seeker, such as their full name, contact details, Summary, objective, and job/professional title or position. It is considered one of the most crucial parts of a resume, as it is the first thing that recruiters and hiring managers will see. 
It serves as an introduction to the candidate and should be designed in a way that makes a strong and positive impression. 
This can be attained by making sure that the information presented is clear, simple to comprehend, and visually appealing. It's important to ensure that the resume header is consistent with the overall style of the resume and that it shows the most relevant information that employers want to see.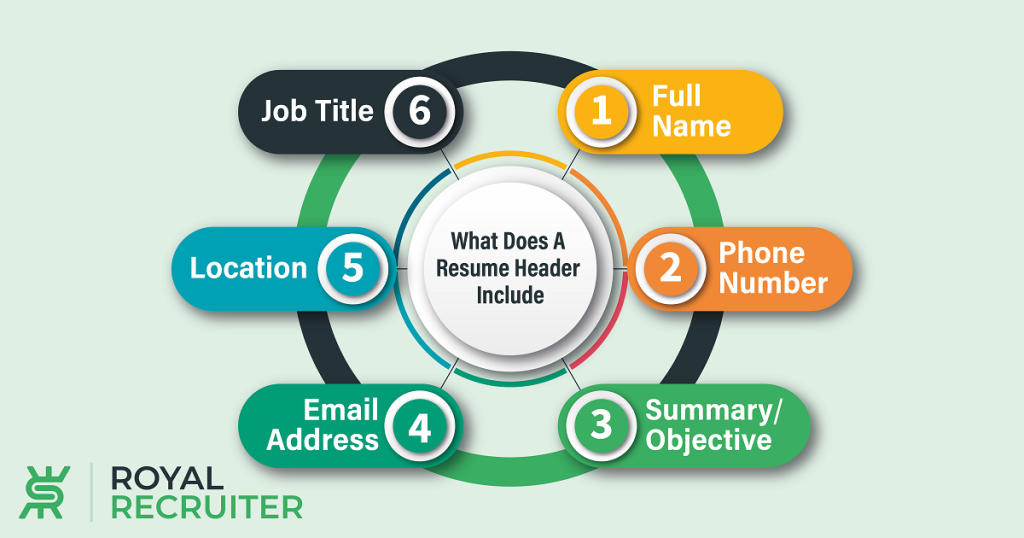 What Does A Resume Header Include
A resume header is the top section of a resume that comprises important information about a job candidate. It should clearly and concisely convey who you are, what you can do, and how to contact you. 
Here are the main elements that a resume header should and must include:
Full name:
This should be your legal name, spelled correctly and in a larger font than the rest of the text. It is important to use your full name to ensure that the hiring manager can identify you correctly.
Phone number:
A professional phone number where you can be reached during business hours. Make sure that the phone number you provide is one that you check or use regularly and is available during business hours. 
Provide your personal phone number, don't add your home or landline number, as you might not be available when the employer calls you.
Resume Summary or Objective:
This brief statement summarizes your qualifications and career goals. While it is optional, it can be a great way to capture a hiring manager's attention and give them a quick rundown of your qualifications. 
Whether you create a resume summary or objective, it should and has to be written in a form that emphasizes your relevant accomplishments, experiences, and talents to make you stand as the top applicant.
Email address:
A professional email address that you check regularly and is active. This is the primary mode of communication for most hiring managers, and it is important to ensure that the email address is professional. 
Don't use awkward and unprofessional email names; create a new email if necessary. 
Location(optional):
This should be your current city and state or your desired location for work. It is important to include your location if hiring managers or job openings require you to do so to know where you are currently located and whether you are willing to relocate.
Otherwise, abstain from adding it.
Job or Professional title:
You should also add a one-line description of your current or most recent job title or the professional title you want to pursue. The title has to be specific and relevant to the job you are applying for.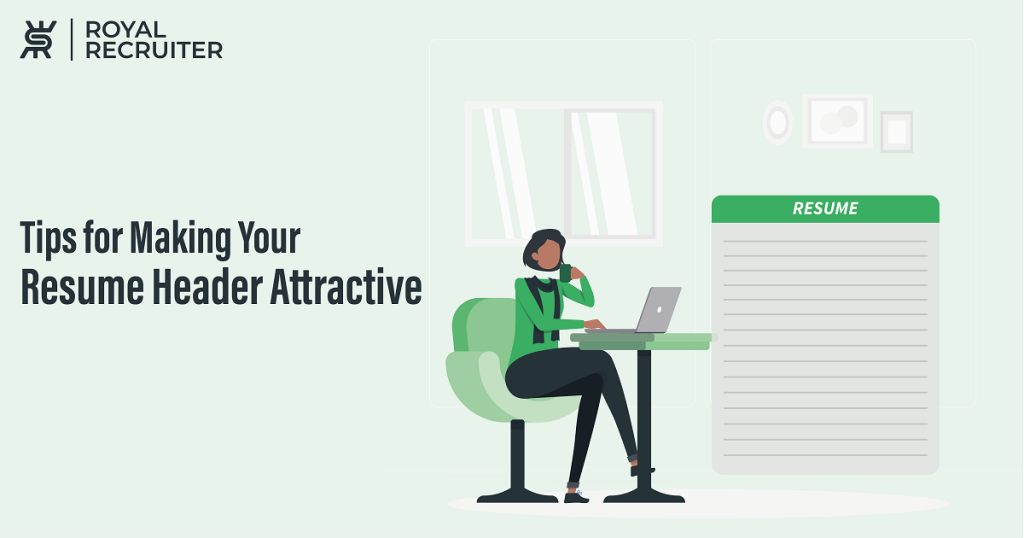 Tips for Making Your Resume Header Attractive
A popular proverb says: "You never get a second chance to make a first impression." And if you want to make a good first impression, you should focus on curating the best and most attractive resume header.
How do you do that? 
Here are some tips for making your resume header attractive and appealing:
Use a clean, modern font that is easy to read. Avoid overly fancy or script fonts, as they can be challenging to read. Instead, use classic, professional fonts like Arial, Calibri, or Times New Roman.
Keep the resume header short and to the point. The header should include only the information we discussed above. Avoid including too much information, as it can make your header look jumbled.
Use bold and/or larger text for your name to draw readers' attention. Your name should be the focal point of your header, so make sure it's easy to spot.
Consider adding a tagline or Summary that highlights your key skills and experience. A tagline or Summary can help provide context for the rest of your resume and give the hiring manager a quick overview. 
Experiment with different color schemes to make the resume header pop. Use color sparingly, but consider using it to make your header more visually interesting.
While adding color, make sure you don't ruin the look by adding a peculiar color. 
To enhance visual interest, use a simple but innovative design feature. To add originality to the header area, consider adding a simple and modest graphic or design element that matches the resume format.
Use action verbs to make the summary section of the header look more engaging and dynamic. Use words like "created," "managed," "developed," or "executed" to describe your skills and experience.
Use the same font and design elements throughout the resume for a cohesive look. Consistency is key when it comes to design, so make sure to use the same font and design elements throughout your resume for a polished, professional look.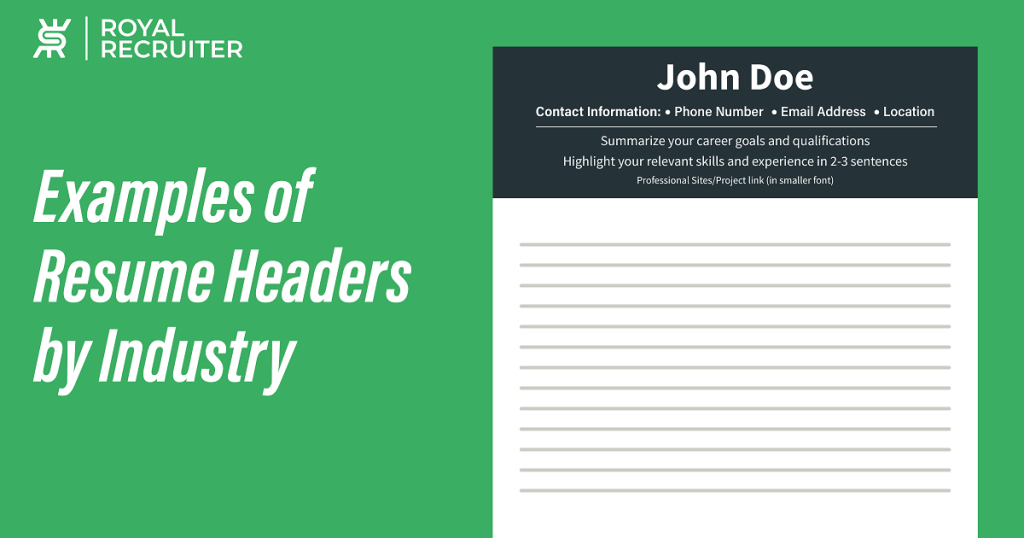 Examples of Resume Headers by Industry
To help you create/write a resume header, here is an example of a skeleton format for a resume header:
Name (in bold and slightly larger font)
Contact Information (in smaller font)
Phone Number
Email Address
Location
Professional Headline (in bold font)
Summarize your career goals and qualifications
Professional Summary (in smaller font)
Highlight your relevant skills and experience in 2-3 sentences
Professional Sites/Project link (in smaller font)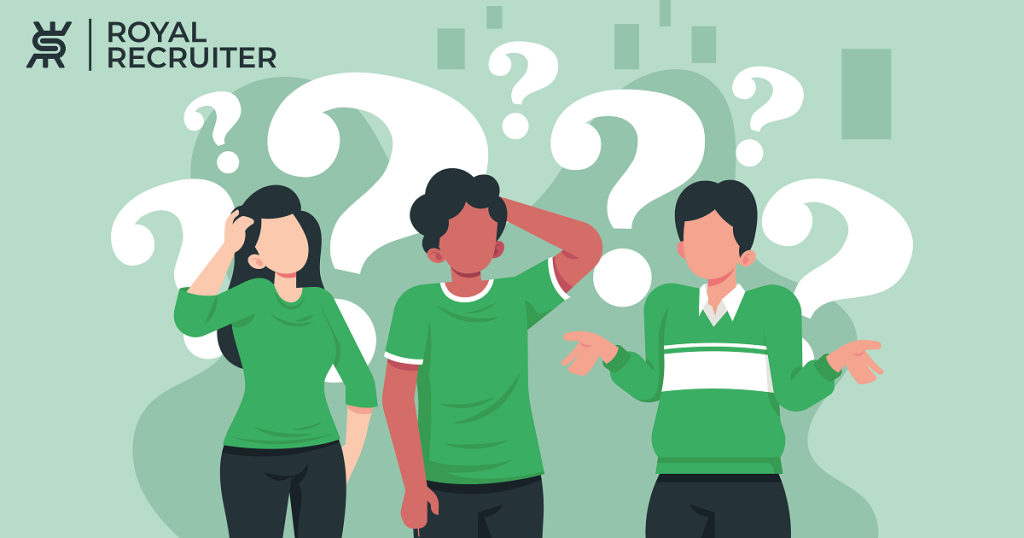 Frequently Asked Questions
Q: Should I add my LinkedIn link in my resume header?
Yes, including a link to your LinkedIn profile in your resume header can be beneficial as it allows recruiters to view your professional online presence and learn more about your experience and skills.
Q: Should I also add my Facebook or Twitter profile on my resume header?
No, adding your personal social media profiles on your resume header is not recommended as they may not be relevant to the job and can give a negative impression to the recruiters.
Q: What other profiles can I add to my resume header?
You can include a link to your professional portfolio, personal website, or Github profile in your resume header. These links can showcase your work and give recruiters a better understanding of your skills and experience.
Q: Should I put my address on my resume header?
Including your full physical address on your resume header is not necessary, but it can be helpful to include your city and state to give the hiring manager an idea of your location.
Q: Should I include a photograph on my resume header?
Including your photograph on your resume header is not recommended unless you're asked. In some cases, it could be considered inappropriate. Also, images are not ATS-friendly
Q: How many email addresses and phone numbers should I include in the header of my resume?
It is best to include only one primary email address and one primary phone number in the header of your resume. This will make it easier for potential employers to contact you and reduce the chance of confusion or errors.
Additionally, using only one email address and phone number will help to ensure that you receive all correspondence from potential employers in one place.
Visit "How To Build A Resume" for a complete resume-building guide to land your dream job.
Top Most Recent jobs near you