Best Time Management Courses Online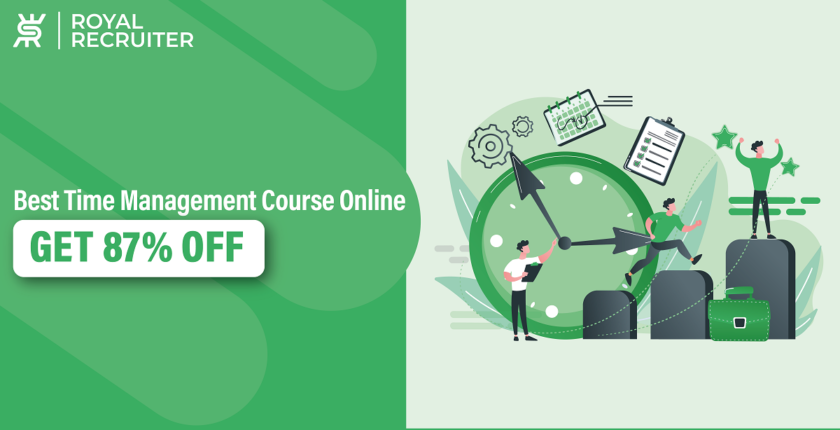 The best time management courses online for you to become good at time management. It's an essential skill for career advancement and needed in all industry
Whether you work in blue-collar or white-collar jobs, time management skill is mandatory, regardless of your employment type and professional. Why is time management skill necessary? This skill allows you to finish your assigned tasks within the deadline by allocating and planning them properly. 
There are also other proven benefits of being punctual, such as less stress in the workplace and improved productivity. 
To have a good grasp of time management, our expert recruiters have listed some of the best time management online courses. Let's see what those courses offer. 
Who Should Partake In These Courses?
These time management courses are best for freshers preparing themselves for jobs, professionals trying to sharpen their time management skills or normal individuals who want to master time management. 
Is It Mandatory To Be Good At Time Management?
Yes, in today's business environment, time management is a key skill; yet, you may find a job without being adept at time management, but you won't be able to last long in your position because a lot of issues arise as a result of poor time management.
Are Online Time Management Courses as good as Offline Courses?
People often complain that online courses are not as good or as effective as offline ones. We don't dispute the assertion, but the courses featured in this post are the best, and thousands of students have benefited from them.
Additionally, our recruiters have reviewed these courses' topics to ensure our readers spend their money on something worthwhile. 
Benefits Of Online Time Management Courses
Attending time management workshops or courses online or offline can be troublesome for job applicants and professionals. The main benefit of these courses is that all of these courses are short and pre-recorded. You can learn from anywhere and at your desired learning pace.
Best time management courses online: 
1. Productivity and Time Management for the Overwhelmed
Are you always overwhelmed with loads of tasks but can't find any solution to how you can manage the tasks and time simultaneously? If yes, then this course is designed for people like you. 
What You'll Get From This course?
In this course, the instructor has covered a range of topics related to time management and productivity. You'll know about:
What are the factors that reduce productivity
What are the silent killers of productivity
Time and self-management 
Importance of planning in time management and productivity 
Difference between spending time and investing time
How sleep and willpower impact your productivity and time management
Master your mood, energy, and emotion. 
Usage of dead time
Tips Enhance Your Productivity
How to use a to-do list
Course Detail
This course has four sections and 32 lectures lasting two hours; each section ends with quizzes and resources in PDF format to exercise. 
Course Overview
The instructor of this course is Josh Paulsen, a productivity and goals coach. More than 150,000 students took this course, and 53,909 rated it 4.5-star out of 5.
Course Cost
The regular price of this course is $74.99, with discount you can get it for only $11.99.
2. Time Management Mastery: Do More, Stress Less
If you're looking for an updated course with more lectures on how to increase productivity, time management, and focus, you can consider enrolling in this course. Also, this course is NASBA CPE accredited.  
What You'll Get From This course?
Common problems in productivity
How to find problems that are affecting your productivity 
Know about yourself
What type of person are you
Task management
Task prioritization
How to tackle emergencies
How to save time and reduce stress by planning
Create goals and plans
Daily and weekly planning tips
Tricks to minimalize your 
Pomodoro Technique and brainstorming for time management
Give yourself breaks and rewards 
Course Detail
This course is also two hours long and has eight sections and 45 lectures, seven of which have quizzes and a CPE-qualifying assessment with twelve questions.
Course Overview
86,778 people bought this course, and 34,5000 students rated with 4.5-stars. 
Course Cost
Mainly this course is $84.99. During sales, you can get it for $9.99.
3. Smart Tips: Time Management & Productivity
This course will be a great choice to learn about time management and productivity because the instructor added numerous tips and topics that are meant to brush up your time management and productivity skills.  
What You'll Get From This course?
Differentiate between urgent and emergency
How to focus on reaching goals 
Tips to bring down life crisis 
Handle unimportant responsibilities effectively
When to say yes and when to no
Find out the disturbances that are damaging your time management and productivity and how to deal with them 
How to make meetings effective, deal with people who come late to meetings, 
Tips to start and Avoid going to meetings
How to get rid of procrastination
Benefits of listing and how it can help manage stress
Why do you need a diary and what to do with it
Save time by managing repeated tasks
Emails and technologies to escalate your productivity and time management skills
What is a productive workplace, and how to create one
Course Detail
This course is almost three hours long, with thirteen sections with 67 lectures. 
Course Overview
More than 24,000 students purchased this course, of which 7,684 gave it a 4.6-star rating. 
Course Cost
Currently, you can get this course for only $9.99 because of the ongoing sale. And the original price is $84,99. 
4. Time and Task Management: Time Management Techniques
A short and straightforward course with abundant time and task management information. You should buy this course if you're looking for a short and detailed time management course. 
What You'll Get From This course?
How to manage time by scheduling 
How activities affect time management. 
Manage your daily constraints
Self-discipline and governance
Different types of time management techniques like 1-3-5, Pomodoro, and Pareto's Principle. 
Reduce your nonproductive activities
Time budgeting
How to make every meeting fruitful 
Can you really be a multitasker?
Parkinson's Law
Estimate time before every task
What you can control
Course Detail
This course has only four sections and 27 lectures and is two hours long. 
Course Overview
As of now, 27,000 students have taken this course and 4.6-star from 8,964 ratings
Course Cost
On sale, you can get it for $13.99; the original cost is $49.99.