Best Professional Receptionist Course online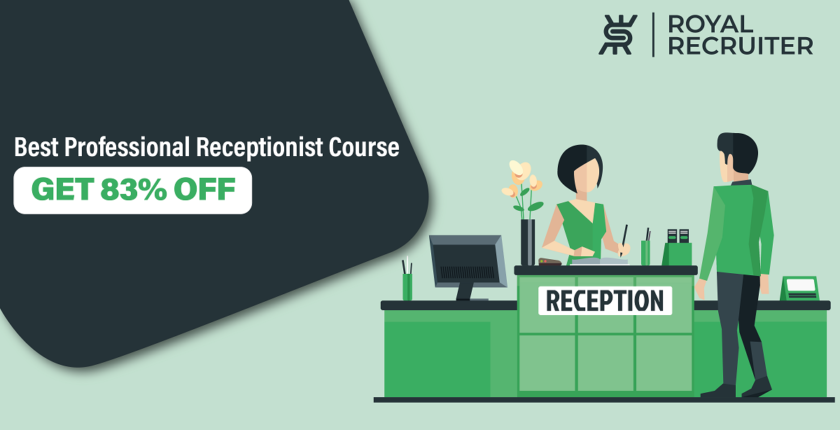 Interested in becoming a receptionist? This best Professional Receptionist Course online will help you secure a job as a receptionist in various work settings.
Currently, being a receptionist is a promising career. Receptionist jobs are increasing because of the demand for these professionals in a variety of workplaces, such as corporate offices, hotels, motels, and medical facilities.
Why is receptionist a lucrative career? Because jobs are handy and people can earn more than $40,000 a year even with entry-level roles with no experience. But the responsibilities of a receptionist are a bit challenging as they need to do many things like receive phone calls, check/send emails, and appoint meetings 
To perform the duties, job seekers are required to have some skills. And in this course, you'll learn about all the necessary skills of a receptionist, which will help you to get familiar with the duties and perform well regardless of where you work. 
Why Take Online Receptionist Course?
There are a few benefits of enrolling in this online receptionist course. Firstly, in offline courses, you'll have to spend between $500 and $1000 to know the exact topics this course has covered. 
Secondly, this course doesn't have any redundant topics. You'll only learn about the skills and traits that a receptionist should have. 
Finally, the course instructor was a receptionist and an expert in coaching about becoming a good receptionist. So, you can expect to learn the best out of this course. 
Who Is This Course For?
This course will be the best pick for those who are intrigued about having a career as a receptionist. The outline of this course is suitable for freshers or anyone planning to switch career paths. Also, professionals who are already on this track but are willing to improve certain skills will find this course helpful. 
What To Do After Taking This Course?
Taking this course means you're preparing yourself for reception jobs. After completing this course, you can use job search sites like the royal recruiter to get hired as a receptionist. 
Does This Course Offer A Certificate?
Yes, upon completing this course, you'll get a course completion certificate, which you can add to your LinkedIn profile or resume. Additionally, this certification will let the employers know your interest in the position. 
What To Expect From This Course?
Learn more about receptionist and their daily tasks
How to improve posture, impressions, and appearance 
How you should deliver speeches while talking with clients
Why does pitch, voice inflection tone matter for a receptionist, and how to master them 
Telephone etiquettes
How to handle phone calls professionally
Tips for approaching customers 
How to take notes and messages appropriately 
Learn to manage switchboard and voice message systems
How to greet and receive regular and highly valued clients 
Increase your attention and listening 
Complain management
Tricks to control your professional attitude
Managing different types of callers like angry, talkative, passive, and assertive. 
How to manage conversations effectively
Learn how to start and end a phone conversation
Prepare for interviews by practicing some common interview questions
Course Detail
This course duration is 2h 13m. It has nine sections, 62 lectures, 12 articles, 27 downloadable resources, and quizzes on each topic. 
Course Overview
This is a new and updated course on Udemy with 312 students and a 4.8-star from 118 ratings.
Course Cost
The current cost of this course is $9.99 with an 83% Discount. But without a discount, you'll have to pay $59.9.