Best Teamwork course online 2022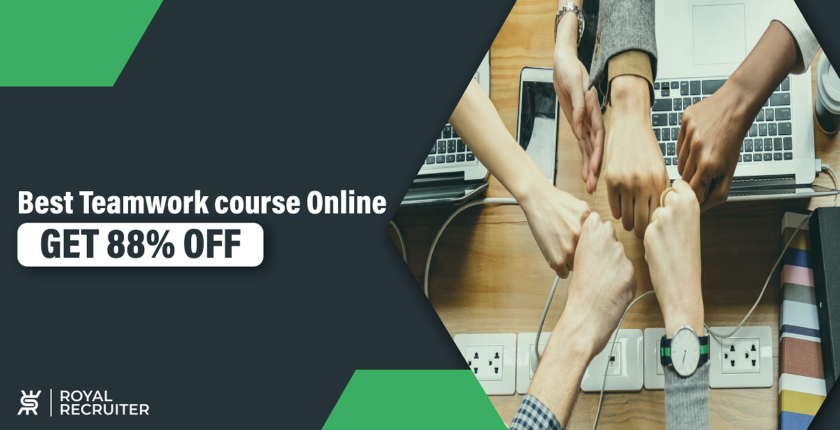 Teamwork is an essential part of all work settings. Learn how to do good at teamwork with the Best Teamwork course online in 2022. Online and learners-friendly
Nowadays, teamwork has become a common scenario in work settings as teamwork makes it easy to complete tasks and saves working hours for companies and employees. 
To work in a team, you should know some tips and have the skill and mindset to be a team player. This teamwork course is for you if you're looking for an online course to improve your teamwork skill. 
What Is Teamwork?
Teamwork is a method when more than two people in an organization have the same goal; they or their company form a team that helps them to reach their goal efficiently with each other's help.
Why Is Teamwork Necessary?
Companies require their employees to work in a team because there are many tangible benefits of teamwork, one of which is better outcomes. Also, finding the perfect solution may take a few days if you face any problem while working alone.
In contrast, when working with a team, members can come up with an array of solutions in no time, which reduces unproductive time and helps to achieve goals faster. 
Is It Mandatory To Do Teamwork?
It entirely depends on companies and their management. You will find many companies where you might not need to do teamwork. However, according to our findings, almost all industries require teamwork. 
Who Should Take This Course?
This course is tailored for employees and team leaders who are willing to learn about what it takes to become good at teamwork, how to lead a team, and tricks that can help create a team. 
Can I Improve My Teamwork Ability After Taking This Course?
You can definitely improve your performance and that of your teams by implementing the tips you'll learn from this course. It won't happen overnight, so don't expect results right away.
What To Expect From This Course?
Advantages of doing teamwork
How to create a team
How do people work in a team
Challenges of working in a team and how to overcome those
How select people for a team and lead them
What makes team meetings productive, and how to organize them
What other industries follow for collaboration
How to improve online collaboration & team combination 
How to create a collaboration practice in the company
Course Detail
This is a brief course that will take only 48 minutes to complete. There are five sections and 17 lectures. 
Course Overview
A total of 48,483 students have purchased this course, and 18,839 rated this course 4.4-star.
Course Cost 
On sale, you can get it for $9.99. However, the main cost of this course is $84.99,