Best Online Course For Customer Service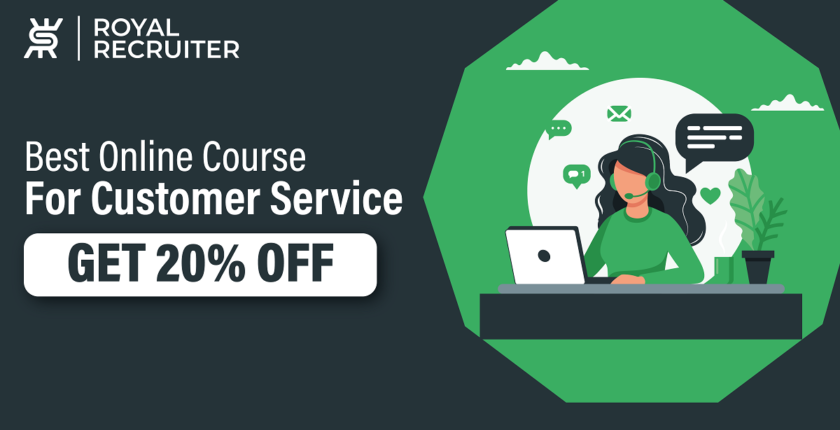 Best online course for Customer Service to get a better grasp of customer service, understand the customer, and become a good customer service representative
In 2022, the success of every business, from small scale to large, relies on customers. Companies hire customer service representatives to provide customers with the best services.
Right now, there is a huge demand for customer service. This will be the best online customer service course for you if you want a customer service job. 
What To Expect From This Course?
This course teaches everything you need to know to land a customer service position. Topics covered in this course: 
What are the skills of a customer service worker
What are the attributes of a customer service
How to become good at customer service
How to plan your day effectively & why planning is necessary
Importance of looking good both in office and remote customer service jobs
Why and how does body language matter when talking over the phone
How to handle customers 
Why listening is essential
How to find out problems by asking
Find out solutions online
How to tackle customers if they're in a bad mood
What you'll need to be an expert
Course Detail
It is one of the shortest courses online to boost your customer service job prospect. This is a 40-minute course with five sections and 22 lectures.
Course Overview
Nearly 53,000 students enrolled in this course, and it has a rating of 4.5-star from 19,500 reviews.
Course Cost
This course is also budget-friendly. You can get it by paying $19,99 or $13.99 or less with discount. 
What Does A Customer Service Representative Do?
A customer service representative's duties depend on which industry they work in. For example, the responsibilities of customer service reps in law agencies are not the same as those of customer service reps in consumer service. 
Even in a particular industry, the responsibilities can vary, so the only way to know about your duties is through the job description. 
A few responsibilities of customer service representatives in all industries are:
Answering phone calls
Setting appointments
Solving clients problems
Place orders
Getting feedback from customers
Logging customers complaints
Why Should You Do This Course?
The customer service representative position is customer-oriented, where the main goal is to provide the best services to the customers. Additionally, the working environment of a customer service representative is fast-paced. 
If you're looking for jobs in customer service positions and want to prepare for the best, then you should buy this course.  
Is This Course Freshers Friendly?
Yes, this course's entire topic is for freshers or anyone interested in having a career in customer service. And you won't have any trouble even if you know nothing about this role. 
Where Does A Customer Service Rep Work?
In terms of work, customer service reps' jobs are available in all industries and are not limited to any particular field. 
Some industries where most customer service rep works are:
Retail trade
Insurance 
Banks
Telecommunication
 Use our job search tool to get a customer service job near you. 
Will Customer Service Be A Good Career?
Absolutely, this career path will be a great choice to start a career. The duties and skills you'll from this industry is sought in all sector. 
Can I Get A Job By Doing This Course?
There are no courses out there that can give you a job guarantee, but by taking this course, you'll learn the necessary knowledge and information to help you do well in interviews and carry out job duties.