Best Listening Skill Course Online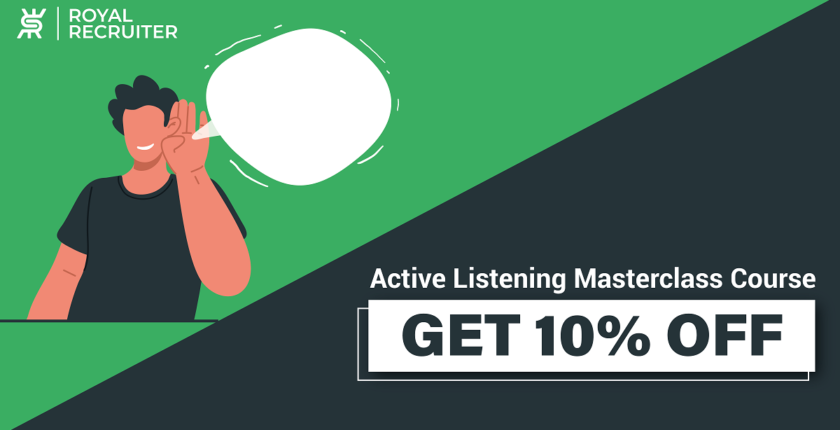 Workers in every industry need to have great listening skills. This is the Best Listening Skill Course Online to improve your listening.
Almost in all job openings, employers want candidates to have listening skills. Why? Because listening is one of the vital skills that benefit professionals and employers in a range of ways.  
However, being an active listener isn't easy; you have to be patient and know the tricks that'll make you an active listener. Because the word "Active listener" is not just about listening, it's even broader. 
If you're struggling with your listening skill, want to enhance, or know how to become an active listener, this course will be the best. 
Why it's important to be an active listener
There are many reasons why being an active listener is essential, no matter where you work. Let's see a few of them: 
Understand clients and co-workers need
To ensure you're paying attention (in meetings and while talking) 
Build trust, understand emotion and show respect to the speaker
Reduce conflicts and misunderstanding
People feel comfortable talking with you
Be more knowledgeable 
Overall, active listening skills will help you become a good employee or leader as it makes you more approachable. 
Who Should Purchase This Course
The course was composed to help people improve their listening skills and can be bought by anyone interested in being an active listener or enhancing listening skills. 
What To Expect From This Course?
This course has what you'll need to be an active listener, especially you can master and know the four key points required to become an active listener. 
Learn about the four elements: Ears, Eyes, Heart and Focus
What are the best practices for listening
How and where to look for breaks and what are your pitfalls
Why summarizing conversations is important
How to use your eyes while listening & why eye contact matters
Significance of heart to show reaction/micro-reaction and emotion
Why it's necessary to ask questions and share your opinion while listening
Why and what do you need to focus on 
Course Detail
This course has seven sections and 14 lectures, and the whole course was covered in 31 minutes.
Course Overview
Approximately 42,000 people bought this course. Has an average rating of 4.5-stars from 14,941 reviews. 
Course Cost
This course will cost you $19.99. To get this course with 25% off, press the "Buy this course" button below.
Is This Course Enough To Improve My Listening Skill?
Definitely, this course will teach you the major elements needed to be an active listener and how to use them. If you follow the guidance given in each video, then this course is enough to boost your listening skill. 
How To Get The Best Out Of This Course?
The best way to get hold of something is to implement it while learning; this course won't benefit you if you go through the lectures without practicing and execution. 
To get the best from this course, practice right after you finish the lectures in your workplace with friends and family members.