Best Online Sales Skill Course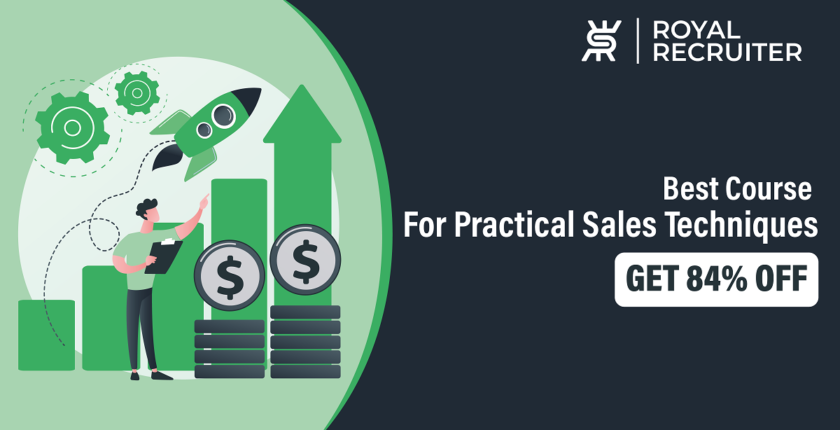 Master sales skills with the best online sales skill course as Sales is a skill that allows you to sell anything to a particular customer in various means
Sales is a challenging and rewarding skill of a professional, as it isn't something we're born with; sales skills can only be developed by knowing the correct techniques and methods, 
This is the best online sales training course to hone sales skills for anyone serious about pursuing a career in sales. This course has wrapped all the necessary information about sales skills in it. 
What Is Sales Skill?
The skill that helps you convince the customer/clients to purchase or opt-in for your company's product or service is known as sales skill. 
However, sales skills aren't limited to selling goods or services; now, the sales process has become more comprehensive since you have to understand your clients, support them, know their issues, and build a relationship with them. 
Which Industry Require Sales Skill?
More or less, every industry requires sales skills because most companies have their designated department for selling products or services, and if you're planning or already working in this department, then sales is a much-needed skill.
But, there are some job roles and industries where sales is an essential skill. A few of those industries and roles are:
Customer service
Real estate 
Industrial Sales
Technology/ software sales
Auto Sales
Retail sales
Construction Sales
Pharmaceutical Sales 
What To Expect From This Course?
To increase your agility in sales skills, you have to know the proper methods, and this course is brimful with tricks from planning to rapport building to selling. 
Topics of this course are:
What is the tightrope in sales
The necessary & how to follow the steps of the tightrope
Old & new processes of selling
Steps to build connections with customers.
Appearance and body language aspects
How to make someone feel important
How to be a good listener
Funnel Questions & techniques
Four types of people: Analytical, Amiable, controller and enthusiast 
How does the delight factor impact your relationship with customers
How to identify and build customer need
How to describe features and benefits of products or services as per customer need
Learn handling objections and some common objections 
Close deal with the best closing lines and by keeping things under your control
Seven efficiency points & sales measurements
Benefits Of Having Sales Skills
The advantages of having excellent sales skills are endless. And a skilled sales professional is considered an asset because they can persuade customers to buy goods, expert at customer retention, and turn ordinary customers into loyal ones. 
Additionally, you can get promoted to higher roles and increase your salary if you've got the sales skills.
Course Detail
In 31 lectures, there are two hours of video content in this course, 11 downloadable resources, and quizzes. Also, you'll get a certificate after completing the course. 
Course Overview & Cost 
This course has more than 63,460 students with a rating of 4.6 out of 5 from 19,762. The price of this course is $84.99; click the button below to get 84% off