how much do chefs make? Is The Career Of A Chef Worth It?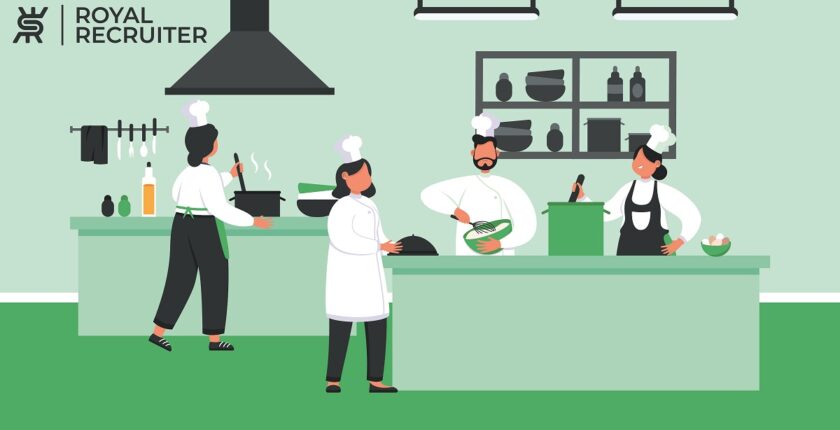 how much do chefs make? Being a chef is a great choice for those who love to cook, explore the world and make $65,000 a year. Is being a chef worth it?
The cooking sector is one of the leading and expanding industries in the United States and all over the world. Anyone can embark on this career path with less qualification and can mount to higher positions where they can earn at least Six Figures annually!
Also, as a chef, you'll have the freedom to select your employer and work environment based on your preference. And the most noteworthy thing about being a chef is that you can set up your own restaurant or cooking businesses!   
If you're considering putting your footstep on the career path of a chef but are muddled about questions like, "Is the career of a chef worth it?", "How much do chefs make" and "What is the future of this career path" then go nowhere. We've arranged this article to answer all the things you need to know about the career path of a chef.
Who Is A Chef And What Does A Chef Do?
A chef is someone who handles the daily execution of cooking and everything related to cooking in restaurants. Chefs work under the supervision of the executive and head chef. 
So what does a chef need to do in the kitchen every day, and what includes in their duties? 
Chefs start their duty by confirming that the restaurant's inventory is enough to prepare meals and give listings of necessary commodities to the respected authority.
As a chef, you'll also have to receive goods from vendors and verify the products with purchasing orders.
The main responsibility of a chef is cooking, though most of the time, they just prepare the meal and cooking processes, and the junior chef or line cook does the rest. 
Based on the customer's needs and the restaurant, the chef introduces new food recipes and alters the current menu if necessary. Because the food trends change frequently, they'll lose customers if a restaurant fails to keep them with the trends. 
Maintaining Kitchen Staff
Chefs are liable for providing work outlines to junior chefs and line cooks. A chef constantly checks the quality of the foods that are being cooked and instructs to cook the best quality food, as they (junior chefs and line cooks) do most of the cooking. 
It doesn't matter where you work; every kitchen environment stays busy all the time; accidents can happen if anyone is a little whimsical. That's why a chef needs to keep an eye out to ensure everyone follows safety standards to avoid any work hazards.
Most of the time, restaurants and hotels recruit fresh cooks with little cooking experience, and chefs need to coach them, which lets the new cooks adjust to their workplace easily. However, all chefs don't need to teach; it depends on the employer's requirement. 
Where Does A Chef Work?
As a chef, you can work in many sectors that you can't even imagine, which is what makes this career path adventurous. A chef can work up high in the sky, surface, water, and even under the sea! Hard to believe? Let's figure out the feasible workplace for a chef:
Most chefs choose to work in restaurants because it's easier to get a job in a restaurant, as there are more than a million restaurants in the United States alone. 
Another popular work destination of chefs is hotels and resorts; working in these industries is a bit challenging, and only chefs with multi-cuisine experience are likely to get hired. 
If you want to work offshore and travel while on the job, you have the option! You can serve as a chef and travel around the world working on a cruise ship.
Working in the aviation industry will allow you to cook up in the sky! And another notable benefit of working in the aviation industry is you'll be able to work in stunning work settings in private and public airlines.  
How To Become A Chef?
There's a concept that those who love to cook or have good cooking hands are only eligible to become chefs. This is the concept of the past; thanks to the culinary schools and other courses, now you can become a chef within six to two years! 
Below, we've mentioned the process of landing a job as a chef. 
General Education: To move further in the career path of a chef, you first have to complete your secondary school; it can be a diploma or equivalent. 
Culinary Education: The next step depends on you, whether you want to do a short course or long, for instance, if you want to learn about a particular cuisine or cuisines that are famous in your country, then you can do a diploma or culinary course that will take six months to one year. 
And if you want to learn about cooking styles and methods from different parts of the world, known as "Multi-cuisine." It will take two to four years, depending on the type of diploma or degree. 
Moreover, as multi-cuisine chefs mainly work in high-end restaurants and hotels, employers prefer chefs with culinary degrees.
Certification: Certificates are not mandatory to work as a chef, but having one or a few will add value to your resume and boost employment prospects. To find out the best certification for you, visit the American Culinary Federation website.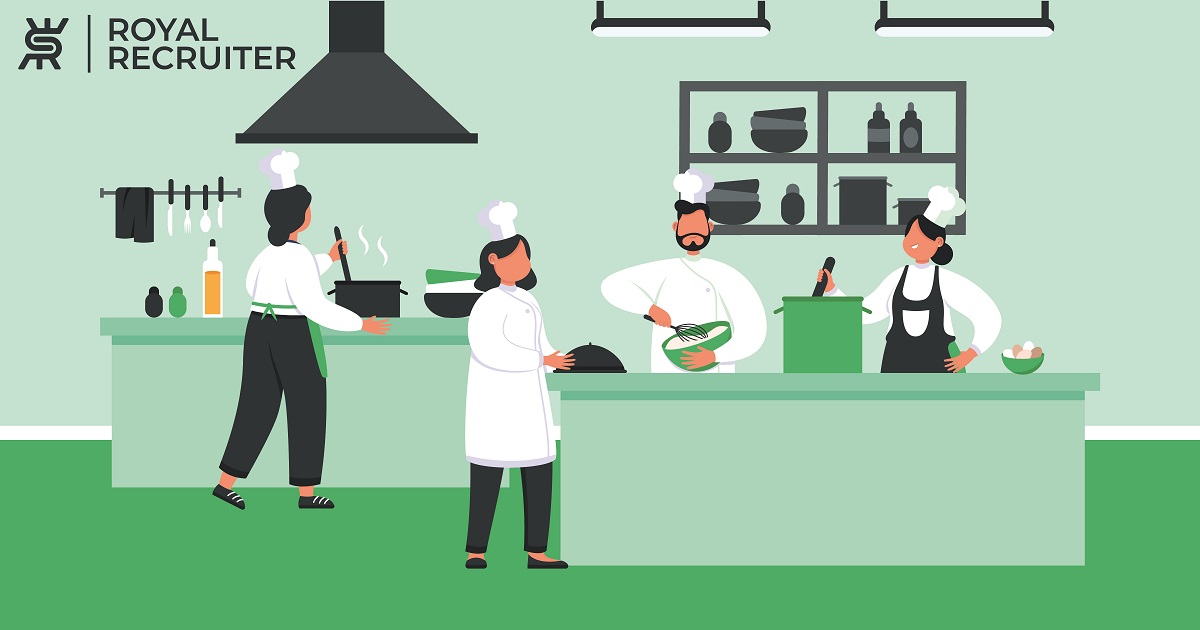 How Much Do The Chefs Make?
A chef's salary depends on various things, especially on the job location and the industry you're or will work in. Also, the experience will have a good impact on your earnings. 
Newly graduated chefs with less than one year of working experience make an average of $34,000 to $44,000 yearly, 
The median salary of chefs in the United States ranges from $53,000 to $65,000; A large percentage of the chefs get this amount. 
So, which industry pays the highest to the chef? The answer is complicated because every chef, regardless of the industry they're working in, earns a good salary, but experience chefs who work in five-star hotels, resorts, and the aviation industry earn the highest.
In these sectors, chefs can make between $70,000 to $90,000, and for highly skilled chefs, it goes over $100,000 a year. 
To get hired fast and see the newest job opportunities from the best employers, visit our website, Royal Recruiter. You can apply by yourself, or if you need assistance, we have expert recruiting agents who can help find you the best job.