How Much Do Amazon Delivery Drivers Make?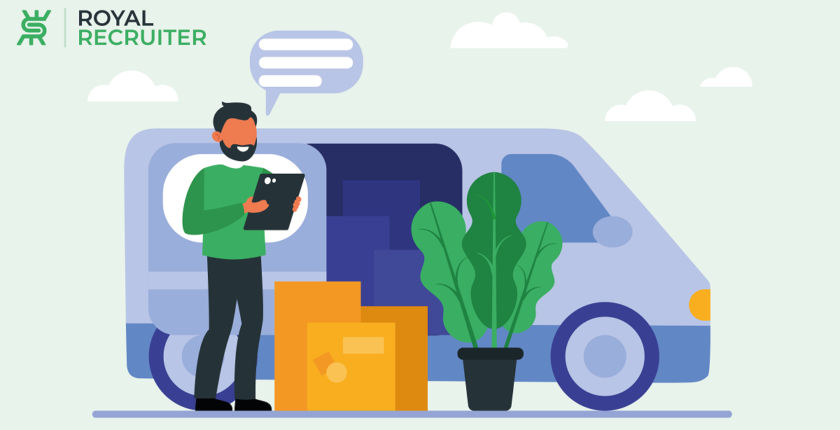 Amazon delivery drivers are now making an average annual salary between $33,000 to $45,000. Let's learn more about how much do amazon delivery drivers make
Amazon delivery drivers make an average of $44,000 annually as of 2023. And the hourly salary of amazon delivery drivers in the United States is between $16 to $20. 
Being a delivery driver at amazon is unquestionably a great choice for drivers. Amazon delivery drivers' career is full of personal and professional benefits. 
Let's discover how much do amazon delivery drivers make, what it takes to become a delivery driver at amazon, etc. 
Who Are Amazon Delivery Drivers, And What Do They Do?
Drivers who drive amazon branded vans/vehicles for Delivery Service Partners (DSPs) are called amazon delivery drivers. These delivery service partners help amazon delivery stations and fulfillment centers deliver packages to customers. 
The duties of amazon delivery drivers are simple. They are responsible for:
Loading and unloading packages. 

Deliver packages to customers' homes and retail stores. 

Recording delivered and received package data. 

Calling customers to ensure they're available to receive packages. (only for For scheduled and signature deliveries)

Completing delivery routes on time. 

Reporting unreceived packages to warehouse or delivery center associates.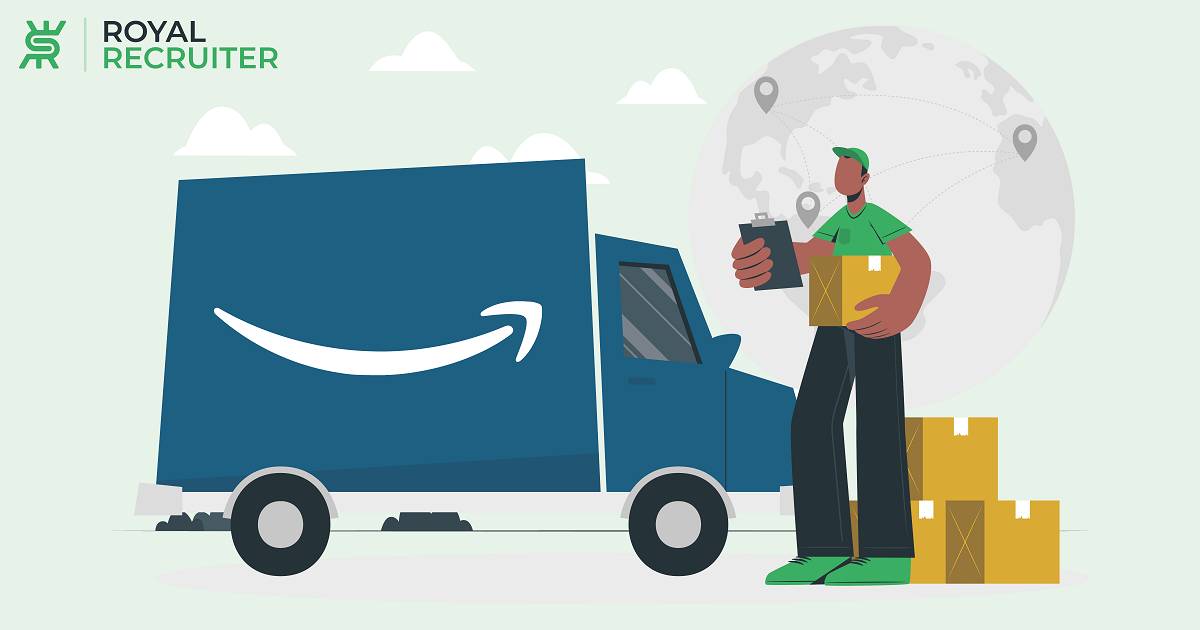 How Much Do Amazon Delivery Drivers Make?
Amazon delivery drivers now earn an average yearly salary between $33,000 and $47,000, which is equivalent to $15 to $22.50 an hour. However, the earnings of amazon delivery drivers also depend on factors such as the size and location of Delivery Service Partners. 
Some of the highest-paying states for amazon delivery drivers are: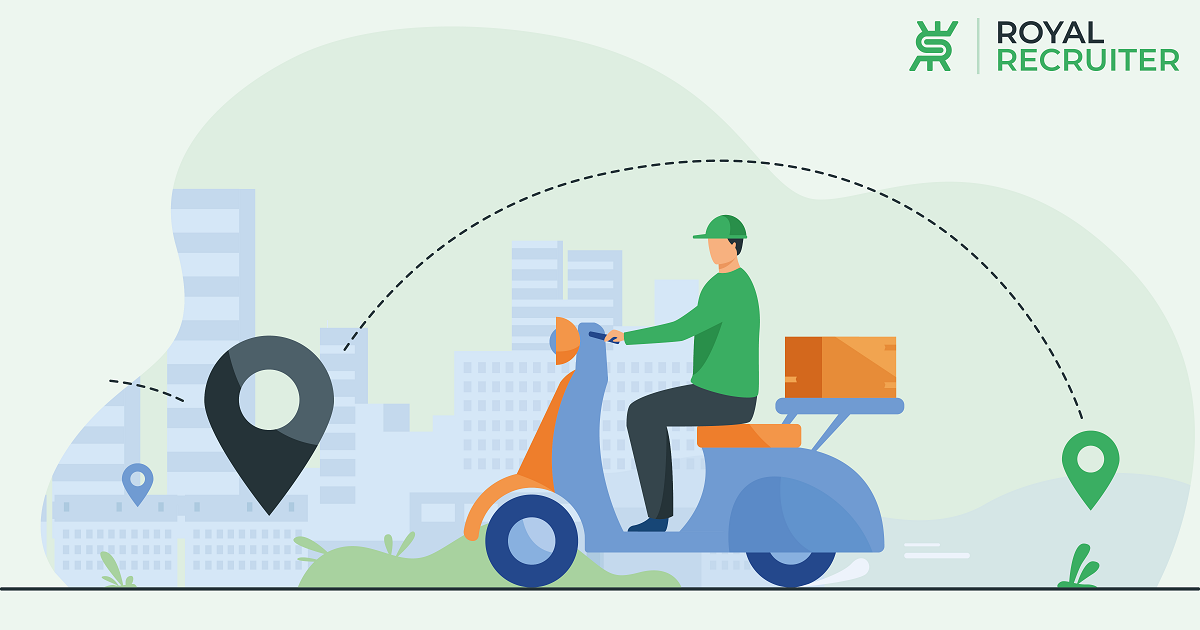 How To Start Your Career As A Delivery Driver At Amazon?
You'll have two options to become a delivery driver at amazon. You can work for amazon Delivery Service Partners (DSPs) and use amazon flex.
Let's see how these two programs work. 
Amazon Delivery Service Partners (DSPs)
Delivery service partners are local independent transportation owners who operate amazon branded vans to deliver packages to customers and other facilities. The main benefit of working for amazon delivery service partners is that you won't need to own any vehicles or worry about vehicle maintenance. 
Amazon flex is for vehicle owners. With amazon flex, vehicle owners can use their vehicles to deliver packages to their communities or specific areas. In amazon flex, you can work both part-time and full-time. 
Amazon flex delivery drivers aren't amazon employees. They are independent contractors or self-employed. 
Now, which employment to choose? The choice is up to you, but if you don't want to take the hassle of vehicle maintenance and get employee benefits, then working for amazon delivery service partners is the best bet. 
On the other hand, if you're looking for a part-time job or side hustle where you can use your vehicle to earn a good amount of money, you can go for amazon flex.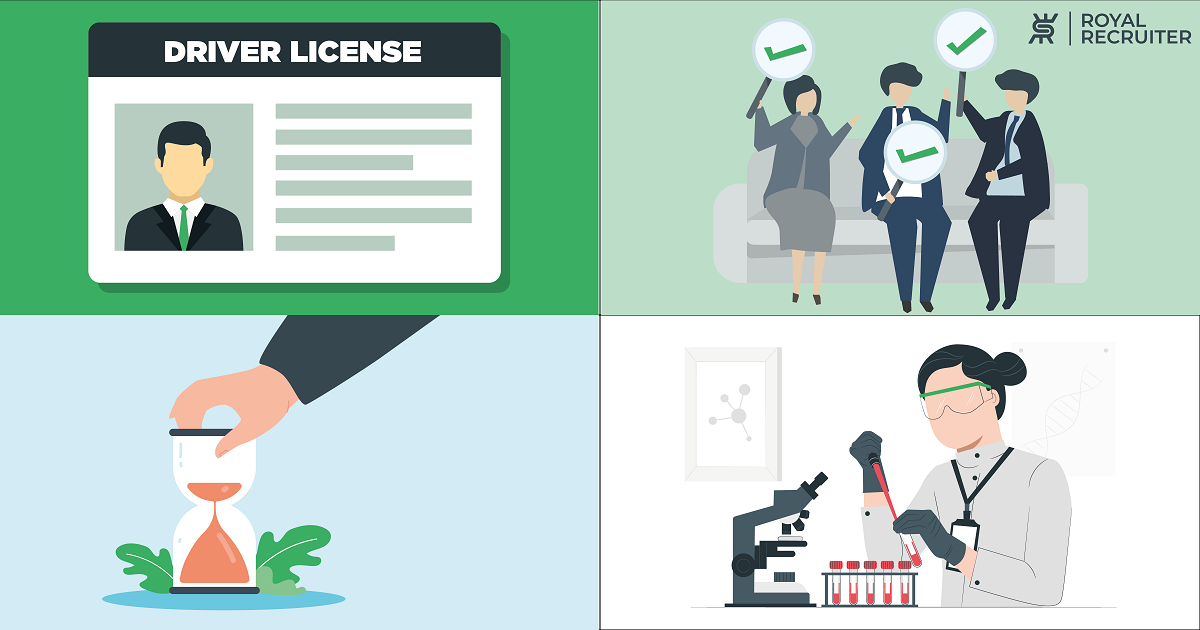 Job Requirements For Amazon Delivery Drivers
In order to work as a delivery driver at amazon, you just need to have only a handful of qualifications. Such as :
You can get a job with your ordinary or regular driving license. But the only restriction is that it must be valid and free of notable traffic violations. 
Each employer has its own background check policy. Some may ask for it, and some may not. But it's always a good decision to have a background check report because it'll help the employer know about your traffic violation, driving, and criminal history, which could reduce your job waiting and screening time. 
Whether you drive for amazon delivery service partners or amazon flex, you need to be 21 years old. 
A drug test is also required by some employers in order to ensure the candidates aren't addicted to any type of drug. This enables them to operate in a safe driving environment.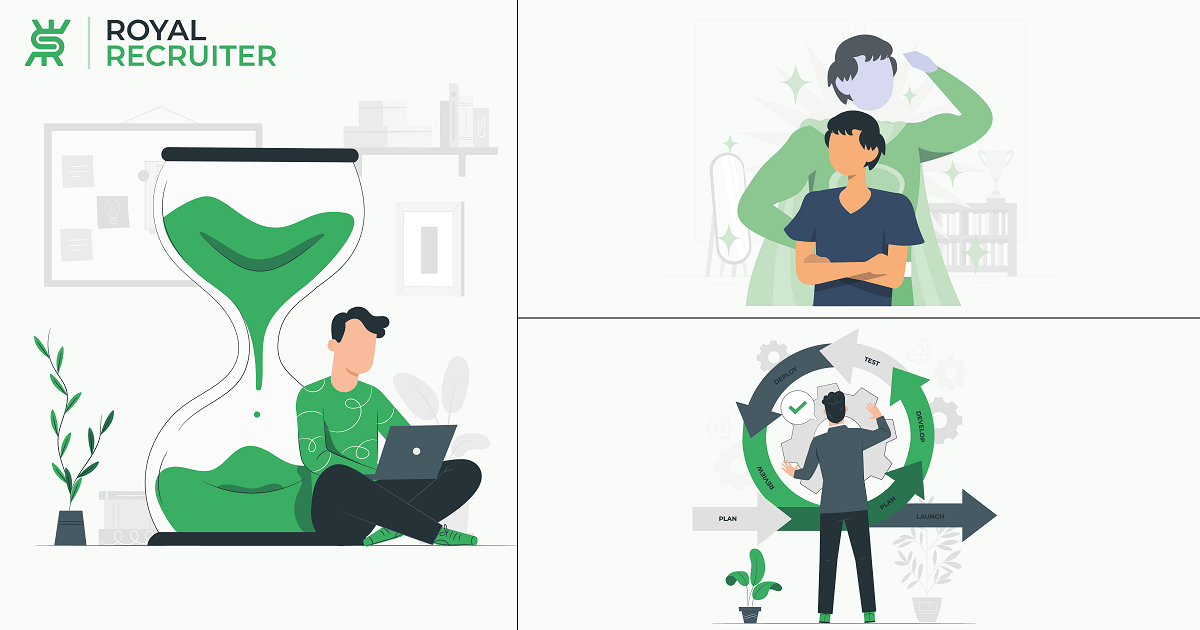 Must-Have Skills Of Amazon Delivery Drivers
Delivery driving isn't as easy as it sounds. Though it's not similar to other nine-to-five jobs, there are many challenges in delivery drivers' careers, and to overcome daily job challenges, you must have some skills. 
The most crucial skills for delivery drivers are: 
Without good time management skills, delivery drivers may not be able to meet daily delivery targets, or they may be unable to deliver packages to assigned routes or customers.
As a delivery driver, you'll be handling hundreds of small and bulky packages on a daily basis. You'll load, unload and move packages from the warehouse to your vehicle to the customer's doorstep, which 
Working at Amazon means working with top-notch and up-to-date technology. And delivery drivers also need to have minimal technical skills as they use different types of devices and interfaces.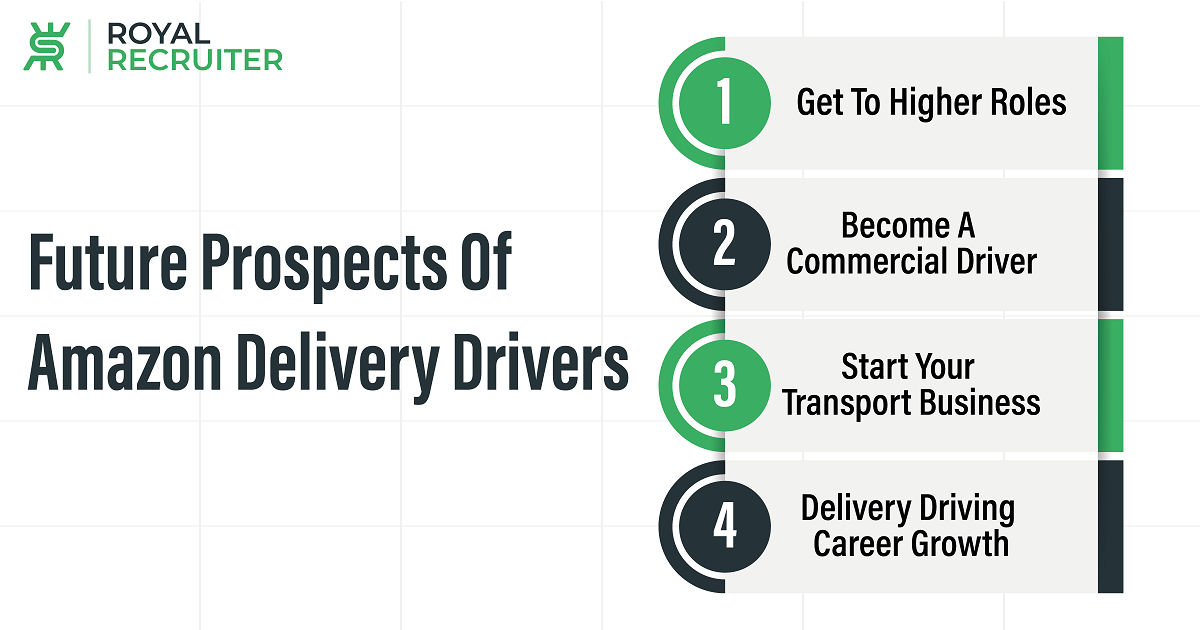 Future Prospects Of Amazon Delivery Drivers
When you work at amazon, you don't need to heed much about your career and prospects because every career at amazon comes with great rewards. So what are your future prospects as a delivery driver?
You can get to higher roles such as a supervisor, team leader, and manager at your workplace and amazon transportation facilities with a few years of working experience. 
Become A Commercial Driver
After acquiring enough driving skills and experience, you can apply for a commercial driving license and level up your career as a commercial driver for amazon freight partners. 
Start Your Transport Business
If you want to own a transportation business, driving for amazon will be the best pick for you because once you get familiar with every system and workflow of amazon, with little investment, you can apply to become a freight partner of amazon or buy your own vehicle and start working as an owner-operator. 
Delivery Driving Career Growth
According to the U.S. Bureau of Labor Statistics, the demand for delivery drivers will increase by 11%, creating approximately 220,000 new jobs for delivery drivers every year until 2031!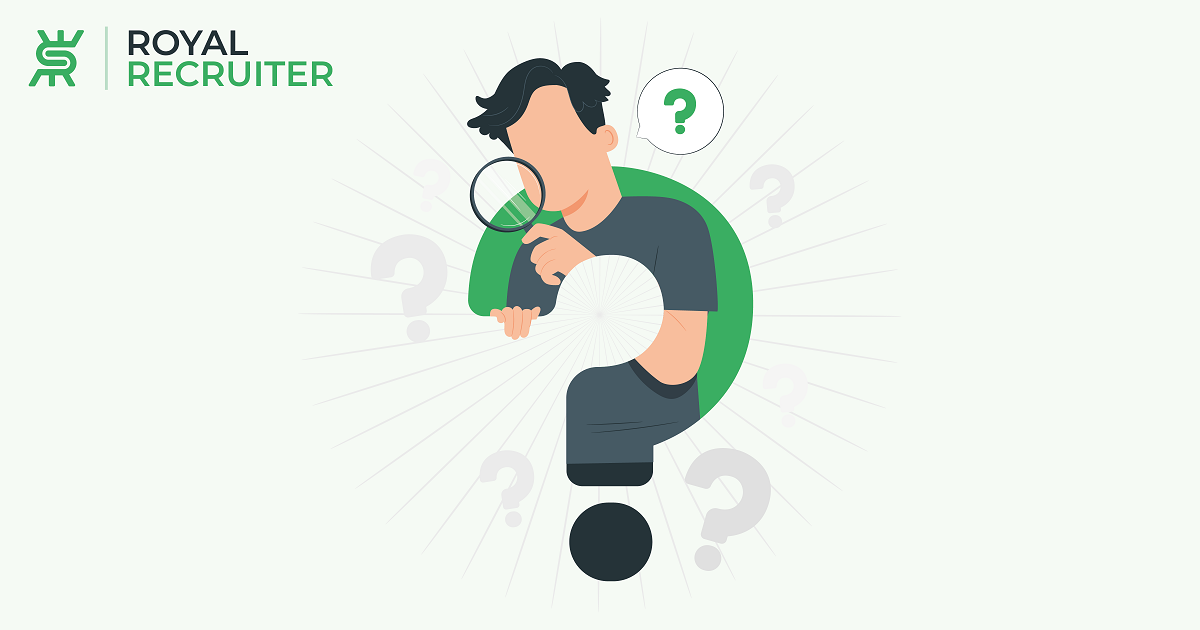 Can I Become Amazon Delivery Driver If I Haven't Graduated From High School? 
Yes, you can become a delivery driver without a high school degree, but in that case, you'll need a trade or vocational program certification. 
Is It Possible To Work For Amazon Delivery Service Partners And Amazon Flex At The Same Time?
No, you can't. Also, it's quite impossible for someone to drive or work for both amazon DSPs and amazon flex simultaneously. 
Top Amazon Delivery Driver jobs near you