Best Conflict Management Course Online 2022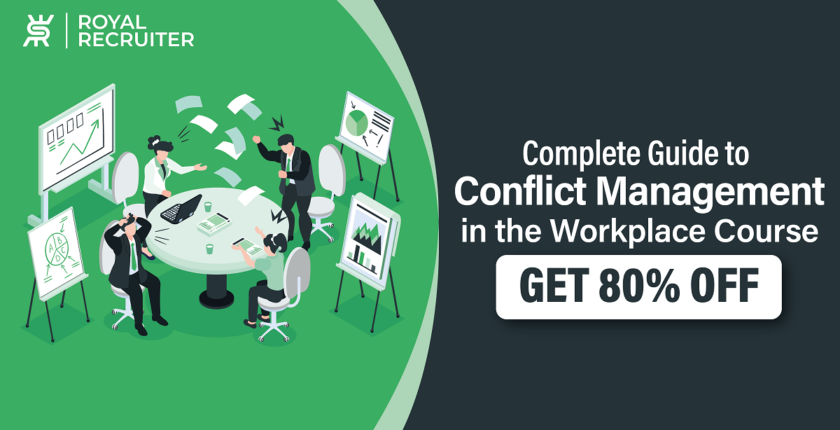 The best conflict management course online to know how you can develop your conflict management skills and how to control the dispute effectively
Conflicts between employees and team members are an ordinary matter in all workplaces. Despite your best efforts as an employee or leader, there will always be conflict in the workplace, and you have to face and resolve conflicts diurnally with your colleagues, team leader/members, or employees.  
Everyone on worksites, from business leaders to workers, must have good conflict management skills to reduce disputes and resolve them professionally. But most professionals don't have the proper skills or know the stratagem to manage the conflict they encounter. 
You should take this course if you want to improve your conflict resolution abilities to deal with and solve workplace conflicts like a pro.
Why Is Conflict Management Important?
The unresolved conflict can negatively impact relationships between coworkers and their leaders, as well as the productivity of those involved or affected. It also creates an unhealthy work environment, which leads organizations to their downfall.
Overall, knowing how to manage conflict is pivotal for safe and better working conditions. 
Is It Difficult To Develop Conflict Management Skills? 
Absolutely not; especially with the help of this course, anybody can learn conflict management strategies very quickly. But you can't become the best or learn everything overnight; you must practice regularly and execute what you learn.
Who Should Take This Course? 
We'd say this course is suitable for all professionals. Because you never know when and what kind of conflict you're going to bump into. Moreover, if you want to save a few hundred or even thousands of dollars, you should enroll in this course since paying for a conflict coach or a seminar would be outrageously expensive.
What To Expect From This Course? 
This course is an all-in-one solution because It covers everything from understanding conflicts to resolving them, along with the best techniques to become an expert at conflict resolution.
Significance of conflict management
What are the conflict management styles
How conflicts can be beneficial
What makes us avoid conflicts & some of the most common reasons for it
How awareness can help you prevent or lessen conflict in the initial phases
Common sources & signs of conflicts
Stages of conflict escalation.
Emotion Identifications
How to prepare yourself & employees to prevent/handle conflicts
Why having a psychologically safe environment is important
How to create and show consequences for specific behaviors
Learn how communication can resolve problems
How you should handle conflicts in a variety of stages 
What to avoid in order to ease conflicts
Techniques to resolve conflicts
Common Reasons & Resolving Conflict with Managers and Team members, 
Course Detail
The length of this course is 3 hours and 13 minutes, with 49 lectures in six sections, and you'll get 23 downloadable resources.
Course Overview & Price
This course has a 4.5star rating from 7,584 reviews, and nearly 21,000 students purchased this course. By clicking the button below, you can get this course for $17.99, which is 82% off its original price of $99.99.