Metal Jobs: How many jobs are available in metal fabrications?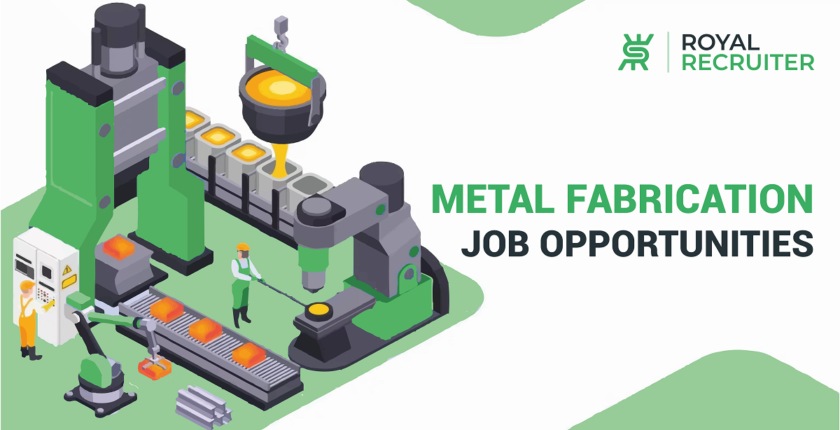 Metal jobs offering $70,000 per year may raise a question about how many jobs are available in metal fabrications. Well, Let's see what the actual scenario is.What metal fabrication jobs can offer you is no more a matter of discourse these days since you already know how rewarding this profession is, and the usage of metal is getting higher and higher over time. Therefore, entry-level candidates can choose from millions of newly created opportunities. If you consider the salary this job provides you with, you can look at the prospect even if you plan to do something in this career. This article is all about metal fabrication jobs. You will get a clear idea about the availability of metal fabrication jobs and a reliable source that will quickly help you manage a place in any USA-based company.
How much do the metal fabricators make?
/headline]Metal fabricators can earn as much as 70k per year, whereas the lower-income mentioned in the last few advertisements was 33k. If you are a fresh immigrant in the USA with previous experience in this profession, you can undoubtedly count this opportunity as anything above 50k per year is worth consideration. This job has variation, and as a fabricator, you can consider yourself an artist of metal too, as you can develop your creativity very quickly.
How many metal fabrication jobs are available in the USA?
/headline]More than 1000 metal jobs are available in the USA at present. Generally, most of the candidates having fabrication backgrounds are fit for any metal job.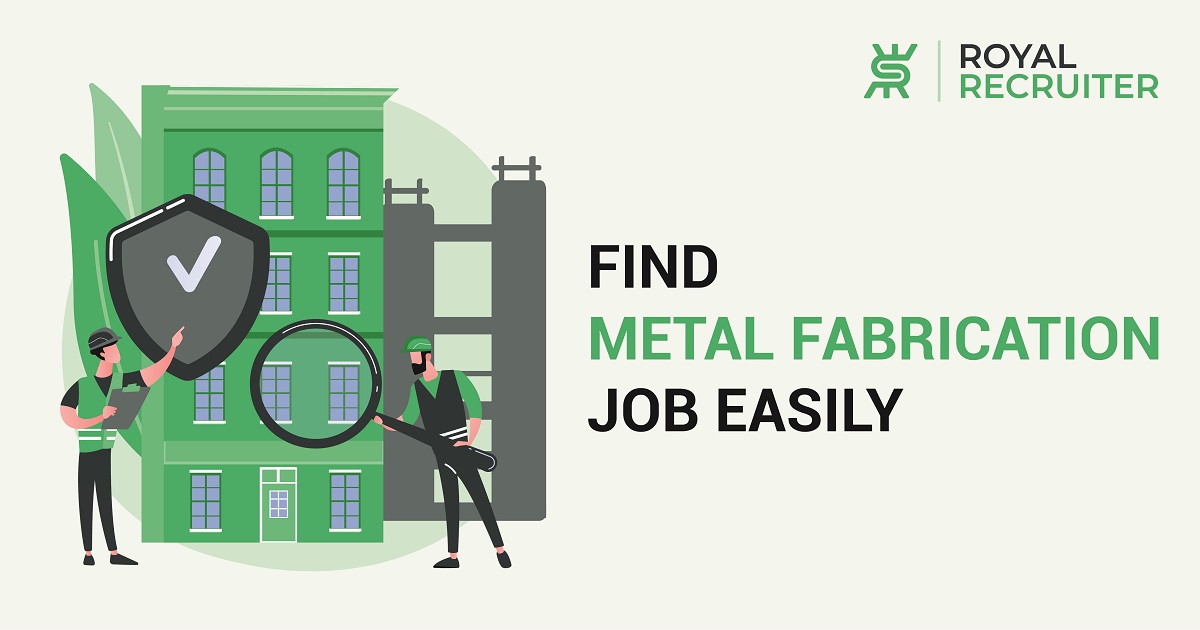 How to get a metal fabrication job easily?
/headline]As a candidate, you may always make mistakes in setting your details and finding the right employer. It may have happened that your application has been rejected many times due to your inaccurate analysis. In this connection, Royal recruiter can be the best solution to your job hunting journey. Royal recruiter is such a platform that is a solid combination of technology and skilled professionals. They will work one on one basis for free of cost. They will examine your CV without any robotic interference and match your details with the employer's need to find the exact job you are looking for. All you need is to create a profile there.  Remember, they won't charge you anything.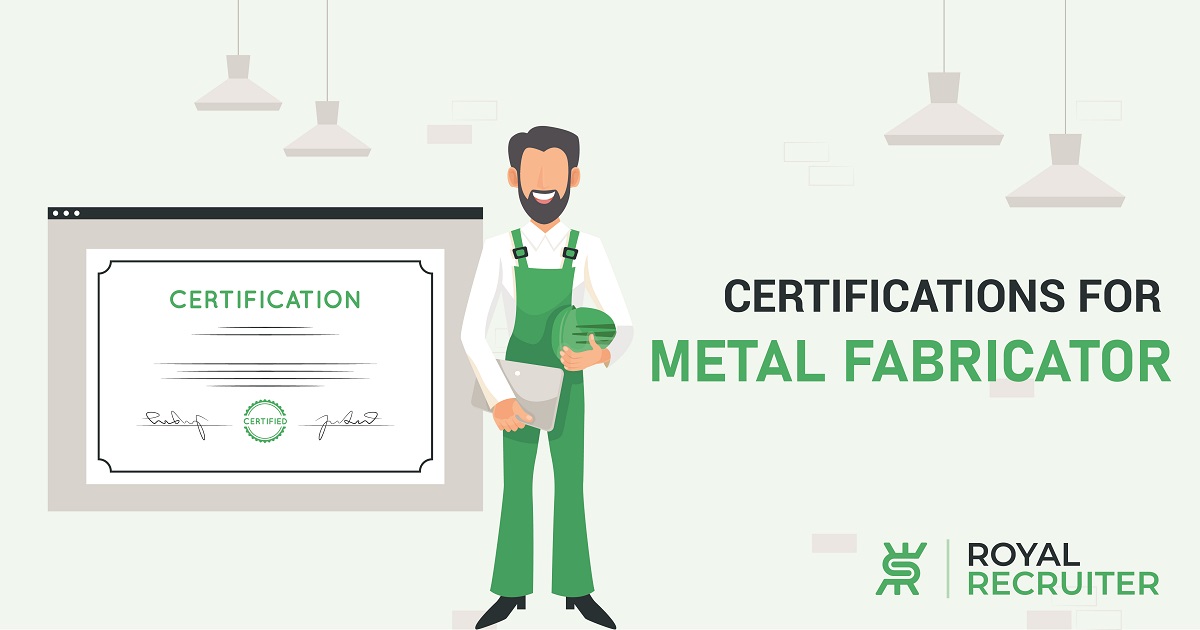 What kind of certification do the metal fabricators require?
/headline]Compared to the amount of salary metal fabrication jobs provide, the requirement is significantly less. However, there are tons of construction work going on at this moment.
Generally, the Fabricators possess a similar trade background, such as welding, light fabrication, or boiler making. Some fabricators may have a bachelor's degree in engineering. Regardless of qualifications, Fabricators must have an excellent command of English and math. So, the certifications are as follows:
It would be best if you had a relevant qualification such as a Certificate III in Engineering (Fabrication Trade) (MEM30305). You can obtain this qualification in conjunction with an apprenticeship that provides on and off-the-job training.
You should have special licenses or requirements (such as a White Card for working in the construction industry).
Fabricators can specialize in several ways, such as becoming a brass finisher, a metal fabricator-welder, or a structural steel trades worker.
Welding
Forklift License
Fabrication
Engineering Drawing
Punctual
Autonomy
Using Hand Tools
Using Power Tools
Types of steel fabrication roles:
/headline]Metal fabricator
A metal fabricator usually cut, bend, form, and assemble metal into the desired shape. Then, using various instruments, a fabricator reads the drawings and plans to reality.
As we've already mentioned, metal fabrication is exceptionally varied, meaning that a fabricator produces various products. Fabricators can create an assortment of items from architectural pieces designed to be aesthetically pleasing to metal components for industrial or warehousing use.
Sometimes, a metal fabricator' works with various parts within steel fabrication. For example, a fabricator might also represent a welder, or machinist though these roles require a specific skill set — keep reading to find out more about them.Machinist 
The machinist operates the machinery that cuts and shapes the metal, such as a milling machine or lathe. Their role involves programming the device based on the drawings from the engineers, which includes the use of computer numerical-controlled (CNC) machines.
CNC machining is part of computer-aided design and manufacturing processes and is often used to create complex and intricate geometry components. An efficient machinist must understand how the CNC machine is programmed and how it can efficiently maximize the volume of work produced.Welder 
Welding is one of the most well-known processes in sheet metal fabrication. Being a successful welder requires agility, precision, attention to detail, and a high level of knowledge on various metals. Welders are generally responsible for joining two pieces of metal together using heat, electricity, or another metal component. The process also involves the preparation of the metal for welding and carrying out a post-weld cleaning of the finished product and work area.Different types of welding jobs are available as there are many kinds of welding. However, the most popular methods in metal fabrication include:
MIG (inert metal gas) welding involves two different types of welding; bare wire or FCAW (Flux Core Arc Welding). Welders use Bare wire to join two thin pieces of metal, and the flux core does not require a gas supply; therefore, welders can use it outdoors. MIG welding is one of the more accessible types of welding.
TIG (inert tungsten gas) welding — also known as gas tungsten arc welding — joins metals by heating them with a TIG torch. It involves one hand feeding the rod while the other holds a TIG torch. TIG welding is highly versatile and can weld most conventional metals, including steel, nickel alloys, aluminum, copper alloys, cobalt, and titanium. Still, it is also one of the more difficult welding processes.
Stick welding — sometimes known as arc welding — is probably the most old-fashioned way to weld metal, but it's still used today. It's harder to master than MIG welding and requires a stick electrode welding rod — it does not need gas and gives better mechanical properties.
Metal fabricator's job is challenging but dynamic. As a fabricator, you will enjoy your profession and taste the flavor of different types of environments.Metal fabricator's job is challenging but dynamic. As a fabricator, you will not only enjoy your profession but also taste the flavor of different types of environments.
Top Metal Fabrication jobs near you